When actors Ashton Kutcher and wife Mila Kunis were driving in Nebraska after the Fourth of July, Kutcher posted on Instagram their stop at Carhenge in the town of Alliance. They discovered a station wagon that looked similar to the one that was featured on "That 70s Show."
This popular 1990s television show was where Kutcher and Kunis first met. Feeling nostalgic, Kutcher posted "Found the original vista cruiser," on his social media site on July 6, 2022.
Friends of Carhenge Nebraska noticed the post and responded on their Instagram site: "Wow! It's not every day we have legends like @aplusk and Mila Kunis visit us at Carhenge!"
A Visit to Carhenge Nebraska
While exploring Nebraska, the 37th state to be accepted into the union, Ben Jones with Visit Nebraska Tourism and I stopped at Carhenge. There had been some buzz on social media and we wanted to see what all the fuss was about.
On arrival, we noticed around 40 automobiles from the 1950s and 1960s, stacked like monoliths almost 20 feet tall. Their trunks or hoods were rising in the air and all were painted a stone gray color.
In addition, they were all positioned in a circular design. The cars, including the Vista Cruiser, mirrored the prehistoric monument of Stonehenge on Salisbury Plain in England.
Visitors can walk along a path to view other cars painted in different colors that form arches or are partially buried in the ground.
This American pop-culture exhibit was created by artist Jim Reinders as a memorial to his father who lived on a farm at the site.
Carhenge Nebraska opened during the Summer Solstice in 1987 and soon became a popular tourist attraction. It's been featured in films, including the 2005 documentary: "Carhenge: Genius or Junk."
Movie stars aren't the only stars visitors might see while in Nebraska. The scenic landscapes offer limited light pollution designating the state a dark sky destination. In 2017, an estimated 4,000 people came to Carhenge Nebraska to view the total eclipse.
How to Get to Northwestern Nebraska
One of the best ways to reach the Northwestern region of Nebraska is to fly into Denver International Airport and rent a car. It's about a two-and-a-half-hour drive to the state line and another hour-and-a-half drive to the town of Alliance.
Carhenge Nebraska is free to experience year-round, and during the summer, travelers can stop into the Pit Stop gift shop for refreshments, souvenirs and a clean restroom.
Valentine, Nebraska
Less than a three-hour drive east of Alliance is the town of Valentine, known for the Niobrara River and Smith Falls. One of the people helping to conserve this beautiful recreational area is Rich Mercure from Little Outlaw Outfitters.
He and his wife, Marla, rent kayaks for locals and visitors to paddle along the river to see a variety of birds and an occasional cow drinking the fresh water.
Be sure to stop at Nichols Landing for a short nature hike to the scenic 70-foot-tall Smith Falls. Known as Nebraska's highest waterfall, this popular destination is named after Frederic Smith, whose homestead became a state park in 1992.
If you've worked up an appetite, Peppermill Restaurant in Valentine features an array of beef dishes produced in Nebraska.
Nebraska Star Party
As the sun goes down, the annual Nebraska Star Party takes place during the summer at the Merritt Reservoir's Snake River Campground. Merritt Reservoir State Recreation Area recently became the IDA Dark Sky Places Program's 200th certified Place.
Hundreds of amateur astronomers including Eric Balcom, President of the Amateur Astronomy Club coordinate the event. As the sky slips from pinks, oranges and purples, brilliant stars illuminate the night sky.
It's easy to capture constellations and the International Space Station (which circles the globe every 90 minutes) in Nebraska's wide-open spaces. This light pollution-free area provides exceptionally dark skies among the dry sandhills upland plateau.
This helps keep the haze low and the transparency high. Your chances are good to see the central bulge of the Milky Way's spiral colorful galaxy with the naked eye.
Another star viewing spot is Scottsbluff National Monument in the city of Gering. This National Park has over 3,000 acres of historic trail remnants, mixed-grass prairie, dramatic and rugged badlands, plus towering bluffs to view the night sky.
Flyover Brewing Company
Arrive mid-day for lunch at Flyover Brewing Company, the first brewery in the Nebraska Panhandle. It was created by a couple of emergency room doctors who dabbled in making beer at home.
Their beer was so good, that they opened this brewery using equipment made in Lincoln, Nebraska. They also use locally grown adjuncts, such as malt and sugar beets to make their IPAs, ales and lagers so flavorful.
It is named Flyover Brewing Company because Nebraska is known as a flyover state. Most travelers fly over without touching down when traveling from coast to coast.
Inside the brewery and restaurant, there is an airplane wing to tie into the aviation theme. Locals and visitors come for beer-tasting flights and delicious artisan pizzas, sandwiches, burgers and salads.
Papa Moon Winery and Cider House
Another craft beverage spot to visit before the sun goes down is Papa Moon Winery and Cider House. It's about 15 minutes from Flyover Brewing Company.
This family-owned winery also makes cider and mead. Visitors can tour the facility and enjoy a tasting of Papa Moon's award-winning wines and cider flavors, including jalapeño and refreshing lavender and honey.
In addition, there is an outdoor area with lawn games and some resident goats to visit. During the summer they stay open later and have food trucks, paint and sip events and even s'mores by the fire.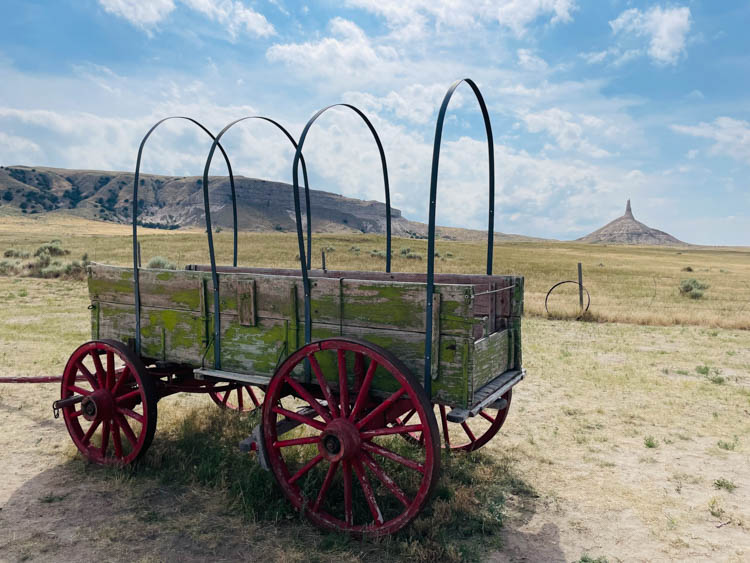 Chimney Rock National Historic Site
Before the sun begins to set, drive about 20 minutes to the historic Chimney Rock National Historic Site. This prominent geological rock formation rises 300 feet above the North Platte River valley and is 4,228 feet above sea level.
During the 1800s, Chimney Rock served as the most noted landmark along the Oregon, California and Mormon Trails. There is an interactive museum that features stories about the people who made this destination in Nebraska famous.
The Pony Express Trail used this route to transport mail from Missouri to California in the 1860s. Gold miners heading to California and Mormon settlers en route to Utah's Great Salt Lake used this geological phenomenon as a marker to signify they were traveling in the right direction.
Scottsbluff, Nebraska
Once the sun sets, head over to Scottsbluff to see the stars. During the day, visitors can hike to the top of the bluff, but in the evening it's best to drive along the 1.6-mile Summit Road.
Built in the 1930s, it's the oldest concrete road with three vehicular tunnels in the state. Up at the top are panoramic views and enough darkness to see stars. Some people bring a green or red-light flashlight to help them see when walking in the dark.
Stargazing under pristine dark skies does not require any visual aids, but binoculars and telescopes can enhance the experience by providing a closer look at certain deep space objects.
Toadstool Geological Park
One more evening star viewing spot is at the Toadstool Geological Park in Harrison. During the day this uniquely shaped geological area offers formations that resemble toadstools. It's also a popular fossil site for scientists to gain insight into the behavior of animals passing through this area 30 million years ago.
Our Heritage Guest Ranch
The closest place to stay overnight is about seven minutes away at Our Heritage Guest Ranch. The owner Jean Norman offers a variety of guest units at her working cattle ranch in Crawford.
Her family ranch was homesteaded in 1887, and Jean allows guests to roam the National Natural Landmark to hike and look for fossils where the unique prairie landscape meets the badlands.
Jean is a great storyteller and is happy to drive visitors in her truck through pastures to meet her horses and cows. She also likes to introduce guests to some of her friendly neighbors over a delicious cookout dinner.
High Plains Homestead Near Carhenge, Nebraska
One of her neighbors, Heather, lives at High Plains Homestead on the road leading to the Hudson-Meng Education and Research Center. Heather has comfortable cabins and RV hook-ups overlooking the Nebraska badlands.
Her family-friendly accommodation has a historic street with the Badlands Mercantile, a Saloon and a Sheriff's office. The Mercantile offers local artisans and crafters items, locally made snacks, old-fashioned sodas and candies.
Oglala National Grasslands
From there, it's only three miles to the picturesque Oglala National Grasslands, one of the most essential paleo-archeological findings in North America. Inside the building are the remains of up to 600 bison discovered to have died in this area 10,000 years ago.
Robinson State Park Near Carhenge, Nebraska
Another area to find bison in Nebraska is Robinson State Park. There is a historic fort from 1879 and this is the site of the Cheyenne Outbreak and the death of famed Sioux Chief Crazy Horse.
Over the years, the fort served as the Red Cloud Indian Agency as well as a cavalry remount station. It was also the largest canine training for over 5,000 war dogs, plus a POW camp and beef research station.
Take a jeep tour to see shark fin rock and to learn how the edible and versatile yucca plant has 19 different uses. Herds of bison roam the land with a protective donkey and some Texas longhorns can be seen in the distance.
There is also a tiny State History Museum with a fascinating fossil exhibit of two Wooly Mammoths that died with locked tusks.
Potter Sundry Near Carhenge, Nebraska
On the way back to Denver airport, stop in the town of Potter. Enjoy a Tin Roof Sundae at Potter Sundry, an old fashion drug store, now a popular cafe. In 1916, this was the Potter Drug Company owned by James Thayer.
His 14-year-old son Pinky was a soda jerk. In the 1930′s, Pinky created and perfected the Tin Roof Sundae made with vanilla ice cream and topped with chocolate sauce. Then he added chocolate ice cream, marshmallow cream, and topped it off with peanuts. It is believed it was named after the tin ceiling which is still intact today.
There is an electric car charging station installed across the street, for those passing through in a Chevy Bolt, Tesla or Rivian. It's a great place to enjoy a meal or iconic sundae while charging their car.
Chuckaboo Station Near Carhenge, Nebraska
Up the street is the Chuckaboo Station coffee house and Flyover Brewing Co. Hangar 39. This bar was an automotive garage from the early 1920s to the 1970s. They serve the same beer from the Scotts Bluff brewery.
The state's visitor's bureau states, 'Honestly, It's Not For Everyone," but those who do visit will appreciate its beautiful night skies, friendly residents, historical significance, culinary opportunities and unique attractions like Carghenge Nebraska.
Author Bio: Los Angeles-based Jill Weinlein writes about her travel experiences for Go World Travel and other newspapers, websites and Fodor's Travel. Her areas of expertise include discovering new destinations, culinary reviews, cruising to exotic locales and family travel destinations. Some of Jill's most memorable travel experiences include riding in a hot air balloon over Napa Valley, zip-lining across a canyon on Catalina Island, climbing the steps at The Great Wall in China, riding a sled pulled by Alaskan sled dogs in Skagway, and attending a Dark Sky Party in Valentine, Nebraska.