Halfway between Austin and Houston sits the historic town of Brenham, the seat of Washington County where Texas gained its independence from Mexico in March of 1836.
Risking their lives, 59 colonists gathered in a makeshift wooden structure with winds howling through windows covered only in cloth in the undeveloped town of Washington.
They wrote their Declaration of Independence as Mexico's General Santa Anna was viciously attacking The Alamo in San Antonio.
A Visit to Brenham, Texas
The Republic of Texas endured until Texas became a state 10 years later. I relived this fascinating history at Washington-on-the-Brazos, a state historic site, museum, and living history farm on the Brazos River near Brenham.
Where to See the Bluebonnets in Texas
Besides being a reservoir of the history of the Lone Star State, Brenham and its neighboring fields and rural roadways are the best places to view wildflowers in the spring, in particular the blue lupine called Bluebonnet that is the Texas state flower.
The name comes from the shape of the petals that resemble bonnets of pioneer women. The countryside comes alive between mid-March through the end of April. They call it Bluebonnet Country.
Bluebonnet Festival
Texans are crazy for their bluebonnets. They stage an annual Bluebonnet Festival in April, and the Brenham website (www.visitbrenhamtexas.com) runs an up-to-the-minute "Wildflower Watch" page for anyone to post wildflower sightings. Of course, Facebook and Twitter are awash with photos of the little darlings.
Former First Lady Lady Bird Johnson is credited with much of the proliferation of wildflowers in her state, having founded the National Wildflower Research Center (renamed the Lady Bird Johnson Wildflower Center) in Austin in 1982.
Her goal was to preserve and restore the native plants and "biological richness" of North America.
Antiques in Brenham, Texas
Something else pops up in the fields not far from Brenham: Texas Antiques Week (March 26-April 6, 2014). Billed as the largest antique fair in the country, more than 5000 vendors from around the world set up their wares in endless tents, barns, and old buildings that line both sides of a 25-mile stretch of Highway 237 from Burton to LaGrange.
The little hamlet of Roundtop with a population of 91 sits about in the middle— the Original Roundtop Antiques Show started here 46 years ago, growing to the enormous show that it is today. If you can't score a find here, you're not looking.
Every kind of collectible from dusty-and-rusty to crystal chandeliers to mid-century modern is for sale. Another show just like it takes place in the fall. Find out when at www.roundtop.org.
Luxurious Lodging in Texas
With vintage shopping so prominent in the area, it's no wonder the inns and B&Bs are furnished with exquisite, carefully chosen antiques. Here are a few I liked:
Ant Street Inn
This boutique hotel in a historic building in Brenham has been restored to Victorian splendor with 15 spacious rooms elegantly decorated in different vintage city themes. Lots of stained glass, richly carved wood and lovely artwork add to the ambiance. I stayed in the New Orleans, with a canopied and draped four-poster bed, living room overlooking the second-story veranda and a soaking tub up to my shoulders. A large sitting-room hallway leads to a guest refreshment center where Blue Bell ice cream cups are there for the taking along with coffee and tea. www.antstreetinn.com
Texas Ranch Life
Aptly named, John and Taunia Elick's 1,800-acre working Texas Longhorn cattle ranch truly gives a slice of ranch life to its guests. The real-life cowboy and cowgirl have collected a cache of old German-style farmhouses slated for demolition, relocated them to the ranch and refurbished them in fancy Texas motif as B&Bs.
Guests can live out their western fantasies by pulling on their shit-kicking boots and watching the daily workings of ranch hands like roping, branding and cutting cows from the herd.
For a fee, there's horseback riding, hunting, skeet shooting, tomahawk throwing and exploring the ranch on a Kawasaki mule (jeep-like vehicle). Fishing and mountain biking is free to overnight guests with their own equipment.
"Texas ranch life is fading," said John Elick. "Here is a haven for Texas guests to come and cowboy up." If you're lucky, you'll also get a slice of Taunia's famous buttermilk pie. www.texasranchlife.com
Southern Rose Ranch Bed & Breakfast

Deep in the heart of Texas country, this 33-acre ranch has relaxation written all over it. From the "Oreo" cows grazing in the pasture to the secluded hot tub next to the outdoor fireplace, the owners, Donna and Steve Cummins, have put a lot of thought into the meaning of warm hospitality.
They have created two completely different suites in a separate building. The Star Suite is a Texas country cottage complete with a kitchen; The Rose Suite exudes Victorian romance with a brass bed and claw-foot tub. Gourmet breakfast is served en suite or you can eat outdoors on the stone patio. www.southernroseranch.com
Lillian Farms
The pastoral scene of Barbara Segal's Victorian-style mansion in the center of 230 acres of rolling Bluebonnet Country took my breath away.
Segal built the gorgeous estate as a B&B in 2001, with five exquisitely decorated suites, and later added five stand-alone cottages, each privately tucked away on the property.
A sixth suite she calls a "barndominium" is fashioned in a space in the huge barn just down the hill from the mansion. Segal has paid attention to every detail, even installing a porcelain sink with embossed angels in her Angel's Nest Suite.
Breakfast on Saturday and Sunday mornings is a hearty country breakfast served on fine china in the formal dining room or on the covered porch in warm weather. During the week, rooms are stocked with more simple breakfast fare. Find out more at www.lillianfarms.com
Other Places to Visit in Brenham, Texas
The Antique Rose Emporium
This amazing retail garden displays unusually fragrant and hardy roses that have survived in desolate places like cemeteries and overgrown fields. Horticulturist Mike Shoup stumbled upon these antique roses and from cuttings, created his spectacular garden.
He writes about them in a beautiful book The Empress of the Garden, and runs a mail-order business for what he calls "earth-kind, pioneer old roses, not the fussy modern hybrids that are difficult to grow." Order the book and roses at www.antiqueroseemporium.com.
Blue Bell Creameries
Texans are proud of their Blue Bell ice cream. The factory started in Brenham more than a century ago, and public tours are so popular that assembly line workers wave to visitors, who then get a free scoop in the ice cream parlor.
Farmers in the area supply fresh milk, cream and eggs that go into flavors like Rocky Mountain Road and Sea Salt Caramel. The nation's third best-selling ice cream is carried in 23 states. Find out if it's in yours at www.bluebell.com.
Wineries in Brenham, TX
Texas has more than 400 wineries. A few near Brenham are Pleasant Hill Winery (www.pleasnathillwinery.com), Saddlehorn Winery and Windy Winery.
George Bush Presidential Library
This tribute to George H. W. Bush is at Texas A&M University at College Station. www.bushlibrary.tamu.edu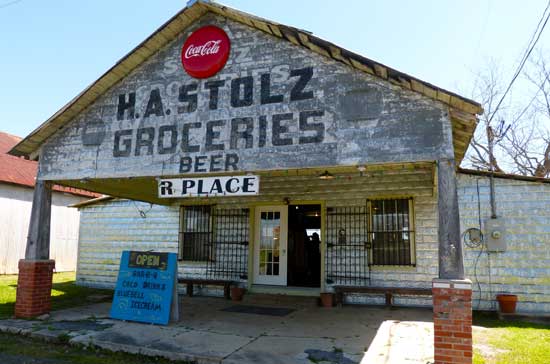 Great Places to Eat in Brenham, Texas
R Place
One of the only buildings that remain of the town of Washington is the place to indulge in Texas BBQ served family-style on weekends only.
Owner/chef/one-man-band Randy Rogers smokes his brisket and ribs 14 hours in the backyard; Saturdays he prepares one special dish that he announces on his website rplacetexas.com.
Must Be Heaven
If you can't find a sandwich you like at this family-owned sandwich shop in Brenham, it doesn't exist.
Yummy homemade pies and an ice cream parlor give it an old-fashioned flavor, and Brenham's own Brianna's Salad Dressings are served at the salad bar. www.mustbeheaven.com
Funky Art Cafe
Foodies will love lunching at this old blacksmithing shop turned gourmet cafe in Brenham. Trendy and good-for-you food items are on the menu, such as red quinoa, goat cheese, avocados and dried cranberries.
The signature dish is grilled salmon finished with maple-soy lacquer over greens served with dill sour cream sauce. See what I mean? www.funkyartcafe.com
Author Bio: Colorado native Claudia Carbone is an award-winning journalist covering travel for magazines and websites. This was her first trip to Texas. Read more of her work on her travel blog.