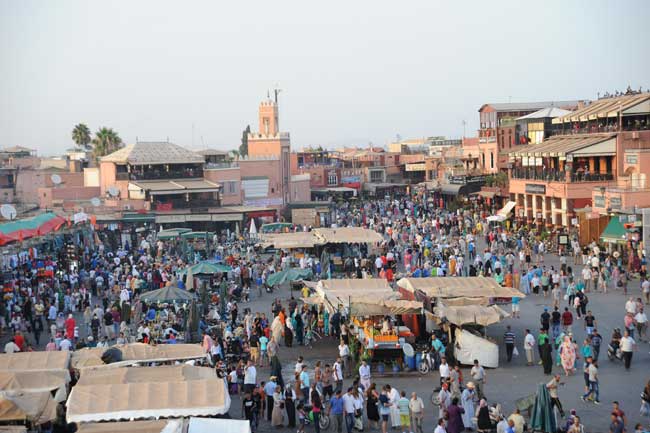 On the Street
A man dressed in white robe and turban, dagger in scabbard hanging by his side, talks on a cell phone. A bike rider races by with live chickens in his basket. A young man jogs along sporting a Tommy Hilfiger shirt.
Smells of camels, horses and donkeys mix with oil fumes and olives, and sounds of lilting minaret bells collide with heavier tunes from local instruments.
Welcome to Marrakech, Morocco, a city that assaults all your senses in the blending of old and new, then and now, life as it used to be with life as it is becoming.
All About Morrocco
Morocco, albeit an Arab country, belies the more stereotypical visions of Middle- Eastern Islamic populations. This is a much more open, relaxed society, in keeping with the modern leanings of its monarchy.
Although mosques in downtown Marrakech sound their call to prayer five times a day, the customary practice of turning to Mecca each time is not externally apparent.
The usual dictates against drinking, dancing and frivolity also are less evident than expected. As a traveler, I was in my comfort zone.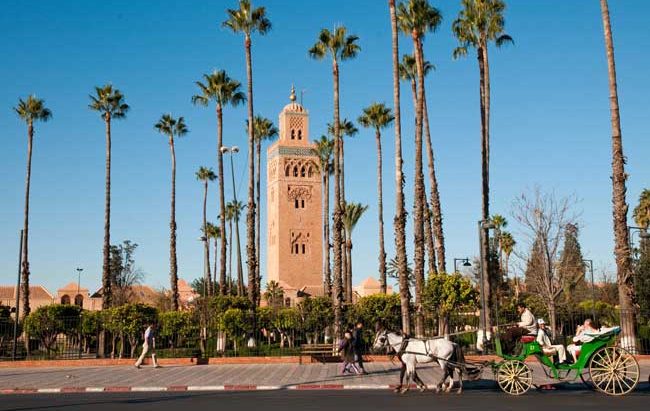 An evening visit to Djemaa el Fna square, the heartbeat of the city that borders on triple bypass, challenges that comfort level a bit.
Part circus/part market/part nothing-you've-ever-seen-before, the square reflects both entertainment and lifestyle.
Snake charmers, fire-eaters, acrobats and fortune tellers compete with whistles of water-sellers, dressed in distinctive elaborate garb, centuries-old one-stringed instruments and barbers cutting hair at make-shift stands.
People gather three-deep to hear story-tellers weave lyrical tales about Berber life and philosophy. The Berbers, indigenous to Morocco, have been around for 2500 years, and still make up 85 percent of Marrakech's population.
As good marketers, they stop midway through their narratives, prompting their enthralled audience to pay to hear the rest.
A kaleidoscope of sights, smells and sounds trip over each other as you cross the huge grounds. It can be a costly stroll, however.
If you slow down for so much as a glance, the performer expects a couple of dirhams (about a quarter) for the privilege – and isn't shy about asking. Considering the size of the square and the number of performers…well, you do the math.
Asiz, our guide, explained that this is the way many in Marrakech make their living – a respectable alternative to begging. Consider it the cost of an evening's entertainment and it's cheap at the price.
Visit to the Old Jewish Section
A visit to the Mellah, the old Jewish section, combines a different sense of the then and the now. Although now principally inhabited by Arabs, the Jewish flavor of the area is still very much apparent.
A 500-year-old synagogue, built by the first European Jewish community that sought refuge in Morocco from the Spanish Inquisition is still in use today, and many "shaloms" are exchanged throughout the Mellah between vendors and visitors alike.
Most Berbers, the real craftsmen of Morocco, live high in the Atlas Mountains and take little part in the "cosmopolitan" Moroccan lifestyles.
Still, they have always been considered an important part of the government, and their representatives live within the Bahia Palace compound.
If You Want to Buy A Carpet
Buying a Berber carpet also is part of the Marrakech experience. These world-famous woven wonders are known for the individual artistry and painstaking work that goes into their creation.
Prices can range from a few hundred to a few thousand dollars, depending on size, workmanship and age.
A nondescript, walled building houses the Dar Si Aissa Co-op, the largest and most recommended carpet store for price and value.
Inside are three floors of uncountable carpets, and huge looms where weavers' hands play the strings like the flying fingers of a concert pianist. The showroom is an experience in itself.
Dozens and dozens of rugs mysteriously appear. Their bearers, in constant motion, pile one atop the other at your feet until the area resembles a large multi-colored volcano erupting from the floor.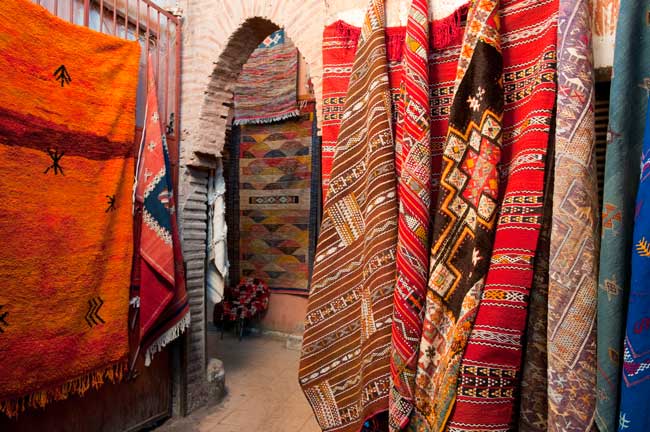 And then the fun begins. The owner, touted by Asiz as the most honorable of gentlemen, lost his credibility.
After announcing that prices are set by the government and therefore non-negotiable, he adopted the more familiar stance of "Have I got a deal for you!"
Although the prices of the newly made – meaning commercial – rugs are pre-determined, there was a holier-than-thou approach to what really was just another place to bargain.
Listen closely (probably a good idea at any of the carpeting emporiums), and make sure you verify the rug price – and what it covers – before it's taken away for wrapping.
The cost of my rug in the showroom included shipping, but somehow morphed into an extra charge by the time I got to the cashier.
Don't be deterred; just aware. The process itself almost is worth the price, and you'll come away with a singular treasure that's available only in Morocco. If you don't get one, you'll probably regret it once you get home.
The Famous Kasbah Market
A very different buying experience greets you at the souks – the famous "kasbah" markets where everything from jewelry and clothes to local instruments and vegetables are sold from tiny stalls lined up on both sides of interlocking alleyways.
The soft hum of looms, the screech of grinding artisans' wheels, the conflicting sounds of hammers, saws, pottery lathes, scrapers and other tools vie for attention.
Tile makers, tin smiths, wood crafters, metal workers, pottery painters, and rug weavers all ply their craft, the tangible fruits of their labors beckoning to every passerby.
Souks are not as intimidating as they are rumored to be, unless you consider the unrelenting activity, the crowds, the constant barrage of sounds and smells intimidating.
I find they pulsate with a life and energy most shopping malls lack.
Whatever the asking price, offer half and work up. A little disinterest on your part goes a long way to reaching a price you're willing to pay.
On the other hand, don't over-bargain: most times, you'll be arguing about pennies which surely have much greater worth to the merchants.
Travel to Tahanaoute
To get a first-hand feel for the life of the Berbers, most of whom live much the way they have for centuries, we visited Tahanaoute, a small, 150-year-old village about a 1-1/2 hour drive up the mountain from Marrakech.
As we neared the entrance, we were greeted by the local transportation: two mules to take us up the narrow, rocky dirt path to the village.
The hour ride through forests and mountains, past olive and fig trees and centuries-old houses made of red clay and stone – with goats, chickens and pigs occasionally demanding the right of way – transported us much further back in time.
This is not a place that sees a lot of tourists.
A visit to one mud-colored dwelling found our host, Fatima, dressed in varicolored attire, preparing mint tea, the Moroccan beverage of choice.
We were led up stone stairs to a sparse room, where we sat leaning against small pillows on rugs, sipping the hot, pale and very tasty liquid while admiring hand-made baskets and pottery Fatima displayed with pride.
A single bulb hanging down from a wire attached to the wood-pole-supported bamboo ceiling provided light, this year bringing the first exposure the village had to electricity.
The modern world also has intruded in other ways. Upon leaving, I spotted an impish four-year-old girl tugging on the sleeve of her 80-year-old grandfather.
Upon the click of my camera, one very-small and one very-gnarled hand reached out its palm. Still, it's a small price to pay, indeed, for the many riches of the Marrakech experience itself.
For more information, visit www.visitmorocco.com
Author Bio: Fyllis Hockman is a multi-award-winning travel journalist who has been traveling and writing for over 30 years – and is still as eager for the next trip as she was for the first. Her articles appear in newspapers across the country and websites across the internet.