"It's so clear you can see the whole city," my friend Gabriela says, pointing at the scene below us. We're in the middle of a vineyard on a hill high above Vienna. Below us, the Danube slowly winds its way through the Austrian capital.
The Gothic spires of St. Stephen's Cathedral poke high in the air, and I can see the Prater, Vienna's Giant Ferris Wheel, in the distance.
Even though it's a view I've seen before, the scene makes me smile. Vienna captured my heart when I was a student studying abroad.
When I arrived here, I didn't like wine, coffee or classical music. But Vienna worked her magic, and when I left, all three were things I relish.  
These days, I return to Vienna as often as I can, but summer is my favorite time to visit. The outdoor patios in the Old Town are filled with diners, and the city's palace gardens are at their peak colors.
Best of all, the vineyards, which run from the edge of the Vienna Woods to the shores of the Danube, have sprung again to life.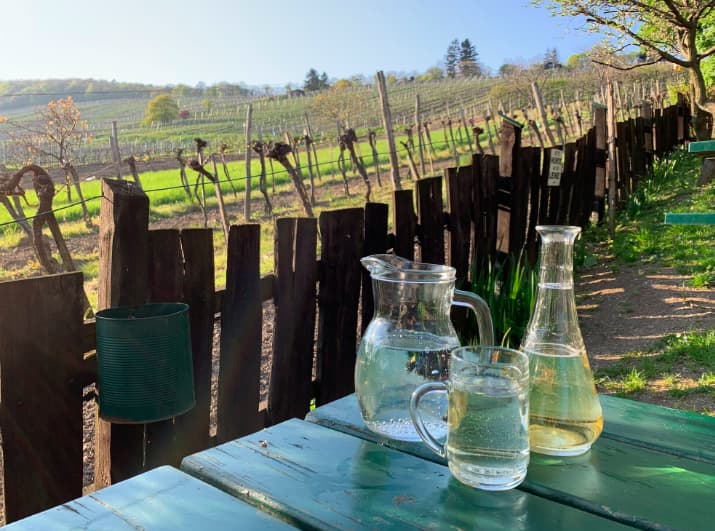 Vienna's Love Affair with Wine
Vienna is the only city capital with a significant wine growing area within the city limits – in fact, it has more than 1,700 acres covered in vineyards.
There are more than 190 winemakers, mainly in the Nussberg, Kahlenberg and Bisamberg hills surrounding Vienna. Even Schönbrunn Palace, one of the city's icons, has its own vineyards.  
Wine tradition in Vienna runs deep. While Germany may have its beer gardens, Vienna has her wine gardens and taverns. In 1784, Hapsburg Emperor Josef II gave a special edict granting wine growers the right to sell their own wines – and the beloved local Heurige tradition was born. 

Viennese Heurige are wine taverns where winemakers serve their own wine, as well as traditional homemade foods.
Known for their atmosphere of Gemütlichkeit (coziness), many also have outdoor seating in gardens or courtyards where you can relax over a nice glass of wine and inexpensive dishes like dark bread with Liptaurer (spicy cheese) or other creamy spreads, potato, cucumber or carrot salads, sauerkraut and many types of roast meats. 
Heurige are only open when they have wine to offer. When winemakers hang a bundle of coniferous twigs above their door and use the word, Ausg'steckt, that means the Heurige is open.
Hiking in the Vineyards
A favorite activity in Vienna is hiking through the vineyards and then ending at a local Heurige. There's even an official Vienna Wine Hiking Day each autumn, where wine lovers can hike one of three set trails through the vineyards. Along the way, vintners offer tastings from their cellars and kitchens. 
How to Reach the Vienna Vineyards
Local vineyards, as well as the Vienna Woods, are easily reached via Vienna's modern and easy-to-use transportation system. I like staying in the Old Town when I visit.
It took me only 40 minutes to go from the Grand Ferdinand Hotel, a lovely boutique hotel on the Ringstrasse, to Grinzing via the 38A bus. 
From there, Gabriela and I set out on the 3.4-mile Grinzinger-Steigs trail. The path winds from town up into the vineyard-covered hills connecting the two former wine villages of Grinzing and Nussdorf. The first vineyard we passed had named their grapevines after famous celebrities, from Christoph Waltz to the Dalai Lama.

We followed the trail as it skirted along the Vienna Woods, with its thick green forest and lush underbrush. A network of hiking and biking trails crisscrosses the hills, and we passed cyclists and hikers. Sometimes the trail meandered through the woods before turning down rows of tidy vines.
Viennese Wines
Vienna produces mainly white wine, with Grüner Veltliner the most popular variety. Locals also love their Gemischter Satz, a wine made from a variety of grapes.
Growers may plant more than 20 different grape varieties in their vineyard, and then harvest and press them together to create a unique Gemischter Satz. There is great debate among my Viennese friends, but many of them like Gemischter Satz mixed with soda water to make a G'spritzer. 
When the weather is nice, local wine taverns open small wine gardens in the vineyards, where they serve wine and small bites.
We pass many of them on our hike – Wieninger am Nussberg, Mayer am Nussberg, Heuriger Sirbu – and each one looks tempting. But we continue our journey, soaking in the warm sunshine and fresh air. Eventually, though, the sun starts to set.
So, we stop for one last overlook of the city before cutting down through rows of vines, past a tiny cemetery, and into the former village of Nussdorf, now a suburb of Vienna.
There we head to Heuriger Kierlinger, a winegrower's tavern that has been run by the same family in this location since 1787.
On hot summer days, the tavern's outdoor courtyard and guest garden are shaded by ancient linden and chestnut trees. It's dark, though, so we head inside to the cozy room lined with 19th-century-style simple wooden tables. 
As we order wine and then select some of my favorite Austrian dishes, I must smile. Here, surrounded by friendly faces, tasty food and good conversation, I'm happy to be in Vienna again.
Book This Trip
Start planning your Vienna vacation today. Get prepared with insider knowledge on how to get around, hotel and VRBO accommodations, local restaurant reviews and more through TripAdvisor and Travelocity.
Plan even more fun by booking some unique Vienna adventures with Bookmundi. Check out expert-led tours, multi-day adventures and one of a kind experiences here.
Find the ultimate flight deals, train tickets and car rental options through OMIO Travel Partner.
Inspire your next adventure with our articles below: