Editor's Note: We're all dreaming of travel ahead. Here's some inspiration for future adventures. We share places, products and activities we recommend. If you make a purchase using a link on our site, we may earn a commission.
One of the best kept secrets in the American Southwest, Gateway Canyons Resort is a luxury oasis in the middle-of-nowhere, Colorado. Created by John Hendricks, the founder of the Discovery Channel, the resort is surrounded by canyons on all sides.
Along with its unique setting and history, the resort is an interesting blend of Southwestern design and enchanting vistas.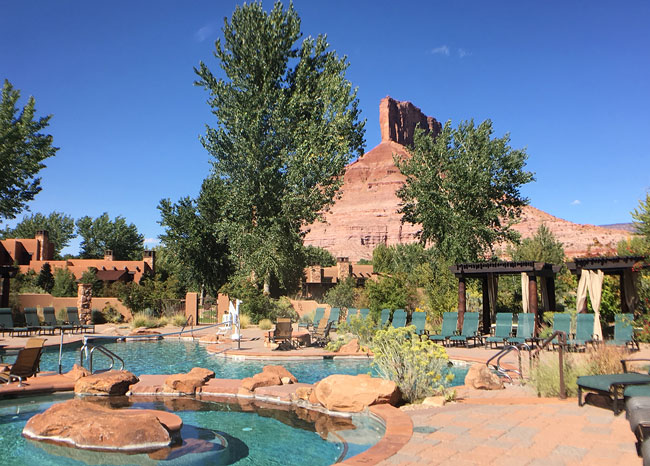 Gateway Canyons Resort Lodging
Gateway Canyons is a beautifully landscaped walking resort. Structures built in an adobe Santa Fe style are scattered throughout the property. Its design maximizes outdoor living and the spectacular canyon views.
Gateway Canyons Resort offers several room types, each one as beautiful as the exterior of the resort, with thought to every detail. Spacious rooms, comfortable beds, quality linens and details like deep tubs and spa-quality bath products are consistent throughout the property.
Some rooms even boast a fire pit or private hot tub on the balcony. The large casitas are set further back on the property for more privacy and boast spectacular views. The outdoor showers in the casitas are a lovely touch.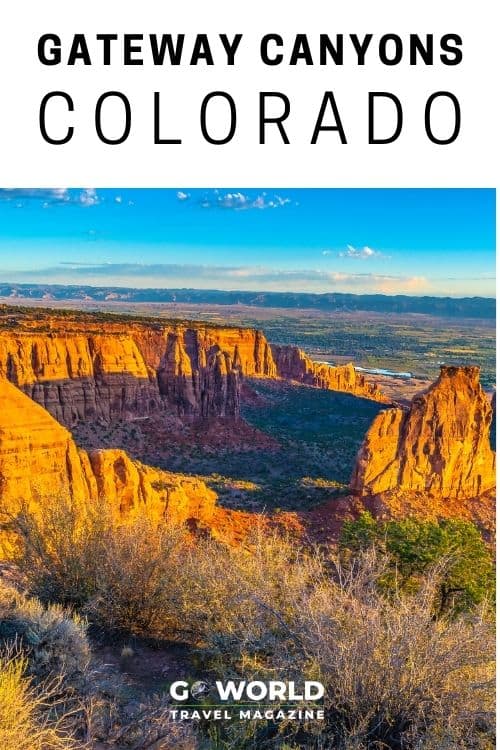 Things to Do at Gateway Canyons Resort
Don't be fooled into thinking there won't be much to do at Gateway Canyons Resort, just because it's in the middle of nowhere. Here are just a few ways to spend the day:
Hiking, Biking & Climbing
The resort offers guided hiking, biking and climbing excursions. Or, depending on your ability level, you could explore on your own. The morning after a full moon, I managed to get out prior to sunrise and hike a trail starting right on the resort property. The sunrise and full moon were both visible, which was quite a sight.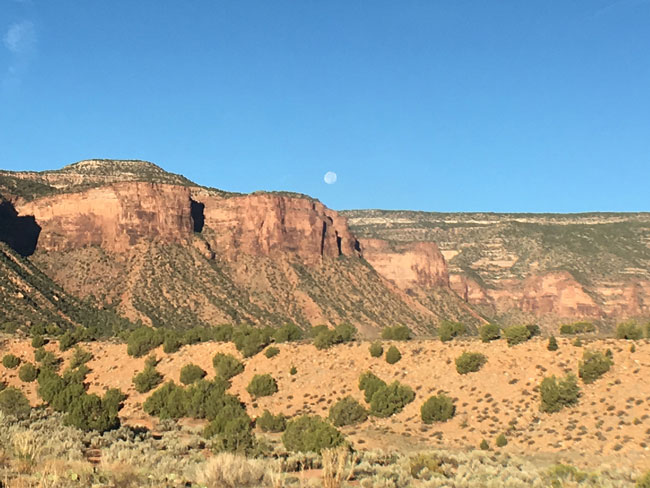 Gateway Canyons Resort Adventure Center
The Adventure Center offers a large variety of ways to play in the outdoors: off-road touring in UTVs or Jeeps, sport shooting, high tech outdoor laser tag, archery, air tours in the resort helicopter and more. On our brief visit, we only had time to take advantage of Palisade Ranch horseback riding, which we loved.
After speaking to Mandy, the manager at the activities center, we were disappointed that we didn't get to try the outdoor laser tag. It requires a minimum of 10 people.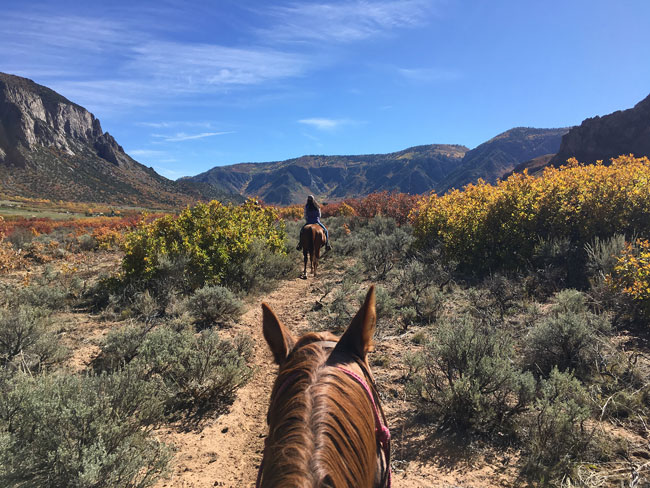 Gateway Canyons Auto Museum
An auto museum wouldn't typically be on my to-do list, but without knowing much about it, I did know it was something my husband would LOVE. As we were checking in, we browsed the lobby. A coffee table book immediately grabbed my husband's attention — "The Performing Art of the American Automobile: The Hendricks Collection on Exhibit at the Gateway Colorado Auto Museum."
The auto museum is John Hendrick's personal collection on display for resort guests. The highlight is the one-of-a-kind 1954 Oldsmobile F-88 concept car.
Enrichment at The Resort
It was fascinating to attend a talk by the resort's Curator of Curiosity, Zebulon Miracle. He is a wealth of information about the area. The oldest rock layer on the resort's signa-ture landmark, "The Palisade" is 290 million years old. People have lived in the area for more than 1200 years.
One of the West's most famous outlaws may have committed one of his first bank robberies in the area. As fascinating as Zebulon's talk was, I can only imagine what a treat it would be to take one of his excursions.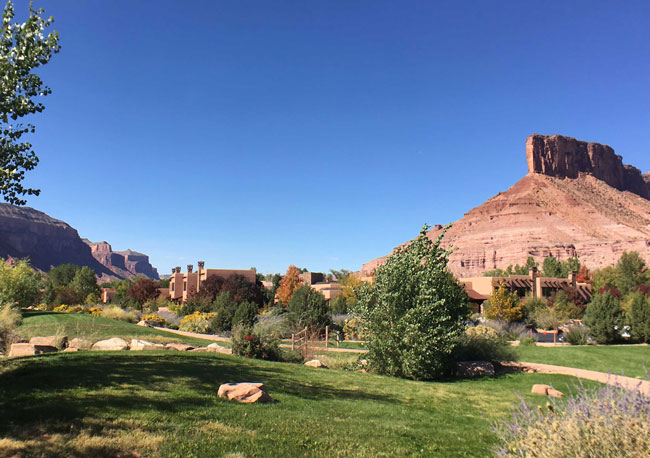 Gateway Canyons Resort Spa
Our visit was a short one, so we didn't take time to experience a luxurious spa service ourselves, but we did manage to find time to enjoy the state-of-the-art steam room, sau-na and outdoor spa. All are accessible to resort guests at no additional charge. It was the perfect way to relax after an active day.
Driving Experience
For the car lover, Gateway Canyons offers luxury and sports cars available for rent. You can rent a Porche 911, Bentley Continental, or Tesla Roadster and explore the windy mountain roads in a fast sports car.
John Hedricks has managed to create unique luxury here in this quiet corner of the American West. I was glad to learn that most of the property acreage is under a conservation easement and that the resort is committed to energy conservation, protecting scenic landscapes and critical wildlife habitats.
Getting to The Resort
The closest airport to Gateway Canyons is Grand Junction, Colorado. But regardless of where you are coming from, the drive to Gateway Canyons Resort is spectacular. The area south of Grand Junction feels like the middle of nowhere, on a winding road sandwiched between canyons.
The area to the north of Gateway Canyons Resort provides vibrant orange and red colors during the fall. During the summer months, Gateway Canyons is just an hour's drive from Moab on a dirt road.
If You Go to Gateway Canyons
Book your stay and find more information for your Gateway Canyons Resort stay here. If you're planning on getting a rental car to explore the surrounding Colorado beauty, you'll want to visit Kayak for the best deals and exclusive bundles. For everything else, like local restaurants and favorite hikes in the area, check out Travelocity and TripAdvisor.
Looking for more in the sense of ultimate in luxury? Check out Gateway Canyon's four new experiential packages – Palisade Ranch Adventure, Red Rock Romance, For Foodies, and Curiosity. The packages include three nights of luxurious accommodations, gourmet meals, one daily activity per person, local craft beer, wine, and spirits, and more.
Author Bio: Liana Moore lived overseas growing up, attending British public school for kindergarten in London. She then moved to Stavanger, Norway for nine years until age 15, growing up with friends of different cultures. Liana sees things from others' viewpoints, believing those experiences shaped the woman she is today. Currently based in the mountains of Colorado, much of her time is spent exploring and writing about the Rocky Mountains. Follow Liana's adventures at Insider Families. She can also be reached at www.facebook.com/InsiderFamilies.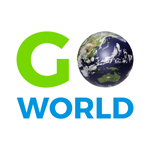 Latest posts by Go World Travel Magazine
(see all)