What's it like to visit Réunion Island?
From the look on Nico Cyprien's face, it had been a memorable experience. He continued to exclaim with excitement long after he was out of sight – and very likely when out of earshot – as he rappelled down the waterfall on the Fleur Jaune in Cilaos, high up on Réunion Island in the Indian Ocean between Mauritius and Madagascar.
It says a lot about an island only 51km at its widest and 72km long that someone who has been enthusiastically guiding visitors for over a decade is still reveling in the island's pleasures.
And it's easy to see why this French expatriate settled here after living on five continents and traversing most of the globe.
Best Tips & Tools to Plan Your Trip
Reunion Island, a French Island in the Indian Ocean
Réunion is a French department (province), meaning that a call to Paris, 9000km away, is a local call. The flight from Paris is one of the world's longest "domestic" flights.
Some useful travel tips for your perfect trip to Reunion Island:
Réunion has the highest mountain peak in the Indian Ocean and some of the best infrastructure on any island, including the most expensive road "in" France.
The mountain village of Hell Bourg is rated the most beautiful village outside France (geographically) and, similarly, the capital, St Denis, is the largest city on the island, with a population of around 158,000.
Réunion Island's interior has recorded the planet's highest rainfalls, including 6083 millimeters dumped over 12 days by tropical Cyclone Hyacinthe in 1980.
Islanders are mostly a Creole mix. Sugar, rum, vanilla, essential oils and seafood are synonymous with Reunion and more than 40 percent of the island is a UNESCO World Heritage Site.
The land rises swiftly from the shores to high plains and mountain heights, and the climate ranges from humid to dry tropical to the Mediterranean.
The combination of first-world structure and island life suits most Réunionnais. The rich are very much so, while the poor among the population of about 866,000 rely a lot on social welfare, but enjoy an ineffable quality of life money can't buy.
What is the Weather Like on Réunion Island?
What's the weather like? With an estimated 200 microclimates, your guess may be as good as anyone.
Réunion is a huge, dimply, high pimple rising steeply out of the ocean, causing disruption to wind and ocean flow, plus it lies above and was formed by one of the planet's hot spots.
Drive 15-20 minutes and you can find yourself in a completely different ecosystem. The many changes of scenery, vegetation and perspective are some of the things that delight me most about the island. It's hard to get bored if you can experience a different "country" more than once a day.
Formed by Volcanoes
Réunion was essentially formed by two volcanoes: the inactive Piton des Neiges (Peaks of Snow) – which tops out at 3070m and sees snow once every 7 to 8 years – and Piton de la Fournaise (the Furnace Peak), one of the most active and safest volcanoes in the world.
Three Different Calderas on Réunion Island
There are three beautiful, distinctly different calderas or cirques, huge, steep, bowl-shaped valleys resulting from the older volcano's collapse and water erosion.
Salazie is wet, with waterfalls and rainforests, Cilaos is mountainous with a Mediterranean climate and Mafate, somewhere between the two, is a rugged wilderness accessible only by foot or air.
First Stop: St Denis
Visitors touch down outside the capital city of St Denis, a mix of French colonial buildings and fortifications built with incredibly durable blocks hewn from volcanic rock, Creole-style and typically European buildings, with a lack (thankfully) of high-rise towers.
The island architecture is charming- fresh, bright-colored, symmetrically laid out wooden-sided buildings with verandahs and floral motif fretwork under the eaves and tin or wood-tiled roofs.
From St Denis, many visitors head along the coast to Saint Andre and up into Salazie. On my first visit, a light misty drizzle set in, creating beautiful atmospheric effects and causing a myriad of waterfalls on this, the wettest part of the island, to turn to seething torrents after a few hours.
Through staggeringly beautiful, narrow valleys and up steeply climbing roads, one passes roadside shrines that dot the island and reflect the mix of predominantly Catholic beliefs mingled with Hindu, Tamil and Islam.
Hell Bourg
The highland village of Hell Bourg with its ruined thermal baths (a volcanic eruption diverted the spring system) is a delightful glimpse of yesteryear, with charming Creole houses and gardens ablaze with beautiful flowers and herbs, several endemic to Réunion.
On the subject of endemic, Réunion has no poisonous spiders, no snakes and the main predator is its only bird of prey, the Papanque.
Le Relais des Cimes provided a fine lunch, much of which we saw on our journey (chou chou/ chayote/ sju sju vines cover trees and hillsides and are served au gratin).
Cilaos
Cilaos, which comes from a Malagasy word meaning "the place you never leave," is aptly named. "The road with 420 bends" takes you through tunnels and along cliff faces into a different world.
The majestic alpine setting, overlooked by Piton des Neiges, is a paradise for sporty adrenaline junkies, nature lovers and those simply there to relax with a glass of local wine in a thermal spring.
Cilaos produces naturally sparkling mineral water (there are four water companies on Réunion) and the spa is popular with local and overseas visitors.
With so much to see and do, you probably won't relax long. Canyoning, for example, beckons, while another highlight for me was a Creole picnic with lovely Raymonda Gontier and charming husband Mikael. It began with the ubiquitous rhum arrangé.
This couple has some 80 varieties, infusing rum with a delicious variety of herbs, fruit, flowers and spices.
Pork and chicken dumpling starters wrapped in rice "pastry" led to quiche with Cilaos lentils and dark, smoked homemade sausage, Marlin with endemic "mango" ginger, chicken in Cilaos wine with fish sauce.
We topped off with corn cake, gâteau maison and vanilla rum, plus home-roasted, vanilla flavored coffee sweetened with honey from their apiary.
I was also thoroughly entertained by Noe Noe Dijoux, who owns the charming Hotel Tsilaosa. In his cellar, he regaled us with the history of wine in the area, plying us with various vintages and varietals, accompanied by excellent Piton Maido, one of 17 local cheeses, and salami.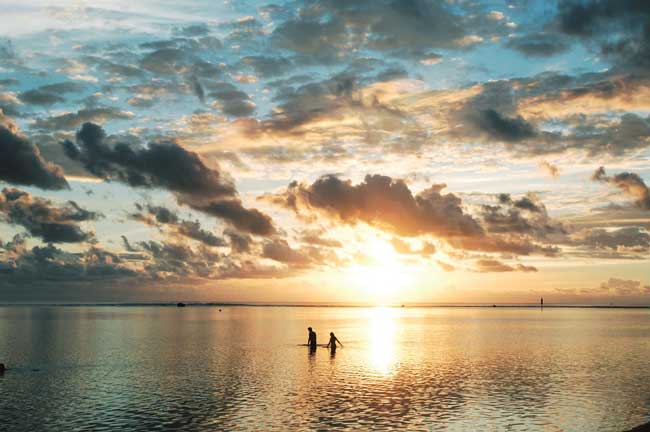 Another spectacular drive up from the coast, to the volcano this time, encompassed pastoral farmland and panoramic views toward the high peaks and down to the sea.
Dining at Auberge du Volcan
We paused at Auberge du Volcan, where gratin palmiste (palm hearts) and carne cabris massale, two typical Reunion dishes, stole the show. Who knew that goat could be so tender and succulent?
The drive climbs above forests to the otherworldly expanse of volcanic grit, Plaine des Sables, en route to the view over the lava landscape created by previous eruptions of Piton de la Fournaise.
It's reassuring to know that the volcano doesn't spew ash, is not on a fault line and when it does erupt, the arms of the high cliffs on either side ensure the lava flows toward the ocean.
After a bracing hike up and down the cliff face of the volcano's caldera and onto the magma moonscape, I'd recommend Ti Resto Lontan, facing the Volcano Museum, where they cook on wooden fires.
Mafate is a wilderness accessible only by foot or helicopter and like much of the island is a hiker's paradise with over 140km of footpaths in varied landscapes among 10 peaks. My knees are buggered so I can't hike that far, but a helicopter provided amazing sights of little settlements on clifftop plateaus and steep, sweeping canyons.
Reunion Island Coastline
The coastline is as dramatically varied as the interior. In the north, at St Denis, black polished rocks below sheer cliffs form the shoreline. Moving south, the rebuilt road crosses a lava field, with steaming roadside vents hot enough to scald. Here there are narrow sandy coves between steep headlands and the humidity gives way to drier, savannah-like areas.
Some beaches are golden, others black, and they become longer and are protected by coral reefs heading west. The west coast is where almost all the snorkelling, surfing and other water activities take place.
It has the biggest selection of hotels and is a popular base from which to explore. Five-star Palm Hotel is, for me, the most charming spot, though the sprawling five-star Lux Hotel in Saint Gilles probably has the most to offer, with a beautiful coral reef and calm, still waters on its doorstep.
L'Orangine, Lux's fine restaurant, is superb. Here I dined on Toothfish and potatoes in a champagne sauce, with the champagne clearly evident and marrying perfectly with the white fish. Tuna and beef, roasted potatoes with a coffee sauce and foie gras topping were simply heavenly.
Islanders like to party. One visit coincided with the annual carnival in the coastal town of Saint Gilles Les Bains and, after an elegant dinner at Boucan Canot Hotel's Le Cap restaurant, we joined the crowds still thronging late on a Sunday evening.
Everyone was chilled, if that's possible with 50,000 partying up a storm. Among the painted faces, elaborate hairdo's and costumes were mums pushing prams through the jam-packed streets past dj's pumping music, light and smoke shows. What a fun atmosphere!
If You Travel to Reunion Island
Expect to give way on the mountain twisties if driving. Thank goodness for the islanders' attitudes! They are polite, patient and reserved. Hitchhiking hikers are commonplace, getting from one hiking trail or hut to another. Pick them up. You'll hear some interesting stories.
For adventure seekers, the list of options is extensive, including paragliding, all forms of mountaineering, spelunking, exploring lava tunnels, white water rafting, surfing, diving, fishing, and hiking. There is culture too. Musée Léon Dierx in St Denis, for example, has a renowned collection of international and local artists.
Award-winning vanilla products, like essential oils, won't tax your baggage limit. Glistening, porous volcanic pebbles don't cost a cent. An ultralight flip is highly recommended. If you can afford another 100e each, take a chopper.
See the Réunion Island Tourism website: www.reunion.fr/en
The go-to guide for Réunion Island Tourism is Nicholas Cyprien ([email protected]) and I cannot recommend him highly enough.
Author Bio: For the better part of a decade, Adrian Rorvik has travelled hard and fast, continuously- chasing deadlines for weekly travel features linked to prizes that he arranges as Travel and Leisure Coordinator for Independent Newspapers, South Africa. He now manages Travelogue.tv and Travelogue.africa and still gets about. Not being quite a tourist, or on holiday, affords a different perspective, as does "speed dating" with owners and staff. Like in movies, associations and relationships are accelerated and, in most cases, he gets a peek behind the scenes of the many wonder-filled places he has been.
Listen to Podcasts about Réunion Island
Réunion Island, a French department in the Indian Ocean, is known for its volcanic, rainforested interior, coral reefs and beaches. Its most iconic landmark is Piton de la Fournaise, a climbable active volcano standing 2,632m (8,635 ft.). Piton des Neiges, a massive extinct volcano, and Réunion's 3 calderas (natural amphitheaters formed by collapsed volcanoes) are also climbing destinations.
Reunion is a mix of first-world infrastructure and laidback island style- and a phone call to Paris, 5832.19 miles away, is a free local call.
Here are three podcast conversations between Adrian Rorvik and Nico Cyprien, the go-to tour guide for Réunion Island Tourism.
Réunion Island: paradise or thereabouts– what makes this fabulous Indian Ocean island getaway so special, so unique- and why you should visit.
Réunion Island: Out and About– part 2 about this special Indian Ocean travel destination, highlighting the unusually diverse activities.
Réunion Island: tasty treats– a look at the fascinating cuisine and other edible treats on this must-see Indian Ocean travel destination
Inspire your next adventure with our articles below: