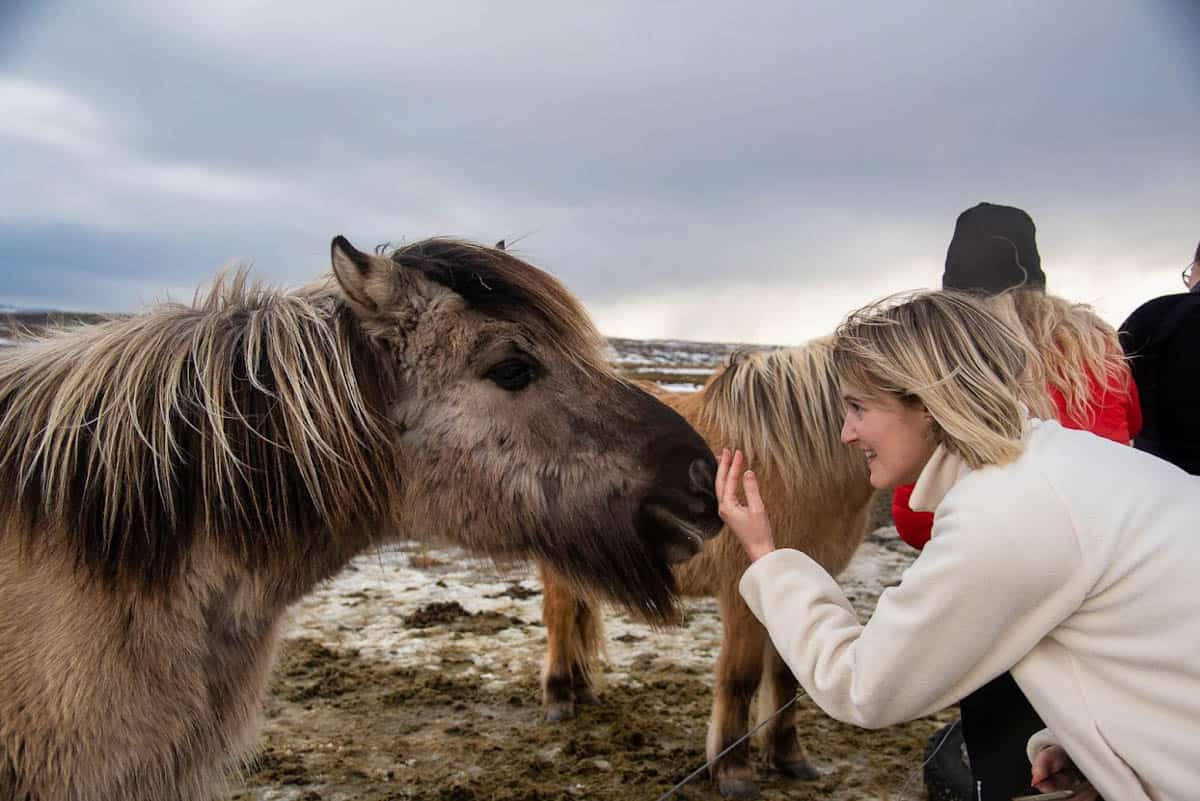 When I was eight years old, I attended St. Brigid's School in North Bergen, New Jersey. It was here that Sister Adelaide told my third-grade geography class about the aurora borealis. I was enthralled at the idea of the night sky lighting up in green.
In my class photo that year, I was wearing a glass pendant cut like a prism to show all the colors of light. I called it my 'aurora borealis' necklace and wondered if someday I would see these magical lights in the sky with my own eyes.
Many years later I did make it to Iceland. But my trip to Iceland wasn't only about seeing the spectacular light show. It was also about joining a work camp organized by SEEDS, an NGO based in Reykjavik.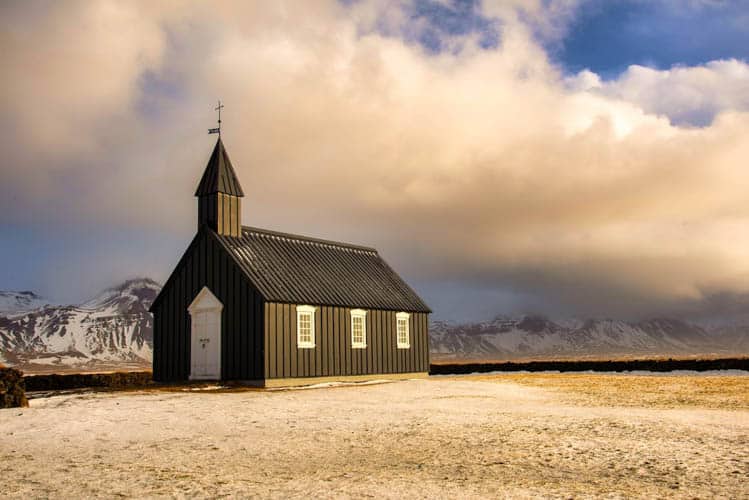 Volunteering in Iceland
SEEDS is affiliated with SORPA, a community-based organization that oversees waste collection and management in the Reykjavík area along with other local stakeholders. Organic kitchen waste, mixed household waste, paper, cardboard and plastic packaging are all carefully managed as a result of citizen concern.
As part of this focus, SEEDS organizes workcamps for international volunteers to live and work together on a project identified by a local community. These projects mainly focus on nature, such as building hiking trails or walking paths and participating in reforestation.
They can also be focused on the environment as my Environmentally Aware and Trash Hunting Project was. Our work camp focused on two cleanup projects in Reykjavik.
Reminders of How we Damage the Environment
We, volunteers, were surprised at how many bits of plastic we collected on and under the melting snow along Reykjavik's streets. It took two of us to carry the heavy burlap bag which held our found pieces, including a very large number of cigarette butts.
The cleanup reminded us of how quickly and easily small pieces of plastic and other trash can accumulate. Furthermore, the harm that is done to the environment in addition to the unsightliness of it all. For example, a cigarette butt can take eighteen months to ten years to decompose and we had picked up many.
A Challenging Language and Climate
One afternoon, after our second collection of trash, we attended an Icelandic language course for a large group of immigrants and refugees. It is not an easy language to learn. Teaching was provided in a variety of ways. There was a short video of a family at dinner, a song about the days of the week and months of the year and teacher-to-student questions.
Students were from many parts of the world. As I looked at two Muslim women, possibly refugees from Iraq, I wondered how they had managed to get to Iceland. But even more so, how they were adjusting to such an extreme change of culture and climate.
Most of the students kept their winter coats and hats on even though the room was very warm. Meanwhile, outside, frequent snow squalls were still happening in March.
We were treated to a one-hour language class just to learn simple phrases, none of which could I remember. Where do you live? (Hvar býrðu?) I don't speak Icelandic (Ég tala ekki íslensku). Fortunately for the group, our common language was English.
Educational Activities
All our days with SEEDS were filled with activities, which included after-dinner workshops on photography composition, lighting and editing. Each of the volunteer instructors gave us assignments that would later be critiqued. After our final dinner together, each participant showed ten of her best photos. Many of them were truly excellent.
We also visited the Whales of Iceland exhibition with life-size creations of whales and facts about each one. A film was shown of the different species of whales with whale songs playing in the background. We watched while sitting comfortably on large pillows on the floor. The exhibition is educational, reminding people of the impact humans have on the existence of whales.
At the residence, we viewed a video about dying coral reefs in places like Australia and the Florida Keys where the ocean temperature has risen two degrees Fahrenheit. The rise, caused by global warming, has nearly destroyed the reefs in the Keys which are now bleached white with little remaining life.
Visiting a Geothermal Plant on the Golden Circle
If you aren't an engineer or a scientist, you might not find a visit to a geothermal plant interesting. However, this was Iceland, which uses imported oil only for transportation and fishing, one of its main natural resources.
We learned at the Hellisheiði Power Plant that from 1940 to 1975, Iceland began using geothermal, a renewable energy source. Amazingly, 73% of Iceland's electricity is produced by hydropower plants and almost 27% is produced by geothermal energy.
When a drill is put into the ground near one of Iceland's nearly 600 hot springs, the steam is used to run the turbines which distribute the hot water to towns and cities. The temperature of the steam is 180C/356F.
Electricity is produced by hydro-power and 70% of the country's energy consumption is from renewable sources. A natural Iceland statistic to aspire to.
The Beauty of Natural Iceland
After visiting the plant, Luis, our young driver, guide and long-term volunteer from Portugal, drove us to the Geysir Geothermal Area. Here we saw some of the geysers which provide the country's hot water for heating homes and other spaces.
There were steaming fumaroles caused by the boiling water which runs just a few feet beneath the earth's surface. Plus the geyser, which regularly shoots steam and boiling water high into the air. (Geysir is actually an Icelandic word, which has become a word used internationally.)
Nearby was the Gullfoss Waterfall, giving us an idea of the power of hydropower. It was a spectacular sight under a blue sky where everything else was pure white. We hiked along the rim of the Burrell Crater and looked down at the frozen lake below us. Strong winds howled around us.
On our way back to Reykavik, we spotted a small herd of Icelandic horses. These are small but strong animals with a double coat to keep them warm in the very long and harsh winter.
Brought to Iceland by the Vikings in the 8th century, the horses by law cannot be imported in order to keep the breed pure and disease-free. If an Icelandic horse is exported, it is not allowed to come back. They are very friendly to visitors.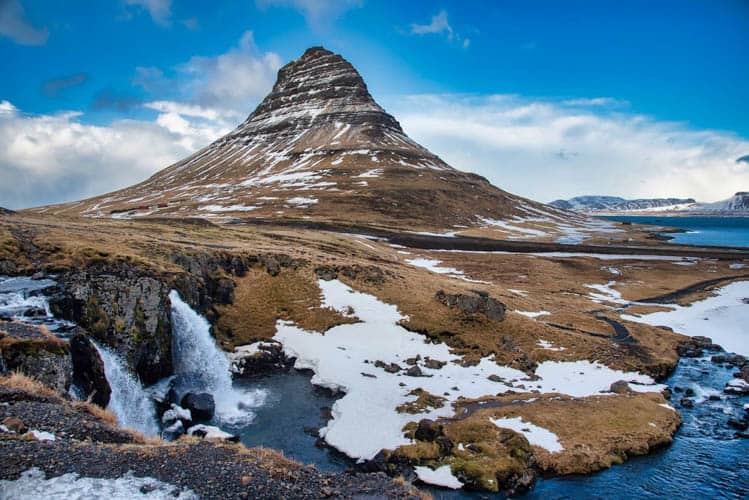 An Icelandic Adventure
Our second excursion took us to Snaefellsnes National Park, located on a peninsula in west Iceland. The March winds blew over the cliffs making us tread carefully as we watched high surf crashing into the volcanic cliffs.
As we watched, we saw the back of a whale emerge, such an amazing sight. Earlier we had walked to a beach where we saw numerous seals sunning themselves on lava rocks in the ocean. On the beach was the skeleton of a whale spine.
As if those sights weren't enough, we then hiked in the snow to a cave in the blue and white landscape to see a river flowing within. From there we hiked down to a black sand beach bordered by black volcanic monoliths protruding out of the white snow.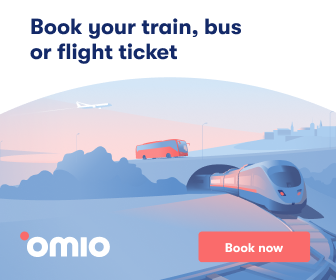 There were others standing in the sea, being battered by high winds and seas. The sun came would come and go interspersed with snow squalls.
Our day continued with a visit to an 18th-century church seemingly in the middle of nowhere. There were no houses to be seen, just a small cemetery next to the church. We were driven onward where blue was the dominant color, a cold blue, with no other vehicles in sight as the snow continued to fall.
As our van approached Kirkjufell Mountain, its iconic beauty could be seen even from a distance. High and looking much like a peaked hat, some snow still covered it and two waterfalls cascaded below.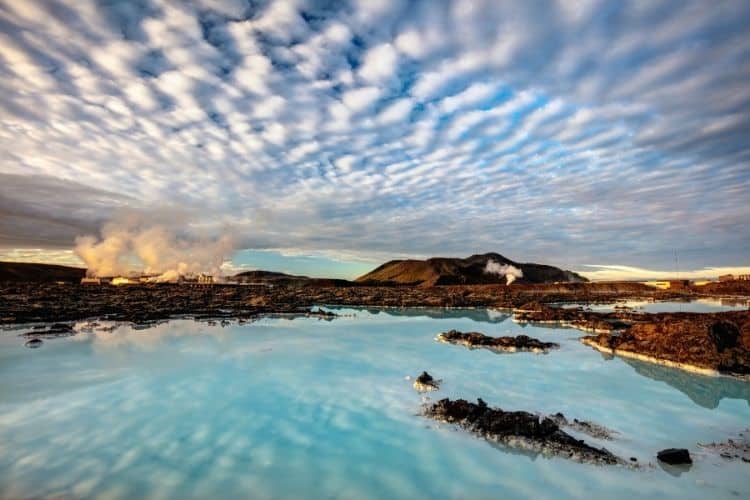 Natural Iceland Beyond Tourism
Of course, you can visit the famous natural Iceland sights of the Blue Lagoon and Skogafoss Waterfall. Also, Seljalandsfoss Waterfall, which you can walk behind. You can sleep in the bubble hotel waiting for the aurora to appear at any moment in the night sky. But this was a different kind of Icelandic experience.
Concern exists among Icelanders and its government that over-tourism is harming the country's fragile environment. Justin Bieber, who produced a video in the valley where the Skogafoss and Seljalandsfoss Waterfalls are located, brought so much tourism to that area that the government had to close it for a while.
Bieber's antics, such as skateboarding atop a crashed plane and rolling down a moss-covered hill were being imitated. This caused not only danger to themselves but to the environment as moss can take up to 70 years to grow and it was being destroyed.
Thermal Pools in the Snow
We spent our last full day talking and relaxing in the common living room. I had heard about the outdoor thermal pools nearby and decided that would be a great way to spend my last afternoon in Reykjavik.
I walked a short distance in the snow and entered one of the pools where people sat in water geothermically heated, of course, at a temperature of 44C/110F. This was followed by a swim in the large lap pool where the water was comfortably and naturally heated. I swam some laps, then returned to the hot sitting pool.
The air temperature was 2C/33F and it was snowing. I looked up at the snow and marveled at what I was experiencing – being outside in Iceland in the snow sitting in naturally heated pools. As I walked back to the house, refreshed and relaxed a gentle snow fell.
The Magical Aurora Borealis
I did see the aurora borealis. Getting out of the van with seven other people on a very cold and very windy March night in Kleifarvatin, the dream of an enthralled eight-year-old came to life. I put my gloved hands over my face and just stared upwards.
Green lights in the sky just as I had imagined them, in different sizes and shapes. In shades of light green and darker green. They would disappear. They would return. Fourth of July fireworks could never have compared. This was natural, this was nature at her finest.
I remember Sr. Adelaide's long Dominican habit and wimple, which covered her face. When third graders became fifth graders, we heard a rumor that Sr. Adelaide had left the convent. Today I wonder if all those years ago Sr.
Adelaide had also been was enthralled by the vision of the aurora borealis. Maybe she too saw it as the wonder of green lights dancing in the northern skies.
Admiration for Those Willing to Help
I left feeling admiration for my fellow program participants. By chance, they were all young women coming from Italy, Greece, France, Mexico, Germany, Portugal, and the U.S. ranging in age from 17 to 23.
Some had just finished high school and were doing a gap year to travel not only as tourists but as young women interested in organizations such as SEEDS and the environmental work it is doing.
Others were already enrolled in university, or had finished university, and were taking a gap year for the same reason. Their interests were in developmental economics, humanitarian work, art, business start-ups, medicine and medical research.
It was impossible not to admire their enthusiasm for their time in Iceland along with their future plans and goals. During meal prep or just sitting in the common area, I talked with some of these young women about their independence, plans for their futures and concerns about the environment and what could be done to keep it clean and bring it back to health.
Book This Trip
Volunteering: SEEDS – Workcamps in Iceland and CADIP.org
Getting there: Well-priced tickets are found on Icelandic Air with very fast and efficient check-in.
Flybus at the airport makes many stops. Just tell the driver the name of your hotel.
Author Bio: Ava Kabouchy is the author of two books: "Where in the World is Grammie Now?": The Adventures of a Globetrotting Grandmother," written to teach children about Saudi Arabia and to encourage grandmothers, such as herself, to travel, experience, and learn. She also authored "Wanderlust: A New Lease on Life in the Kingdom of Saudi Arabia", published by Europe Books. Ava makes her home in southwest France and in summer, on a remote island off the coast of Maine, USA.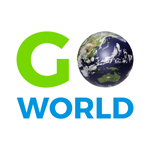 Latest posts by Go World Travel Magazine
(see all)