I'm a professional musician who has recently discovered the amazing world of photography. I have always been intrigued by the artistic and technical skills that are required to shoot timeless images.
There is something indescribable about looking at an excellent photo. I have come to realize that my newfound passion for photography started a long time ago. Growing up, my dad would take pictures that truly inspired me. Whether we were on vacation or playing baseball in the front yard, his photos always seemed to capture the moments perfectly. I can truly thank him for my creative visions.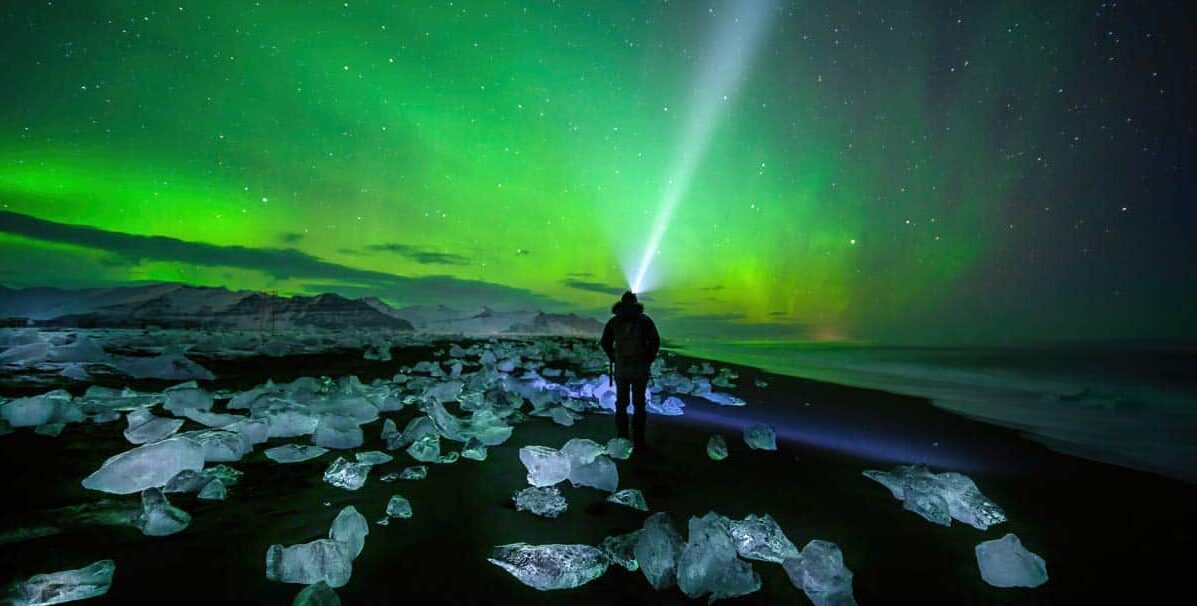 Epic Landscapes in Iceland
In September 2019, my father and I took a trip to Iceland, where I was completely overwhelmed by the beauty of the epic landscapes. Every location we visited was like another planet.
Unfortunately, I only had my cell phone to take pictures, and even though I got some decent shots, I knew that I wanted something more out of my photography. I felt in my heart that I truly needed to learn the proper techniques and skills it takes to capture incredible images.
Jumping into Photography
My appreciation for professional photographers is truly one of admiration and my respect for them is paramount. I am enjoying the new journey as an amateur photographer and I hope that my photos will inspire people to realize that it is always possible to explore new passions.
Photography in the Far North
Shooting in epic locations, such as Iceland and Alaska, has been life-changing. Spectacular northern lights, snow-covered mountains, glaciers, ice caves, beautiful evergreens and incredible wildlife have all contributed to my admiration of photography.
I really do believe that a picture is worth a thousand words or can leave you completely speechless.
Here are 10 photos of the Aurora Borealis and other beautiful scenes in the far north.
1. Alaskan Aurora Train
This was by far, my luckiest photograph from Alaska. Earlier in the day, I was driving from my hotel to Denali National Park when I randomly noticed two bright blue and yellow trains with "Alaska" written on them. Luckily, there was a small road a few hundred feet down, so I immediately pulled off. An Alaskan train, sitting in the snow, with evergreens all around truly seemed like the perfect representation of this amazing state, so I snapped a few photos then continued on to Denali National Park.
After an incredible day of exploring and photographing Denali, I drove back to my hotel to get some
rest. Around 10 p.m. I got an alert on my phone notifying me that the Aurora was going to be a bit active in the upcoming hours. The sky was crystal clear and there were millions of stars out, so I grabbed my camera and headed north toward Fairbanks.
All of a sudden, I remembered the trains from earlier in the day. My mind was so overwhelmed from Denali and all of the epic landscapes, that the trains slipped my mind. I thought if I can get the Northern Lights in the same picture as those trains, THAT would definitely be my ultimate Alaskan photo." I quickly turned my car around and headed back south. I was so excited that it felt like a lifetime until I finally found the trains. I honestly passed them because it was pitch black and I didn't know exactly where they were located. Thankfully, after a turnaround or two, my headlights captured the bright yellow on one of them, and I pulled off onto the small road from earlier.
The Aurora was creating a beautiful double band of green light that seemed to cascade over the trains. I set up my tripod across the road to capture a scene that I couldn't believe was actually happening.
I attached a Laowa 15mm f2 lens to my Nikon Z6 and started shooting 10-25 second exposure shots. The Northern Lights weren't dancing wildly, so I was able to expose a bit longer. Unfortunately, the Aurora wasn't strong enough to light up the side of trains, but nonetheless, I was still getting some really cool shots.
Then out of nowhere, I heard the faint sound of a semi-truck (I hadn't seen a car in over an hour) and I knew this was my one chance to hopefully get some light on the trains. I was calculating in my head like crazy, trying to figure out how long my exposure should be, just to catch enough light as not to overexpose the trains.
I went with 20 seconds, and as I looked at the back of the camera's LCD screen, I literally jumped up and down for 5 minutes. THIS is why I am in love with photography.
Date Taken: Oct. 23, 2020
Camera: Nikon Z6
Lens: Laowa 15mm f2
2. Alone with the Aurora
This is probably my favorite photograph that I took in 2020. I was driving from the city of Vik to my hotel, when I noticed a slight glow in the sky. I found a pull-off on the side of the road and immediately glanced out my car window.
The stars were shining bright and the Aurora was starting to get a bit more prominent. I knew that I was not far from Jokulsarlon and thought I might actually get to photograph the Northern Lights over the iconic glacier lagoon in Iceland.
To my surprise, there were zero cars in the parking lot of the lagoon. It was pitch black and I was completely alone. I grabbed my camera gear and a headlamp and started cautiously walking around, trying not to slip on the ice.
I then noticed a small downhill walkway and decided that I could get a good photo of the Aurora reflecting off of the water. By this time, the Aurora was quite bright and it just felt like a magical location.
I attached a Laowa 15mm f2 lens to my Nikon Z6 in hopes of capturing a nice wide shot of the reflecting Aurora. I took a few pictures and was overjoyed by what I saw on the back LCD screen. There were actually mountains in the distance, clear water and bright stars, and the Northern Lights were perfectly aligned with a small iceberg.
It was quite overwhelming. I wanted to remember this moment forever, so I decided to actually put myself in the photograph.
I set the camera self-timer for 30 seconds. I then carefully climbed onto the iceberg while the camera took the shot. I tried sitting, standing, kneeling, arms up and legs crossed, but this picture seemed to capture the experience perfectly. This was truly a night I will never forget.
Date Taken: Jan. 30, 2020
Camera: Nikon Z6
Lens: Laowa 15mm f2
3. An Icelandic Snow Horse
My last day in Iceland was the only time when the snow was falling quite heavily. I was hoping to photograph a few scenes before my flight and decided to look for the iconic Icelandic horses. I had randomly seen them while driving through the country, but unfortunately, there were never any places to safely pull off the road. I did stop at a horse farm where you could feed them, but the building took away from the natural habitat that I wanted to capture.
I was just about to head to the airport when I noticed a small group of horses off in the distance. I turned onto a small road and drove very slowly, as not to frighten them. I finally found a pull-off and cautiously walked toward the beautiful animals.
Surprisingly, this horse came right up to me and stood completely still as I was taking pictures of him. With the snow falling and other horses in the background, I knew this would be a special photograph.
To capture this image, I used my Nikon Z6 with a 24-70mm lens with a wide-open aperture of 2.8. I truly believe this was the perfect final picture of my Icelandic adventure.
Date Taken: Feb. 3, 2020
Camera: Nikon Z6
Lens: Nikon 24-70mm f2.8
4. Aurora Reflections
This is one of my photos from Alaska where everyone notices something different. I've had multiple people ask me if I actually captured this in one shot, and I proudly reply, "Yes I did, but I also got extremely lucky." The Aurora, bright constellations, a Geminid meteor, reflecting stars in the lake, snow-covered trees and, of course, those beautiful evergreens make this picture one of my all-time favorites.
I was enjoying dinner near Delta Junction when I decided to check out Google Maps. I was hoping to find a few nearby locations to photograph the Northern Lights later in the evening. I noticed there was a lake a few miles away and decided that would be a good place to start. Unfortunately, the Aurora forecast was quite weak for that night, but the sky was so clear and I headed to the lake anyway. As I stepped out of my car, I looked up, and there were millions of stars, unbelievably bright constellations, and the milky way was even visible. Then, out of nowhere, I started seeing what I thought were shooting stars, meteors streaking across the sky. I immediately checked my phone and realized that the Geminid meteor shower was occurring that night.
I wanted to capture as much of the sky as possible, so I attached a Laowa 15mm f2 lens to my Nikon Z6 and started shooting 15-30 second exposures. I was in complete darkness, but the sky looked like a planetarium. After a while (and a lot of photos), I turned on my headlamp and started looking for the small lake. I walked a few hundred yards and found this beautiful spot right on the edge of the water. I couldn't believe the lake was so still that you could actually see the reflections of the stars.
I started shooting but was disappointed because there was just not enough light to make the evergreen trees stand out in the frame. I headed back to my car to figure out my next location, when I realized the Aurora was starting to glow a bit. My excitement grew feverishly, and I hurried back to the water's edge. The Aurora wasn't very active, but it created an amazing, almost other worldly, atmosphere. It honestly felt like a dream while I was shooting. I checked the back of my camera and suddenly realized that I had caught a Geminid meteor in one of the photos. Shots like these are why I love exploring Alaska.
Date Taken: Dec. 12, 2020
Camera: Nikon Z6
Lens: Laowa 15mm f2
5. Capturing Vatnajokull
This is one of my favorite shots from Vatnajokull Glacier in Iceland, and yet it was complete luck. My friend Stephen and I were walking up to the glacier when I noticed this very interestingly textured rock. I stopped to change camera lenses on my Nikon Z6, from a wide-angle to a 24-70mm f2.8, so I could shoot its unique features. I stopped and sat down behind the rock while Stephen kept walking ahead.
I started shooting the textures of the rock to create an almost abstract picture. The lines and shapes were completely mesmerizing. Suddenly I heard Stephen yell out in excitement, "You have to see this incredible view! What planet are we on? This is amazing!" I looked up and saw him just standing there, with his camera by his side, staring out into the massive glacial landscape. I knew I had to capture the moment, so I quickly shifted my body around the rock and took this picture. I'm so glad he wore a red jacket because it creates an interesting contrast to the background.
The feeling of seeing a magnificent landscape for the first time is undoubtedly one of the greatest joys in life. Being able to capture someone's experience is truly one of the reasons photography has become such a passion of mine. Iceland is one of those magical places where every day is a different experience. The constantly changing scenery, towering waterfalls and even the unpredictable weather will always have a special place in my heart. I can't wait to go back in the near future.
Date Taken: Feb. 1, 2020
Camera: Nikon Z6
Lens: Nikon 24-70mm f2.8
6. Dreaming of Kirkjufell
This photo is from a night that completely changed my life. I was sitting in a small restaurant near Kirkjufell Mountain when a group of photographers walked in and seemed extremely excited. I could overhear them talking about a solar storm, but I had no idea what that meant. I kindly asked one of the gentlemen if he could explain it to me, and he simply replied, "Magical Northern Lights" as he spread his arms wide above his head. "We are all in for a special treat tonight" he exclaimed, as the entire restaurant cheered.
He then invited me to sit with his fellow photographers and they went into intricate detail of all the factors that go into shooting a great Aurora display. I was completely overwhelmed because I had never even taken a picture in the dark, let alone done any sort of astrophotography. After talking with them for a few hours, they graciously invited me to accompany them to Kirkjufell for a photographer's dream shoot.
Around 10 p.m., we all lined up our tripods across from the iconic mountain. The photographers looked like a row of soldiers ready for battle. We could suddenly see the Northern Lights dancing across the sky and you could vividly hear yells of excitement all around.
I was completely speechless, as this was my first time experiencing the magical Aurora Borealis. My Nikon Z6, along with a Laowa 15mm f2 lens, was capturing the Northern Lights perfectly (thanks to the help of my new friends). The lights were so active that I had to lower my shutter speed from 8 seconds all the way down to 1 second as not to have blurry Aurora photos.
After about an hour, I decided to leave the group and walk up the hill a few hundred yards to try some different compositions. It was so challenging not to just look up at the sky in pure amazement. I knew in my heart I wanted a wide variety of pictures that I could look back on, and fondly remember what a life changing experience this was. I ended up taking over 300 pictures that night, and they all have special meaning to me, but this one I have to consider my favorite.
Date Taken: Jan. 28, 2020
Camera: Nikon Z6
Lens: Laowa 15mm f2
7. Little Ice Bear
I absolutely love this photo. Every time I show people my pictures from Iceland, they always stop on this one and exclaim, "Wow, that looks like a baby polar bear!" Their reaction makes me smile every time because when I was walking through a thousand pieces of ice washed up on Diamond Beach, I noticed this specific one looked like a polar bear on its back. The difficult part was trying to figure out how to photograph it. I would have to get creative to capture the image I envisioned in my head.
I thought about placing it on top of a larger ice fragment but then realized the contrast of colors would be lost against the light sky. The black sand beach and the other small icebergs made for a perfect scenario, so I had to compromise my comfort. I decided that laying down on the beach and shooting upwards would give me the best chance for a unique photo. Yes, it was freezing, and the beach was obviously wet, but I really wanted to get the shot…hopefully.
I already had a 24-70mm f2.8 attached to my Nikon Z6, and I felt shooting a super shallow depth of field would make the ice bear really come alive. After moving a few pieces out of the way, I laid down on the beach and started trying a few compositions and focus points. I figured that since it looks like an animal, that I would focus on the eye, and that ended up working perfectly.
Date Taken: Jan. 31, 2020
Camera: Nikon Z6
Lens: Nikon 24-70mm f2.8
8. The Beauty of Denali
Denali National Park is home to the tallest and most photographed mountain in North America, Mount McKinley. Situated in the Alaska Range, Mount McKinley (sometimes referred to as Denali), has its own weather system and the peak is only visible approximately 30 percent of the time. I was truly fortunate to capture this epic mountain on a perfectly clear day. This incredible location was actually discovered by pure accident.
It was October 2020 when I was driving up from a Denali viewpoint and noticed a small pull off on the side of the road. There was an abandoned Jeep and a few remnants of an old house, so I grabbed my Nikon Z6 and started shooting. As I was walking around, I could see the mountain peak over the trees. I proceeded to walk down a hill, when, suddenly, the landscape completely opened up to an amazing view of Mount McKinley. I couldn't believe the beautiful view in front of me. I was totally inspired by the majesty of this mountain.
I must have stood there in awe for 10 minutes before attaching a wide-angle Nikon 14-30mm f4 lens onto my camera. There were so many compositions that I could have easily spent the whole day here. For this photo, I ended up lowering my tripod a few inches from the ground and gradually raised the tripod to eye level. This specific shot is definitely my favorite and I actually have it as my computer wallpaper.
Date Taken: Oct. 22, 2020
Camera: Nikon Z6
Lens: Nikon 14-30mm f4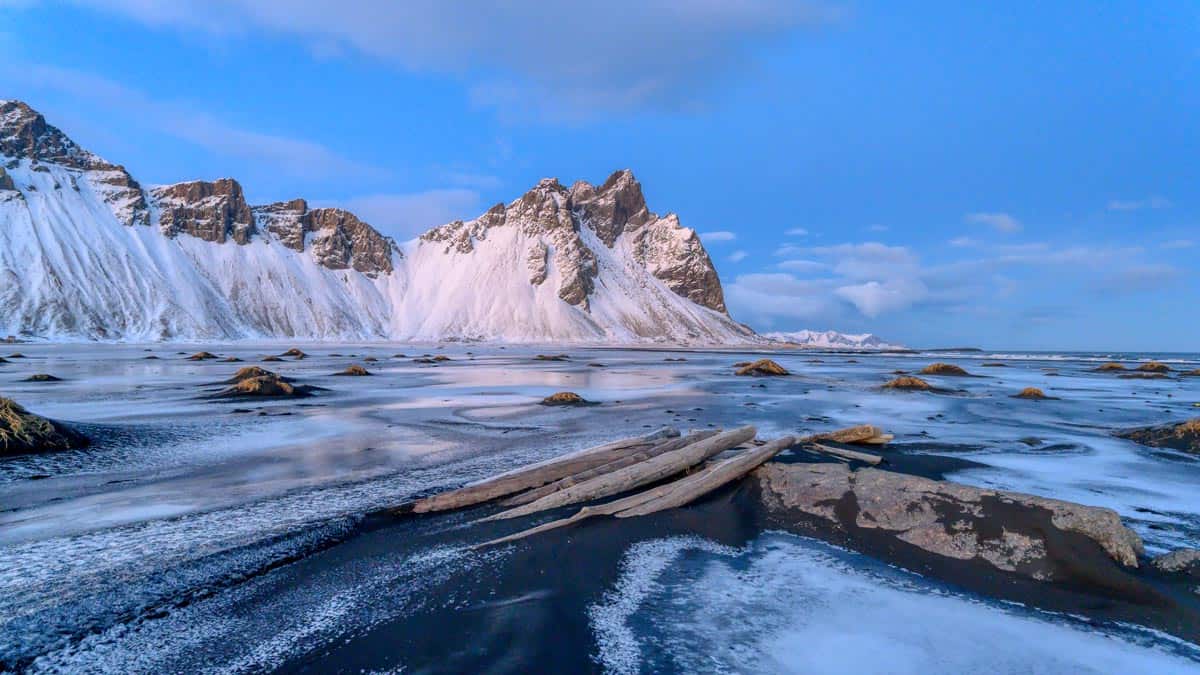 9. The Majestic Vestrahorn
I was lucky enough to capture this iconic mountain on a cold, wintry January afternoon. I had visited Iceland with my dad a few months prior, but unfortunately, we were not able to see Vestrahorn due to cloudy weather. Today was a different story. Waking up at my hotel, I was thrilled to see that the skies were bright blue, and the clouds were beautifully scattered across the horizon. I could barely contain my excitement on the hour drive there.
Vestrahorn is a famous location for photographers because the ideas for compositions are endless. Usually, the ocean tide creates a reflection on the mountain, but on this day, most of the beach had been frozen over. Slippery would be a complete understatement, and I could almost hear the cartoon music playing as I tried to walk around. After taking a few different compositions, I noticed a set of logs in the distance that I knew would make for some unique photos. It took a while, but I finally managed to get there.
For this specific photo, I used a Nikon 14-30mm f4 lens on my Nikon Z6 camera. I set the tripod extremely low because the logs were providing quite an interesting perspective. I did try multiple angles, but this one seemed to work out the best. Vestrahorn is undoubtedly my favorite photography location in Iceland and I promised my dad that I would take him back there so he could experience the true majesty of this epic mountain.
Date Taken: Jan. 31, 2020
Camera: Nikon Z6
Lens: Nikon 14-30 f4
10. Touching Another World
This photo inspires me to experience everything I possibly can. I never thought, in a million years, that one of my own pictures could actually motivate me to live a better and more fulfilling life. To be honest, I had no idea the amount of work and dedication it takes to capture a truly great photo. Discovering the art of photography has completely humbled me and I hope one day that I become an inspiration to others.
I had booked an 11:30 a.m. hike at the Matanuska Glacier in Alaska, but, unfortunately, I was late due to icy road conditions. Luckily, the owner offered me a private tour and I immediately jumped on the opportunity. I quickly grabbed my Nikon Z6 along with a 24-70mm f2.8 lens, and we headed out to hike on the giant glacier. I was completely mesmerized by the scenery and most likely stopped every 10 feet to snap a picture. When we finally arrived at the base of the glacier, I was greeted by Nick (another tour guide from the company). He asked if I was up for an incredible adventure and I obviously replied, "Of course."
Nick explained that we would have to hike about 3 miles to reach the destination, when I quickly responded, "Aren't we already at the destination?" He chuckled and responded "No, we are going to a place that very few people ever get to experience. It is an extremely challenging hike up through the glacier, but trust me, the reward will definitely be worth the effort." I was completely intrigued and quite excited as we started the arduous hike.
We finally came over a hill when my jaw hit the floor. A giant blue ice cave was right in front of us. I could barely contain my excitement as Nick asked if I would like to explore the inside of it. I literally felt my heart racing as we walked under huge icicles into the entrance of the magnificent cave.
Bright blue ice was everywhere, and I was speechless. My mind was trying to grasp the concept of where we were. I reached my hand out to touch the ice and I felt transported to another world. Right then, I knew I had to capture this moment with my camera. Nick was right…the reward was worth the effort.
Date Taken: Oct. 24, 2020
Camera: Nikon Z6
Lens: Nikon 24-70mm f2.8
About William Kennedy: "Photography has definitely changed my perspective on life and I have totally enjoyed the excitement of capturing epic Arctic Images. Luckily my career has enabled me to travel to these awesome locations. I currently reside in New Jersey and usually spend most of my time in a recording studio. I do love the music business, and my career as a recording engineer is very rewarding, but I am always on the search for my next Arctic adventure. I never thought that I would find something that inspires me like music does, but photography truly has sparked a new outlook on life."