Have you ever tried living like a Buddhist monk for a day? That's probably not a thought that would cross your mind.
In South Korea, it's easy to get intrigued by the beauty of temple architecture and the serene landscape surrounding it.
There are around 900 traditional Buddhist temples throughout the country. Joygesa is a masterpiece smack dab in the middle of Seoul to Yonggunsa, which sits on a cliff overlooking the mountains. No matter which temple you go to, big or small, you'll always be in awe of ancient history.
How to Reserve a Temple Stay in South Korea?
Booking a temple stay is simple. If you visit this link, you can translate the site into English, then explore various temples by city or province.
Once you choose your location, some options will pop up depending on what kind of stay you're looking for. If you want to do an experiential stay, you get to experience the life of a monk. You can also do a free stay if you want to relax for the weekend.
The price depends on the package you choose. For the experiential stay, you are looking to pay 80,000KRW ($65) for the program. It includes accommodations, food, and activities. For the free stay, it's around 60,000KRW ($55).
When you reach the payment screen, I suggest you pay in cash because sometimes it won't take a card. After your booking is complete, you will get a confirmation email. Keep the confirmation as booking proof.
Staying at Jikjisa Temple in South Korea
There are hundreds of options for a temple stay in South Korea. However, this will be about Jikjisa Temple in Gimcheon.
Let me start by saying that you need to be pretty open-minded to do something like this, especially when you're staying at a sacred site.
The whole program is in Korean, but there should be a foreign tour guide that will help you with everything at the temple. They also translate what the monks say about Buddhism and the rituals.
The Activities in South Korea
When you arrive and check in at the temple, a guide will give you a briefing about the temple rules, such as mealtime, bedtime, and uniforms. You will also get to see your accommodation, a traditional hanok.
A Temple History Lesson
The first activity for the program was a tour of the temple. The guide explained the symbolism behind the intricately painted temples.
Many of the murals depict people being punished for deadly sins like stealing, adultery, and so on. You will also get to learn the history of the temple.
The Monk Diet in South Korea
The diet of a Buddhist monk is very healthy. They eat vegetarian and lactose-free foods. Especially in Korea, you can expect these meals to include rice, kimchi, other vegetable side dishes, and soup. Be on time for dinner because the food runs out quickly.
Another pro-tip for dinner is to finish every bit of your soup. You will use your soup bowl for drinking water.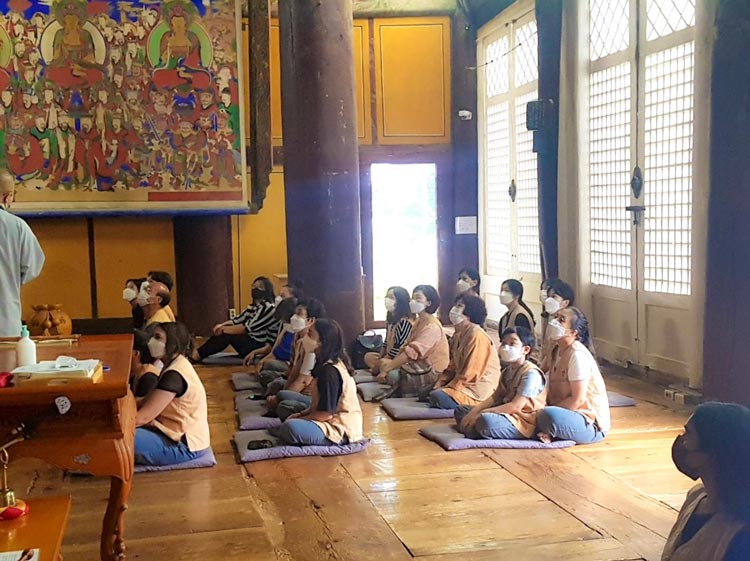 108 Prostrations
This is a bowing practice done by monks before they meditate or teach. The purpose of this bowing is to take away from the wandering mind and snap you back into the present.
Buddhist believe that there are 108 compartments in the mind. These compartments can lead to thoughts like desire, anger, laziness, and whatever else you might think of.
The point of doing 108 bows is to touch every part of the mind and revert it to the present thoughts. More importantly, it's a way to humble oneself.
The chanting during the prayer was in Korean. If you don't speak Korea, no problem, it's easy to follow what everyone else does. What's important here is to be mindful of your surroundings and the silence that wraps around you like a blanket.
108 Affirmations
So, to help you count the 108 prostrations, you use prayer beads. This activity wasn't just about physically threading the beads.
Each bead symbolized 108 affirmations. For every number, you thread a bead, and then take a bow until you have 108 beads in total.
Meditation Walk for Clarity
After breakfast, the participants can enjoy a serene and scenic walking trail to the top of the mountain. It offers a breathtaking view of the valley landscape below from a pagoda.
This was about focusing on how we are walking and decluttering the mind. Taking a walk through the crisp, foggy mountain air at 4 am is more clarity than you can ask for.
Tea Ceremony with a Monk in South Korea
Enjoy East Asia's more minimalized version of afternoon tea, called Dado. You sit on a pillow with a tray that includes teacups and a plate of nuts and berries. The monk will prepare the earthy-tasting tea blend, and you will serve it yourself.
During this time, the monk gave a background on Buddhism as a religion. Then, he went into depth on his life story and what exactly brought him to a life of solitude at a temple in the mountains. He'll also answer questions or curiosities you have about temple life.
Reflecting on the 48 Hours of Monk Life
The experiential program is almost like living in another universe. For the rest of the world, it's constantly a rise and grind, fast-paced culture, especially in South Korea. You live in a pali-pali culture (Korean for "hurry").
At the temple, there were a few moments of enlightenment. The first was during the 108 prostrations. You're around people who don't speak the same language and were raised in a completely different culture. Yet, everyone comes together and practices sacred rituals.
The second moment was during the tea ceremony. All participants sat silently on pillows as the tea was poured from the kettle. You could hear the sea of insects singing a tune from the open windows. The trees sway outside, allowing a gentle breeze to flow inside. It was a moment of unexplainable peace.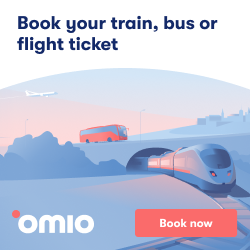 There was something so precious about being away from the noise of everyday life. Something as simple as watching the sunrise through the trees. We live in a world where being fast and productive is always rewarded. Those monks just decided that it wasn't for them.
Achieving that sense of calm takes a lot of practice, and the great thing is that you learn how to keep that balance. The monks touch on topics of meditation, which I know isn't for everyone, but it's worth giving it a shot.
Traveling is putting yourself in someone else's shoes. It's about experiencing how other people live, what they eat, and their values. It's surreal doing the Buddhist rituals. You sit there and think to yourself, "How did I end up here?"
It is incredible being welcomed into a sacred space with zero background knowledge. As long as you go into this temple, stay with an open heart, open mind, curiosity, and willingness to learn. They will appreciate that.
Author's Bio: Michaela Cricchio is an English teacher and travel writer. She has worked in countries like South Korea and Thailand while documenting her journey on Instagram. You will probably find her sipping on a specialty latte at a local coffee shop.