Cozumel, an island in the Mexican Caribbean, is home to The Explorean Cozumel, part of Discovery Resorts. It's an all-inclusive property with a focus on adventure-based activities, but with the opportunity for luxurious relaxation as well.
With its pristine beaches, underwater caves, and extensive network of underground rivers, Cozumel is an ecologically significant destination
Planning a last-minute trip to Mexico?
Top Experiences and Tours in Mexico:
Where to stay in Mexico:
The Explorean offers guests a way to explore this natural beauty while also enjoying a variety of amenities that make it convenient to relax after exploring. Whether you want a secluded honeymoon or just need some time away from your busy life back home, we've got you covered with these reasons why you should visit The Explorean Cozumel.
It's an All-Inclusive Resort
The Explorean is an all-inclusive resort, which means that most things are included in your stay. This includes a wide variety of food and drinks, as well as a variety of activities designed to make your stay fun and memorable.
The Explorean has access to different restaurants and bars, each with a different theme and style of food. One perk of staying at The Explorean is its guests are given access to the amenities at its sister resort, Fiesta Americana Cozumel All Inclusive.
There are different restaurants to choose from, including one that is just a few steps away from the night's fire show. This means that you can always find something that suits your tastes, no matter what time of day it is. Additionally, drinks are included. This includes alcoholic beverages and non-alcoholic beverages such as juices, coffee, and tea.
With the all-inclusive package, guests may order as many drinks as they like, including specialties like mojitos, piña coladas, and other cocktails as well.
The Explorean is different from other all-inclusive resorts in that you will journey through a jungle path to your suite. It is not organized like your typical hotel. The suites are spread out. This is great if you really value your peace and quiet.
Diving, Snorkeling, and Water Exploration Are at the Center of Everything
If there's one thing that you should do while you're at the Explorean, it's diving. Cozumel is home to some of the best diving in the world, and the Explorean has dedicated diving resources, stocked with all of the latest equipment and staffed with experienced instructors.
There are a variety of diving experiences available, including introductory dives.
The Explorean also offers snorkeling trips to the nearby coral reef and inland cenotes, underwater caverns filled with fresh water. The reef is some of the most stunning underwater scenery in the world and is accessible to all skill levels.
On a snorkeling excursion, you can visit three different aquatic habitats that play host to different types of marine life. First, explore the reefs in a water depth of about 30 feet. You may spot a barracuda or a parrot fish among the coral and sea anemones.
Next, make your way to water that is about 10 feet deep and see the giant sea stars. Finally, make your way toward shore and enjoy lunch on the water. After, enjoy and swim around in 3 feet of crystal clear water.
Relax by the Pool
The Explorean has a relaxing pool area as well. Try one of the green juices and enjoy some peaceful relaxation. Although the pools are a great place to relax, they're also an excellent place to meet new friends. As The Explorean is a host of many significant sports competitions, you might just hear languages from all over the world.
If you feel like exploring the resort you may just come across the home of the Aluxes. They are small forest creatures of Mayan Folklore who live in the resort (their home is in the cover image).
Go Kayaking to See Marine Life Up Close
The Explorean has a variety of non-diving activities available, including kayaking tours through the mangrove swamps nearby.
The kayak tours are a great way to see tropical marine life up close, as well as a variety of birds and plants. The kayak tours provide a unique look at the ecosystem. The water in the mangrove swamps is quiet, so you can enjoy the unique wildlife without the usual sounds of waves crashing against the boat.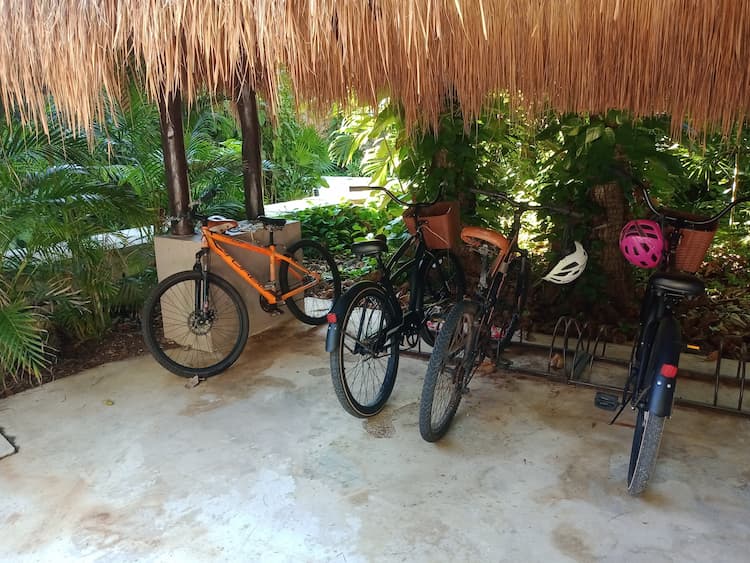 Ride a Bike and Explore the Island
Another great way to see Cozumel is to rent a bike and ride around the island. While there are many places in Cozumel where you can rent a bike, there are very few places where you can rent one with an expert tour guide.
The Explorean offers guided bike tours around the island, led by a knowledgeable and friendly tour guide.
Attend One of the Many Sporting Events Hosted in Cozumel
The Explorean hosts a variety of guests who attend sporting events throughout the year. These events are a great way to meet other guests, learn interesting facts about a sport, and enjoy a fun and entertaining event.
One of the most exciting sporting events in Cozumel is the Ironman competition, an event that attracts thousands of guests and participants from across the world. This event is a great way to see the island.
It's a Great Place for Weddings
There are many all-inclusive resorts that will host weddings, but few will provide the seclusion and beautiful nature that The Explorean can provide. The nature of the resort's layout provides an intimate environment for couples that might want a little more space and privacy.
With a focus on wellness, The Explorean provides a peaceful environment for various celebrations.
Cozumel is Safe for Travelers
Finally, Cozumel is one of the safest destinations in the world for travelers. This is partially due to the fact that tourism is one of the most important industries in Cozumel, so the government has a vested interest in keeping guests happy. It is perfectly safe and a great place to get away.
With so many reasons to visit Cozumel, the Explorean is definitely worth your while if you have a taste for adventure, but also want to relax with ample amenities at the end of the day.
Inspire your next adventure with our articles below:
Author Bio: Sandy Page is a life-long adventurer. In her free time, she reads and consumes copious amounts of hot beverages.