A mother-daughter river cruise on the Seine offers treasured experiences in Normandy and a look at the legacies we leave behind.
It's almost 7 p.m. when the Scenic Gem pulls away from its dock on the Seine River. The sun is warm overhead, so we sit on the Sun Deck and watch Paris float by.
The French capital looks different from this perspective. We pass cyclists and walkers out enjoying the evening air. Gleaming modern structures rise alongside historic buildings and then give way to colorful gardens. We pass under bridges and then as night falls, we leave the twinkling lights of Paris behind.
Standing at the rail, my daughter, Kirstin, soaks in the changing landscape. We're on an 11-night river cruise aboard the Scenic Gem. The Normandy & Gems of the Seine cruise will take us from Paris to Normandy and back along the slow-moving Seine, the second-longest river in France.
Family Travel
This is an important trip for us both. Travel has always been an important part of our family life, something we've prioritized over the years. While home improvement projects sat idle and my trusty car aged, we traveled.
The desire to see the world with open eyes is something I hope I've passed on to my kids. As soon as they were old enough to pull their own suitcases, I found discount flights to wherever we could go. We built sandcastles on the beaches of Sydney, visited temples in Thailand and hiked with friends through the forests of Vienna.
I especially treasured the times when I could travel individually with each one of my three children. Those one-on-one experiences offered a new dimension to our relationship.
Now, at 32, my daughter's life will soon change completely. She's seven months pregnant, and a little one will soon bring a new way of life. We've decided to take one more mother-daughter trip before that much anticipated day arrives.
And so, we're here, floating through France.
River Cruise in Normandy, France
The Seine River is well-suited for river cruising. It flows slow and steady through Paris and then northwest through Normandy, the largest province in France.
Normandy encompasses miles of coastline, small towns and countryside. The region has a long tradition of horse breeding and farming.
For many Parisians, Normandy is a peaceful place to vacation, but it's seen its share of heartbreak and triumph. In a brutal battle to free France from Nazi domination, the Western Allies launched the largest amphibious invasion in history at Normandy on D-Day, June 6, 1944. Our river cruise will include a day at the D-Day Beaches to learn about this important event.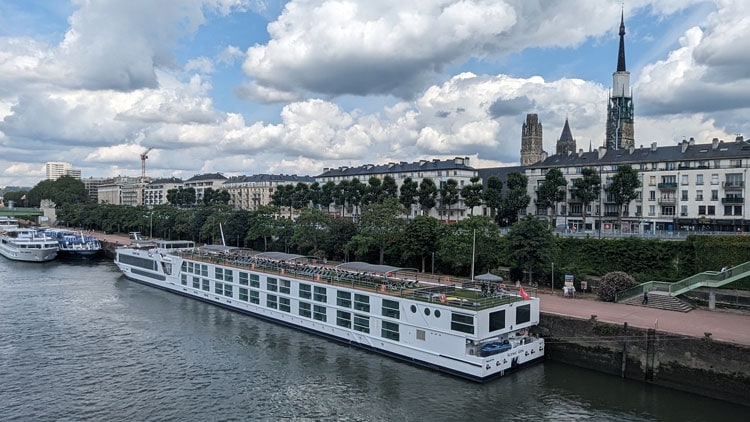 Aboard the Scenic Gem by Scenic Luxury Cruises & Tours
Scenic Luxury Cruises is known for its ultra-luxury, all-inclusive experience. As soon as you arrive at the airport, everything is taken care of. We don't have to worry about transportation or finding restaurants or moving locations. We can simply relax and enjoy the trip. All meals, airport transfers, tips and gratuities, Wi-Fi, excursions and drinks are included.
We're in France, so of course, we have excellent French wines. The staff on the Scenic Gem takes excellent care of my pregnant daughter. They delight in making her fun mocktails and ensure she has everything she needs. They take wonderful care of the rest of us, too, anticipating our wants before we even ask.
Dining on the Scenic Gem
Dining is a highlight. Food is locally sourced, and many dishes have a strong French influence. Most meals are served in Crystal Dining, the main dining room; there's also the casual River Café and the L'Amour Restaurant, an elevated experience that offers a six-course set menu to all guests once during the cruise.
The Scenic Gem is 360 feet long and carries 124 passengers with 49 crew. The ship feels spacious and luxurious, without being overly grand. Scenic Gem is specifically designed to sail along the Seine River from Paris into the Port of Honfleur at the mouth of the river. Many other river cruise ships have to dock upriver and bus passengers to Honfleur.
Balcony Suite on the Scenic Gem
When we enter our large balcony suite, I find a note from our butler, Jasmin. His valet services include bringing early morning coffee and breakfast to our suite, if we'd like, and making any shore arrangements we need.
Our 205-square-foot suite has a private Scenic Sun Lounge, a unique feature on Scenic's Space-Ships. The balcony runs the length of our suite and has huge glass windows that can be fully closed or opened to waist height to let in fresh air and sunshine.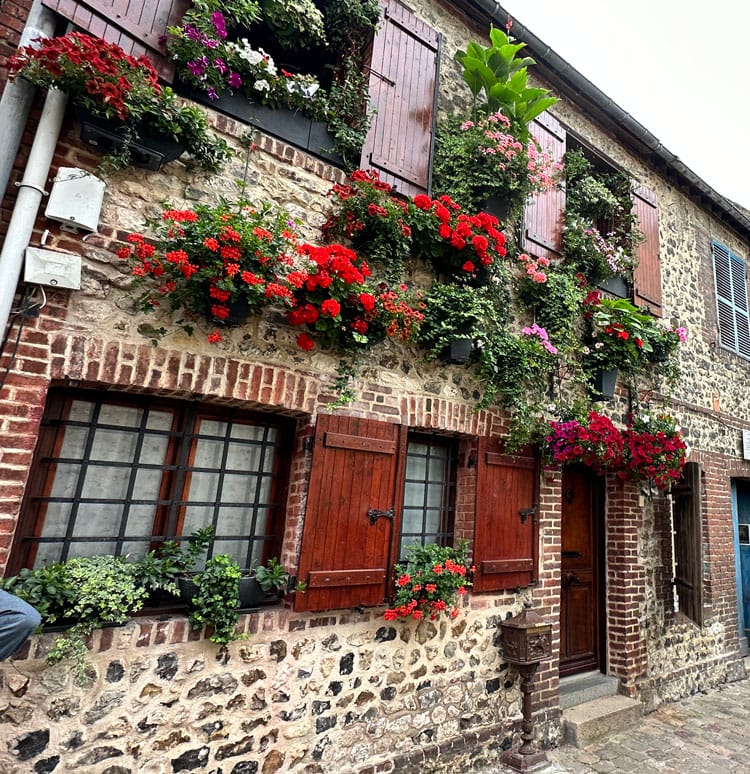 Exploring Normandy on Scenic Excursions
Slow travel on the Seine is perfect for a pregnant soon-to-be mom, my daughter says. Our daily rhythm includes breakfast in our suite before heading out on an active Scenic excursion. We come back for a late lunch and relax for a few hours before heading to an exceptional dinner and an entertaining evening onboard.
Scenic offers multiple excursions to choose from at each port, including coach, walking and cycling tours with different levels of activity involved (active, moderate, relaxed). Passengers can tailor their experience to suit their interests and activity pace.
We choose a wide mix of activities. Each excursion is led by a professional English-speaking guide who provides historical, cultural and culinary insights at each stop. We can hear the tour guide perfectly using the Scenic Tailormade app and earphones.
Apple Farm and Cidery in Les Andelys
At our first stop in Les Andelys, we take a guided tour of the small village before heading to Lyons-la-Forêt: Apple Farm & Cidery. This region is well-known for its ciders, and we get to sample a wide variety of ciders after touring the orchards.
Exploring Rouen with Rollo, the Viking Warrior
When we dock in the small town of Rouen, I know this is going to be one of my favorite stops. The capital of Normandy is filled with winding cobblestone streets and half-timbered houses.
The guides on Scenic excursions have been excellent, but our guide in Rouen, Ben Baillie, might just be one of the best I've ever had. He leads his tour in Rouen as Rollo the Viking. Rouen's Viking roots run deep, and the real-life Rollo was a Viking who, as Count of Rouen, became the first ruler of Normandy.
Rouen and Joan of Arc
On our second day in Rouen, my daughter and I explore more of the town. It was here, on May 3, 1431, that military leader and Catholic saint Joan of Arc was burned at the stake.
There were many claims against her, including the charge of heresy. But after the young 19-year-old woman bravely faced her death, she became a national symbol for the French cause during the Hundred Years' War.
Joan of Arc's Enduring Legacy
Today, her legacy lives on, almost 600 years later. Joan of Arc's enduring legacy is a result of her transformation over the centuries, evolving into a multifaceted figure who can be interpreted in various ways: a saint martyred by her own Catholic church, a feminist often perceived as lacking female solidarity, and a monarchist poster child for democracy.
Today, near the Church of Saint Joan of Arc, a prominent cross stands as a solemn marker at the very spot where the stake once stood.
Standing tall over the city of Rouen is the impressive Cathédrale Notre-Dame de Rouen. Damaged by war and fire, the Rouen Cathedral is still the heart of the city.
In the evening, we walk to the Cathedral to watch the cathedral's popular light show. Held each summer evening, the light show is a dazzling sound and light display that uses the Cathedral as the canvas. It's a fascinating dichotomy.
Honfleur: A Seaside Jewel
Our next stop is the picturesque town of Honfleur, nestled along the Seine's estuary. Colorful boats bob in Honfleur's quaint harbor, which is lined with small cafes and shops. The town's cobblestone streets invite exploration, and we happily oblige.
Normandy and D-Day Memorials
On our second day in Honfleur, we board a bus to visit the Normandy Beaches. Though the Normandy Beach Invasions – D-Day – happened almost 80 years ago, that legacy lives on.
The sacrifices made during that turbulent time have not been forgotten in the towns and villages that dot the Normandy landscape. We see many memorials, including in English, that tell the story of courage, heroism, and resilience. These are not just monuments of stone; they are the living, breathing soul of a region that cherishes its history and honors those who laid down their lives to save France.
Thousands of soldiers from England, Canada, Australia and America took part in the D-Day invasion aimed at liberating France. Each nation commemorates and honors those who were lost.
We visit the Normandy American Cemetery and Visitor Center, Omaha Beach and Utah Beach and Memorial. You can also visit the United Kingdom and Australia Operation, Memorials and Landing Sites or the Canadian Operation, Memorials and Landing Sites.
Normandy American Cemetery
The Visitor Center at Normandy American Cemetery does a good job of telling the story, putting the D-Day landings and battles in Europe in perspective as one of the greatest military achievements of all time. There's so much to learn here, and I wish we had more time.
An engraving on a wall near the Normandy American Cemetery says:

"1941-1945: In proud remembrance of the achievements of her sons and in humble tribute to their sacrifices, this memorial has been erected by the United States of America."
I knew the American Cemetery was large, but I'm not prepared for the sight of 9,388 graves. The rows go on as far as I can see. Many French, British, and Canadians sacrificed their lives too. Their sacrifice defeated tyranny and left behind a legacy of freedom that still goes on today.
Walking silently along the rows of graves, I think about these heroes who went before us and those who walk among us today. When good men and women stand together, evil can be defeated.
We travel then to Omaha Beach and then on to Utah Beach, its wide empty expanse so tranquil. It's hard to comprehend all that happened here. Our guide, Ben, shares stories of bravery. Later, I walk along the empty sand, listening only to the sound of the wind.
A Visit to the Beach Town of Etretat
After docking in Caudebec-En-Caux, we head to the beach town of Etretat, which has a whole different feel. Famous for its Alabaster cliffs, the seaside town is a weekend getaway for Parisians. It's a bustling place. Children run along the shore and couples walk on the sea wall. Kirstin and I sit on the shore and watch windsurfers, enjoying a Nutella crepe.
Claude Monet Home and Gardens in Giverny
I'm excited when we dock in Vernon. Today, it's our base for exploring nearby Giverny, which was once home to the famous impressionist artist, Claude Monet.
As the founder of French Impressionist painting, Monet turned the town into an artist pilgrimage. His home and gardens are still here today, and thousands visit each year.
Monet's Legacy
Monet's distinctive use of color, artistic vision, and innovative approach to composition left an enduring imprint on the world of fine art. His methods served as a wellspring of inspiration for renowned artists like Vincent Van Gogh within the Impressionist and Post-Impressionist movements.
Monet's sole passion was painting. He had two children with his first wife, Camille, and then moved in with Alice Hoschede, who had six children. They eventually married and raised all eight children together on a large property. He created gardens, the famous lily pond and a colorful house that survives today.  
Monet's House and Garden
Monet's gardens have been beautifully cared for. Blooms of every color line the garden paths. I try to imagine Monet painting here while eight children ran about the gardens.
I can imagine all those children as we tour Monet's large home, which is filled top to bottom with colors – pinks, blues, yellows and more. Later, we walk along the Japanese-inspired waterlily garden, which inspired his most famous works. It feels like walking through one of his paintings.
A Private Concert in a Castle
In the evening, we're treated to a Scenic exclusive – a private concert at the Château de La Roche Guyon, a 16th-century château built into a chalk hillside. We walk through its orchards and gardens, then have a wine and cheese reception before listening to a concert by a classical quartet.
Auvers-Sur-Oise and Vincent Van Gogh
Conflans-Saint-Honore, a medieval town located at the confluence of the River Seine and Oise, is not far from the village of Auvers-Sur-Oise where Vincent Van Gogh painted his final masterpieces, including the famous Notre Dame de l'Assomption church.
You can visit the post-impressionist's last home here in a modest attic room. He spent his final days here, never dreaming how his legacy would live on more than a century later. He is buried alongside his brother in a nearby cemetery.
Chantilly Castle and Gardens
Also nearby is the famous Chantilly Castle and Gardens. The grand Château de Chantilly seems straight out of a Disney movie, with sprawling gardens, a moat and a massive castle structure. The château showcases some of the fine collections that Henri D'Orleans, the son of the last King of France, collected during his lifetime.
Back to Paris
By now, the Scenic Gem is on its way back to Paris. When we reach the outskirts of the city, our morning is filled with exploration as we tour the vibrant Marais District, guided by a knowledgeable Parisian.
As the evening begins to cast its shadows, we find ourselves back onboard, cruising deeper into the heart of Paris. From the upper deck, I catch sight of the Eiffel Tower, its shimmering lights reaching skyward, a symbol of pride and beauty in the distance.
Beside me, my daughter wears a huge smile. This journey has been a good one, giving us precious time together to create memories that will last for years.
In my mind's eye, I glimpse a view of the future. Soon there will be a new granddaughter to join our adventures. Hopefully, she'll want to explore the world with open eyes, continuing a legacy of wanderlust in the next generation.
Follow more of Janna Graber's travels on Instagram.