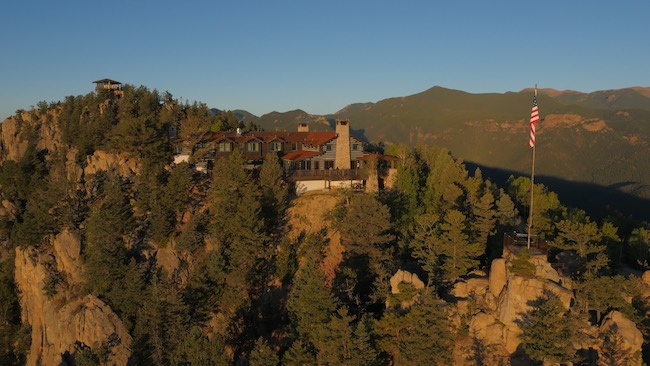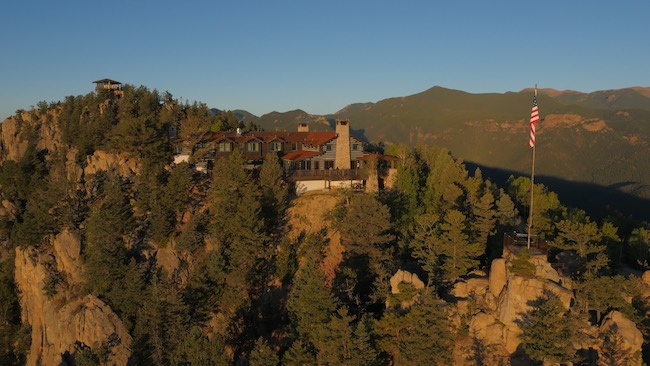 High above the exclusive Broadmoor Resort in the city of Colorado Springs—3,000 feet high to be exact—sits Cloud Camp, a unique vacation lodge literally in the clouds when it's not sunny.
It stands on the footprint of Cheyenne Mountain Lodge, a private retreat and guest lodge built in 1926 by the Broadmoor's founder Spencer Penrose. That lodge has since been demolished, and in its place Cloud Camp re-imagines what Penrose enjoyed with his friends—fabulous dining in a mountain setting and 360-degree views of the plains and Rocky Mountains and 14,000-foot Pikes Peak. Only the rock wall and stairs in this vintage picture remain.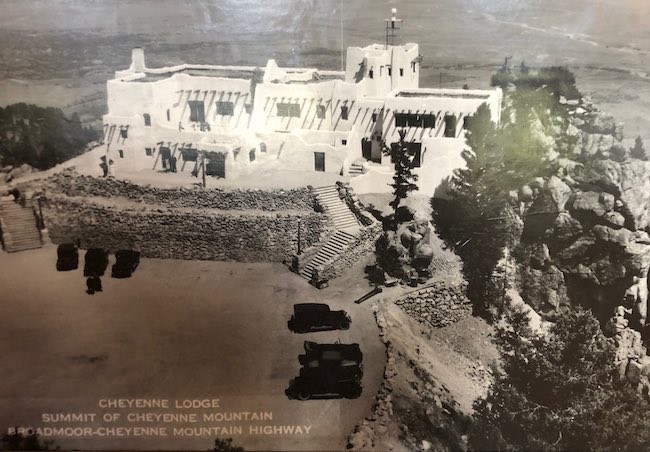 Cloud Camp is part of The Broadmoor's Wilderness Experiences. You get the same unparalleled service, amenities and fabulous food as the tony resort, only you get it in your jeans on a mountain top 9200 feet above sea level.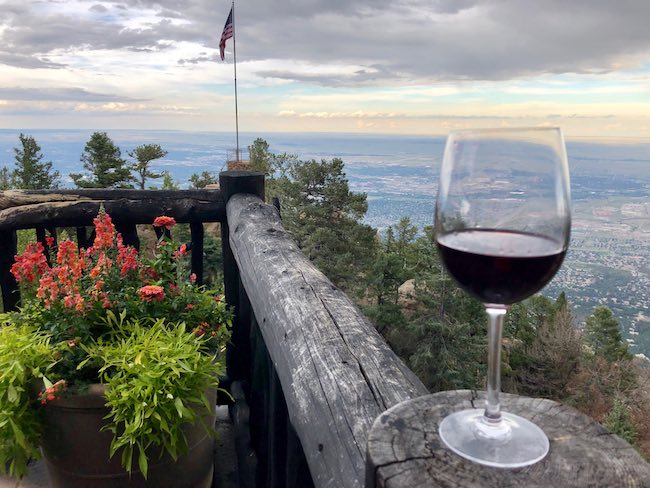 Getting There
Getting there is an adventure. After checking in at The Broadmoor, you can hike part of the eight-mile Cheyenne Mountain Road with lots of switchbacks that Penrose built in 1925, or ride a shuttle from the hotel, or ride a mule like they did back in the day. Of course, I chose to ride the mule, which I mount for the last one and a half miles of the journey. The views from the trail get more spectacular as we ride up and up.
In typical Broadmoor style, staff warmly greets us on arrival and shows us around. The main lodge is a masterpiece of timber framing, hand-hewn beams and indigenous stone fireplaces.
Western artwork decorates the walls (the owner holds one of the largest collections of western art in the country), and we find amazing authentic artifacts, like this late 19th century Santee Sioux Vest and Northern Plains Man's Jacket. A note found in the pocket states that a relative of Sitting Bull made the jacket in 1920.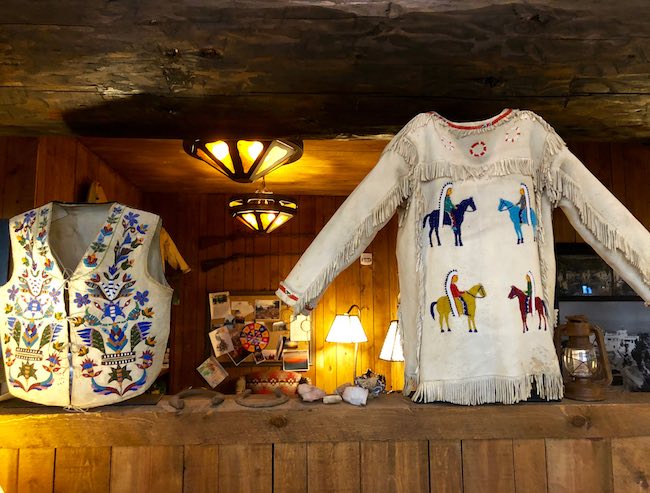 A western saddle, chaps and guns from the owner's collection.
Lodging at Cloud Camp
The main lodge has seven rooms; there are 11 one- and two-bedroom cabins spread throughout the property plus the Fire Tower Suite (a perch atop a mountain once used as a real fire tower). You must climb 145 steps to get to it! A young couple on their honeymoon stay there during our visit; they say the room with a private hot tub is well worth the climb!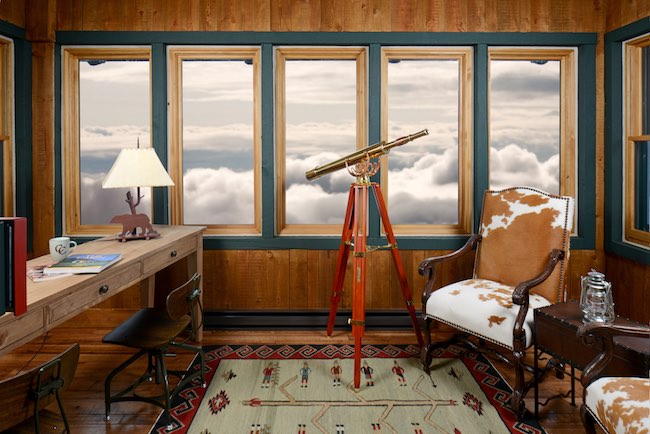 We are lucky to get the honeymoon suite in the lodge. Western decor, a large stone fireplace and a copper soaking tub make it a true Colorado experience.
Most noteworthy is the private deck on a rock outcropping overlooking the city sprawl. . .
. . .with killer sunsets!
Dining at Cloud Camp
Cloud Camp employs the same renowned culinary program as The Broadmoor. Our first introduction to the chef is in the regularly scheduled afternoon cooking class. We join her in the kitchen where she shows us how to make Warm Asparagus Veloute, our first course for dinner. We dine with other guests at the massive table in the Great Hall. Our choices for the gourmet meal are Colorado Lamb, Diver Scallops or Chateaubriand; Ambrosia Salad or Belgian Endive Salad; desserts are Cream Puffs, Chocolate Bourbon Cake or Lemon Ice Box Pie. Breakfast and lunch are served buffet style to be eaten al fresco or in the dining room. Finally, water is available everywhere and guests are encourage to drink up to avoid high altitude sickness.
Activities at Cloud Camp
If you choose, you can summon a shuttle to take you down to the hotel for a round of golf or a spa treatment. But I can't imagine leaving the serenity of this mountain enclave. A daily activity schedule includes yoga on the deck, guided hiking, mule rides, archery, crafts and soon pickleball. On your own you can loll in the hot tub, play disc golf, horseshoes or other lawn games. Above all the daily rituals is the pre-dinner flag ceremony when they play "America the Beautiful," the patriotic song written by Katherine Lee Bates inspired by her visit to Pikes Peak in 1893. We look toward the famous peak from the deck as they lower the flag—it is quite moving.
Nighttime is magical at Cloud Camp. We stroll past the firepit onto the walkways where we find our way to a hot tub. So many stars in the heavens! Aaaaah!
Prices include all meals (including alcoholic drinks), all activities and transportation. Nightly rate for a queen lodge room is around $850; a cabin runs around $1,030. In addition, a service fee of 20 percent is added daily. Cloud Camp is open from May through October, exact dates are determined by the weather. You can spend Thanksgiving or Christmas there if you want to buyout the whole place! It's a great venue for groups or meetings.
Cloud Camp at The Broadmoor, 1 Lake Avenue, Colorado Springs, CO 80906; 844-306-6081; broadmoor.com
Claudia Carbone is an award-winning travel writer based in Denver. Read about other hotels she's visited in Sleepin' Around.
Latest posts by Claudia Carbone
(see all)