I could hardly believe I was in Ireland. I'd dreamed of this trip for years and now I didn't want to close my eyes for fear of missing something.
As I became acquainted with the Irish countryside, sugar-coated images of thatched cottages and leprechauns fled before the splendor of the real thing. Here, velvet blue skies flanked rolling green hills, ancient stone buildings hovered on every horizon and age-old rock walls snaked across the fields.
I had expected the scenery in Ireland to be fascinating, but I was pleasantly surprised to learn the same could be said of its history. Especially in places like St. Ciaran's Monastery at Clonmacnoise.
Unsettling First Impressions
Clonmacnoise is in Southern Ireland, in County Offaly. Although it's a little out of the way, it's well worth the extra effort. As we passed through the front gates it was immediately clear this was an unusual place.
There was an other-worldly presence here. Something almost palpable hung like a mist in the air and I felt goosebumps rising on my arms.
On the other hand, you'd be hard put to find a prettier setting. To my left, the River Shannon sparkled in the afternoon sun. On the right, crumbling stone churches and tilting headstones sat, patiently waiting for the end of time.
I was drawn to the cemetery as I always am at such places. As I approached, my initial sense of unease returned. Warily I eyed the names on the grave markers, half-convinced by now that I'd stumbled onto the burial place of a long-lost ancestor. Perhaps I'd been recognized by a restless spirit and had more company on this walk than I cared to think about.

But the more I learned about this former monastery, the more I understood the atmosphere here. Perhaps it was nothing more than a sense of unfinished business. After all, this was a place where many lives ended before their time.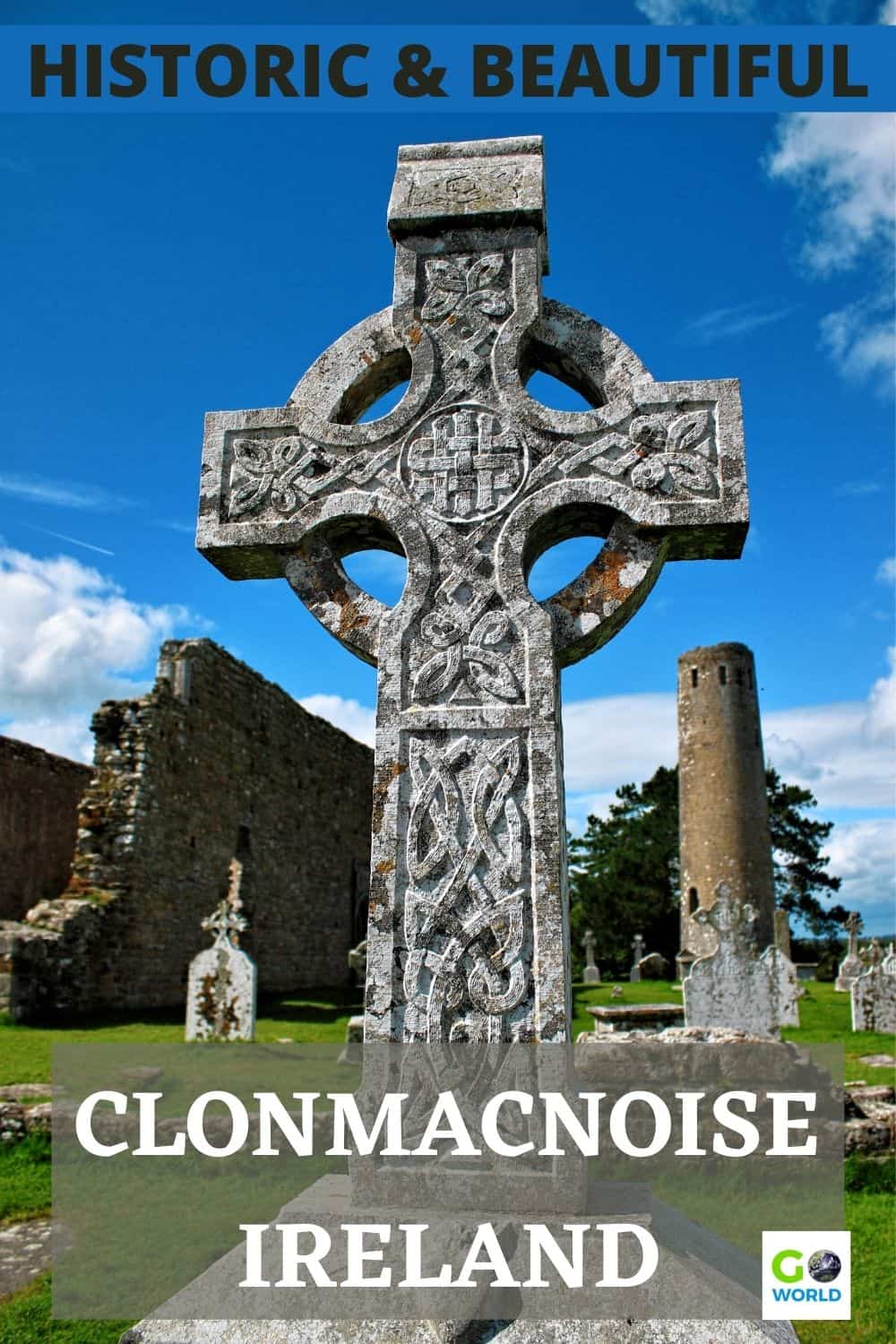 The History of Clonmacnoise Monastery
To see it now, Clonmacnoise is the picture of peace and harmony, but its history belies that impression. Despite the humble aspirations of study and worship, life at the monastery was fraught with peril.
The settlement was attacked forty times from the 8th to the 12th century and was destroyed thirteen times by fire.
Founded in 545 A.D. by Saint Ciaran, Clonmacnoise was chosen for its ideal location. It borders three provinces: Connaught, Munster, and Leinster. Plus it sits at a crucial junction of river and road traffic. As a result, it was once considered the crossroads of Celtic Ireland.
Despite modest beginnings, the monastery evolved into an illustrious center of piety and learning that attracted intellectuals from all over Europe. Saint Ciaran, a scholar himself, would have been proud of the heritage of education and craftsmanship he begat.
Artists and scribes toiled to learn skills that would grace the pages of famous illuminated manuscripts like the Book of Kells and the Book of Durrow. Metalworkers and sculptures produced some of the world's finest Celtic craftwork. As proof, a high cross from 900 A.D. is displayed at the visitor's center.
The Rise and Fall of Clonmacnoise
By the 7th century, thanks to the patronage of a generous King, the monastery was enjoying much wealth and notoriety. This fact made it a formidable power, but also a prime target for invaders.
Over the years, the monks fought off both Viking and Anglo-Norman armies. They were also attacked 26 different times by Irish raiders. Records show that on one occasion, Vikings burned 105 dwellings and sent countless citizens to their graves.
The determined inhabitants refused to give up however and stoically rebuilt each time. Finally, in an effort to insulate the population and control the violence, construction began on a castle in the year 1214.
By the 14th century, the political climate had changed. Clonmacnoise had lost the patronage of the King and declined in importance. Repeated buffetings had finally taken their toll and the monastery fell into decline.
This sad change of fortune is reflected in the words of a bardic poet who unsuccessfully sought aid there.
"I give thanks to the King of Heaven, to God I give thanks, for having come to the King of Tuam with whom I am, from the paupers of Clonmacnoise."
In 1582 Clonmacnoise was totally devastated by the English garrison from Athlone. The destruction was recorded in this journal:
"There was not left, moreover, a bell – small or large, an image or an alter, or a book or a gem, or even a glass in a window from the wall of the church out, which was not carried off".
At this point, the settlement was finally abandoned. From the heights of power and influence, Clonmacnoise had fallen to ruin.
In recent years the site has been painstakingly restored and now stands as a monument to its former glory. While the humble ruins we see now, pale in comparison to what once was, in many ways, they are even more compelling.
Clonmacnoise Today
As you approach the site today, the first thing you see is the 12th-century castle. Originally a fearsome obstacle to intruders, its bulwarks would have been crowned by sharpened timbers and possibly surrounded by a mote.
Time has reduced the mighty structure to a ghost of its former self. The shifting ground under its foundation has left the remaining stones with angles that seem to defy gravity. Nevertheless, the castle clings to the hillside in a geriatric attempt to watch over the area it once defended.
East of the castle lie the remains of the monastery. The site includes the ruins of a cathedral, eight churches, two round towers and three high crosses. One of the small buildings is reputed to be the original church of St Ciaran and possibly his burial site.
Legend has it that if a farmer takes soil from St Ciaran's church and puts it on the four corners of his own field, he will have good crops. As a result, caretakers have had to keep a watchful eye on the site to keep the soil from being carried away, one bucket at a time.
Another favorite spot is the whispering arch. Once used as a confessional, it is said you can hear clearly through the stone wall. For centuries courting couples have stood on either side of the arch and whispered words of love to each other there.
In the cemetery, a large collection of early Christian gravestones tells the stories of former inhabitants. Many stones mark the resting place of entire families – a silent testimonial to the uncertainty of life in the middle-ages, and more specifically, of life at Clonmacnoise.
Despite, or maybe because of, it's volatile past this site is beloved by the Irish people. Every year in September, large crowds assemble here to celebrate the memory of St. Ciaran.
Furthermore, this is also a popular place of pilgrimage and it's not hard to see why. In addition to its historic significance, Clonmacnoise is a captivating place, at once tragic and inspiring. Its haunting beauty stays with you long after parting.
Book This Trip
Air Lingus offers daily flights to Shannon Airport, departing from Baltimore, Boston, Chicago, Los Angeles and New York.
Check out OMIO Travel Partner before you go for the best train tickets and car rental offers in the area here.
Address: Clonmacnoise, Shannonbridge, Athlone, Co. Offaly, Ireland. Clonmacnoise is located 12 miles from both Athlone town and Ballinasloe in County Galway. Daily tours from Athlone to Clonmacnoise can be arranged.
For Irish tourist and lodging information go to www.ireland.ie, or  www.irishtourism.com
A good source for self-drive, or guided coach tour information is CIE Tours International. 

Author Bio: Geanie Roake is a librarian and writer from Salt Lake City who loves to see new places and write about all her adventures. Her motto is, Have Money Will Travel!