"It's all about getting into the landscape,'' driver/guide Deidre "Dee'' Harman advises as she wheels a 14-passenger Mercedes Benz minivan through southwestern Ireland.
"When we are out of road markers, we are in the real Ireland.''
Group Tour in Ireland
Fair enough, and one of the reasons I opted to take an escorted tour through the island nation I had already driven myself in three times.
I know those rural landscapes switch from low but tough-looking mountains to dreamy rolling hills and meadows that seem a mix of the melted greens in the crayon box.
But I also know the frustration of trying to enjoy such panoramas while driving on the "wrong'' side of a rental car on the "wrong'' side of the road.
Never mind the challenging country lanes about 1½ cars wide and bordered by low stone walls.
So now Dee is doing the driving – for me, seven other Americans and two couples from Tasmania – during an eight-day tour of the southwest and central west coasts.
With wit, she offers her passengers narratives on Irish history, food and culture ("Enya has a castle in Dublin, livin' off her royalties from dentists' offices and relaxation parlors'').
The palaver masks the fact that Dee is a three-year veteran of Ireland's volunteer military.
Her five years as a driver for the Irish firm Vagabond Tours Ltd. is obvious as she wheels what she's dubbed the "Vagatron'' around Dublin's streets and those narrow country lanes.
Travel in Ireland
Indeed, she steers us up "Ireland's bendiest road'' to Healey Pass, 1,100 feet above sea level. There she stops and gently orders us out to walk down the now straight pavement.
"I'll meet you partway down,'' she calls, and passes us.
This surprise walk is our third of four on our second day. Vagabond offers two types of travel, one offering physical activities off the minivan, the other type a more-sedate view of many of the same stops.
Dee is piloting us on the more strenuous of the two. We began this day climbing in a drizzle for about 30 minutes on slick, uneven, stone slabs by a rushing creek in Gougane Barra, a forest park on the Beara Peninsula.
We will end our exercise this day climbing uphill, from pavement to gravel to grass, to enter a roofless, single-room stone-wall building. This is a "famine cottage,'' a reference to the dreadful potato famine of the mid-1800s.
The family that had lived here could no longer produce a crop, so they were out of both food and rent money – and housing.
Back Down the Hill
This sad example is part of the afternoon's history lesson; the next part is found back down this hill and up another, about a half-mile away.
Dee leads us to the Uragh Stone Circle – a half-dozen boulders that were placed in a rough circle millennia ago. The exact purpose is still unknown.
While Dee discusses whether we might feel something from the spirit world if we walk around the circle with our arms straight out — "the zombie walk''.
She says — a darling lamb, just days old, is bleating nearby for its mother. When no ewe answers, the lamb wanders over, practically nuzzling two of us before heading downhill toward the now-present mother.
Pros and Cons of Group Travel
I have been a travel writer and editor for more than 26 years – thus my previous trips to Ireland. I might have been able to do enough research to learn of all the stops.
I'll make in five days I'll spend with Dee and three on the more-sedate tour. Instead, I've decided to experience the pros and cons of giving yourself up to an escorted tour. For instance:
Things I Didn't Know to See or Do in Ireland:
A brief boat ride to Skellig Michael, a mountainous island boasting an ancient, abandoned monastery, reached by a 620-step climb lacking handrails.
It is a UNESCO World Heritage Site, but in the most-recent Star Wars film, it is at the top of this island where our heroes find Luke Skywalker.
Alas, it is about 10 days too soon for Skellig to be open to visitors. But Dee knows of the Skellig Experience visitors' center, with a fine video –plus a scary safety video that details that climb to the top.
The breathtaking Ladies View down toward into lakes of Killarney National Park, 26,000 acres of loveliness.
The view is reminiscent of the stop on the main entrance into Yosemite. Options in the park for our group are a two-hour bike ride or pleasant ride in a horse-drawn "jaunting car''. (The sedate tour has no biking option but does have a tour of the mansion in the park.)
Before reaching the park we had stopped to buy picnic lunches; when Dee realizes there are no picnic tables in the park and that the ground is damp.
She takes us back up to Ladies View, where we sit on a low stone wall and eat while admiring the panorama.
The famine cottage and nearby stone circle — two pieces of history with no explanatory tablets or brochures to instruct visitors.
MacCarthy's pub, in waterfront Castletownbere featured on the cover of English writer Pete McCarthy's hilarious McCarthy's Bar; a picture of the pub is the book's cover photo.
His goal was to find all the pubs with a version of his name, while puzzling out Ireland's social culture.
Where to find the best, cheap, small-combo concerts that occur almost nightly in the tourist-popular town of Dingle.
The venues I visited included a former church and a music store – where the owner insisted everyone have a shot (or two) of Irish whiskey at intermission.
The fun of the Vagatron whipping through figure 8s on the packed sand at Inch Beach, in a sea mist – after which Dee suggested we should walk back to a coffee house to meet the minivan. Striding through the mist was great fun.
The perfect "local'' but one loaded with history: the South Pole Inn, the pub founded in his hometown of Annascaul by Thomas Crean, No. 3 officer in Earnest Shackelton's third Antarctic voyage.
The walls are covered with historic photos of that heroic adventure.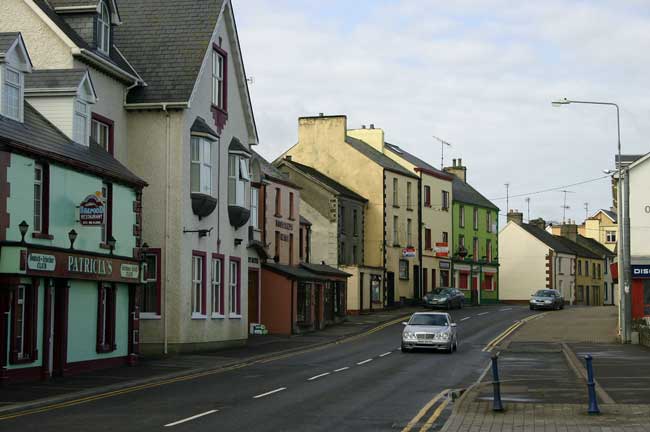 What I Gave Up by Not Driving Myself, Alone:
Control over each day's routine, such as where to go, where to eat, where to stop for no reason other than to admire the view and to let my thoughts wander, and where to spend the night.
What I Gained by Not Driving Myself, Alone:
The ability to enjoy the passing landscape, rather than gripping the steering wheel – and why do the Irish and the British drive on the wrong side?
Exchanging observations and anecdotes with a group of like-minded travelers.
Would I book another escorted tour, in Ireland or elsewhere? It would depend on how much research I wanted to do on desired destinations and how well any tour would match my list.
Yes, with a tour you take the chance of being forced to spend time with disagreeable people.
On the other hand, you might make new friends and/or learn about their customs and daily routines in far-away places. Tasmania, anyone?
For more information, on Vagabond Tours Ltd., go to https://vagabondtoursofireland.ie
Author Bio: Robert N. Jenkins, travel editor for 19 years of the Tampa Bay, FL, Times, has been a freelance writer for the past 9 years. His four e-book anthologies are available at the Amazon, Barnes & Noble and Smashwords sites. For more information, go to www.smashwords.com/author/robertjenkins