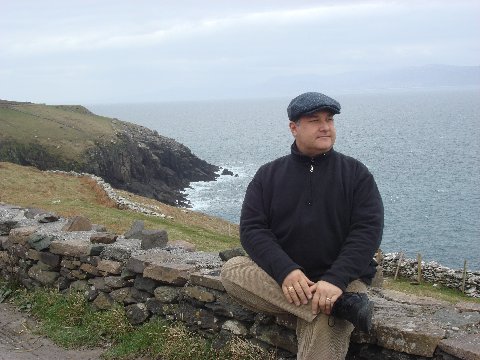 If you expect the Tourism Ireland marketing slogans to emanate from the "land letters and poets," to be eloquent, you won't be disappointed. "Fill your heart with Ireland," is the current pitch. "Jump into Ireland," was another. "Dublin – a Breath of Fresh Air," wrinkled some noses. "The Land of Eternal Youth," offers a pot of golf instead of Ponce de Leon's fountain. But my all-time favorite is "Go Where Ireland Takes You."
What does it mean?
My interpretation – as an American who has explored the Emerald Isle more than 35 times and still not seen it all – is the phrase, "Go Where Ireland Takes You," advises you to leave time for spontaneity during your vacation to Eire.
Where to Visit in Ireland
It can be tempting, when you look on the map, to over-schedule a whistle-stop tour of Ireland's famous sites and cities. Ross Castle and Muckross House are in Killarney, which seems close to Cork, for instance, and yes, you can stop and kiss the Blarney Stone on the way, and still make it to Kinsale for dinner. Unless you zoom 'round the Ring of Kerry road snapping photos of scenic spots out of your car's passenger-side window.
This days' itinerary is only a slight exaggeration because the distance between these sites looks logistically doable as the crow flies…but not as the livestock roam. A farmer herding sheep or cows on a bouncy ribbon of narrow, Irish road can make 35 kilometers take much longer to travel over. (So can a good, warm, peat fire in a pub along way.)
Instead of hurrying to check off as many castles, churches, and cliffs as you can, try to think quality instead of quantity, and go where Ireland takes you. Linger along a beach spotting surfers or wander near the water watching fly fishermen.
Stick around long enough for another pint just to see who walks in the door next. Go around the corner of a colorful street and check out the shops. Converse with a local over coffee or compare scorecards in the clubhouse after a round of golf. Go where Ireland takes you.
Here are 13 places in Ireland to hurry to…but not rush through:
Waterville, County Kerry
Waterville is the bucolic, restful village in the extreme southwest with an expansive, open, oceanfront walking path and park right along its' pubs, hotels and shops. No one was happier to see Waterville than aviator Charles "Lucky" Lindberg, who first spotted dry land when he gazed at the rocky Irish coastline during his solo transatlantic flight. The park features a statue of Charlie Chaplain, who also loved Waterville, and the award-winning, waterfront Waterville Golf Club memorializes the late pro golfer Payne Stewart with a statue as well. Brookhaven House Bed and Breakfast is visible from the course – beloved, also, by Tiger Woods- and is a comfortable example of a tidy, charming Irish guest house.
Cliffs of Moher, County Clare
Looming hundreds of feet high over the Atlantic Ocean swells and defiant against the crashing surf, the cliffs are one of the natural wonders of the world. There is convenient parking, a subterranean visitor's center, and paved access to the cliffs and the view from atop them that leaves most who visit awestruck. There are enough unpaved, cliff-side trails for a day of exploring all of the angles and evolving colors as the level of light changes. Ireland's first golf course, Lahinch, is nearby in the holiday town of the same name known for surfing and beach-going.
Dingle, County Kerry
If you can only visit one village and region in Ireland, this little fishing village tucked into the mountains of the surrounding Dingle Peninsula, is the quintessential Irish experience where even the Irish language is spoken. Over 25 small, authentic pubs with nightly music – including a few that also served as hardware stores during the day – line the streets down the expansive, green, sheep-dotted hillside to the harbor. Benner's Hotel is a charmer in the center of town and a perfect spot to stumble back to from Dick Mack's, Geaney's, Foxy John's, O'Flaherty's, and Curran's pubs. Because of its remote, peninsula location, Dingle is no "pass through" village: if you're going to Dingle, you're going to Dingle.
Conor Pass and Slea Head Drive, County Kerry
Depart Dingle directly for a drive up Conor Pass Road and around Slea Head Drive, both of which are impossibly scenic and heart-stopping in spots. The very narrow roads are cut though the sides of cliffs and mountains hundreds of feet above the ocean and heavenly valleys below. You can spend an hour or all day stopping for photos, hiking, walking the beaches, and climbing a natural staircase of boulders up above the Conor Pass waterfall to tiny Peddler's Lake. Slea Head Drive didn't need more popularity, but Star Wars movie fans now come to see where Luke Skywalker had been filmed in exile.
Hastings Europa Hotel, Belfast, County Antrim, Northern Ireland
Belfast's most significant hotel – having hosted presidents, prime ministers and celebrities – is also Belfast's most historic as the most bombed hotel in the world. 36 bomb attacks occurred at the four-star Europa during Ireland's tragic political troubles. The landmark property, with almost 300 elegant guest rooms and suites, has a bustling bistro and bar and plays host to prestigious events in Northern Ireland's capital city. A "Black Cab Tour" of Belfast will reveal the sectarian political and religious divide in Northern Ireland's largest city.
Bushmills Inn, Bushmills, Country Anrtim, Northern Ireland
Bushmills is the oldest distillery in the world, and Bushmills Inn, originally a Coaching Inn in the 1600's, has plenty of nooks and crannies in which to savor a measure of the whiskey next to a peat fire, beside a bookcase, or in a hayloft snug. The four-star boutique hotel is among the distinguished collection of stately country houses, historic hotels and restaurants listed, and available for booking at IrelandsBlueBook.com.
Royal Portrush Golf Club, Country Anrtim, Northern Ireland
Founded in 1888, the scenic, historic course plays along the sea on the famed Causeway Coast and is a neighbor to the Dunluce Castle ruins and Giants Causeway sites beloved by tourists. Royal Portrush, a links course designed over giant sand hills, will host the 2019 British Open Championship for the first time since 1953 – the only other time the Open Championship was held outside England or Scotland. The course's historic significance is surpassed only by its wild, natural scenery and, when in bloom, its bright yellow gorse bushes.
Tramore, County Waterford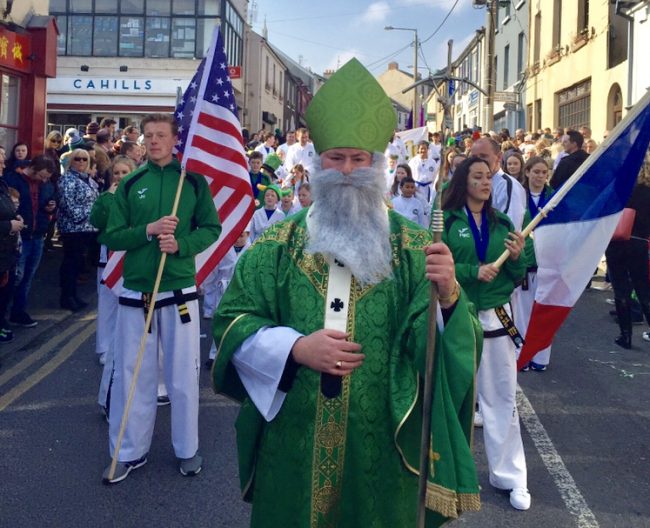 While the nearby city of Waterford and its' famed crystal factory draw tourists, Tramore, in Ireland's "Sunny Southwest," is where the fun is. The very name of the town translates to mean big beach, and surfers and holiday goers enjoy the swimming cove, amusement rides, festivals, cliff walks, Tramore Golf Club, horse racing and shipwreck history the scenic, simple Tramore provides. If you want to vacation with the Irish, this is the place to stay.
Blarney Stone/Cork, County Cork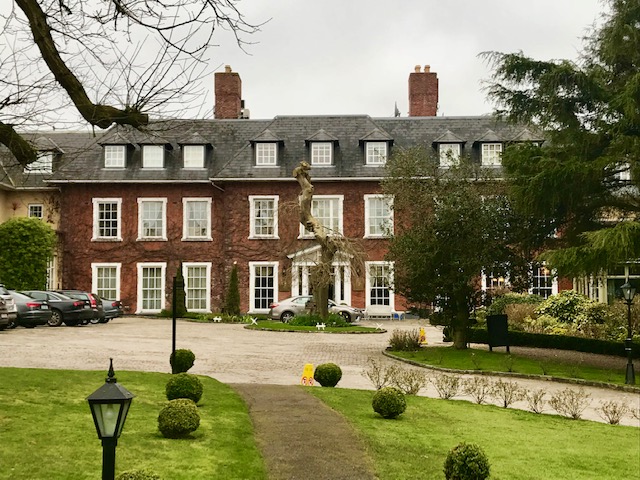 Don't dismiss kissing the Blarney Stone as a clichéd tourist trap (as I initially did). The grounds, near Cork, are lush and lovely, and the ruins of Blarney Castle are intact enough to be fascinating. Climbing to the top and hanging nearly upside down 11 stories up to kiss the stone is more exciting that you might expect.
Nearby Cork is a thriving but manageable city and an especially perfect place to watch the St. Patrick's Day parade each year. Hayfield Manor, another IrelandsBlueBook.com historic hotel member, is the most elegant, five-star hotel in Cork. The walled, charming country house's convenient location, gardens, and even a small golf green are restful and yet the dynamic property offers a spa, gourmet dining, a bustling bar, live music and stately sitting rooms with antique furnishings.
Famine Memorial, Dublin, County Dublin
Visitors to the big, busy city of Dublin walking along the River Liffey might unexpectedly come across the Famine Memorial because of its realistic nature and setting. It is a number of life-sized sculptures of malnourished famine victims wearing rags and wandering desperately along the sidewalk carrying their belongings – and in some cases their starving children – hoping to find a ship to escape 19th-century hunger and poverty. Standing among them is a haunting experience.
Saint Patrick's Grave, Downpatrick, County Down, Northern Ireland
Down Cathedral (Church of Ireland), on the highest hill in Downpatrick, stands beside what is thought to be the grave of St. Patrick, who died in 461. The big boulder that serves as a grave marker wasn't installed until 1900, but nevertheless the setting is a good place to pause and salute St. Patrick, the patron saint of Ireland, who was actually English.
Walled City of Derry, County Londonderry, Northern Ireland
Derry is the only walled city still intact in Ireland and one of the best historic examples of one in Europe – and one which served as a flashpoint during Ireland's political "Troubles." In fact the name, Derry, is preferred by nationalists and Catholics; while British loyalist and Protestant unionists refer to it as, Londonderry. A walking tour there will help provide perspective.
Meanwhile, since 1899, the likes of Winston Churchill, W.B. Yeats, Field Marshalls Montgomery, and Alexander have lodged in what is now the newly restored Bishop's Gate Hotel inside the historic walled cities, Cathedral Quarter. With the Edwardian architecture preserved, this member property of IrelandsBlueBook.com maintains modern amenities and stylish comforts to guests.
Author: Michael Patrick Shiels is a radio host and travel blogger. Follow his adventures at GoWorldTravel.com/TravelTattler. You can contact him via [email protected].