When John Wesley Dobbs, who "coined" the name for Sweet Auburn, the predominantly African-American neighborhood in Atlanta, Georgia, made his last public appearance in front of the department store Rich's, he chastised the mild, lenient approach that the store had taken against racial discriminatory policies.
It was a microcosmic reflection of Atlanta, a city that was often portrayed as intensity-lacking compared to other towns when it came to Civil Rights protests.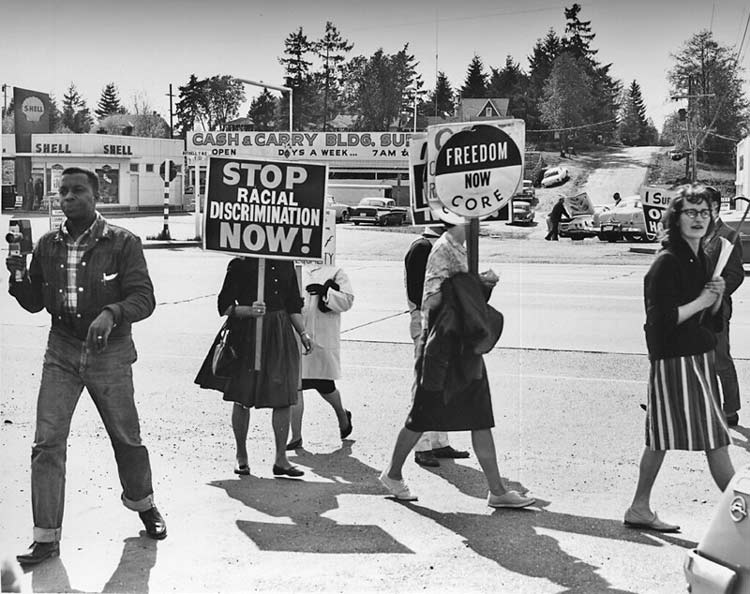 The Birth of the Civil Rights Movement in Atlanta, Georgia
"Already cities like St. Louis, Missouri; Louisville, Kentucky; Nashville, Tennessee; Durham, North Carolina; and Tampa, Florida, have done something about this condition. You continue to do nothing about it," said Dobbs, as chronicled in the book Where Peachtree Meets Sweet Auburn, by Gary Pomerantz.
The book relates the story of two of Atlanta's most influential families, the Allens, of Ivan Allen Jr. a white, wealthy family who descended from slave owners, and the Dobbses, of John Wesley Dobbs and Maynard Jackson, Jr., who were African American and descended from slaves.
Among these narratives, we can find, interwoven, the journey of Martin Luther King, Jr.―Atlanta's prodigal son.
Retracing MLK's Steps in Atlanta
As many people in the nation succumb to discourses plagued with fear, threat and divisiveness, the relevance of MLK's movement was never more evident, and so, in our trip to Atlanta, my girlfriend and I decided to visit some of the places where MLK got his bearings—the places that forged the man who then forged the conscience of a nation and beyond—a symbol of love, liberty and hope
Since MLK's days, Atlanta has transformed itself into a booming hub. It is known as the de facto capital of the South, and one of the main business centers in the nation, home to Coca-Cola, CNN, The Home Depot and many other iconic brands. Its airport, Jackson Hartsfield International, is the busiest in the world.
So how did this transformation happen?
Meeting People at Centennial Olympic Park in Atlanta, Georgia
"Love is the only force capable of transforming an enemy into a friend." – Martin Luther King, Jr.
From our temporary home base at the Crowne Plaza Atlanta Airport Hotel (now Sonesta), we took the MARTA Gold Line until we reached the Peachtree Center station, where we planned to stroll to Centennial Olympic Park. The Olympics were lauded as the ultimate prize for Atlanta's successful integration as a city—they catapulted Atlanta to international prominence.
The Wonders of Traveling
And, as we were making our walk down Marietta Street in Fairlie-Poplar, and gradually entering the square of the Olympic Park, we were approached by a man who, by the appearance of his clothes, looked to be one of the many homeless people that wanders the area.
Of course, as it usually happens if we have the willingness to open our minds and our hearts—especially while traveling—life is full of surprises, and there is much more to a person than his or her surface.
The man, of whom I wish to still remember his name, started reciting a beautiful poem to us. He blended words with the utmost tenderness, and his lines reflected on the Moon, hope and concluded paying a tribute to love.
I could not help but wonder. What would have been if we had reacted through fear? What if we had reacted according to the traditional script of society—to shun away people like him—instead of allowing for a wonderful moment of connection between strangers?
This is one of the marvels of traveling. Because we have, perhaps, a more open heart, we allow ourselves to see the humanness of everyone. We allow for encounters that maybe we would not allow in the confines of our comfort zone—when we are caught in the humdrum of our routines.
The challenge is to live our daily life with the attitude of a traveler. Every day can be full of wonder. Every person is valuable and someone we can learn from.
That evening, the spectacle of the Fountain of Rings was special. It is needless to say that MLK was right.
Martin Luther King, Jr.'s House at 234 Sunset Ave. in Atlanta
Not too far from the crowds of Centennial Olympic Park, you can find the neighborhood of Vine City, where, at the red-brick home in 234 Sunset Ave., the former house of Martin Luther King, Jr. is located.
This was his last home, the home where his late wife Coretta Scott King received the call that informed her that her husband had been shot in Memphis.
It is important to note that the interior of the property is not open to the public, and, while the residence from the outside looks completely low-key and is in a regularly quiet zone, certain organizations take groups on tours to the surroundings.
There has also been interest from the National Park Service, among other institutions, to make the residence part of the King Historic District, which mostly encircles Sweet Auburn.
Planning a National Movement at The Busy Bee in Vine City, Georgia
A few steps, and within Vine City, we can take a lunch break at the Busy Bee, a hearty, classic Southern meat-and-three that has been open since 1947.
Here, you can sample soul food, quintessential Southern dishes such as fried chicken, waffles, cornbread and others, and it is no surprise that MLK was a frequent guest, as were some of his associates who would join him to plan the next steps of the movement.
Now, The Busy Bee has become a popular hangout for students, who flock from the nearby Morehouse College, Spelman College and Clark Atlanta University to gather at the place of choice of Atlanta's hero.
Morehouse College, indeed, was where Martin Luther King completed his Undergraduate program, and it is noteworthy to say that he entered at the tender age of fifteen, after bypassing his High School senior year.
At the Robert W. Woodruff Library on campus, you can explore the Archives Research Center, which includes the King Family Archive—highlighting over ten thousand items, from handwritten notes and letters that he addressed to other prominent figures in the civil rights movement.
Morehouse, Spelman and Atlanta Clark were created, back in the day, for the African American community, and they are another monument to the pursuit of equality and inclusion.
The King Center in Atlanta, Georgia
Following the place where MLK lived during his final years, we decided to head towards The King Center—The Center for Nonviolent Social Change.
If you are not familiar with the Civil Rights Movement, and with the life and work of Martin Luther King, I highly recommend that you make this your first stop. Even if you are familiar with his work, it is worth the visit.
From our first step in, we could feel the energy of peace, and love; it is truly the embodiment of all the values that MLK promoted throughout his journey—nonviolence and open hearts.
Among the first things you will discover here are the tombs of MLK and his wife, Coretta Scott King, which, as The King Center site states, "are constructed of Georgia marble, a timeless acknowledgment of his southern roots."
The tombs are placed in the middle of a pool, and there is another reflecting pool with steps, with each step reading a part of the following quote:
"We will not be satisfied until justice rolls down like water, and righteousness like a mighty stream." – Martin Luther King, Jr.
This quote can be further personified with the Eternal Flame, symbolizing the dream of MLK's version of the world: a place that had justice, love and prosperity for all of humankind.
To understand more of this vision, you can walk around the different exhibits, which showcase videos of his speeches, photos of memorable meetings, recollections of essays, and many other memorabilia to help visitors become more acquainted with the path of Civil Rights and freedom.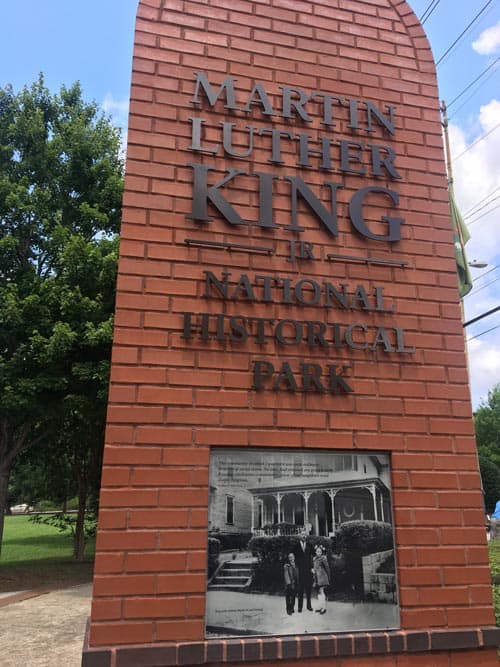 Martin Luther King, Jr. National Historical Park
The King Center is part of a larger complex called the Martin Luther King, Jr. National Historical Park, a beautiful space of greenery adorned with the World Peace Rose Garden, which brings to life King's idealized version of a world of peace for everyone.
It is located on the edge of Peace Plaza. As we stroll, we find the International Civil Rights Walk of Fame, which has among its inductees Ivan Allen Jr., a prominent White mayor who was a major advocate of Civil Rights for all and a friend of King, President Jimmy Carter, Rosa Parks, Rev. Ralph David Abernathy, who was King's successor at the Southern Christian Leadership Conference, former baseball player Hank Aaron and actor Sidney Poitier, among others.
A Leader is Born: Martin Luther King Jr.'s Beginning in Georgia
Also, part of what is called the Martin Luther King, Jr. National Historical Park is the house where he was born.
At that point in time—January 15, 1929—the dwelling at 501 Auburn Ave. was where his maternal grandparents lived. It is a two-story house with an attic and a yellowish exterior. There are tours that you can participate in, albeit limited, and they can be booked at the Visitor Center nearby.
Unfortunately, we were not able to participate in one, but, as admirers of MLK's legacy, it was a privilege to be able to bear witness the place where it all started.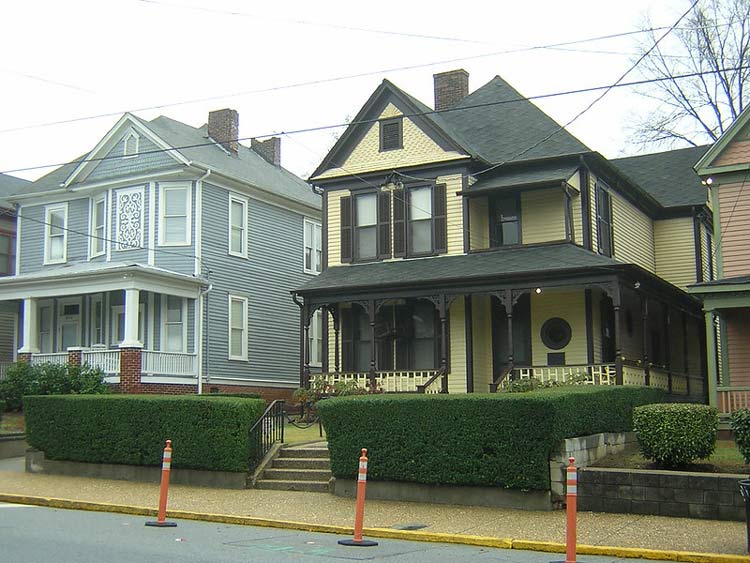 Ebenezer Baptist Church's Pastor, Martin Luther King, Jr.
Every man has many beginnings. We are born, and then we are born again when we find our mission, and again, when we engage in something life-changing, with which we transform the lives of others.
Another critical point in that journey for MLK is the Ebenezer Baptist Church, a brisk four-minute walk from King's birth home and where not only he was a pastor, but his father was a pastor, and his grandfather had been a pastor.
Here was the place where MLK gave some of his most inspiring speeches, like, "The American Dream:"
"I still have a dream this morning (Amen) that truth will reign supreme and all of God's children will respect the dignity and worth of human personality. And when this day comes the morning stars will sing together (Yes) and the sons of God will shout for joy." And, "The Drum Major Instinct:"
"If any of you are around when I have to meet my day, I don't want a long funeral. And if you get somebody to deliver the eulogy, tell them not to talk too long. (Yes). And every now and then I wonder what I want them to say.
Tell them not to mention that I have a Nobel Peace Prize—that isn't important. Tell them not to mention that I have three or four hundred other awards—that's not important. I'd like somebody to mention that day that Martin Luther King, Jr. tried to give his life serving others (Yes), I'd like for somebody to say that day that Martin Luther King, Jr., tried to love somebody…"
In this sacred house, King lit the hearts and souls of congregants with his words.
When you enter, regardless of whatever religion you profess, if any, you can feel that energy. They say that places have memory, that walls can speak, and that benches can remember. And they might never forget fear, but they will always remember love.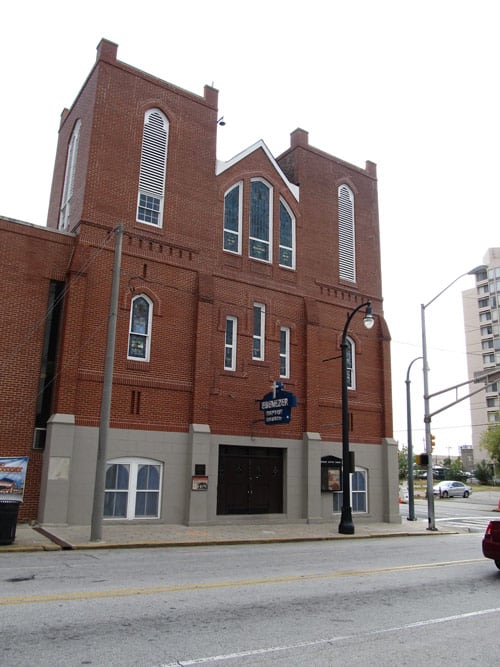 Iconic Moments at West Hunter Street Baptist Church in Atlanta, Georgia
More famous speeches of Martin Luther King took place in Atlanta. For example, "Where Do We Go From Here," which he delivered at the Southern Christian Leadership Conference, and where he talked about the propositions that people like Andrew Yang and Elon Musk have proposed today, which is the guaranteed annual income (now referred to as Universal Basic Income) and reaffirmed his commitment to nonviolence.
Many others, like "A Knock at Midnight," were delivered at the West Hunter Street Baptist Church, located in the West End, across Howell Park.
West Hunter Street Baptist Church
The pastor of the West Hunter Street Baptist Church was Rev. Ralph D. Abernathy, who co-led the bus boycott with King and was a close collaborator throughout his path. King was, thus, a frequent guest at the church, and, through Abernathy, a channel for his movement to continue.
Other places have not been able to withstand the test of time. However, that didn't deter us from looking at the current place with new eyes.
After Dr. King received the Nobel Peace Prize, leaders of the Atlanta business community, like Robert Woodruff (then the President of Coca-Cola), organized what was Atlanta's first biracial dinner from a publicly-led point of view at the Dinkler Plaza Hotel, located at 100 Forsyth Street (now a parking garage with a Dunkin' Donuts).
It made me remember that famous line by Joni Mitchell, "They paved paradise and put down a parking lot."
However, the place might be gone, but the memory continues.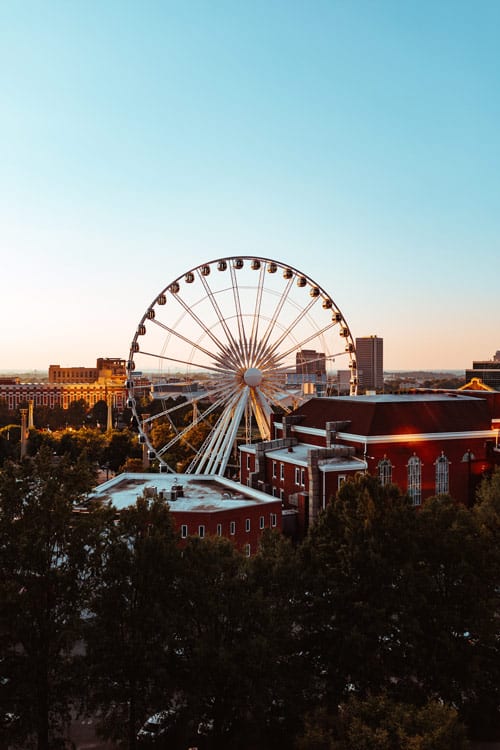 The Sweet Auburn Neighborhood in Atlanta, Georgia
After the Atlanta Race Riot of 1906, many African American-owned businesses began to flock to the city's downtown due to tension and congregated around the area of Sweet Auburn.
Strolling around Auburn Avenue, we can see many of the historical buildings that remain from that era, before the city became the multicultural place that it is today.
For a bite, you can stop at the Sweet Auburn Curb Market, also known as the Municipal Market, which hails from 1918. There, you can find eateries, butchers, seafood, fresh produce and much more.
There is also the sight of the Atlanta Life Insurance Company Historic Building. This company was founded by Alonzo Herndon, who was a former slave and then made his way, first as a barber and gradually as a businessperson and eventually the largest African American property owner in Atlanta.
Nearby, you can also discover the Odd Fellows Building and Auditorium, which used to house the Georgia Grand United Order of Odd Fellows, a fraternity of mostly African American people, and which also used to house the offices of African American-owned businesses, to provide them with a safe haven given the intense discrimination they were suffering in the city.
The Royal Peacock Club in Atlanta
In that same area, you can close the day at The Royal Peacock Club, which, back in the 1950s and the 1960s, was known as Atlanta's "Club Beautiful," and the place to be for the African American communities.
It was also the place where future stars would be discovered, a place where they could begin to shine. We could call it the Southern equivalent of the Troubadour—from West Hollywood to Sweet Auburn.
According to the Red Bull Music Academy, "Nat King Cole played there before he started singing; James Brown before he was the Godfather; Jimi before the shredding, Otis Redding before Stax; Marvin Gaye before Motown, Gladys Knight when she was still a Pip."
Auburn Avenue was the place of dreams, the place where the African American community, then hugely marginalized, aspired to make the hopes of a better life real. And they often did.
The Resounding Teachings of Martin Luther King Jr. and How He Changed Atlanta
There is no question that MLK's values shaped the Atlanta that we see today. Of course, it is a place that still has a lot of work to do. Like most of the larger cities in the Western world, it has a growing homeless people population, who suffer from the poverty that results from overcrowding and the disparity resulting from uneven growth.
However, it was here that the seeds were sown for a larger movement. A movement of love, of hope, of peace and unity for all humankind.
It was here that a man called Martin Luther King answered the call to become a beacon for those values, and to remind everybody that crossed his way that they were worthy as human beings, regardless of anything else.
It was here that, through the work of King and many others, such as Ivan Allen Jr and Rev. Ralph Abernathy, the consciousness of racial tension has been, at least, partially healed.
In Atlanta, being the booming hub that it is, we see a lot of young people thriving when otherwise they would have no choice. We also see a lot of social ventures emerging to bridge the remaining gaps and build a more inclusive city.
As humans, we admire the work of MLK. As travelers and as world citizens, we would do well to follow his steps. And this trek might be of inspiration to do so.
Author Bio: Javier Ortega-Araiza is a lifelong traveler, adventurer, and storyteller, narrating his human experience. His journey has taken him to over thirty countries, has been a digital nomad for over ten years. But what truly matters to him are the connections made, the people met, and the wonderful stories that he has listened to as part of his travels. He is a published author in both English and Spanish, and beyond writing, he hosts a podcast, is an avid tennis player and coach, a social entrepreneur and investor, and a spiritual counselor, among many other things in between. You can learn more about him at joapublishing.medium.com