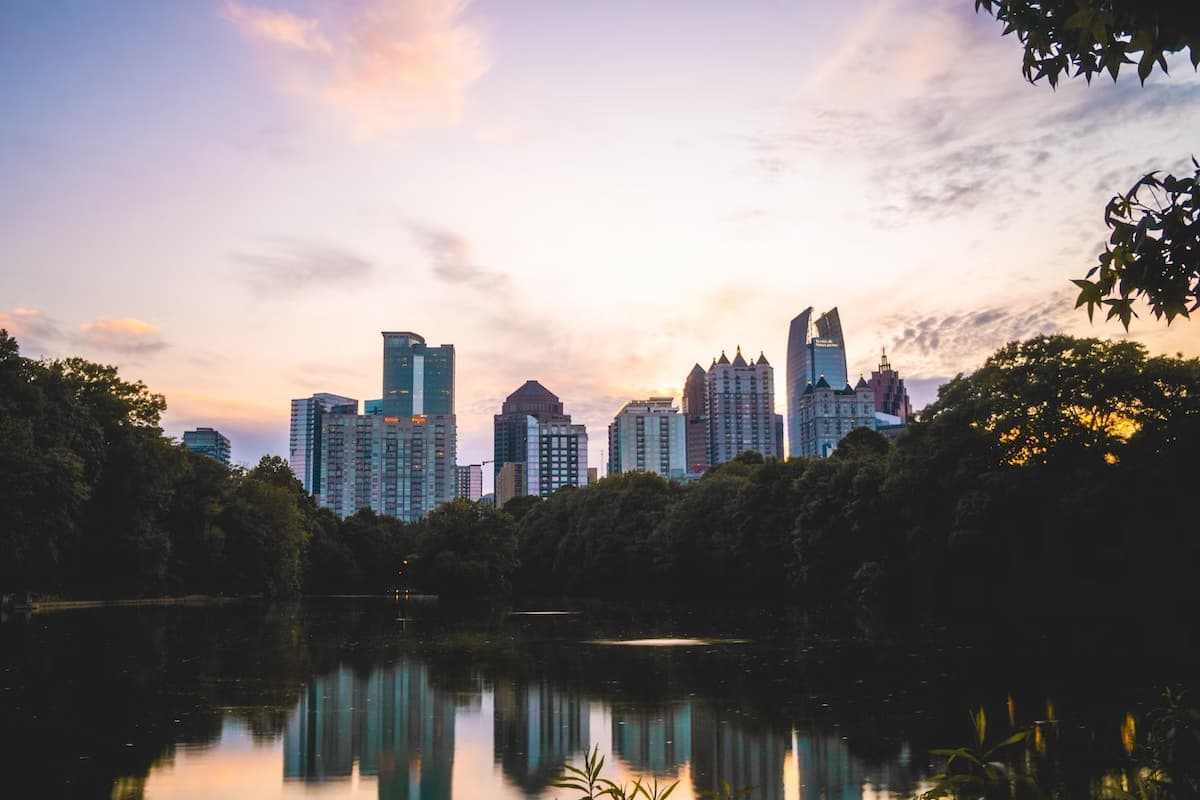 Atlanta is undoubtedly a bustling tourism center, famous for its southern hospitality and historical landmarks. More than 50 million people visit Atlanta yearly to experience the city's rich cultural and sports heritage. There are some must-see places if you visit Atlanta on a business trip or for a family retreat. Let's jump into exploring the top 10 places to see in Atlanta.
10 Great Places to Visit in Atlanta
Add these ecstatic places to your itinerary when exploring the city:
Centennial Olympic Park
Centennial Olympic Park is a green space built in 1996 for the Summer Olympics. Numerous city landmarks are close to this park; the center of attraction is the Fountain of Rings. The fountain dances in sync with the orchestral symphonies of The Beatles and Frank Sinatra. A great place to visit, especially if you are staying with your family.
SkyView Atlanta
The SkyView is a Ferris wheel overlooking the Centennial Olympic Park and the city's downtown area. With 20 stories in height, SkyView offers breathtaking panoramic views of Atlanta's skyline; the see-through floors add to the overall thrill. The ticket gives you a ride in an air-conditioned gondola.
Best Tips & Tools to Plan Your Trip
Georgia Aquarium
Georgia Aquarium, next door to Centennial Park, is one of the world's largest aquariums. This is a perfect place to take your family for an educational and fun day out. The diverse sea life collection is spread across six galleries, including manta rays and white sharks. You can also get to see African penguins and sea otters. Moreover, a short 3D film covers deep ocean journeys, which kids can enjoy.
World of Coca-Cola
Situated next to Georgia Aquarium is the Coca-Cola facility or museum, which offers a fun way to learn about soft drinks history. The interior is replete with the brand's signature logos in red color. Various memorabilia and exhibitions in the facility offer insights into the company's beginnings. The tasting room houses various Coke flavors worldwide.
Summit Skyride at Stone Mountain
Summit Skyride at Stone Mountain is a perfect must-do to add adventure to your trip, with grand views of Atlanta. Stone Mountain is a huge monolith famous for its historical meaning. Each car has a few seats, so you may need to stand up the whole ride. You can peek at the commemorative etchings on one side of the rock as you go up.
Zoo Atlanta
Zoo Atlanta is one of the oldest in the States, featuring a diverse collection of animals worldwide. The zoo's main highlight is its Pandas from China; other animals include Sumatran tigers, lions, and elephants. You can go on a tour through zoos in African Savannah-themed areas. The zoo features an 1863 locomotive replica train with a sitting capacity of over 100 kids.
Atlanta Botanical Gardens
Atlanta Botanical Gardens are filled with exotic flower and plant species and are not restricted to that. The gardens are filled with beautifully sculpted structures essentially made from plants. Giant figures like Earth Goddess are permanent installations in the garden's water features. There is a dedicated garden space for kids with a bird's nest-like treehouse.
The Varsity
The Varsity is the most iconic restaurant in Atlanta; the chili hotdog will surely linger on your tastebuds. The restaurant on North Avenue, with its bright red 'V' sign, has been serving since the 1920s. It features a straightforward menu featuring shakes, salads, fries, hotdogs, sandwiches, and hotdogs. Each of these foods has a lot of variety to try from.
Fox Theater
Fox Theater is in Midtown Atlanta and is one of the city's favorite theaters. The theater features a classic and rare Moller organ, colloquially called "Mighty Mo." It is the perfect place to watch comic acts, dance performances, symphony orchestras, and Broadway Musicals. Even without the shows, you can learn a lot about the city's history and the restoration of its architecture in the 1920s.
MLK Jr. National Historical Park
The MLK Jr. National Historical Park offers an in-depth journey into the storied life of Martin Luther King Jr. as the Civil Rights Movement Leader. You can be part of the guided tour, which starts from his birth home. Then go to the Ebenezer Baptist Church and theater, where you can watch films related to the Civil Rights Movement.
Things to Do at Atlanta Airport
Besides visiting various locations around Atlanta, you can also find some stuff to do when at the Hartsfield-Jackson Atlanta International Airport. These activities will be helpful whenever you need to pass some time before your flight.
Shop in the various boutiques and shops; you can find everything from clothes to local products.
Take the airport artwork tour and explore 250 permanent artworks, including 20 sculptures from Zimbabwe.
Unwind and relax by getting a soothing massage at the XpresSpa. Such services are perfect after a long flight or several days of exploring Atlanta.
Catch up with your work emails and stream your favorite movies with the free Atlanta Airport Wi-Fi. Some studies have shown that the internet speed at this airport is one of the fastest. Thus, you will have the freedom to perform various activities. Of course, do not forget to protect your connection with a VPN (Virtual Private Network).
Atlanta has something for everyone, from historical sites to culinary delights, cultural experiences, and vibrant neighborhoods. Be sure to check out these 10 spots when exploring the city to create memories lasting a lifetime.
Inspire your next adventure with our articles below:
Author Bio: Caroline Jones
Latest posts by Go World Travel Magazine
(see all)