As the legend goes, St. Augustine's Monastery in Erfurt, Germany, is where Martin Luther trained as a monk after he came perilously close to being incinerated by a lightning bolt, prompting him to devote his life to God's service. Inside what's now a Lutheran meeting and event space, the public can see the cloisters where Luther walked in silent meditation, the chapter room where he publicly confessed his sins, and the simple church where he worshipped.
Following Martin Luther's Footsteps in Germany
Earlier this summer, I found myself standing on the altar of that church while traveling in Germany, looking at the beautiful stained glass windows adorned with white roses. Was it possible, my guide speculated, that Luther chose the white rose as his symbol because of this window?
Then my guide casually mentioned that the entire night before his ordination, Luther lay in the shape of a cross atop a tomb embedded in the altar's floor. That tomb was inches from my feet, and looking at it in this quiet, contemplative space, I felt a shiver run through me. I could visualize Luther lying on that very spot, and even across five centuries, I was moved by his devotion.
500th Anniversary of the Reformation
The depth of my emotion astonished me. I'd come to Germany as so many thousands of other people are doing this year to observe the 500th anniversary of the Reformation's beginning — it was in 1517 when Luther famously nailed his 95 theses to the church door in Wittenberg.
I knew very little about Luther before I arrived, nor — truthfully — did I have much interest. Though I was raised a Protestant, the man who initiated the break from Catholicism was a historical enigma to me, and not one I had much passion for learning more about.
Instead, I'd read that the cities in Germany where Luther lived and worked are unspoiled gems,  pristine time capsules with half-timbered architecture and lots of bratwurst and good dark beer. So I thought I'd use the Reformation anniversary as an excuse to immerse myself in German culture. I didn't expect to be moved by the story of a man who singlehandedly changed history. I didn't expect to get a sense of him as a human being. And yet as I traveled from one city to another, that's exactly what happened.
Erfurt, Germany
Erfurt certainly qualifies as one of those unspoiled German gems. Its central city is one of the best-preserved clusters of medieval and Renaissance architecture in Germany. Half-timbered structures, a few sagging in places as though they'd started to melt and then solidified, stand side by side with Renaissance townhouses adorned with golden crowns, golden wings, golden eggs. Gargoyles, including a set exemplifying the Seven Deadly Sins, are everywhere. Sleek modern street cars slither like red and green snakes through the cobblestoned streets. There's even a substantial number of Art Nouveau structures thrown into the mix.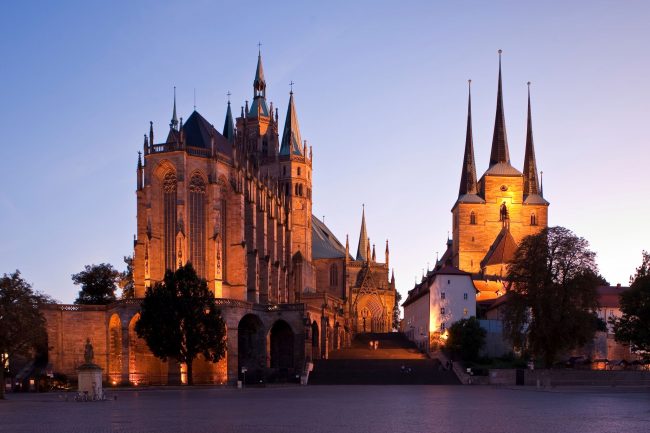 The point isn't how much contrast there is, but rather how everything blends into a seamless, charming whole. Should you visit, you could do worse than just wandering aimlessly through the winding streets of this extraordinarily lovely city, happening on such gems as the Merchant's Bridge, a 400-foot-long structure that, like Florence's Ponte Vecchio, is lined with artisans' shops. When you emerge into the huge central square, actually one of a number of beguiling squares, you may well have the wind knocked out of you — atop a hill overlooking it stands an imposing Renaissance fortress alongside two beautiful churches, one of them the cathedral where Luther was ordained.
Continued on next page