Editor's Note: We're all dreaming of travel ahead. Here's some inspiration for future adventures. We share places, products and activities we recommend. If you make a purchase using a link on our site, we may earn a commission.
The water on Georgia's Lake Oconee is so calm my paddleboard glides almost silently this warm autumn morning. With no boats on the human-made lake in sight, I quickly make my way across from the Ritz-Carlton Reynolds, Lake Oconee to a small island in the lake's center.
As I approach the cool morning shade of the tree-covered island, I turn to look back at the resort. The resort's vast green grounds glow in the morning sun, a picture of tranquility.
Ritz-Carlton Reynolds, Lake Oconee Resort
"We are the only Ritz-Carlton where the entire resort sits on a lake in the United States," humble-brags Kaitlin Crawford, Area Communications Manager for both the Atlanta and Reynolds Ritz-Carlton locations. "We are the only resort where you can walk from your guest room right to the lake."
I proved her point this morning when I walked from my room in the south wing to the water sports dock for a paddleboard. As I launched from the small dock – where guests can also check out kayaks, canoes, and fishing gear I was surprised to see no other craft on the water.
However, a few guests had made their way to the resort's infinity pool overlooking the lake.
The Infinity Pool at the Ritz-Carlton in Georgia
Crawford says the infinity pool is heated for enjoyment year-round, although winter doesn't get that cold in central Georgia.
"We see people in [the pool] in the middle of December, January," laughed Crawford. "My favorite time [of day] is, if you get up early before it gets busy, you can come down to the pool and sit on the edge chairs, and the pool just melts into the lake. It's so serene."
Not only is the Reynolds unique to The Ritz-Carlton portfolio, it is also under the radar to most US travelers. Only an hour and a half from Atlanta, few people outside of Georgia are aware it exists.
Crawford describes the resort as the look of a lake lodge and the personality of summer camp. The cavernous lobby with exposed timbers and leather seating immediately relaxes any city dweller who enters.
Georgia's Newly Remodeled Ritz-Carlton Reynolds, Lake Oconee
Crawford mentions the resort recently finished an extensive room remodel that began in 2019 and was completed during the pandemic shutdown in the spring of 2020. The resort remodeled all 257 guest rooms, and 21 were turned into "fireside" suites with outdoor gas firepits on the patios and balconies.
The resort also has five two-bedroom and three-bedroom cottages and one four-bedroom lake house for large families and corporate retreats.
"People right now are traveling in pods or extended family, so it's great to have these (cottages)," Crawford notes. And cottage guests still have all the amenities of the resort, including a 26,000 sq. ft. spa with an indoor pool and fitness center.
"One of my favorite things about the resort," adds Crawford, "is we have these little stops where people can relax, so you'll see hammocks and swings (around the grounds). People say we feel like an adult summer camp."
S'Mores at The Newly Remodeled Ritz-Carlton Reynolds, Lake Oconee Resort
That summer camp vibe is showcased every evening with s'mores by the massive resort fire pit near the main building from 7:30 to 9:30 p.m. nightly.
They have never missed a day. When it rains, they simply move inside to the lobby fireplace.
Guests are given marshmallows to roast over the fire and a small buffet of extras, including graham crackers, different chocolates, and other treats.
Crawford says the resort's head chef made the World's Largest S'more (over 484 pounds!) in August of 2019, but they forgot to call Guinness beforehand to make it official. They will try for an official listing in summer 2021.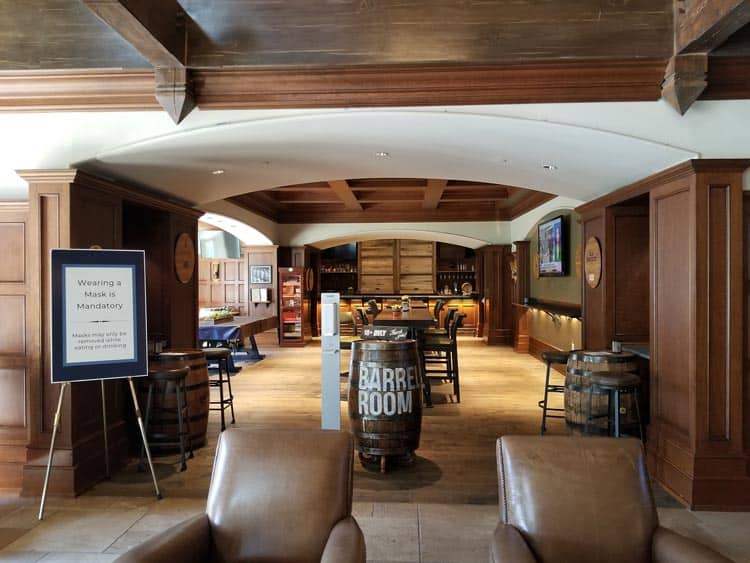 Dining at the Ritz Carlton Reynolds Lake Oconee
The resort has four restaurants serving guests.
Georgia's is the flagship restaurant located below the lobby and features classic southern comfort food in a refined atmosphere. Georgia's large outdoor dining patio overlooks the lakefront grounds and is surrounded by raised brick gardens that supply the restaurant with fresh, organic herbs and greens.
Gaby's by the Lake has a beachy feel overlooking the pool and boat rental docks and serves sandwiches such as Lobster Grilled Cheese and Fish Tacos alongside a variety of sunny cocktails.
The Linger Longer Steakhouse by the driving range has also undergone an elegant décor refresh and is ready for guests to dine on fine cuts of meat and a new raw bar.
The Barrel Room lounge has indoor and outdoor seating on the mezzanine and specializes in barrel-aged bourbons and classic cocktails.
Anyone looking for a quick snack can visit the resort's Coffee Shop, serving espresso drinks, sundries, grab-n-go foods and sweet treats.
The Pet-Friendly Resort in Georgia
My favorite part about the resort, besides the lake, is four-legged family members are welcome.
"We are very dog-friendly," smiles Crawford. "We have two resort dogs, Fin and Sky, who live here. They're labs, a golden and a silver. Typically (pre-pandemic), they would come out in the lobby daily and greet guests."
The resort has a maximum of two dogs per room, but there is no size or weight limit and a portion of the resort's pet fee goes to a local animal shelter.
As I paddle back towards the resort, a small fishing boat leisurely motors by, gently rolling me in its wake. I approach the resort's tiny beach area near the water sports dock, where guests are slowly sinking into lounge chairs.
Lake Oconee's Golf Courses
The Lake Oconee area is renowned for its golf courses.
The resort has access to five of them, including the Oconee Course, which surrounds the resort, and Great Waters. The course finished a complete course overhaul in 2019 that was certified by course designer Jack Nicholas.
The beach is where I plan to spend the afternoon after turning in the board. I paddle past the beach and into a nearby cove, floating by a golf green where a four-some has just wrapped up the hole return to their golf carts.
Taking a break to sit on the board, I notice my unpolished toes and remind myself to schedule a spa pedicure for tomorrow. Paddleboarding and a pedicure? The Ritz-Carlton Reynolds Lake Oconee is my kind of summer camp.
If You Go
Ritz-Carlton Reynolds, Lake Oconee is in Greensboro, Georgia, midway between Atlanta and Augusta. The resort is a four-hour drive from Charlotte, NC, a bit over five hours from Nashville, TN, and just under five hours from Jacksonville, FL. 706-467-0600
Other resort amenities include corporate and wedding venues, lakeside dining, business center, boat rentals and other activities, like sport shooting at the Sandy Creek Sporting Grounds.
Kids can enjoy a Study Buddies program featuring a dedicated counselor who will oversee any remote schooling needs and provide crafts and outdoor "recess" programs.
Visit the Ritz-Carlton website or call for more information.
Author Bio: Carrie Dow is a freelance writer based in Charlotte, NC, whose work has appeared in regional and national magazines. Former editor for The Drink Nation, she uses her expertise on the food and beverage industry to travel the world looking for unique eats and experiences. She also founded What's Pawsitive, a website that profiles animal-based travel, animal rescue organizations, and animal welfare around the world. Follow @whereiscdnow on Instagram and Twitter.