The Cinque Terre, meaning 'Five Lands' although often referred to as "Five Towns," is located in the northwest Italian province of Liguria. The area was mentioned in documents as far back as the 11th century with the villages of Monterosso and Vernazza settled first followed by Corniglia, Riomaggiore and Manarola.
The five towns began as medieval fortified settlements, each protected by a castle overlooking the sea to guard against Saracen raiders. Grapes and olives were—and still are– the area's main crops with fishing another source of income.
Best Tips & Tools to Plan Your Trip
People throng to the area to admire the brightly painted houses clinging to steep cliffs and views of the Ligurian Sea surrounded by mountains with terraced areas for crops and old stone walls. In 1997 UNESCO included Cinque Terre in the World Heritage List as a "cultural landscape." To call the area scenic is an understatement.
A World Heritage Site
The villages were isolated until the end of the 19th century when a major railway project connecting the area to other parts of Italy was begun. The Cinque Terre section was very expensive to build because the route hugs the twisty coast so fifty-one tunnels had to be drilled through the cliffs allowing trains to pass through.
The best way to reach Cinque Terre by isn't necessarily by car and local parking is almost impossible to come by. Early visitors arrived by boat; now you can reach the area by train on the Genova-La Spezia line with good connections from Rome and Florence as well as Pisa, the nearest airport.
Local trains stop in every village which offer spectacular views; dramatic sunsets; delicious, often unusual, foods, hiking trails and many opportunities to snap great photos.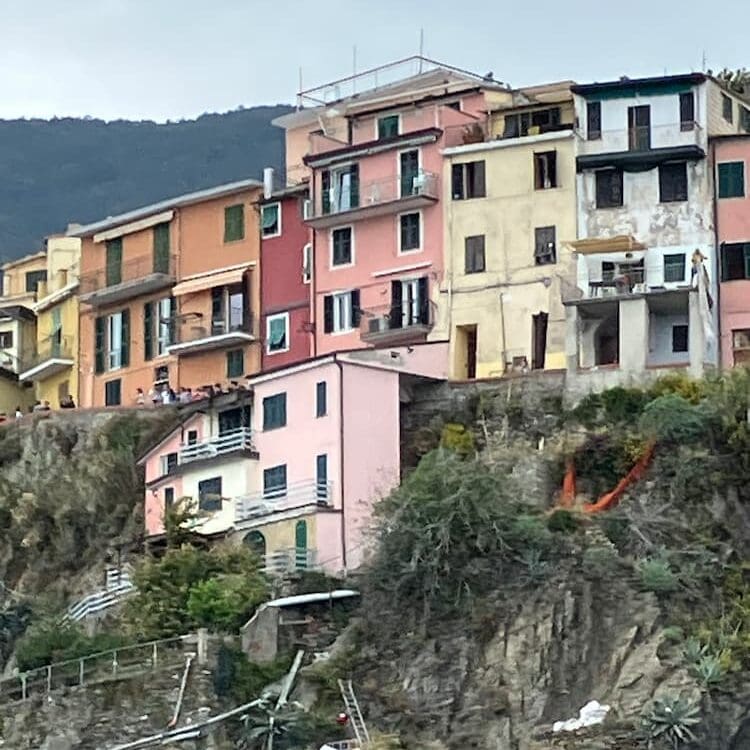 These tips may help provide peak enjoyment of this scenic area:
Stroll around any of the towns late in the afternoon or after dinner to experience the pleasures of little alleyways and piazzas without the typical daytime crowds. Even better, spend a night—or several—in one of the towns to enjoy the area at your own pace.
Taste pesto. This delicious green sauce originated in Liguria and often tops trofi, pasta that looks like short pieces of twisted rope. Pesto, made of basil, olive oil, parmesan and pecorino cheeses, pine nuts, garlic and salt, is traditionally ground using a mortar and pestle but modern cooks often employ a food processor. In Cinque Terre, some pesto incorporates green beans and potatoes. Try both!
Gain a new perspective by seeing towns from the water. Large, comfortable, basic ferries run between the Cinque Terre villages from the end of March until November 1. Many ticket combos are available so check out fares and schedules at https://www.cinqueterre.eu.com/en/boat-excursions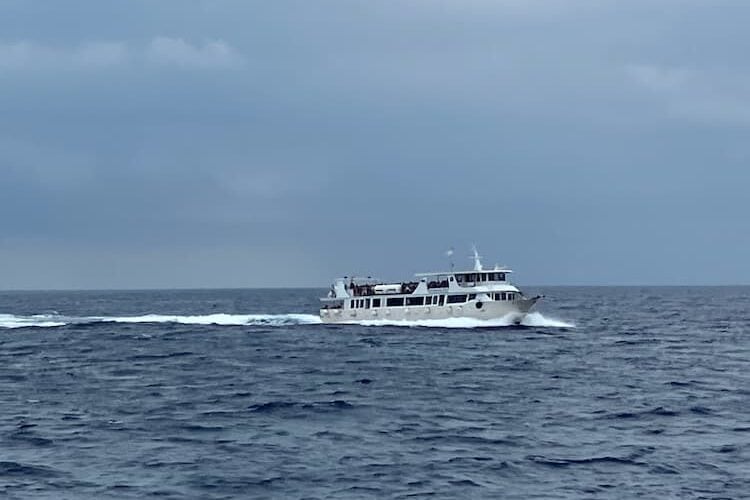 Take advantage of the five towns' history as fishing villages. Situated right on the sea, all kinds of ocean creatures are a major part of the local cuisine. Among the offerings are squid, octopus, mussels, prawns (shrimp) and anchovies. If your previous experience with anchovies has been ultra-salty, try acciughe al verde, fresh anchovies marinated in parsley, garlic, and vinegar, often served as part of a seafood appetizer. Muscoli ripieni, mussels stuffed with a mixture of bread crumbs, parmesan cheese, parsley, garlic and olive oil, is another tasty choice. Sop up the mussels' delicious tomato sauce with bread. For the seafood adverse, there are plenty of delicious pastas to enjoy.
Include Ponte Venere in your visit. Although technically not one of the five towns, this village is on the same spit of land and reachable by ferry. In Ponte Venere check out The Church of St. Peter consecrated in 1198. The "new" part of the church, dating from the 13th century, has elegant bands of black and white Carrara marble. Ponte Venera's port is lovely as are its bright-colored houses almost tumbling into the water. If you feel adventuresome, swim off the rocks in the harbor.
Eat gelato for lunch. Or take a break in the afternoon for a cup or cone. Chocolate, pistachio and coffee are almost always available or try something different like basil, lemon, stracciatella (thinly shaved chocolate in vanilla) or ricotta and fig. Gelato is made with milk instead of cream so it has less fat than ice cream and contains no eggs. It is churned more slowly than ice cream making it denser.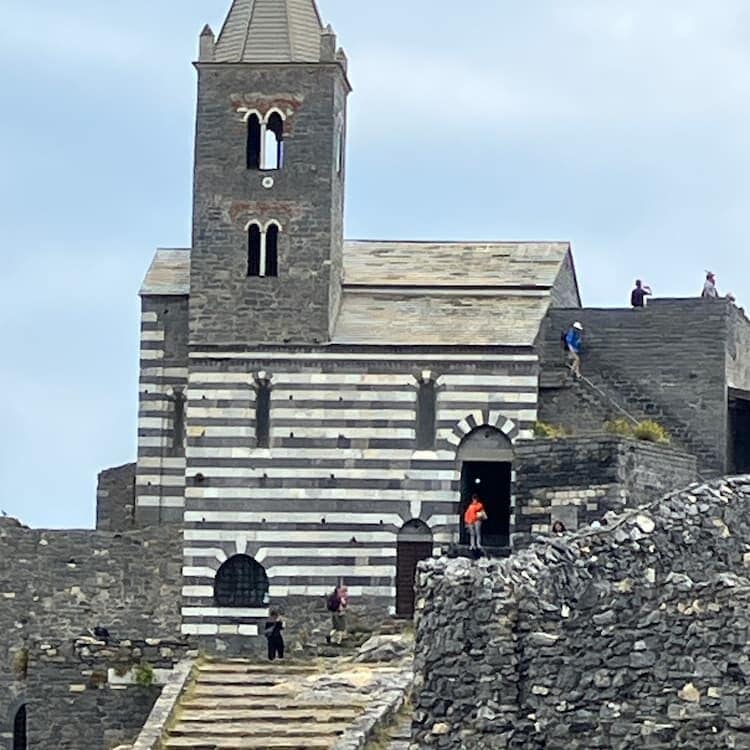 Visit Corniglia, the only one of the towns without a harbor. If you summon your inner mountain goat it's a 370-plus step climb up the Lardarina (staircase) from the bottom to the top. The stairs are steep and challenging but the view from above is magnificent. Or, take the shuttle bus from the train station up to the village at the top which departs about every twenty minutes and costs €2.50 one way. In Corniglia treat yourself to miele (honey) gelato made with honey from local beehives.
Take a dip in the Ligurian Sea, technically part of the Mediterranean. Monteresso has the best beach. You can rent a lounge chair and umbrella (or in late afternoon just appropriate one for an hour or so—there is less demand and often no one bothers to charge you.) Monteresso's beach has changing rooms and spigots for washing sandy feet. People also reach the water by ladders or from the rocks in Vernazza, Manarola and Riomaggiore; to swim in Corniglia you walk down many steps.
Rent a boat. Many towns have companies at the harbor offering boat rides (DIY or skippered) as well as kayak rentals. Prices vary; to get what you want, make plans for your water adventure early in the day even you prefer to venture out later. Some boat rentals include snorkeling equipment and refreshments; others are more bare bones. Check out the boat size relative to the number of people with you to stay comfortable and safe.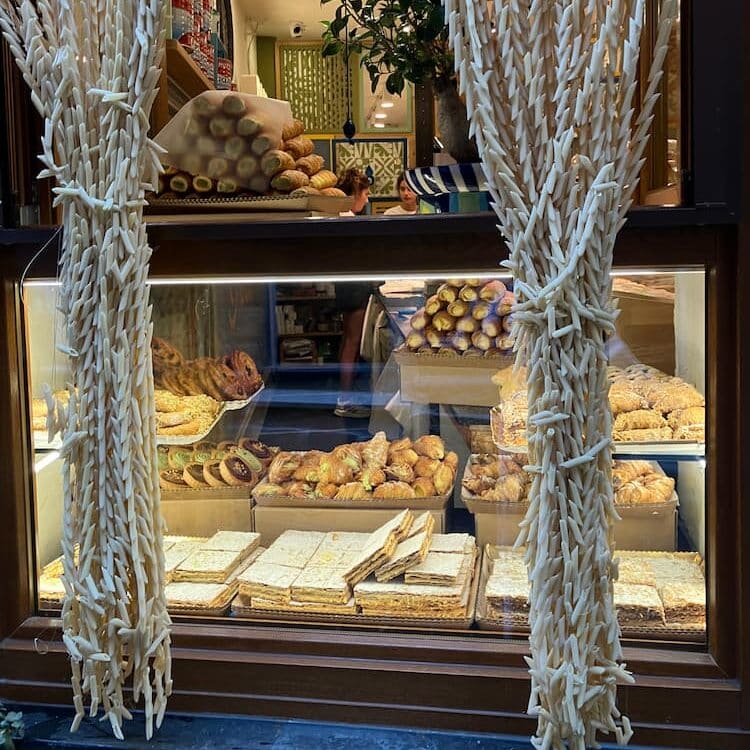 Typical weather in Cinque Terre is mild and sunny although it can be rainy in spring and fall. The best times to visit are mid-March through the end of October as many places close during winter. Each town is unique but all have pastel-painted cliff-side houses, little lanes and back alleys to wander through and gorgeous views of the water, as well as numerous shops and places to eat and drink.
Inspire your next adventure with our articles below:
Author Bio: Mari S. Gold is a New York City-based freelance writer who contributes to several magazines and websites. Among the topics she covers are food, travel, dance, theater and other arts. Her blog, But I Digress… , focuses on cultural events, travel and food at: www.marigoldonline.net