When we arrived in Riomaggiore, Italy, a colorful small town located nestled into the rugged coast of the Italian Riviera, I had never in my life seen such steep streets and sidewalks. As I clutched my suitcase tightly, so it didn't roll down the street into a car or a person, my jaw dropped as an elderly woman carried grocery bags up a steep incline that bordered on 45 degrees.
From that moment on, the people of Cinque Terre had earned my respect. Cinque Terre, meaning "five lands," is comprised of the five seaside towns of Riomaggiore, Manarola, Corniglia, Vernazza and Monterosso al Mare. The area was built over a thousand years and day-to-day life in Cinque Terre is not for the faint of heart. Living in an area built into the side of a cliff next to the sea has its perks in scenery, but can prove a challenge in many different ways.
There are few roads in Cinque Terre, so visitors must take a train from town to town, board a ferry or walk to their destination. It was humbling to see the local townspeople walk with a clip in their pace, while I stopped to give my burning calves and quads a break. We had arrived in Riomaggiore to hike the Sentiero Azzurro (blue trail), a path that connects the five towns of Cinque Terre located in Italy's National Park of Cinque Terre.
Riomaggiore is a pleasant seaside town with small restaurants and cafés nestled among yellow, green, red, pink and orange buildings. We plotted our hike over lobster and pasta the night before, which I highly recommend; Cinque Terre is known for its seafood. Catching and selling fish was once the main source of commerce. We learned that to hike the trail in its entirety, we would need to dedicate five or six hours to the trail, and make our town visits short at each stop.
But we had fully succumbed to the relaxation and pleasure that Italy can bring, and after several days of wining and dining, we wanted to focus on enjoying every aspect of the culture without a timetabled agenda.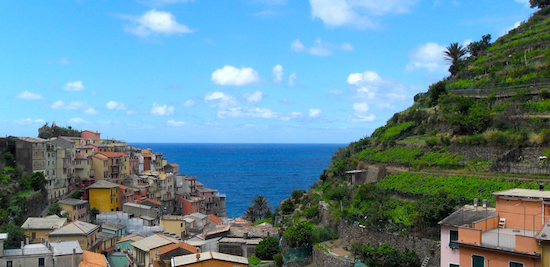 The next morning, suited up in running shoes and sportswear, we took the train to start our hike in the next town, Manarola. While we didn't hike the stretch from Riomaggiore to Manarola, known as Via dell'Amore (Street of Love), it is a wheel-chair accessible section that can be walked in any kind of footwear. For all other sections, trekking shoes or running shoes are recommended.
After finding the path, guided by plentiful trail markers that resemble the Polish flag, we began our hike. The path wound through terraced hills and gardens with vineyards and olive trees, all overlooking a breathtaking blue sea.
Unlike the roads of Cinque Terre, the path was relatively flat and easy to navigate.   We found ourselves climbing small stone stairs, walking along a dirt path and even walking through the backyards of houses along the trail. Looking at the terraced gardens, it was easy to understand what day to day life is like for those in Cinque Terre, Italy. They live in coastal town where not many items come in or out, so growing food independently is a necessity. The terraced gardens are steep, and any fruits of the harvest must be picked and carried by hand.
Compared to our modern lives, where a selection of eight different tomatoes at the store is normal, life in Cinque Terre reminded me to be grateful for the simple pleasures I take for granted.
Our hike to Corniglia didn't last long, only 30-45 minutes. We looked around town and into the local shops, then indulged in our daily habit of fresh gelato. Enjoying a mouthwatering spoonful of cherry gelato with chocolate chips, we walked by two monuments of Corniglia — the Parish Church of San Pietro and an antique postal station. As we reached the end of town, and our gelato, we found the trail and began our hike to Vernazza.
Along the trail we marveled at aloe vera plants with leaves as wide as our heads, with the full plant spanning well over five feet. Intricate irrigation systems pointed vertically down the cliff, keeping the terraced gardens green and thriving. At the edge of the blue sea, cresting white waves crashed on dark rocky shores. When looking at the breathtaking mix, it is easy to see why Cinque Terre is a top travel destination.
Walking in to Vernazza an hour later, we had grown hungry and stopped at the first restaurant we came across. La Torre is a small and inexpensive restaurant that overlooks both Vernazza and the sea. There we indulged on our other daily habit in Italy — a shared bottle of prosecco, Italy's famed sparkling wine, along with bruschetta.
Vernazza has the only natural port in Cinque Terre and it prospered from the wealth this access provided. Known as the most beautiful village, brightly colored buildings surround a lively piazza with outdoor foosball, vibrant umbrellas shading tabletops and a port that offers a beautiful view of both town and sea.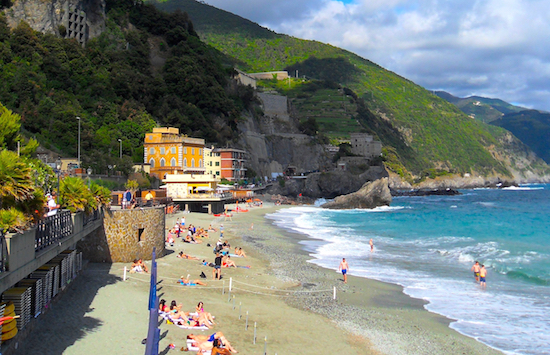 We embarked on the trail once more to Monterosso al Mare, our last hike of the day. Savoring in the coastal views one last time, we arrived in Monterosso al Mare, which is known for its sand beaches, namely Fegina and Monterosso. While it was a bit too chilly in the late afternoon to take a dip in the water, that hadn't stopped many locals from enjoying a few extra minutes of sunshine.
Not wanting to leave the gorgeous view for the train ride back to Riomaggiore, we decided to congratulate ourselves on a hike well done. As we toasted four glasses of bubbling prosecco at a beachside café, we vowed that the beauty of Cinque Terre would not be soon forgotten.
If You Go:
https://www.cinqueterre.us/
Author Bio: Gina Kremer has a self-diagnosed case of chronic wanderlust. Her travels and outdoors adventures have led her to temples in South Korea, castles in Scotland, national parks and trails across the U.S., and strolling down crowded streets in Spain and Italy…to name a few. She revels in the beauty and mystery of different cultures and appreciates the offerings of both a small town and bustling metropolis alike. Her work has appeared in Adventures of a Lifetime: Travel Tales from Around the World
[mappress mapid="893″]