Editor's Note: Travel is complicated right now. Please check local regulations and location openings before you go.
The holiday spirit flourishes year-round in Santa Claus Indiana, known as "America's Christmas Hometown." Honoring Old St. Nick himself, this laid-back Midwestern town celebrates all things Christmas including Santa, Rudolph, the North Pole, and its local amusement park, Holiday World, adds even more holiday celebrations.
Where is Santa Claus, Indiana?
Yes, Virginia, there really is a Santa Claus, Indiana! Located in southwestern rural Indiana about three hours from Indianapolis, this town celebrates Christmas, all year round. For those who live for the festivities of the holidays, this Midwestern town is for you and your family. And yes, Santa Claus is coming to this town — and visits often, as his home away from the North Pole.
The town of Santa Claus is just a tiny dot among the region's expansive rolling hills, or "knobs," as Indianans call them. Home to some 2,000 residents, Santa Claus holds a unique place among Indiana cities, with a giant statue of Santa, surrounded by cornfields, marking the town's "entrance."
It's not quite certain if Holiday World put Santa Claus on the map, or Santa Claus helped put Holiday World & Splashin' Safari there. However, it remains the heart and soul of the little town.
How did Santa Claus, Indiana Get Its Name?
Santa Claus' name is something of local legend. On Christmas Eve of 1849, when the town was not yet named, the area council met and had a Christmas party.
During the course of the party, Santa appeared, and someone suggested the name of Santa Claus. The motion was passed unanimously. Seven years later it was "officially" accepted by the U.S. Postal Department. It remained a speck on the map until Louis J. Koch realized his dream, initially calling it Santa Claus Land.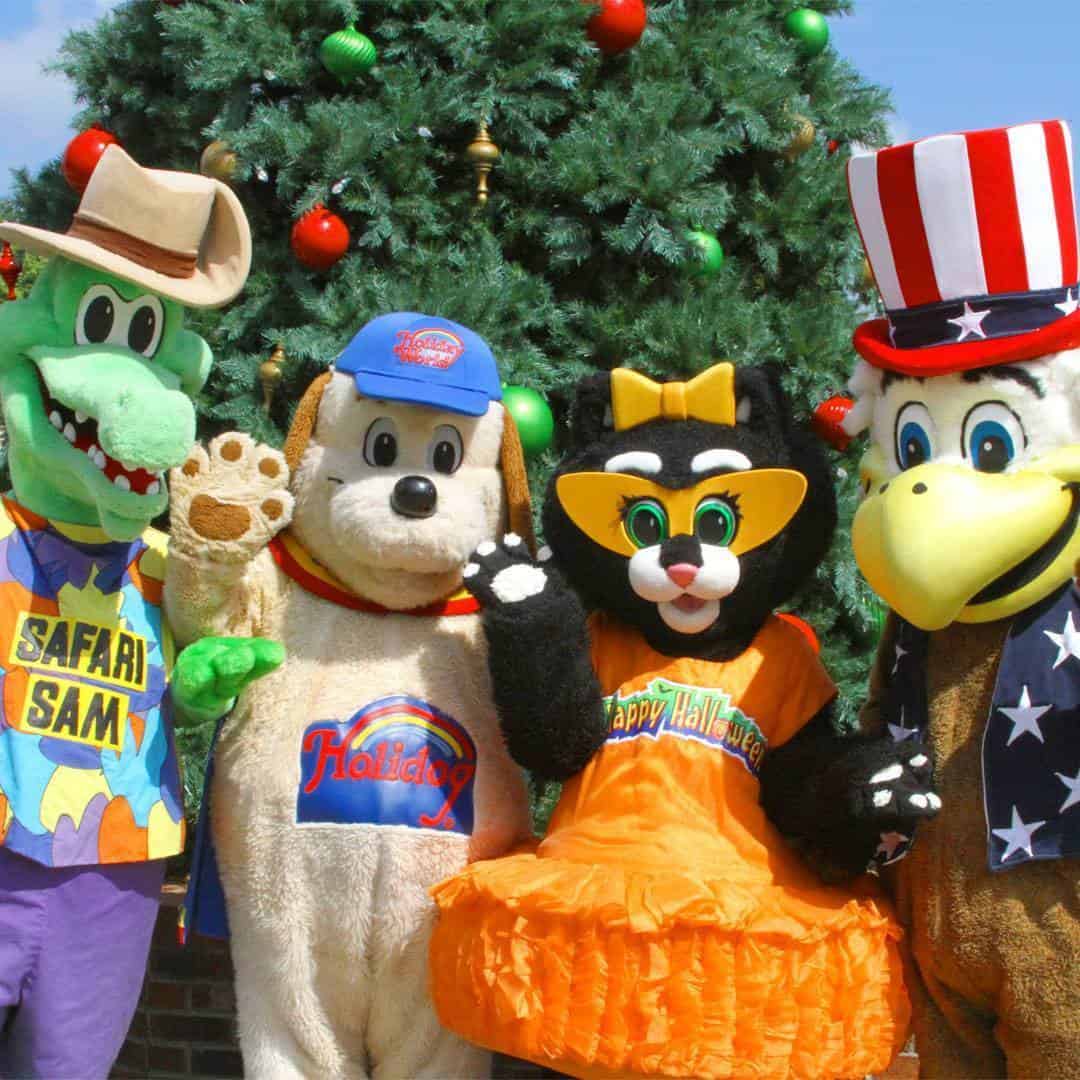 Santa Claus Land
The Evansville, Indiana industrialist started the park, first called Santa Claus Land, in 1946 during his retirement. (That was some nine years before Disney opened Disneyland in California.) The park remains in the Koch family today.
Though not a native, it troubled Koch that children who visited this small community in his state were usually disappointed to find out that Santa wasn't there. And Koch himself was crazy about holidays, celebrations, and children, with nine children of his own. Some may have thought him a bit kooky to develop a park-like this but he didn't care. He had a dream.
Koch planned to open the park sooner, but World War II caused him to wait until 1946.
Where It's All About Family
When the park finally opened, it consisted of a toyshop, themed children's rides, one restaurant, toy displays, and the big man himself—Santa Claus. The family business embraced the children of the community and families from far and wide.
It had that personal touch—and it still has today with Koch's son, Bill, at the helm. It hasn't gone "corporate." In fact, you frequently may see the owners and their family roaming the park, doing whatever needs to be done.
Over time, this tiny park helped the town of Santa Claus to flourish. In fact, the town and the park almost became synonymous. Children from all over the U.S. wanted to come here to sit on the "real" Santa's knee, and people wanted that special postmark on their Christmas cards. Among celebrity guests was the late President Ronald Reagan, who visited the park in 1955.
Then Came Holiday World & Splashin' Safari Water Park
As the park grew and time passed, the Koch family realized it could not remain merely dedicated to the Christmas holiday. So, in 1984, Santa Claus Land became Holiday World, featuring Halloween and Fourth of July sections, including rides, shows, games, shops, restaurants, and more.
The family took it another step in 1993 adding Splashin' Safari Water Park. Now the family fun expanded with a wave pool, family raft rides, water slides, action river and several interactive children's and family water play areas.
Over time, Holiday World & Splashin' Safari set high standards that many other theme parks try to achieve, such as its steadfast adherence to values such as safety, service, cleanliness, and friendliness. It didn't take long to realize this. The park has won awards for the "Cleanest Park" and the "Friendliest Park from Amusement Today.
While a family feud threatened to tumble this empire, Holiday World continues today as a family favorite since 1946.
My Experience at Holiday World
For many, Walt Disney IS the king of theme parks, at least, for as far back as I can remember. Yet America's first theme park wasn't Disneyland—it was Holiday World in a little town called Santa Claus in southern Indiana. The park is still going strong today, winning national awards and serving as home to some of the most exciting roller coasters.
When my family and I entered the gates of this 100-acre (0.4 km²) park, local Indianans were already turning out in shorts and swimsuits to enjoy the sunny, spring weather, while my southern–bred family was still a bit cool in the early morning hours in our short sleeves and shorts.
But the park soon made us forget the chill, for it was obvious that Holiday World was no ordinary theme park—it was built out of love for people, for children, and for holidays. How can you not feel it, when every day there is Christmas, Halloween and American Independence Day all rolled into one? And in 2006, it added the Thanksgiving section included a recording-breaking wooden coaster, The Voyage, catapulting the park's seasonal attendance past the one-million mark for the first time.
Simply put…the park is a child's dream. And the staff reflected it—everyone was just plain cheery.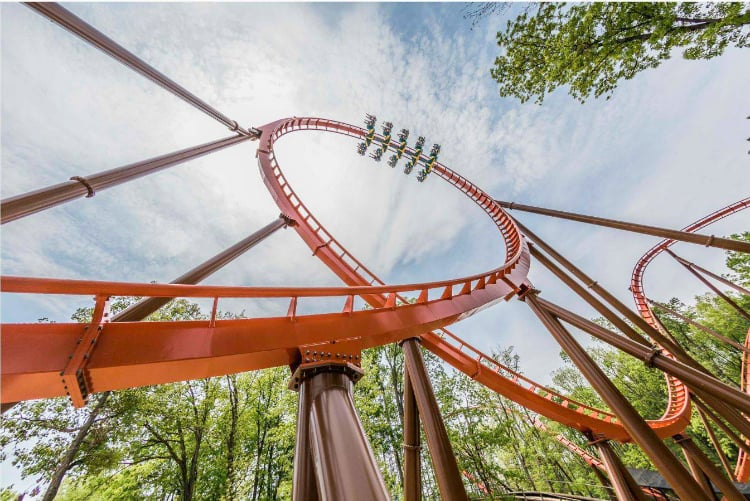 Hang On for the Rides!
In 1955, this Santa Claus, Indiana, theme park introduced its first roller coaster, The Raven, and then in 2000, its second coaster, The Legend. Both have been voted as one of the world's top wooden coasters each year since. While I take a lot of pride in my fearlessness for coasters, I have to admit, my legs were trembling when I got off the Raven. It's one wild, fast ride, and its turns, dips, and speed took my breath away!
Today, you can ride the Paul Revere's Midnight Ride (July 4th area) and Frightful Falls (in the Halloween area) where you'll get wet. And so many more thrill rides and constantly changing experiences.
Shop for great souvenirs and enjoy the Christmas decorations and lights. Pose for pictures with a statue of the big guy himself, or find the "real" Santa wandering the park to talk to children with photo opps.
Always Making Improvements and Upgrades
Along with its commitment to families, Holiday World some time ago decided to make all soft drinks free within the park. A spokesperson says they've tried "not to nickel-and-dime" their guests. While it's bucking an industry trend to constantly raise prices, the Koch family feels it was the right thing to do. The family has also enhanced the experience by providing free sunscreen stations throughout the park.
Splashin' Safari, the park's water park now covering nearly 40 acres, has also remained at the top of its game with many awards. Interestingly, the park often outranks major parks such as Disney World, Kings Island, and Busch Gardens.
And though the park is the heart of Santa Claus proper, it isn't the only thing in this specially named town. Quaint gift shops, Santa's Lodge and the Lake Rudolph Campground and R.V. Resort also attract visitors who can enjoy Christmas 365 days a year here. What am I saying? It's Christmas 365 days a year all over Santa Claus, Indiana.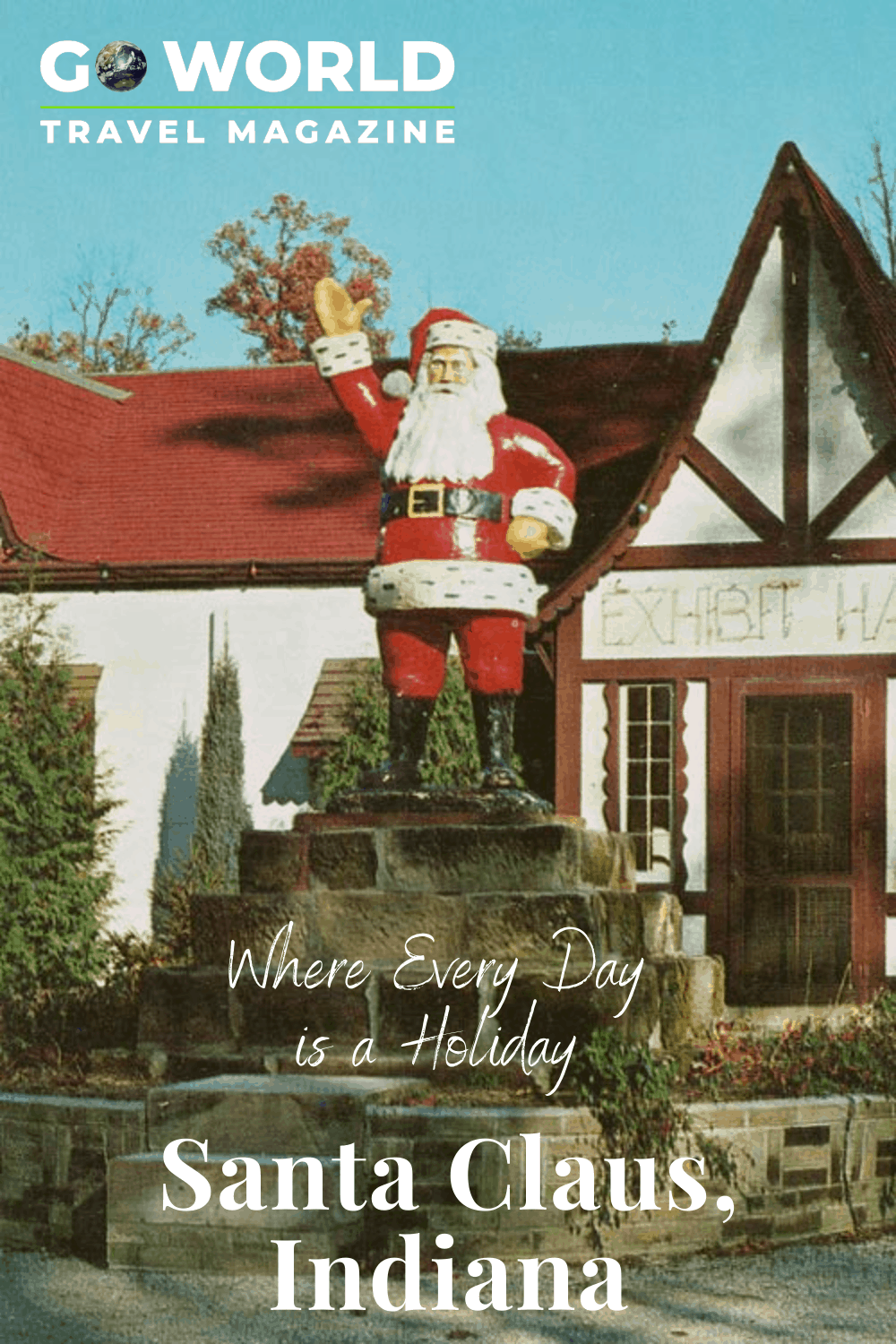 If You Go to Santa Claus, Indiana:
Holiday World & Splashin' Safari
452 East Christmas Blvd.
Santa Claus, IN 47579
877-Go-Family or 812-937-3401
www.holidayworld.com
Lake Rudolph Campground & R.V. Resort
78 North Holiday Blvd.
Santa Claus, IN 47579
877-4RUDOLPH
877-YESRUDY – information line
www.lakerudolph.com
The "official" campgrounds of Holiday World & Splashin' Safari
Tent Sites, RV Sites, Deluxe RV Sites, and RV and Cabin rentals available. Check the website or call for seasonal rates and specials.
Santa's Lodge
91 W. Christmas Blvd.
Santa, Claus, IN 47579
812-937-1902
www.santaslodge.com