Vilnius, the capitol of Lithuania, is known for its old town charm and rich churches. In fact, it's said that you cannot stand anywhere within Vilnius without being within view of at least three steeples. As belfries sounded around us from all directions, that certainly rang true during our visit.
Beyond the churches and old town, beyond the University and haunts from the Soviet occupation, beyond (and even within) Vilnius itself, other wonders await.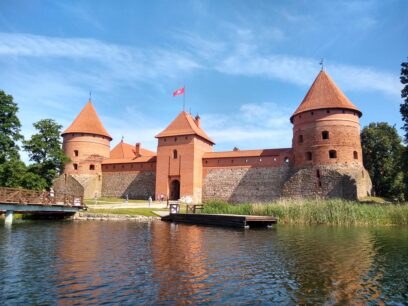 Trakai Island Castle
A not-to-be-missed day trip from Vilnius is to Trakai Island Castle, about half an hour by car or an hour by bus or train from Vilnius. Notably, the small community of about five thousand residents was built, founded, and maintained by Lithuanians, Russians, Poles, Jews, Tatars, and Karaims, a melting pot predating the one we know in the Americas.
We arrived early enough to beat the crowds. As a result, we scored a private, 45-minute cruise across Lake Galve, around the castle island.
We toured the castle's interior, defense towers, palace, and the museum exhibits inside, displaying armor and weaponry, medallions and excavation finds. In the spacious courtyard, Nataliya and I locked the kids up in restraints and enjoyed a quiet moment together—something frowned upon back home but seen as good fun in Trakai.
As late-morning European tourists descended onto the castle, we made our escape to enjoy a leisurely stroll around the castle and along the lake shore. Kiosks sold Kvas and pies and handmade crafts. But the focal point remained the lake, and the castle emerging from its center, even as we walked back through the village of country houses to catch the bus back to Vilnius.
Uzupis: A Nation within a City
The bohemian soul of Vilnius's Literatu Street symbolically prepared us for visiting another country within Old Town Vilnius. That's right—a nation within the city.
Uzupis, a community across the river, is filled with narrow streets decorated with art installations. Before crossing the bridge from Vilnius, a sign on the border informs visitors of Uzupis's rules and values in pictures: be happy, speed limit 20, enjoy art, don't drive into the river (or, be safe).
From that same bridge, a porch swing hangs just above the water, and all are welcome to swing a spell. Mermaid statues stare up from the walls of the river.
Just across the river is the beer hall—meeting place of the Uzupis President and Congress. They declared independence in 1997 … on April Fools' Day. All local government officials must make their decisions over beer.
They have their own passport control station, and their own constitution, posted in multiple languages in the center of town with such articles as "everyone has the right to live," "everyone has the right to love," "everyone has a right to die, but not an obligation."
Along the river, a "Backpacking Jesus" monument greets hikers, a piano stands decorated with artistic flair, murals decorate the walls, and mysterious eyes look out from the brick and tile.
Whether the rest of the world takes Uzupis seriously doesn't really matter much, because the point of being a citizen of the republic is not to take yourself too seriously.
In the beer hall—or Congress—of Uzupis, we relaxed with local beer and soft drinks and drank to our experiences on both sides of the river, deciding that we would keep the spirit of the not-too-serious republic with us for the remainder of our adventure.
And maybe even when we're back home in Baltimore.
If You Go
To visit these places, you'll want to make Vilnius your home base. Many major airlines fly in and out of Vilnius, Lithuania and nearby Riga, Latvia and most online ticket sellers and travel agents will generate affordable flights.
In fact, given time and funds, it's worth visiting the three Baltic nations and capitals (Vilnius, Lithuania; Riga, Latvia; and Tallinn, Estonia) during one visit. Each is easily accessible by train, bus, or rented vehicle. Uzupis is easy to get to from Vilnius—you just walk across the bridge For Trakai, the best way to get there is to visit the bus terminal and simply ask for a round trip ticket to Trakai.
Where to Stay in Lithuania
There are an array of clean, safe, affordable apartments for rent by the day or week on such websites as Airbnb.com or Booking.com. Be sure to check the ratings and feel free to contact the hosts with any questions before booking.
Author Bio: Eric D. Goodman is the author of the forthcoming novel, Setting the Family Free and is at work on the novel Wrecks and Ruins, set in Baltimore and Lithuania.