The Baltic States are a string of perfect pearls along the shore of the Baltic Sea. Lithuania, Latvia and Estonia rival Switzerland in that everything is spotlessly clean and flawlessly maintained and orderly. Not to mention buses depart exactly on time and citizens all are nattily dressed and groomed.
This near-perfect vision is part of the fairy tale of these three tiny nations that have overcome a difficult shared history.
They have been conquered and dominated over the centuries by powerful neighbors, including some 70 years under the Soviet Union until the fall of the Berlin Wall.
However, they have come into their own in the past few decades and have become increasingly popular tourist destinations.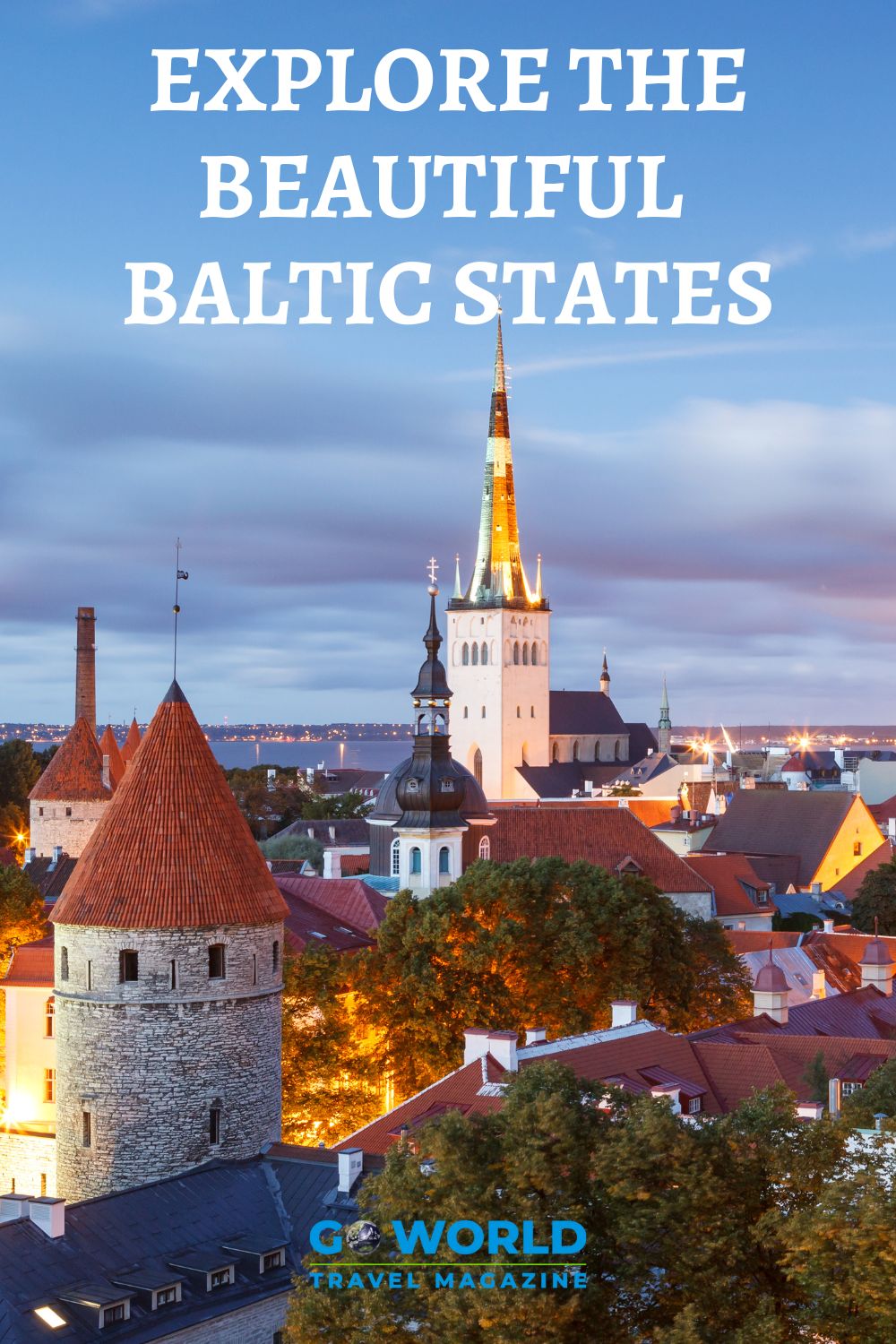 Popular Things to do in Latvia, Lithuania and Estonia
The most popular things to do in Latvia, Lithuania and Estonia are visiting and exploring their whimsical, photogenic Old Towns. All three capital cities, Vilnius, Riga and Tallinn, have beautifully restored their historic walled centers.
They have turned them into ornate, colorful, fairy-tale settings that ignite the imagination and lure hordes of travelers. This is especially true in the summer when the temperatures rise into the 70s.
Visitors to the Baltics also enjoy the conviviality and tasty offerings of booming food and beverage cultures that celebrate the new and trendy.
For good or bad, restaurants serving traditional Estonian, Latvian or Lithuanian dishes are difficult to find. Instead, it's a contemporary and international scene of talented chefs whipping up gastronomic creations.
They run the gamut of ethnic cuisines from Italian to Asian Fusion and Tex-Mex and Sushi. Beverages include a cosmopolitan coffee scene along with lounges mixing and stirring the latest in mixology. In addition, outdoor seating is everywhere (at least in the warmer months).
But there's more to offer beyond wandering storied Old Towns with dramatic architecture and impressive cathedrals. Or enjoying delicious cuisine and fine craft beers.
You can also set off on intriguing side trips. These can include a spectacular crimson castle, hiking in a castle-studded verdant forest reached by a valley-crossing cable car or touring an artsy university town.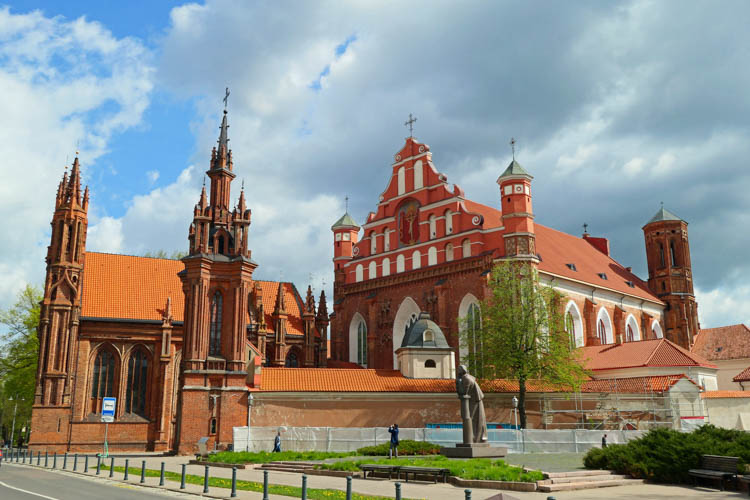 Vilnius, Lithuania
Compact and the least busy of the Baltic capitals, Vilnius has the feel of a small town. But a grand one with pop and sizzle. The quixotic Old Town enjoys UNESCO World Heritage Site status.
One look at its immense churches, soaring bell towers, stately palaces and pastel-colored period buildings lining the cobbled lanes will tell you why.
Easily walkable, Lithuania's capital is a place to wander and explore. Take in the Palace of the Grand Dukes, Vilnius Cathedral, museums, art galleries and the Gates of Dawn. The gate is the last standing portal in the city walls and is topped by a chapel housing the revered 'Vilnius Madonna' painting.
The place to start is the 13th-century tower atop Gediminas Hill. Here there's a spectacular 360-degree panorama of red roofs, punctuated with spires and domes. While the past is celebrated here, the scene in today's old center is decidedly modern, stylish and high-energy.
You'll find an innovative cocktail culture in chic bars along with trendy java houses. Plus an extensive array of gourmet and ethnic dining options and entire blocks closed to vehicles brimming with cafes.
Trakai, Lithuania
Walking a verdant tree-lined path, Trakai Castle suddenly appears, apparition-like, partially veiled by spruce trees. Then its boldness comes into full view as an unforgettable vision. A gargantuan castle soaked in crimson, a massive complex of red brick towers and walls seemingly floating on an island in Lake Galve, Lithuania.
Trakai Castle must have been a formidable, impenetrable fortress when built some 600 years ago by Grand Duke Vytautas. It was then protected by a body of water serving as an expansive moat but today it is easily reached via a wooden footbridge.
Inside are engaging displays and exhibitions from medieval weapons to religious art. Furthermore, there are projected audiovisual images of knights telling tales.
In summer, the castle is an evocative venue for concerts. Plus, it serves as an archery range to test your skill in medieval warfare. Also in the summer months, it's a place to enjoy sailing, lake cruises, biking, forest hikes and more.
While in Trakai, don't miss the specialty snack food the town is famous for in Lithuania: Kibinai. They look and taste like Latin empanadas. They even have similar fillings like minced pork, chicken, mushrooms, onions, cheese or a combination of these ingredients.
Make a meal of it by pairing kibinai with other local foods such as potato dumplings and refreshing cold beet soup.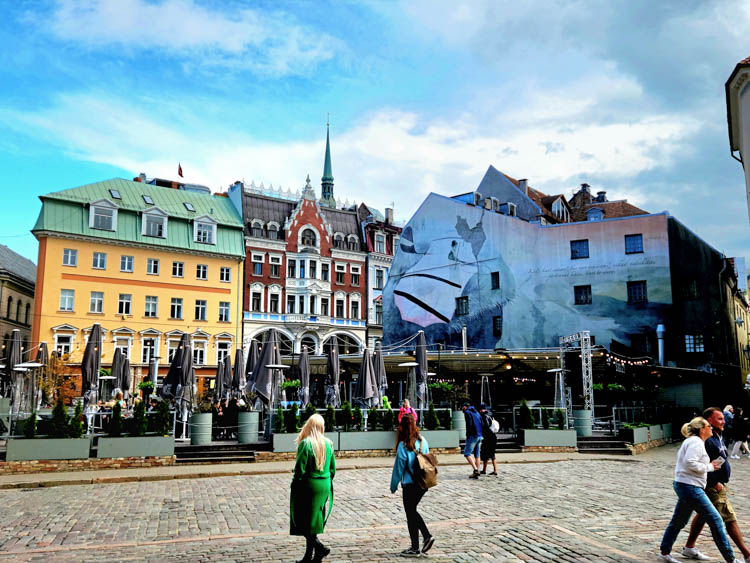 Riga, Latvia
While Vilnius seems like a big village, Riga is a busy cosmopolitan city – with a split personality. Enchanting Old Town is the historic heart of Latvia's capital. Wrapped around it is newer Riga. The Latvian capital has the greatest concentration anywhere of dazzlingly decorative, Art Nouveau buildings.
Old Riga is an architectural riot of gables, spires, campaniles and ornate facades. Also, red-brick churches, and Gothic and Baroque monuments. A steady stream of tourists flows through this storied core dating from the 13th century. Like Vilnius, it is a UNESCO World Heritage Site.
Juxtaposed with the medieval cobbled lanes is the elaborately ornamental Art Nouveau district. The architectural movement swept through Europe and the US in the late 1800s and early 1900s.
As it did, Riga was filled with fantastically decorated structures adorned with natural motifs from vines and flowers to human figures. Strolling the city center streets, where about a third of the buildings are in this style, is eye-popping joy.
The colorful Central Market is one of Europe's biggest. Here you'll find everything from caviar and smoked fish to traditional piradzini meat and vegetable pies. In both old and newer Riga, the denizens of this beautiful and sophisticated city kick back and enjoy themselves in cafes, bars and cutting-edge restaurants.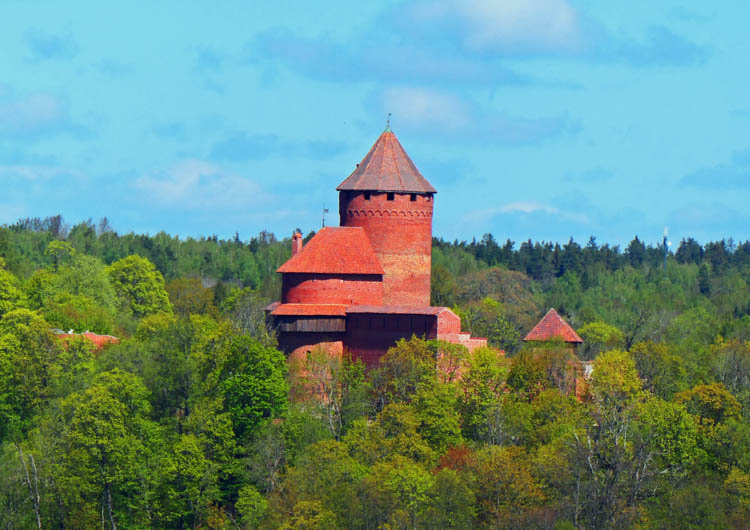 Sigulda, Latvia
This bucolic, leafy Latvia town is the gateway to a day of adventure immersed in storied castles, verdant nature and modern transportation. It is best experienced via a self-guided tour including several hours of hiking in lush, forested Gauja National Park.
The first stop is the Castle Complex, an imposing 13th-century castle built by the Livonian Brothers of the Sword. There are ramparts, a watchtower overlooking the verdant Guaja Valley, a 19th-century stone 'New Castle,' and a stately wooden manor house built by a Russian prince.
Next, the route cuts across parklands to a rocky precipice. Here is a cable car that swoops over the twisting Guaja River and stands of pine and spruce, to a high point in the mountains.
Now the hard part begins. Two hours of up-and-down trekking through the gorgeous forest with gurgling streams, wildflowers, ponds carpeted with lily pads and giant gray heron.
In one area with especially steep and rough terrain, elaborate wooden staircases take you straight down to the valley floor and then right back up again. Along the way, the carvings at Gutmana Cave are ostensibly early graffiti, going back hundreds of years.
Then the payoff: Turaida Castle & Museum, a red-brick fantasy perched on an Edenic knoll. There is also a massive, 120-foot-high watchtower revealing the panoramic perspective of medieval knights watching for enemies.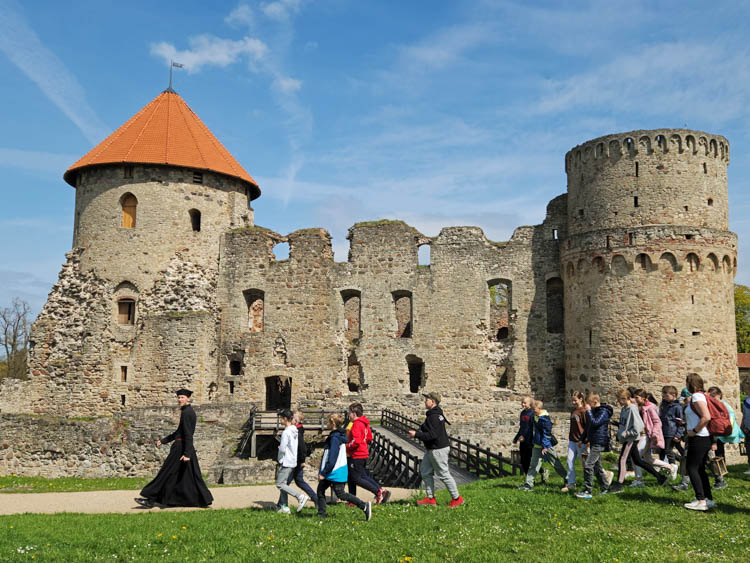 Cesis, Latvia
This charming town located on the north end of Gauja National Park has been called the prettiest in Latvia. And for a good reason. It boasts a quaint historic center of 18th and 19th-century houses on small cobblestone streets, romantic castles and leafy parks.
After a day of trekking in nearby Sigulda, lovely Cesis is ideal to stroll and wile away the hours. The center is a mix of traditional wooden houses with ornately carved detailing, 13th-century churches and red-roof buildings in an array of colors. The whole thing is encircled by exceptionally verdant gardens and lakes.
The highlight is Cesis Castle, also built by the Catholic Livonian military order, in 1214. In its heyday, it was the mightiest castle in Livonia, which included most of present-day Latvia and Estonia. Like so many Baltic castles, it has two watchtowers to climb for views over the town and countryside.
You are given a lantern with a lit candle to carry as you trundle up the narrow stone spiral stairs because it's so dark inside. A sound and light show and holograms of weaponry and artifacts enliven the dark, moody bastions.
Next door is the "New Castle," which was the 18th-century manor house of a German count. It contains vibrant fin-de-siècle interiors and diverse displays of period memorabilia and photos.
If you didn't get your fill of hiking in Sigulda, forest trails in Gauja National Park are also nearby. As well as canoeing, kayaking and biking in the summer.
Tartu, Estonia
This lively university town has long been considered the cultural hub of Estonia. The European Union has named Tartu the 'European Capital of Culture 2024,' ushering in a year of special events.
The main building of Tartu University is an imposing edifice in the compact Old Town with six massive Doric columns. It declares itself Estonia's center of learning, while most of the campus is on leafy Cathedral Hill with its museums, old observatory and historic library.
With all the students here, the cobbled center is bursting with fast-food shops, pubs, bars and eateries. Climb the bell tower of St John's Lutheran Church for the best views, take a boat trip on the Emajogi River and walk the bohemian wooden-house neighborhood of Karlova.
There is much to see and do here but what arguably sets Tartu apart are the quirky buildings, statues and street art.
The bronze sculpture of two students kissing, set in a splashing fountain in front of the Town Hall, is an iconic landmark. When passing under the Bridge of Angels for the first time, legend says if you hold your breath your wish comes true.
The Tartu Art Museum is seriously leaning over, purportedly even more than Pisa's tower. Entire facades of multi-story buildings are colorful murals, while a parade of mischievous and sometimes hair-raising statues is on display. None more so than the naked father and baby holding hands with reversed male anatomies.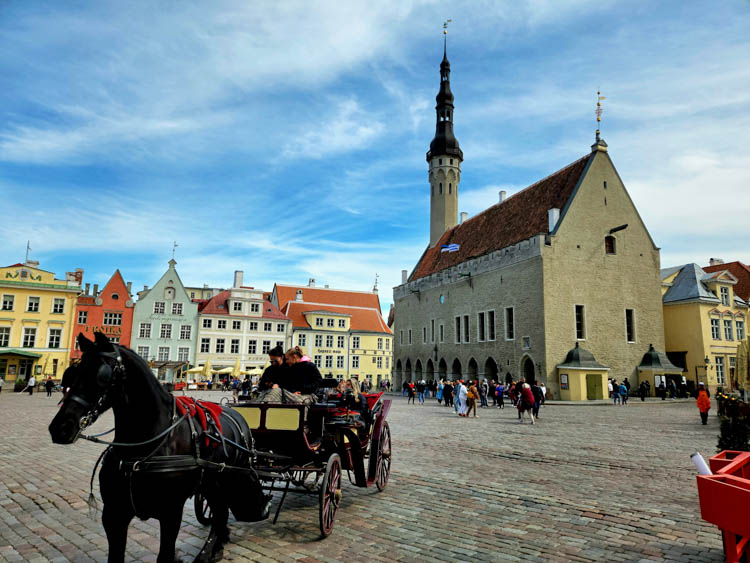 Tallinn, Estonia
Estonia's capital overwhelms with arguably the most atmospheric Old Town ambiance in the Baltic States. This sparkling medieval jewel surprises with its 800-year-old walls enclosing the city.
Plus, striking landmarks such as the soaring Gothic Town Hall and cobbled streets meandering through a labyrinth of 15th-century houses in an array of pastels.
Tallinn's old center is a tale of two towns: the lower town where traditionally merchants and common people lived, and Toompea Hill, the high ground of the nobility.
Today Toompea is quiet neighborhoods dotted with embassies and important structures. This includes the huge pink Baroque parliament building and beautiful onion-domed Alexander Nevsky Orthodox Church.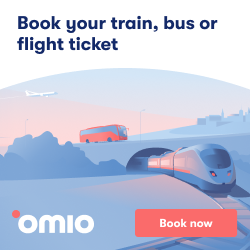 At Kiek in de Kok Museum on Toompea, Tallinn's history comes to life. Walk historic ramparts linked by a series of red-turreted towers, city gates and a five-story cannon tower.
Also, explore the fascinating Bastion Passages, underground tunnels built by the Swedes in the 1600s and used over the centuries for escape and shelter in times of war and disaster.
The zesty dining scene, tourist-swelled street life and shops are mostly in the lower town. In addition, is the macabre KGB Cells Museum.
The notorious Soviet secret police detained, interrogated and tortured prisoners here, and where the director told me, "I hear strange noises sometimes but I don't know if it's the ghosts of prisoners."
Book This Trip
Start planning your unique adventure to the beautiful Baltics today. Get prepared with insider knowledge on how to get around in each country, hotel and VRBO accommodations, local restaurant favorites and more through TripAdvisor and Travelocity.
For the best flight deals, train tickets and car rental options check out OMIO Travel Partner.