Editor's Note: We're all dreaming of travel ahead. Here's some inspiration for future adventures. We share places, products and activities we recommend. If you make a purchase using a link on our site, we may earn a commission.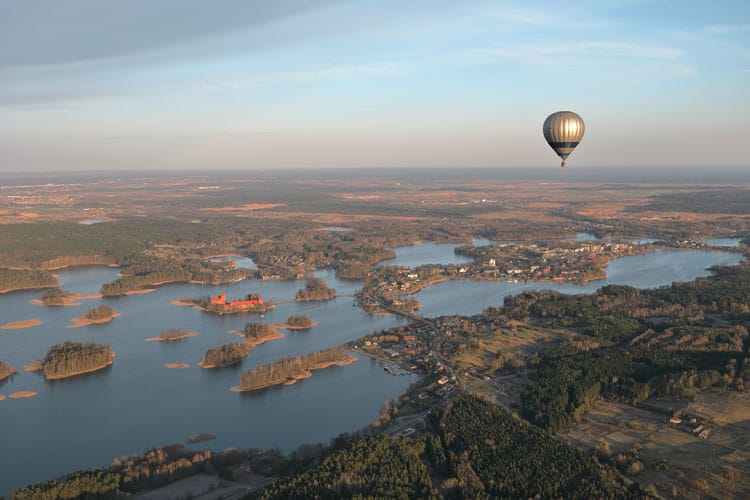 Lithuania is a lesser-known destination that many visitors to Europe miss, but its ancient capital city, charming countryside and beautiful coastline make it well worth a visit.
Lithuania is one of the three tiny Baltic countries, next to Estonia and Latvia. During the Middle Ages, it was one of the largest states in Europe. First, as the Grand Duchy of Lithuania, and later in an alliance with Poland, as the Polish–Lithuanian Commonwealth, which was dismantled by neighboring countries.
After that, the country was under Russian and German occupation until gaining its independence in 1990.
Top Things to Do in Lithuania
Today, Lithuania is an EU member, a modern country with beautiful cities such as Vilnius and Kaunas, wonderful nature, and many exciting locations worth visiting. Cobblestone streets, restaurants serving delicious and unique dishes, and a surprising number of interesting museums are just a part of it. Lakes, fascinating towns and castles, as well as places soaked in pagan history, can offer even more reasons to visit.
Less than 3 million people live in this country. Lithuanians can be cold and indifferent toward tourists and newcomers. But if you want to win them over, tell them how much you enjoy their traditional cuisine or talk about basketball.
Although there are many relics of the Soviet period, there is so much more than that in this country. Every Lithuanian travel guide recommends tourists visit the old town of Vilnius, Lake Galve, the bizarre Hill of Crosses, and the Curonian Spit, created by the incredible power of nature.
Discover the Sights of Vilnius
Vilnius is the largest city in Lithuania and the second-largest city in the Baltic States. The Lithuanian capital has more than half a million inhabitants, and, in addition to Lithuanians, many Russians and Poles live in this city.
Old Town is the most popular place and the starting point for almost all visitors to Vilnius. Today, the Vilnius Old Town is on the UNESCO World Heritage List.
Gediminas Tower
From Gediminas Castle, you can have the best view of the city of Vilnius. The castle is located on a hill, which you can climb on foot from Cathedral Square or use a funicular.
Gediminas Tower is the remaining part of the Upper Castle, and it's named after the Grand Duke Gediminas from the 14th century. It is a significant location for the Lithuanian people, and it is even on their banknotes. If you want to understand medieval Lithuania better, you should definitely visit the Vilnius Castle Museum.
Gate of Dawn and Vilnius Cathedral
The Gate of Dawn was built in the 16th century as a part of Vilnius' defensive wall with nine other gates. It is the only one preserved from demolition at the end of the 18th century. Today, it is one of the largest Catholic sanctuaries.
When it comes to religious places, the Vilnius Cathedral, also called the Cathedral Basilica of St. Stanislaus and St. Ladislaus of Vilnius is worth mentioning. It was the home of the coronation of many Lithuanian rulers. However, one of the most significant Gothic architecture buildings in Lithuania, built in the late-15th century, is St. Anne's Church, located in the Old Town.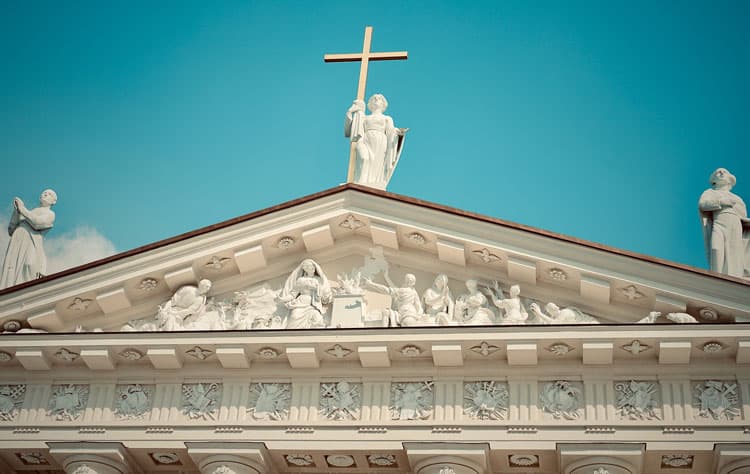 The Palace of the Grand Dukes of Lithuania
When you are in Vilnius, the Palace of the Grand Dukes of Lithuania is worth visiting. It was built in the 15th century, and it's located in the lower castle of Vilnius. It served as a political and cultural center for a long time, only to be demolished at the beginning of the 19th century. However, at the beginning of the 21st century, it was renovated in the Renaissance style.
Explore Museums and Peaceful Neighborhoods
The Museum of Occupations and Freedom Fights is located in the former KGB building. You can see a former KGB prison and exhibitions about Soviet authorities' repressions and the tenacious struggle for independence.
Vilnius has several other fascinating museums, like the Museum of Illusions, the Money Museum of the Bank of Lithuania, and the Toy Museum.
Uzupis is a Bohemian district in Vilnius, mostly known for street art, galleries and cute coffee shops. It is situated near the Vilnia river, and it's recognizable as the smallest republic in the world. If you love art and you have a libertarian spirit, this place is ideal for you.
Visit Kaunas
Only 100 years ago, Kaunas was the temporary capital of Lithuania. Today, it is the second-largest city in Lithuania, with about 300,000 inhabitants, an hour's drive from Vilnius.
It is known as an academic city, with numerous universities. It features beautiful architecture, main streets without traffic, and many green areas. Those who love basketball have surely heard of the legendary basketball club Zalgiris from Kaunas.
Near Kaunas is the Pazaislis Monastery. It's the Baroque monastery from the 17th century, one of the most-visited Catholic pilgrimages in Lithuania.
Kaunas Old Town
The oldest part of Kaunas stretches around the confluence of the rivers Nemunas and Neris. In Kaunas Old Town, you can see buildings built in Gothic, Baroque and Renaissance styles. These buildings include Kaunas Town Hall, the House of Perkunas, the Historical Presidential Palace and Kaunas Cathedral.
In this part of Kaunas, you can explore numerous churches, museums and the main pedestrian street Laisves Aleja, 1.7 km (about 1 mile) long. You can also stroll along Vilnius Street, visit Kaunas Cathedral and St. Gertrude Church, or have fun at the Museum of Lithuanian Folk Instruments.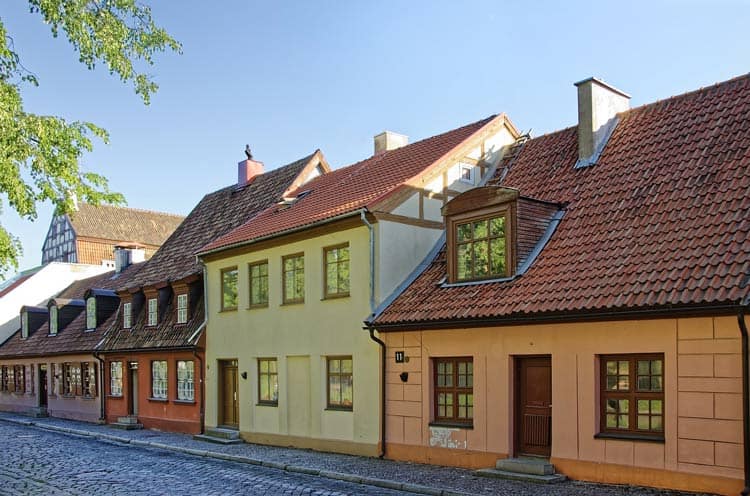 Learn More About Medieval Kaunas Castle
One of Kaunas' main tourist attractions is a medieval castle built in the 14th century in Gothic style. The castle was of great strategic importance, as it was built near the Nemunas and Neris rivers' confluence.
Today, one-third of the castle has been preserved, which is used to organize various festivals. In 2018, a large sculpture, "The Soldier of Freedom," was erected. Next to Kaunas Castle is Santaka Park, a favorite place of many Kaunas residents where they enjoy walking among the beautiful greenery.
Make sure to bring a camera to capture all the beauty and memories from your adventures around Lithuania. One option that is ideal for traveling and having handy in your pocket is the Canon Powershot G5X. Check out the Canon digital selection and deals here.
Devil's Museum
You can see more than 3,000 sculptures and objects with motifs of the devil in the Devil's Museum. The first collection was made by the Lithuanian artist Antanas Žmuidzinavičius. After his death, the collection multiplied with items brought by visitors from all over the world.
On all three floors of this museum, you can see objects made of wood and ceramics, as well as works of art in various shapes, colors and sizes.
Lithuania is the last European country converted to Christianity. That is why many stories, legends and beliefs from pagan mythology have remained among the people, including those about the devil as a representative of evil.
Klaipeda
Klaipeda is a charismatic Lithuanian port on the Baltic sea. It is located in the western part of Lithuania and features beautiful German architecture. Old Town is one of the top tourist spots worth a visit.
You can see more than 100 beautiful sculptures at Sculpture Park, which was a cemetery destroyed during the Soviet occupation.
One of the top things to do in Klaipeda is to visit Curonian Spit. It is a national park with impressive sand dunes, beautiful beaches and small fishing villages, such as Nida. It is a UNESCO World Heritage Site shared by Russia and Lithuania. The only way to get to Curonian Spit is by ferry.
You can also go on a day trip to Palanga, a popular Lithuanian summer resort on the Baltic Sea shore, with 18 km-long (11.1 miles) sand beaches. Near Palanga is the Amber Museum. This art museum is situated in beautiful Tiškevičiai Palace and holds one of the world's most significant amber collections.
Druskininkai
The small town of Druskininkai is located on the river Nemunas. It is visited by many Lithuanians and people from neighboring Poland and Belarus. Druskininkai is known for its beautiful parks and spa treatments, and you will enjoy beautifully landscaped gardens, walking trails and lakes.
Be sure to visit Druskininkai Water Park, and if you like winter sports, the indoor Snow Arena will delight you. A musical fountain with light effects is always an interesting sight.
Grutas Park (Gruto Parkas) is a Soviet theme park near Druskininkai. Here you can see numerous statues from the time when Lithuania was a part of the Soviet Union. Among the 86 figures are statues of Stalin, Lenin and Karl Marx.
The Hill of Crosses
The Hill of Crosses is an essential place for Catholic pilgrims. It is located near the town of Šiauliai. The tradition of bringing crosses to place on the hill began in 1831, and since then, more than 100,000 crosses, statues of the Virgin Mary and other relics have been placed here.
The reason behind the creation of Hill of Crosses was the struggle for independence in the 19th century. In the first and second Polish uprisings, there were many victims without marked graves, so people placed memorials on this hill. Hill of Crosses is also a memorial to the communist regime's resistance, which repeatedly tried to overthrow it.
Hill of Witches
Hill of Witches is a unique sculpture gallery in Juodkrante, on the Lithuanian Seaside Cycle Route. There are more than 80 wooden sculptures in this open-air museum, with the theme of witches and devils from Lithuanian folklore and pagan tradition. The first sculptures were made in 1979, and new ones have been added since.
The place where the gallery is located is also interesting since it is a wooded sand dune. Admission to this site is free.
Lake Galve
The Trakai district has as many as 200 lakes, the most beautiful of which is Lake Galve, one of the deepest and largest lakes in Lithuania and featuring numerous bays. This lake has 21 islands, and one of them is the famous Trakai Island Castle.
Tourists can enjoy boat tours or cycling along the 18 km (11.1 mile) bike path along the shores of the lake. When the lake freezes in winter, a favorite pastime is skating. In the restaurants in Trakai, you can also try some local dishes. The most famous is "kibinai."
If You Go
Find expert guides and tours unique to each town in Lithuania from GetYourGuide. Check out their best-selling tours here.
Check out places to stay with Booking.com. From hotels to yurts in Lithuania, book your perfect place here and make your trip one that can't be topped.
Author's Bio: Marija Stojanovic Petkovski – Based in Serbia in Europe, Petkovski worked as a journalist but realized writing about the most beautiful places in the world is something that inspires her. She is sure that a pint of good craft beer perfectly accompanies a tasty homemade lasagne. In her spare time, she enjoys playing with her children and spending time outdoors with her family.