Sustainable living, green and locally owned weren't terms I had previously associated with East Coast living. However, on a recent weekend jaunt to Baltimore, I found there's an environmental revolution occurring here.
This seaport city has become rejuvenated by fresh ideas and a push toward both global and awareness.
Perhaps one reason is Mayor Sheila Dixon's enthusiasm for an eco-lifestyle. Since being sworn into office in 2007, she has been integral in boosting public transportation options, on-street bicycle parking, and has been vital in drafting the Baltimore City Sustainability Plan, which will provide a blueprint to a "cleaner, greener, healthier and safer" city.
I arrive on Friday afternoon, checking into the Hilton Garden Inn in Baltimore's Inner Harbor. In addition to taking sustainable steps such as recycling, green cleaning, and energy efficient lighting, the hotel also provides a unique sleep system where the mattress has various components that can be replaced individually for longevity and is completely recyclable.
And the comfort level! My one regret was that I couldn't spend more time snuggled atop that inviting little haven.
After a brief walk around the Inner Harbor, my traveling group and I head to Woodberry Kitchen, an organic farm-to-table dining establishment. Set in a rustic, renovated old foundry with high ceilings and a warm, upscale ambiance, Woodberry Kitchen has a staff of notable chefs who prepare mouthwatering dishes from local and seasonal ingredients.
The wood oven is in clear sight of the patrons, allowing diners to view the artistic manner in which their meals are being prepared.
Saturday morning we settle on our bicycles, rented through the hotel, and head to a pagoda located in the sprawling green Patterson Park to meet with local bicycle enthusiast Ralph Brown of Monumental Bike Tours.
At US $20/person, he guides a tour through East Baltimore neighborhoods such as Little Italy, Greektown and Fell's Point with stops at numerous ethnic bakeries and the chance to learn immigration history of the area while taste-testing the local goods.
However, after a brief technical glitch, one of the other gals and I get separated from the group. We decide to create our own tour and head toward the marina. Gliding along the boardwalk with the breeze on my face, viewing the magnificent boats in the sunlit harbor make for an exhilarating ride.
We enter into the historic Fell's Point area and, while bumpy cobblestone isn't ideal for biking or comfort, the area offers numerous coffee and teashops intermixed with open-door galleries showcasing local artists. It's the perfect stretch to jump on and off the bike to get a taste of the local artistic flavor.
After rejoining the group at the hotel, we walk to the water taxi, which offers access through the bay to over 35 neighborhoods and attractions. An adult all-day ticket is US $9 (US $4 for children 10 and under) and can be bought onboard with cash or picked up at the Visitor Center.
This is by far my favorite method of transportation as we move smoothly through the water, allowing me to see so much of the city from one point.
Our destination, Federal Hill, is a hip little neighborhood dotted with kitschy boutiques and locally owned cafes. We walk through the bustling Cross Street Market eyeing the mounds of fresh seafood and local produce and make our way to Spoons Coffee Café.
As soon as I walk in I know this is no ordinary café! The walls are filled with eclectic art, a carousal horse is set in the center of the room, the dishes, silverware, tables and chairs are all mismatched and there is a children's station with a little girl drawing on an easel near the plush red sofas where her parents enjoy conversation.
Spoons was the first Maryland restaurant to be certified green and it's apparent in their practices that they truly believe in leaving as small a carbon footprint as possible. Compared to the 275 lbs of waste garnered by the average restaurant, Spoons collects a mere 15 lbs due to strict recycling and composting practices.
Needless to say, Spoons has implemented non-toxic cleaning, efficient lighting, low-flow faucets and much more. They support a community garden, roast their organic coffees on-site, serve sustainable wines, and focus on seasonal and local items.
And the food? Delectable! After devouring my own fresh-veggie omelet and taste testing from around the table, I'm convinced there is no bad choice on this menu!
Mid-afternoon is a perfect time to walk to any number of museums located in the heart of Baltimore. I have the VIP Pass, which, for one lump sum, allows entry into more that three-dozen attractions including the Maryland Science Center, The Walters Art Museum and USS Constellation Museum.
I first check out the Reginald F. Lewis Museum, located two blocks east of Inner Harbor. This 82,000 sq ft modern space houses 400 years of history and progress.
As the East Coast's largest African American history museum, the exhibits are endless and time is easily lost wandering through the powerful images, hand-written letters and physical remnants of history displayed beneath soft lighting.
The museum is incredibly open and airy with vivid, intense colors slashing through the design, symbolic of strength, volatility, faith, hope and other necessary traits for the struggles and growth depicted here. General admission is US $8 with those under 6 free.
I then shoot over to the National Aquarium, which is about 10 minutes away by foot. This multi-level complex houses almost 16,500 specimens and 660 species of animals beneath its roof. The lower levels contain water habitats while the uppermost section contains a warm, humid representation of a rainforest.
I find myself drawn to the water displays. Stingrays and sea turtles can be seen at strikingly close proximity while walls of story-high glass give an ethereal feel to rooms as guests view the marine life on the other side.
While it is difficult to pull away from the mesmerizing views of the water, I go to see a few of the exhibits. First stop is the 4-D Immersion Theater. As viewers are drawn in to the 3-D film of animals in action, it's common to hear startled responses as sprays of water, pokes and breezes are physically felt.
I make it out in time to get into the dolphin show, Our Ocean Planet. Luckily, I sit high enough to avoid the splashing received by those in the front few rows, but it is still easy to view and appreciate the dolphins and their trainers as multiple tricks and flips are performed. Throughout the show, film shorts are shown on the importance of conservationism and the message of eco-friendly living is integrated throughout.
After a walk back to the hotel and a quick shower, the group recollects for dinner. We walk to Lebanese Taverna, located in Baltimore's East Harbor for a meal of tapas. While many ingredients obviously cannot be bought locally, the restaurant is finely in-tune with dietary restrictions and preferences. A full gluten-free menu is available as well as many vegetarian entrees and side options.
The idea of tapas, or so I had thought, was to enjoy small samples of food much in the way one would eat an appetizer. However, these tapas do not leave space for anything more! The portions are large and great for sharing.
If nothing else, be sure to order the hommos! A puree of chickpeas, tahini, garlic, olive oil and lemon juice, it is truly the best I have ever tried. The m'saka (eggplant and chickpea with tomatoes, onion and garlic) and the tabouleh (parsley with bughul, tomatoes, lemon, onions & mint) are also must-haves.
While I don't think I could eat much more, we saunter over to Pitango Gelato in Fell's Point for a light dessert. With only fresh, organic ingredients used, it is a light and tasty way to top off a night of savory flavors.
As I wake on Sunday, I am saddened to see the weekend's end near. There are many more attractions I want to visit and local cafes I want to taste-test. However, my visit isn't quite over yet.
We stroll a few blocks to Ze Mean Bean Café, a European café and wine bar, for a hearty brunch. Being unable to choose from the extensive menu, we choose a variety of items and promised one another we'll share.
Every scrumptious bite makes it more difficult to move onto the next dish but ultimately, for me, it is a toss up between the asparagus-mushroom omelet with goat cheese and the grilled apple omelet with Brie and pine nuts. The fresh goodness just oozes from both plates.
A brisk walk back to the Fell's Point area accomplishes working off the meals we've just inhaled. There, we meet with a guide from the Preservation Society, dressed head-to-toe in the attire of a lady of centuries past.
We learn in-depth history of the rich immigration past of Baltimore and about the significance of the ports during the Revolutionary War. She shows us homes of famous and infamous residents and tells of scandals that were once only spoken by hushed voices.
She guides us along the sun-drenched boardwalk and through streets where the architecture, with vines snaking over the stone, hasn't changed in hundreds of years and cherry blossoms scent the way.
As I ride back to the airport I realize it's the first time in days I've been in a car. The walking, biking, healthy eating and constant activity have completely rejuvenated me. I fully appreciate this new revolution being fought in Baltimore's harbor.
If You Go
Bike Tours
www.monumentalbiketours.com
Spoons Coffee Café
www.spoonscoffeecafe.com
Reginald F. Lewis Museum
www.AfricanAmericanCulture.org
National Aquarium Baltimore
www.aqua.org
pitangogelato.com
www.pitangogelato.com
Ze Mean Bean Café
www.zemeanbean.com
Preservation Society
www.preservationsociety.com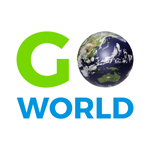 Latest posts by Go World Travel Magazine
(see all)