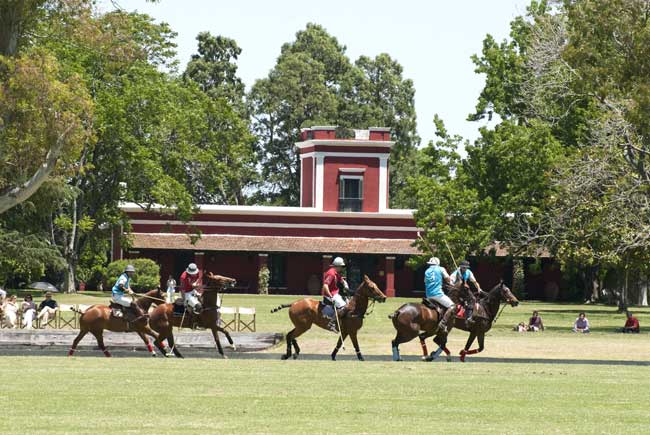 Outdoor activities include champion polo games (in season) and polo practice games, horse-back riding, swimming, and more. Authentic traditions such as asado (grilled meats) and the ceremonious Yerba maté tea tasting (a bitter caffeine drink), as well as guacho entertainment including folk dancing, equestrian skills, and other distractions are all available. When it is time to dine, La Bamba will offer visitors to this Latin American paradise international-quality cuisine, tastefully seasoned with Argentine flare, which will leave the palate yearning for more.
Only a few miles away from the ranch is the 18th-century colonial town of San Antonio de Areco, a setting for frequent country auctions. In this quaint town, which is the birthplace of Gaucho tradition, there are some worthwhile attractions to see. Along its narrow colonial streets you'll find the silversmith and leather craftsman workshops, a chocolate factory, and the Ricardo Güiraldes Gaucho Museum.
The latter is a celebrated museum honoring the Argentine cowboys made famous in Güiraldes' cult novel Don Segundo Sombra. If you can pull yourself away from the pleasures at La Bamba, you may find this charming town to be worth a brief visit.
Cost: In season price range (September – August) is US$ 790 to US$ 1,390. These prices include meals, drinks, and most outdoor activities.
Reservations
Estancia La Bamba de Oreco
2760 San Antonio Areco, Argentina
Phone: 54 2326 454895
FAX: 54 2326 456455
reservation@labambadeareco.com
www.labambadeareco.com


El Ombú de Areco
Another historical property with character only about 70 miles from Buenos Aires is El Ombú de Areco. Built in 1880 by Lieutenant-general Pablo Richeri, it too is near San Antonio de Areco.
This 750-acre working farm has a hacienda-style main house with a 10-acre park. A covered gallery overlooks the park, which is dominated with large umbrella-shaped ombú trees. These unique trees are as common to the Pampas as the Banyan trees are to India. It isn't unusual to see guachos under them, shading themselves from the sun or protecting themselves from the rain, during their breaks from work.
But the ombú trees are only one of the many trees in this well-maintained parkland. Others include the centennial oaks, araucarias (monkey-puzzle trees), palms, eucalyptus, casuarinas and magnolias. Strollers through the park can follow lagoons and small water courses to the Areco River.
Along the way, guests will enjoy the pleasant scent of gardenias, roses and lime trees, and listen to the songs and the calls of a diverse population of birds that will dazzle them with their beautiful plumage. It isn't uncommon for parrots to appear suddenly out of nowhere and in noisy haste race across the path.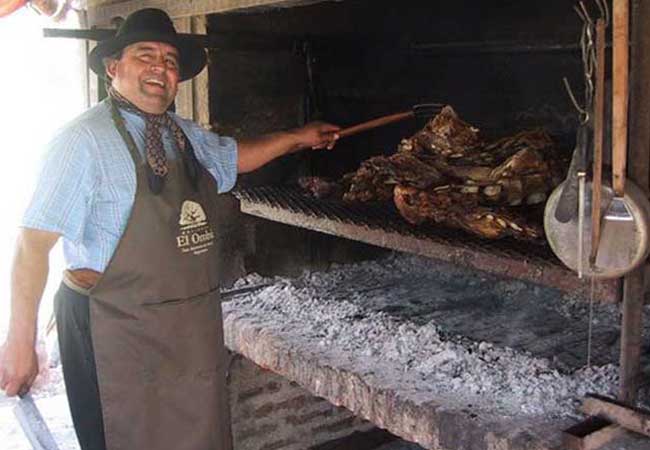 Visitors to this 750-acre estancia, whether for a day or a week, are free to participate in the various stock-rearing activities on this working ranch – such as milking cows, driving the cattle to harness, horseback riding, and more, under the guidance of experienced gauchos.
For those seeking more traditional activities, you can enjoy horse-drawn carriage rides, swimming, volleyball, football, bicycle riding, as well as golf and tennis at a nearby country club. At night they can sit around and gaze at the stars, while being entertained by a guitar-playing gaucho. For many, the highlight of a visit is an elaborate asado luncheon and a performance by gauchos, demonstrating their equestrian skills.
Although El Ombú is a working ranch, it is equipped to handle visitors by the day or the week. The main building offers nine spacious guest rooms with first-class amenities, furnished comfortably with antiques. The living room is used as a spacious common room, with satellite TV and videos, billiard table, chess boards, cards and, adjacent to the room, is ping-pong, metegol (table football), and foosball tables.
Cost: Overnight rates run from US$ 205 to US$ 305 per adult. This includes VAT, full board, soft drinks, wines, beer, and all activities (except special events).
Reservations
Estancia El Ombú
Antártida Argentina 2162
1609 Boulogne, Pcia. de Buenos Aires
Argentina
Phone: 54 11 4737 0436
reservas@estanciaelombu.com
www.estanciaelombu.com
Continued on next page