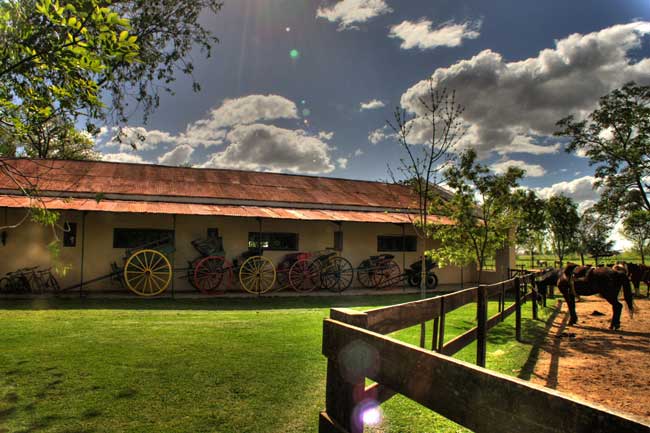 About an hour from the aging belle époque buildings and the skyscrapers of Buenos Aires (BA), those who travel to Argentina can enjoy a rare experience unlike anywhere else in the world. On a large expanse of fertile grasslands called the Pampas, they will be housed, fed, and entertained in upscale rural style reminiscent of bygone days, when the gauchos, Argentina's legendary cowboys and heroes of yesteryear, roamed the land and lived off the estancias (the ranches).
Guest Ranches in Argentina
These rugged and colorful Latin American cowboys, who once dominated the South, will set the tone for your visit in true gaucho style. They will provide you with a glimpse of their lifestyle, once upon a time, when they wandered the land, stretching from Southern Brazil through Uruguay to the tip of Argentina.
The stories about their bravery and nobility and their feats of glory, as colorful and legendary as those of the North American cowboys, will win your respect for them and provide you with an understanding of why they have so successfully left a permanent mark on Latin American history.
To meet these descendants of manly virtue, you will need to visit one of the hundreds of estancias in Argentina and experience their gracious Argentine welcome. Hundreds of estancias, across Argentina from the Pampas to Patagonia are ready to welcome visitors. Here are three such ranches, each a little different in price and character. They are close to BA, yet far enough away to provide you with a rural experience.
La Bamba de Areco
Only 74 miles from Buenos Aires, on what was once the Camino Real connecting Peru with Buenos Aires, is a charming post house that dates back to 1830. This picturesque property is considered one of the oldest colonial-style ranches in the area.
This top guest ranch in Argentina is called La Bamba de Areco. (La Bamba is a derivation the Celtic word, "Bahamba", meaning 'place of rest and hospitality.') During its early years, stagecoach travelers heading north or south would overnight at this post house to break up their long journey.
With true Latin American chivalry, while weary travelers slept around a log fire at night, armed gauchos would protect them by standing guard. Many stories like this about these rugged men of the Pampas have been thrilling visitors and Argentines since the 18th century. None of them have been lost in time.
Today these men of history are still very much a part of life at La Bamba. Although the ranch has changed since its early years. It still echoes its past. The pulperia (barn) where the stage coaches were housed is very much intact as a dining room, and the other buildings on the property, surrounded by a panoramic view of a 32-acre park, have all been tastefully refurbished into comfortable suites, which include several reception rooms, a billiard room, bar, a massage room and a boutique.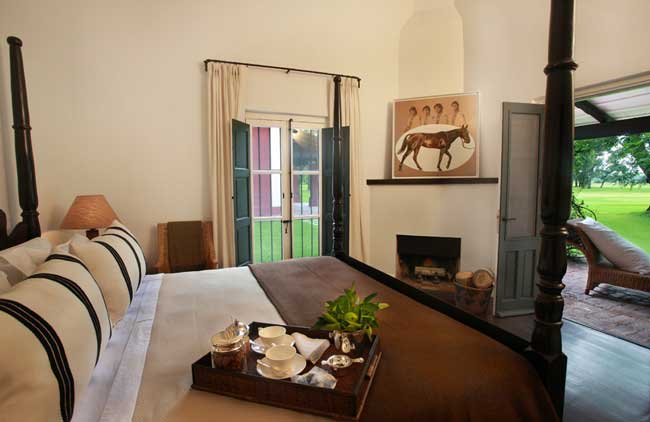 During its transition from a post house to a stunning estancia, it has aged well with a genuine rural patina. Today it is an impeccably maintained property, steeped in guacho tradition, which evoke images of another time, when living was a little more adventurous and the main buildings and the guard tower were an important defense against native attacks.
The main buildings rest on a 300-acre cattle ranch, which welcomes visitors seeking a luxurious getaway with urban comfort on a picturesque expanse of rural land.
Polished to a high gloss in recent years to the elegant Relais and Chateaux standards, La Bamba offers visitors all the details of fine living that they have come to expect at any of the many world-class Relais and Chateaux properties around the world. Fine dining, gracious world-class service, distractions, and more, are done with international finesse and Argentine style.
To approach the main house, whether by car, horseback, or horse-driven carriage, visitors will travel along an avenue of century-old plane trees. Shaded from the bright sun, the breathtaking setting brings to life a feeling of the past, which guests will be able to enjoy with distilled refinement during their stay.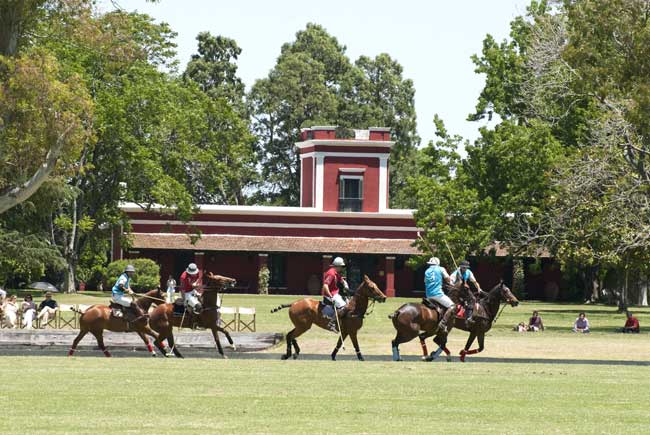 Outdoor activities include champion polo games (in season) and polo practice games, horse-back riding, swimming, and more. Authentic traditions such as asado (grilled meats) and the ceremonious Yerba maté tea tasting (a bitter caffeine drink), as well as guacho entertainment including folk dancing, equestrian skills, and other distractions are all available. When it is time to dine, La Bamba will offer visitors to this Latin American paradise international-quality cuisine, tastefully seasoned with Argentine flare, which will leave the palate yearning for more.
Only a few miles away from the ranch is the 18th-century colonial town of San Antonio de Areco, a setting for frequent country auctions. In this quaint town, which is the birthplace of Gaucho tradition, there are some worthwhile attractions to see. Along its narrow colonial streets you'll find the silversmith and leather craftsman workshops, a chocolate factory, and the Ricardo Güiraldes Gaucho Museum.
The latter is a celebrated museum honoring the Argentine cowboys made famous in Güiraldes' cult novel Don Segundo Sombra. If you can pull yourself away from the pleasures at La Bamba, you may find this charming town to be worth a brief visit.
Cost: In season price range (September – August) is US$ 790 to US$ 1,390. These prices include meals, drinks, and most outdoor activities.
Reservations
Estancia La Bamba de Oreco
2760 San Antonio Areco, Argentina
Phone: 54 2326 454895
FAX: 54 2326 456455
[email protected]
www.labambadeareco.com


El Ombú de Areco
Another historical property with character only about 70 miles from Buenos Aires is El Ombú de Areco. Built in 1880 by Lieutenant-general Pablo Richeri, it too is near San Antonio de Areco.
This 750-acre working farm has a hacienda-style main house with a 10-acre park. A covered gallery overlooks the park, which is dominated with large umbrella-shaped ombú trees. These unique trees are as common to the Pampas as the Banyan trees are to India. It isn't unusual to see guachos under them, shading themselves from the sun or protecting themselves from the rain, during their breaks from work.
But the ombú trees are only one of the many trees in this well-maintained parkland. Others include the centennial oaks, araucarias (monkey-puzzle trees), palms, eucalyptus, casuarinas and magnolias. Strollers through the park can follow lagoons and small water courses to the Areco River.
Along the way, guests will enjoy the pleasant scent of gardenias, roses and lime trees, and listen to the songs and the calls of a diverse population of birds that will dazzle them with their beautiful plumage. It isn't uncommon for parrots to appear suddenly out of nowhere and in noisy haste race across the path.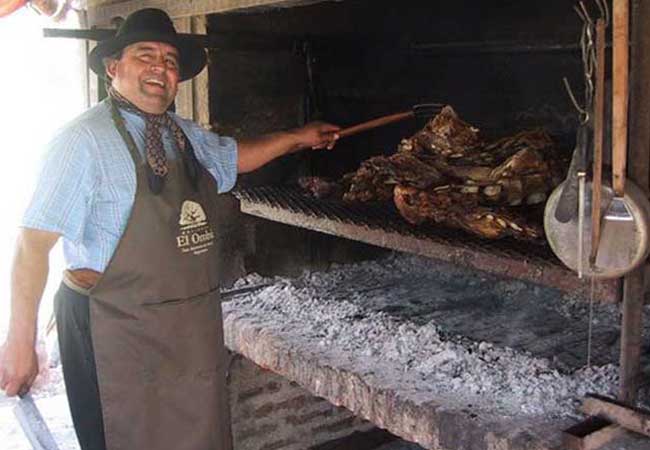 Visitors to this 750-acre estancia, whether for a day or a week, are free to participate in the various stock-rearing activities on this working ranch – such as milking cows, driving the cattle to harness, horseback riding, and more, under the guidance of experienced gauchos.
For those seeking more traditional activities, you can enjoy horse-drawn carriage rides, swimming, volleyball, football, bicycle riding, as well as golf and tennis at a nearby country club. At night they can sit around and gaze at the stars, while being entertained by a guitar-playing gaucho. For many, the highlight of a visit is an elaborate asado luncheon and a performance by gauchos, demonstrating their equestrian skills.
Although El Ombú is a working ranch, it is equipped to handle visitors by the day or the week. The main building offers nine spacious guest rooms with first-class amenities, furnished comfortably with antiques. The living room is used as a spacious common room, with satellite TV and videos, billiard table, chess boards, cards and, adjacent to the room, is ping-pong, metegol (table football), and foosball tables.
Cost: Overnight rates run from US$ 205 to US$ 305 per adult. This includes VAT, full board, soft drinks, wines, beer, and all activities (except special events).
Reservations
Estancia El Ombú
Antártida Argentina 2162
1609 Boulogne, Pcia. de Buenos Aires
Argentina
Phone: 54 11 4737 0436
[email protected]
www.estanciaelombu.com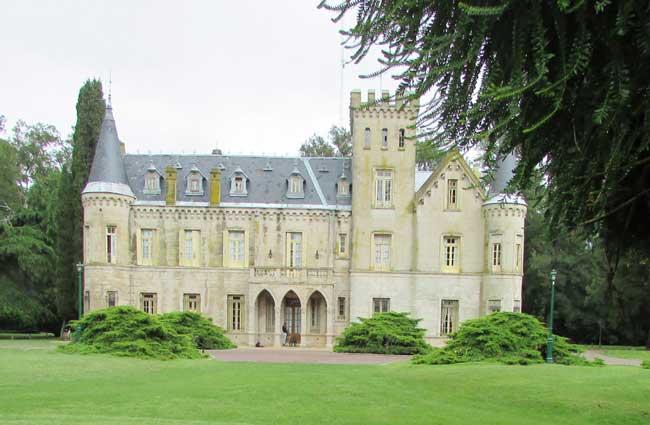 Estancia La Candelaria
Estancia La Candelaria  too is only about 70 miles from BA in the town of Lobos. One of the big attractions is the asado criolla (creole barbecue) cooked on an outdoor parrilla (grill).
For food lovers, there is nothing quite like this outdoor barbecue. Visitors, if they choose, can watch as lavish amounts of meats (chicken, sausage, beef, lamb, goat, and animal entrails such as cow chitterlings, mollejas [sweetbread], and other organs) are grilled to perfection and often served with provoleta cheese.
Offered along with the meat are bread, a mixed salad, and or verdurajo (grilled vegetables), such as a mix of potatoes, corn, onion, and eggplant cooked on the grill and seasoned with olive oil and salt. Dessert is usually fresh fruit. Of course, the main drink is one of the fine wines of Argentina.
Diners will find the meal to be an enormous orgy of food made especially enjoyable by the folk dancing and music. For entertainment, the gauchos will perform robustly, snapping their whips, pounding the wooden stage with their boots, in time to music, while the women will click their heels and swirl around flirtatiously, their skirts lifting and expanding, while their hands dance in the air. It is all done with joy and even seduction Latin American style.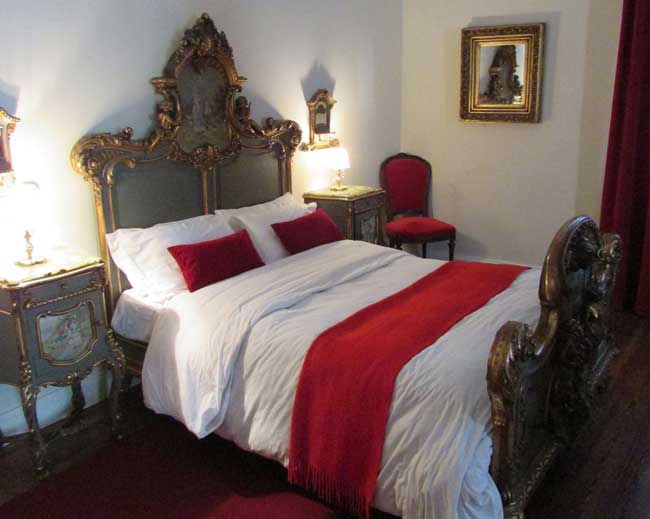 The main property at La Candelaria, where guests can overnight, is a reproduction of a Loire Valley Chateau. This tastefully recreated castle, designed and built by architect Alberto Febre, not unlike one you might find in France, sits prominently on several hundred acres of well-manicured land.
Within the chateau in keeping with its strong French design are handsome antiques from France and a noteworthy stained-glass window that greets visitors at the main staircase.
The twelve guest rooms upstairs are bright and sunny, and the ambiance is low key and country. In addition to the space in the castle, La Candelaria offers eight suites in the colonial houses (with sitting rooms and wood-burning fireplaces), two suites in bungalows with fireplaces. One apartment in a Dutch mill with living room, kitchen and double bath. And two suites with a sitting room with spacious fireplaces.
Horseback riding, swimming, volley ball, tennis, carriage rides, polo, biking, golfing (nearby), and more are available for those who want to stay and enjoy the beautiful countryside.
Cost: Rates range from US $ 113 per person to US $ 155 per person. Weekend rates range from US$ 210 to US$ 280. This includes a reception with empanadas, lunch, afternoon tea, dinner and breakfast the following morning. Wines and spirits are extra. All the activities are included, except polo clinics, lessons, or tournaments.
Reservations
Estancia La Candelaria
Ruta 205 KM 114.5, Lobos
Provincia de Buenos Aires, Argentina
Voice: 54 2227 494132 or 494473
[email protected] or [email protected]
www.estanciacandelaria.com
Contact the ranches for day visit charges, and transportation to and from the airport or Buenos Aires for overnight guests.
____
Author Bio: Joe David is the author of six books, including Gourmet Getaways (Globe Pequot Press), and many magazines articles for various magazines. For more information, www.bfat.com