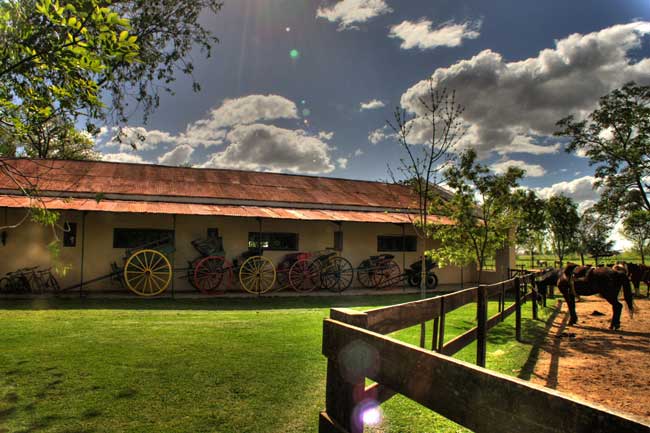 About an hour from the aging belle époque buildings and the skyscrapers of Buenos Aires (BA), those who travel to Argentina can enjoy a rare experience unlike anywhere else in the world. On a large expanse of fertile grasslands called the Pampas, they will be housed, fed, and entertained in upscale rural style reminiscent of bygone days, when the gauchos, Argentina's legendary cowboys and heroes of yesteryear, roamed the land and lived off the estancias (the ranches).
Guest Ranches in Argentina
These rugged and colorful Latin American cowboys, who once dominated the South, will set the tone for your visit in true gaucho style. They will provide you with a glimpse of their lifestyle, once upon a time, when they wandered the land, stretching from Southern Brazil through Uruguay to the tip of Argentina.
The stories about their bravery and nobility and their feats of glory, as colorful and legendary as those of the North American cowboys, will win your respect for them and provide you with an understanding of why they have so successfully left a permanent mark on Latin American history.
To meet these descendants of manly virtue, you will need to visit one of the hundreds of estancias in Argentina and experience their gracious Argentine welcome. Hundreds of estancias, across Argentina from the Pampas to Patagonia are ready to welcome visitors. Here are three such ranches, each a little different in price and character. They are close to BA, yet far enough away to provide you with a rural experience.
La Bamba de Areco
Only 74 miles from Buenos Aires, on what was once the Camino Real connecting Peru with Buenos Aires, is a charming post house that dates back to 1830. This picturesque property is considered one of the oldest colonial-style ranches in the area.
This top guest ranch in Argentina is called La Bamba de Areco. (La Bamba is a derivation the Celtic word, "Bahamba", meaning 'place of rest and hospitality.') During its early years, stagecoach travelers heading north or south would overnight at this post house to break up their long journey.
With true Latin American chivalry, while weary travelers slept around a log fire at night, armed gauchos would protect them by standing guard. Many stories like this about these rugged men of the Pampas have been thrilling visitors and Argentines since the 18th century. None of them have been lost in time.
Today these men of history are still very much a part of life at La Bamba. Although the ranch has changed since its early years. It still echoes its past. The pulperia (barn) where the stage coaches were housed is very much intact as a dining room, and the other buildings on the property, surrounded by a panoramic view of a 32-acre park, have all been tastefully refurbished into comfortable suites, which include several reception rooms, a billiard room, bar, a massage room and a boutique.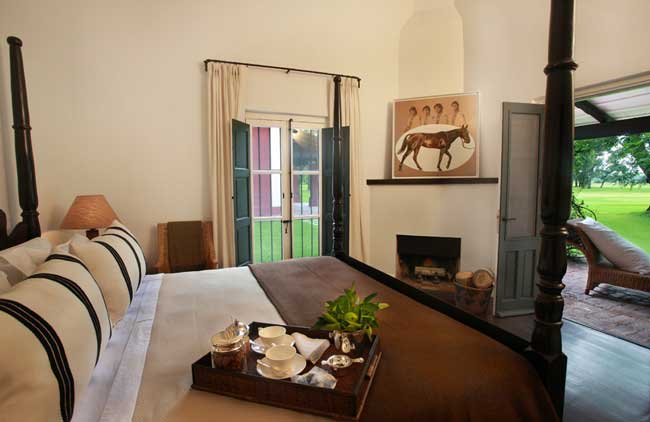 During its transition from a post house to a stunning estancia, it has aged well with a genuine rural patina. Today it is an impeccably maintained property, steeped in guacho tradition, which evoke images of another time, when living was a little more adventurous and the main buildings and the guard tower were an important defense against native attacks.
The main buildings rest on a 300-acre cattle ranch, which welcomes visitors seeking a luxurious getaway with urban comfort on a picturesque expanse of rural land.
Polished to a high gloss in recent years to the elegant Relais and Chateaux standards, La Bamba offers visitors all the details of fine living that they have come to expect at any of the many world-class Relais and Chateaux properties around the world. Fine dining, gracious world-class service, distractions, and more, are done with international finesse and Argentine style.
To approach the main house, whether by car, horseback, or horse-driven carriage, visitors will travel along an avenue of century-old plane trees. Shaded from the bright sun, the breathtaking setting brings to life a feeling of the past, which guests will be able to enjoy with distilled refinement during their stay.
Continued on next page