Editor's Note: Travel is complicated right now. Please check local regulations and location openings before you go.
My wife, Susan Mann, and I were sitting on a chunk of ice on the shore of Neko Harbor on the Antarctic Peninsula. Light snow was falling. We had stopped here to watch a gentoo penguin sitting on its nest of pebbles. The penguin rose up to reveal an egg. With its bright orange beak, the penguin checked a small hole in the egg.
We were close enough to see a tiny beak chipping at the shell. A chick was hatching. It seemed almost miraculous, a small life emerging into the harshest and most unforgiving places on the planet.
Lessons I Learned From Penguins
This was one of the memorable moments for Susan and me during our seventeen-year quest to see all 18 of the world's species of penguins in the wild. Our journeys took us to some of the world's most wild and remote places.
The little chick emerging into a hostile world embodied one of the most powerful lessons we learned from penguins. They are living lessons in hope and resilience in a dark and challenging world. The lesson makes penguins more relevant than ever.
The last year has been one of the most difficult in American history. The unrelenting ravages of the coronavirus, a bitter presidential election, and a planet whose future is uncertain—they have combined to create a darkened national mood. People are weary, worried, and discouraged. The most beloved birds in the world, penguins, can help provide hope and relieve the gloom in three ways: through an intimate connection to wild animals, the transformative power of awe and wonder, and the healing effects of laughter.
Lesson 1: An Intimate Connection to Wild Animals
The classic penguin adventure is a trip by ship to the Antarctic Peninsula, the long finger of land that extends north toward Tierra del Fuego at the tip of South America. From October to March, ships leave regularly from Ushuaia for excursions across the Drake Passage to the Antarctic Peninsula during the austral summer. With the promise of vaccines for COVID-19, this is a good time to plan one of the ultimate travel adventures. Think of it as a post-pandemic reward in the 2021-2022 season.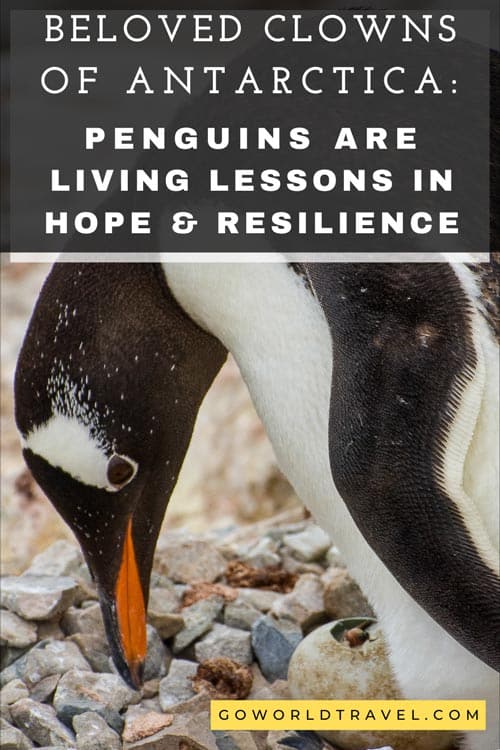 Travel in Antarctica
On a trip to the Antarctic Peninsula, you're sure to see four penguins species—Magellanic, Chinstrap, Adélie, and Gentoo penguins. Additional species are occasionally encountered. The Gentoo penguin is the most common species encountered on the peninsula. It has white across its head and a bright orange beak and feet.
In your first landing in Antarctica, you'll immediately realize that your experience with penguins is like no other wildlife experience in the world. You will walk among large colonies of nesting birds, and they are unafraid of you. They not only do not flee from you but in fact, they will waddle up to you. I have had penguins hop onto my boots as I was photographing. As I lay on the ground to take a photo, one penguin nipped at my pants and my jacket. I have had penguins come right up to the camera and peered at me through the lens.
The encounters are magical, moving, and unforgettable. Port Lockroy is a favorite place to visit on the peninsula. Founded as a British research station, it is now a gift shop and post office. You can mail postcards from here to travel through the United Kingdom and on to your friends and family, bearing an Antarctic postmark. Research continues here, focusing on the gentoo penguins.
Penguins are everywhere. Several are nesting under the porch. Some are standing on the porch. The last time I was at Port Lockroy, three pairs of penguins were nesting on a large rock near the entrance to the building. They were right next to the path and at eye level on the rock. Each nest had two chicks.
It was a great place to linger and watch the penguins interact with their chicks. It was not just that you could observe the penguins. It was an intimate encounter and it was a great photo op, enabling what I am always looking for in photographing wild creatures: a chance to enter into their world. Plus, the parents and the chicks were incredibly cute. The cute factor in penguins is off the charts.
The chicks had huge stomachs, tiny wings, and sweet faces. The interactions with the parents were touching. The tender intimacy of the penguins also contrasted dramatically with the immensity and the unforgiving harshness of the surrounding landscapes. These penguins will warm your heart and inspire you with their toughness in a hostile world. They're models of resilience.
Lesson 2: The Necessity of Awe and Wonder
Antarctica is a continent of wonders, at once humbling in its vastness and daunting in its ferocious beauty. On one memorable trip to the peninsula, we anchored next to "Iceberg Alley." It's a kind of backwater where icebergs have run aground and are stranded. Small groups of Adélie penguins often rest on these icebergs.
We got into Zodiacs, the inflatable boats that take us to shore or, as in this case, enable us to wander among the arrested icebergs. Wind and sun have carved the icebergs into a fantasy-land of dreamy shapes. You may think of Antarctica as a white continent. But the ice often glows, as the icebergs here did, in every shade of blue. The whole scene stretches your mind and lights up your imagination. Amid this strange world of sculpted ice, we were astonished to discover four humpback whales feeding on krill. We spent an hour with them. They often came up near us.
They were much bigger than the Zodiacs. Each one weighed about 25 tons. The scope and scale of the world in Antarctica is staggering. It will make you feel small, but you will not feel insignificant. The experience of awe is transformative. I find these moments in Antarctica humbling, in a deeply ethical way. As one of the great heroes of Antarctic exploration, Ernest Shackleton, put it, "You feel bigger in the bigness of the whole."
Lesson 3: The Healing Power of Laughter
It's almost impossible to feel miserable in the company of penguins. Perhaps you are feeling overwhelmed. Perhaps even defeated. Penguins are one of the best antidotes to despair that I know. They will almost certainly make you laugh. They put a smile on your face. A line of penguins will parade past you, so serious and so purposeful, with their characteristic and comical waddle. Then one will slip on the ice and do a faceplant in the snow. You can't help but laugh. Pride and a pratfall. Slapstick on ice. That's a penguin. They are the beloved clowns at the bottom of the world.
One time I was photographing penguins; they were all faced to the sea, looking in the direction of the setting sun. As a spectacular sunset began to fill the sky, I walked around behind them. I wanted a photo of penguins watching the sunset. I busied myself with my tripod and camera, getting ready for the shot. Then I looked up again. I had to laugh out loud. All of the penguins had turned around. They were now facing me. I found myself wondering, who exactly is watching whom?
As I photographed them watching me, I had a smile on my face the whole time. The comic charm of penguins is both irresistible and restorative. There is nothing quite like the feeling you get in the company of penguins, part laughter and part awe. Susan and I have a name for this wonderful feeling that penguins inspire in us. We call it the "penguin glow." Our darkened world right now needs more of the penguin glow.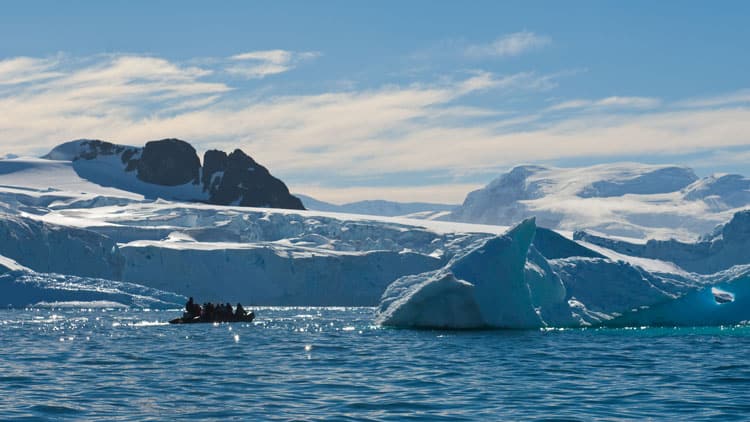 How to Travel to Antarctica
The popularity of the Antarctica destination has grown dramatically in the last thirty years. In the early 1990s, about 5,000 people per year visited Antarctica. In 2018-2019, that number had grown to 57,487, according to the International Association of Antarctic Tour Operators (IAATO). The vast majority visit the Antarctic Peninsula.
I am often asked where we stay in Antarctica. Visitors live on the boat: You'll have a cabin, that's where meals are taken, and there is always a lounge and bar. There are also informative lectures and several guides. Twice or three times per day, passengers are ferried to shore or explore ice fields in Zodiacs.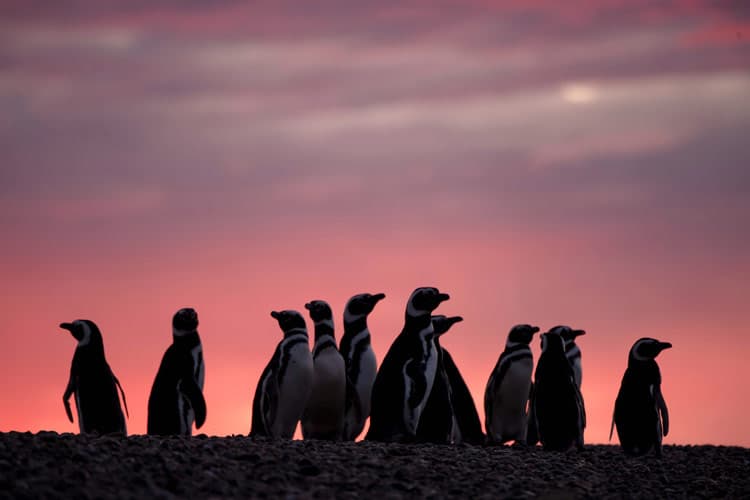 Companies to Travel With:
Author's Bio: Charles Bergman is an award-winning author and photographer. He's the author of four books, including Wild Echoes: Encounters with the Most Endangered Animals in North America and Every Penguin in the World: A Quest to See Them All. He's written extensively on wildlife and animals, including a 2009 cover story in Smithsonian magazine on wildlife trafficking in Latin America. He has a weak spot for the southern hemisphere, has completed two Fulbright fellowships in Latin America, and has led six classes on study tours of Antarctica.