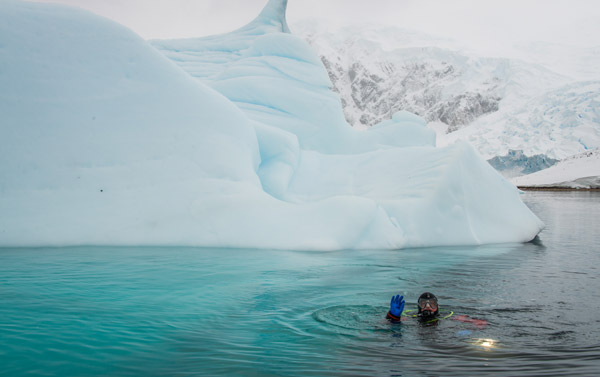 For many, visiting the Arctic is an adventure of a lifetime. The icebergs, the unique wildlife and the untouched natural beauty all add up to an incredible experience.
Adventurous travelers can now see a new side of the Arctic that is usually well hidden – underwater. Aurora Expeditions, an adventure outfitter known for their small group voyages to some of the most wild and remote places on earth, offers polar snorkeling and diving in the Arctic.
The experience is available as part of the company's small-ship cruises to Spitsbergen (an island in northern Norway) and Greenland. The optional activity allow participants to see what lies beneath the icy Arctic waters, from sea anemones and sea urchins to nudibranchs, crabs and the occasional polar cod.
For many though, the highlight is being able to get up close to the glistening ice. Swimming at the edge of the Arctic pack ice, snorkelers will be able to see the massive ice formations below the surface.
Polar Snorkeling is part of Aurora Expeditions' wider Polar Dive program, which is operated by cold-water diving and snorkeling specialists, Waterproof Expeditions. Aurora Expeditions and Waterproof Expeditions were the first operators to launch Polar Snorkeling in Antarctica in 2013. They have partnered together again to offer the activity in the European Arctic
Waterproof Expedition's team of experienced dive guides have more than 20 years of polar diving experience. Their experts provide snorkelers and divers with educational briefings to ensure a safe snorkeling and diving experience.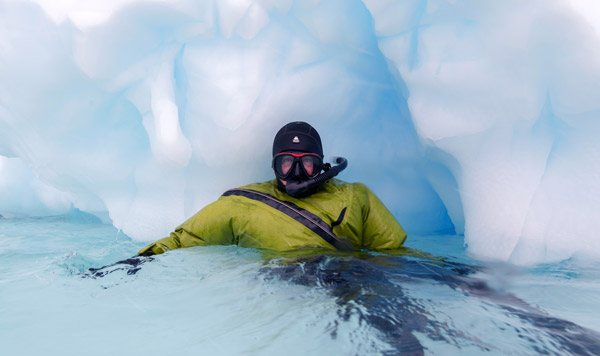 While the thought of swimming in icy water may sound intimidating, Waterproof Expeditions provides each participant a state-of-the-art Waterproof© D9 Snorkel Dry Suit – specially designed for polar snorkeling – as well as hood, gloves, boots and a full snorkel set including fins, mask and snorkel.
No diving experience is necessary. Anyone who has some basic snorkeling experience and is brave enough to jump in can experience this unusual side of the Arctic.
While polar snorkeling and diving is not for the faint of heart, those with a love of exploration will have an adventure they'll never forget.
If You Go
Aurora Expeditions
auroraexpeditions.com.au
auroraexpeditions.com.uk
Latest posts by Go World Travel Magazine
(see all)