The sound of singing birds and chirping insects grows louder as I near the mangroves. My husband and I are kayaking in J.N. "Ding" Darling National Wildlife Refuge. This protected gem on Sanibel Island, Florida is home to manatees, alligators, dolphins, gopher tortoises and many species of birds.
Located on the Gulf of Mexico, just a few minutes' drive from Fort Myers, Florida, Sanibel Island is known for its shelling, lighthouses, fishing and luxury resorts.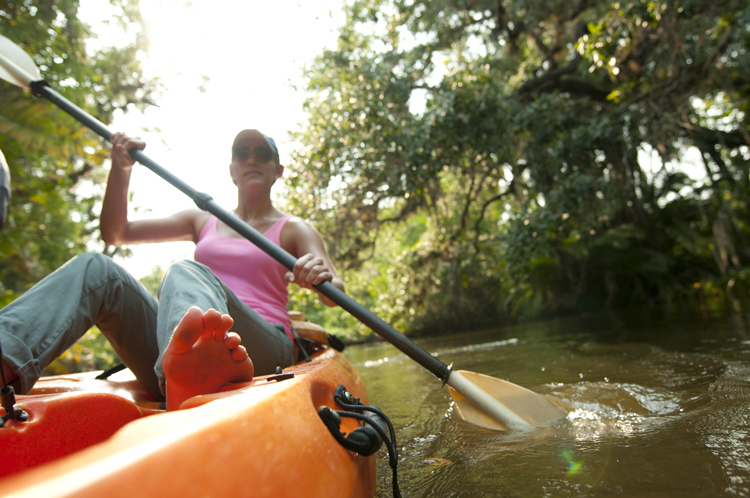 Kayaking and stand up paddling are popular ways to see the area. We've joined a guided kayaking tour with Tarpon Bay Explorers. It's still early as we paddle through the mangrove forest along the Commodore Creek Water Trail.
Our guide, Ty, is an experienced naturalist, and points out wildlife that we would otherwise miss, including birds, alligators and even tiny snails climbing the roots of the mangroves.
After an hour, we're left to explore the water trail on our own. We paddle into hidden bays and spend moments floating in silence. It's a relaxing way to spend the morning.
Diving the Gulf Coast
A day later, I'm swimming 60' underwater above a sunken culvert at Sherman's Reef, an artificial reef off the coast of southwest Florida. Below me, a school of angel fish circle lazily, barely noticing as I dive overhead.
As I swim along the culvert, I come face to face with a goliath grouper, its oversized mouth moving open and closed. These massive fish can grow up to 8 feet long and weigh 800 pounds, but he stares at me, unimpressed, and moves away.
There are many types of fish in the waters near Fort Myers and Sanibel Island, Florida. Goliath grouper, snapper, amberjack and snook are just some of the fish that make diving here unique.
Since the Gulf of Mexico is so shallow and the sea bottom is sandy, most divers take a 15 to 20-mile boat ride to a network of artificial reefs managed by Lee County. The artificial reef creates a haven for fish, and opportunities for divers. The reefs are an odd assortment of sunken steel ships, concrete slabs, culverts, shrimp boats and even an old cell phone tower.
Lee County provides a helpful map and guidebook, but it's often best to go out with a local. Thanks to our knowledgeable dive master from Dean's Dive Shop, we're able to visit three artificial reefs in one day.
Fishing Near Fort Myers and Sanibel Island
These are also prime waters for deep sea fishing. My husband and I see this first-hand when our boat caption, Scott Lavis of Fish-n-Tales, drops in a few fishing lines in between dives.
Within minutes, he pulls up grouper and red snapper. Many restaurants here offer "Cook Your Catch" options so we take some of the catch to Fish-Tale Waterfront Dining, where they make one of the tastiest fish dinners I've ever eaten. (Read an interesting deep sea fishing reel article at Fishingkris.)
Fort Myers and Sanibel Island
While many come for the fishing in southwest Florida, others come for the 50 miles of wide beaches along Fort Myers and nearby Sanibel Island. Connected by a causeway, Fort Myers has a quirky, laid-back beach town vibe, while 15-mile-long Sanibel Island has a more refined, natural feel.
Average annual temperatures of 75 degrees Fahrenheit make Fort Myers and Sanibel Island popular destinations year-round, especially with families. Accommodations range from beach cottages to small inns and luxury resorts.
Fort Myers and Sanibel Island are a 3.5-hour drive from Orlando, and 2.5-hours from Miami or Tampa, and the closet airport is Southwest Florida International Airport.
Shelling on Sanibel Island
More varieties of shells are found on Sanibel Island than anywhere else in the country, including the coveted speckled junonia, sculpted lion's paw, golden olive and golden tulip.
Shelling is so popular there's even a name – the Sanibel Stoop – for the often-seen posture on the beaches. The Sanibel Shell Festival is held each March and has been running for more than 80 years.
Doc Ford's Rum Bar & Grille
Southwest Florida lifestyle revolves around the sea and dinner is no different. One evening, we dine outside at Doc Ford's Rum Bar & Grille Ft. Myers Beach, which is somewhat of a local institution, and watch local boats come in and out of the bay.
The restaurant is named for the fictional Doc Ford, hero of a best-selling series of mystery novels by former Sanibel Island fishing guide, Randy Wayne White. White once lived in a stilt house along the shrimp docks here and eventually set his tales in the marina life along these shores. Today, White can sometimes be seen writing at the restaurant.
Sunset Dolphin Wildlife Cruise
On our last evening in Florida, we take a Sunset Dolphin Wildlife Cruise on Estero Bay. The water is still, which makes it easy to see a stingray feeding near the top of the water. Looking along the shoreline we pass many birds – pink spoonbills, white egrets and great blue herons –fishing on the sandbank.
"Watch behind us, and you'll see a pod of dolphins surfing our wake," our guide says.
Sure enough, as the boat picks up speed, several of the playful creatures swim up behind us. They jump and race along the wake while we laugh, enjoying their antics. Eventually, they lose interest, and in the rays of the setting sun, I watch them as they swim away.
If You Go
For more information on Fort Myers and Sanibel Island, see https://www.fortmyers-sanibel.com/
Where to Stay:
Fort Myers and Sanibel Island has a wide array of excellent places to stay. Here are five options, depending on what your budget and needs.
Luxury:
South Seas Island Resort on Captiva Island
Cottage:
Castaway Cottages of Sanibel
Hotel:
Casa Ybel Resort on Sanibel
Diamond Head Resort on Fort Myers Beach
Budget:
The Sea Gypsy Inn
You can also check an interesting deep sea fishing reel article at Fishingkris" and add a link to my article https://fishingkris.com/best-deep-sea-fishing-reels/ ?
Author Bio: Janna Graber is a Colorado-based travel journalist, editor and author. She's the editor at Go World Travel Magazine, a digital publication for world travelers, and the editor of A Pink Suitcase: 22 Tales of Women's Travel.