As one of Major League Baseball's winter outposts, Mesa, Arizona, is a popular warm-weather destination for sports fans. What I learned on a recent visit is that Mesa, a growing city a half hour's drive east of Phoenix, has a rising food and cultural scene that rivals the larger enclaves of nearby Tempe and Scottsdale. The city is a home run for visitors.
Best Tips & Tools to Plan Your Trip
Play Ball
Baseball fans already know that MLB's 15-team Cactus League makes its winter home in Arizona and Mesa is home base (pun intended) for the Chicago Cubs and Oakland Athletics. Happening in February and March, baseball spring training is a chance for fans to watch teams practice, interact with the players, and enjoy pre-season games in a relaxed, almost festival-like atmosphere.
Autism-Friendly Certification
Mesa's most unique quality is that it's the first certified autism-friendly city in the world. Done by IBCCES, this certification provides training and modifications at a variety of Mesa businesses for families with children on the autism spectrum.
Visitors can find all sorts of autism-friendly activities, restaurants, and lodgings throughout Mesa. Learn more by searching Visit Mesa online and guests can even book autism-friendly certified hotels directly on the website.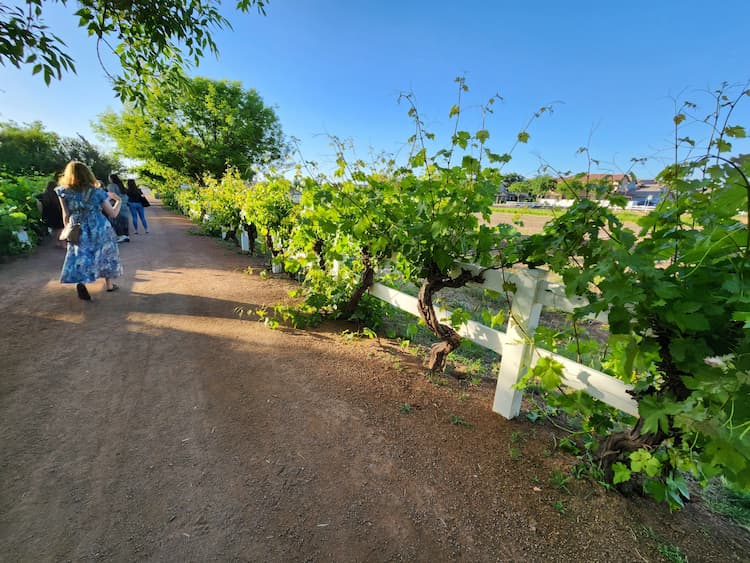 Down on the Farm
Arizona's largest agricultural region is near Mesa so the area is awash in fresh fruits, vegetables, nuts, and other products. The nearby town of Gilbert bridges the gap between rural and urban with Agritopia, a mixed-use neighborhood that is anchored by a 12-acre organic commercial farm. Surrounding it is a residential community along with community gardens, restaurants, shops, and walking paths.
On a visit to Agritopia, we walked along a path next to the fenced community gardens watching people tend their plants next to a large chicken coop. Near the middle we walked under a vine-covered arch. As the late afternoon walk dried our throats and tiny sweat beads formed on our brows, we looked for a place to quench our thirst.
A few minutes later as we pondered what to drink at Garage – East winery, our server suggested Breakfast Wine. A mix of white wine and fruit juice made on site, we learned Breakfast Wine was no sangria. Carbonated and light orange in color, it was nothing like any wine we've seen before. It's light and effervescent, yet still tasted like wine, not some sugary soft drink.
All the wines at Garage – East are made with grapes from Arizona's Wilcox and Elgin wine regions and are available in bottles or on draft at the winery/restaurant. Breakfast Wine comes in cans which make the beverage highly portable.
Garage – East is just one of several businesses that make up Barnone, a large metal barn that rises next to the Agritopia gardens. It's a place that brings together the area's best craftspeople. Besides the winemakers at Garage – East there are wood carvers at Lettercraft and a hair stylist at Wander. All have found a creative community in Gilbert.
After our wine and charcuterie happy hour, we walked a block to Agritopia's Epicenter building to dine at Belly Kitchen and Bar, a restaurant fusing Vietnamese, Thai, and Japanese cuisine under one roof. Belly's menu encouraged sharing, so we selected a variety of dishes. Items like pork satay skewers, green papaya salad, and pho ga were big hits along with house-made cocktails featuring names like Spicy Hydra and Slay le Vie.
Downtown Gilbert
When the server set the "giant cinnamon roll" on our table, conversation stopped. The giant cinnamon roll – that's how it's listed on the menu – was almost the size of the dinner plate it sat on and there was an equally giant knife sticking out of it so we could cut it in pieces. Welcome to Liberty Market in downtown Gilbert.
Historic Liberty Market also takes advantage of the area's fresh produce, serving breakfast, lunch, and dinner in a retro atmosphere. Housed in a 1933 building that was originally the town's grocery store, Liberty Market underwent a huge renovation in 2022, but the food locals have enjoyed for years is still the same. Along with the cinnamon roll, the breakfast menu features Arizona breakfast classics like chilaquiles and smothered breakfast burrito platters.
Mesa's Iconic Rose Garden
Landscape architect LeRoy Brady points out a beautiful pink rose called Pretty Lady. The beautiful rose was a part of one of the over 8,000 rose bushes planted at the Rose Garden at Mesa Community College making it one of the largest public gardens in the desert Southwest.
"Roses are native in all 50 states, even Hawaii, so they are our national flower," he explained.
Brady not only knew his roses, but he was the landscape architect who designed the garden when it was created 25 years ago. Getting a rose garden tour from Brady was like getting a tour of the Eiffel tower from Gustave Eiffel himself. "The rose garden is designed to entice people to walk through," he said.
Located on West Southern Avenue, the Rose Garden on the north end of the MCC campus is also used by the All-American Rose Selection as a testing lab for new rose types. A stroll through the grounds not only features gorgeous roses in every hue, but outdoor sculptures, shade trees, benches, and a gazebo, along with a military honor garden with the flags and memorials for veterans.
Mesa Arts Center
I have always found pleasant surprises in art galleries. At Mesa Contemporary Art Museum that surprise was the sound of the dripping water. In the middle of the main gallery was a beautiful blue ceramic bowl with a t-shaped pipe over the top with water flowing out of both sides.
Then I noticed tiny ceramic buildings on little islands in the bowl under the flowing water. Called Flooding by artist Zach Gordon, the waterfall sculpture was the artist's way of commenting on environmental disasters in an amazingly beautiful way.
The art museum is part of the Mesa Arts Center complex, a great place for visitors seeking air-conditioned respite from the Arizona heat. Home to both the performing and visual arts, visitors can see a stage show or peruse the museum.
As part of Mesa's commitment to inclusivity, the art museum has an EnChroma Color Accessibility program where visitors who are red-green colorblind can use special EnChroma glasses to see the art in its full spectrum. Museum entry is free, but theatrical shows require purchased tickets.
Sip at Cider Corps
What began as a hobby helping a military veteran overcome injuries in Afghanistan, Cider Corps is now a full-fledged business that uses the profits from flavorful ciders to help other military veterans in the Mesa community. For us, a flight of Cider Corps ciders was a thirst-quencher after our busy day.
Packed with ginger, CaMULEflage was the cidery's take on the Moscow Mule. The Blueberry Grenade took it easy on the palate with sweet blueberry up front, then hit us at the finish with warm spice. The Mango Foxtrot was also light with a tropical fruity finish. All the samplers hit the spot on a warm spring day.
The cidery's building, called The Bunker, was also home to Myke's Pizza so we ordered a margherita pizza topped with crushed tomatoes, mozzarella, aged Gouda, basil, and drizzled with olive oil. After filling our bellies with ciders and pizza, all we had to do next was wait for the sun to go down for our next adventure.
Riding in Style
Our joy was visible and audible when we walked out of our hotel to see Brian of Stellar Adventures and his giant M1009 (M ten-oh-nine) Chevy Blazer painted dark military green with a bumped out back end covered in tarp waiting for us. Brian smiled as we took photo after photo of his vehicle.
"If you like the way she looks, you're gonna love the ride," he laughed. We climbed into the back of the Blazer which had bench seating all the way around. There was room enough for 10 so the six of us were quite comfortable. Because the desert got cold at night, Brian had a stack of blankets ready for us. They came in handy on the way back.
The Blazer's back end was covered with tightly pulled beige tarp all around, except for a clear strip of tarp at eye level so we could see the landscape as we rode. As we turned onto the highway, the V8 engine got louder and the wind hitting the tarp was fierce, but we loved it. The sun was beginning to dip behind the foothills as we made our way to the Four Peaks Wilderness Area inside Tonto National Forest.
We were on Stellar Adventures' Dark Sky tour. Stellar Adventures is an Arizona ATV-UTV company that takes people on off-road tours of the Arizona desert during the day and astronomy tours at night. At the end of our hour-long drive, we pulled up to a trailhead where we met Aaron Boyd, a research analyst at the School of Earth and Space Exploration at Arizona State University. Boyd had already set up a telescope.
"Who knows where the North Star is?" he asked. I thought I knew, but in the total darkness of the desert, there were so many stars twinkling above, we couldn't find it. Boyd circled it and the Big Dipper constellation with a laser pointer.
For the next two hours he pointed out other stars like Sirius, a binary star that is the brightest star in the night sky, and the constellation Orion with its bright star Betelgeuse. He also showed us nebulas (large, bright clouds of gas and stars) and Saturn's rings in the telescope and answered questions about the moon because he does research on the moon at ASU. He said through ASU's modern telescopes they can still see the remnants of what the Apollo mission left on the moon back in the 1970s.
After spending a chilly evening in the desert, it was nice to return to the warmth of the Residence Inn Phoenix Mesa East. Residence Inns have large studio apartment-style rooms with a kitchen, living room, a separate bed area, and massive bathrooms. Sipping tea that I steeped in my own kitchen not only warmed me up, but was a great way to unwind after seeing, doing, and eating all the things that Mesa has to offer.
If You Go:
Visit Mesa, https://www.visitmesa.com/
Agritopia, https://agritopia.com/
Garage-East https://www.garage-east.com/
Belly Kitchen & Bar, https://www.bellyphx.com/gilbert/belly-gilbert
Liberty Market, https://libertymarket.com/
The Rose Garden at MCC, https://www.mesacc.edu/rose-garden
Mesa Arts Center, https://mesaartscenter.com/index.php/museum/visit
Cider Corps, https://www.cidercorpsaz.com/
Stellar Adventures, https://stellaradventures.com/
Residence Inn Phoenix Mesa East, https://www.marriott.com/en-us/hotels/phxmx-residence-inn-phoenix-mesa-east/overview/
Inspire your next adventure with our articles below:
Author Bio: A member of the North American Travel Journalists' Association, Carrie Dow is an award-winning travel writer based in Charlotte, North Carolina. She is also the founder of What's Pawsitive, a website covering animal welfare organizations and animal-based travel around the world.
Latest posts by Go World Travel Magazine
(see all)