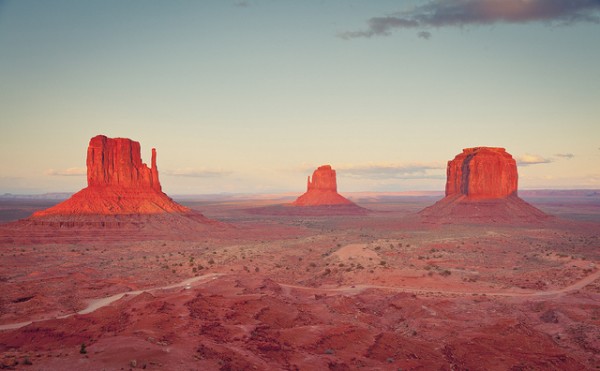 Taking in the stunning panorama of Monument Valley, I feel like I'm in the middle of a John Ford western. The legendary movie director actually used these chiseled sandstone monoliths as the backdrop for eight of his films, so my first impression is not totally inaccurate. And yet, as weirdly familiar as these orange-red spires, buttes and mesas are from movies and magazine ads, they also look as if they could have been lifted en masse from the planet Mars.
Monument Valley Park straddles the Arizona-Utah border, occupying 91,000 acres of the 16-million-acre Navajo reservation. I've driven here from the Navajo town of Kayenta, 24 miles south. Soon after leaving Kayenta, the landscape transforms from non-descript rolling hills into towering rust-coloured sandstone skyscrapers that seem to float on the horizon. But as breathtaking as these vistas are, I soon discover that the best is yet to come.
After a half-hour drive, I arrive at the park's visitor center, four miles off the main highway. The museum inside contains interesting exhibits and artifacts pertaining to the Navajo Nation, America's largest Native American tribe. A traditional Navajo Hogan Village is located just past the parking lot. The word Hogan means home to the Navajo, who believe there must always be a balance in life. Reflecting this conviction, the sun-baked mud covered homes are designed in male and female configurations. The cone-shaped Male Hogan is a temporary home meant to be built and taken apart quickly, while the larger, round-shaped Female Hogan is used as a more permanent abode.
But back to that scenery. From the viewpoint outside the visitor center, I witness an astounding array of sculpted rock formations that range from 100 to nearly 1000 feet in height. Each is stark, bizarre and totally unique, standing alone and desolate.
The East and West Mitten Buttes looming in front of me resemble a pair of gigantic hands. To the Navajo, they represent spiritual beings believed to watch over this sacred land. Merrick Butte, to their right, reminds me of a massive, salmon coloured coffee table. The triangular scene of these three buttes is one of America's most iconic images and has become the symbol of the American southwest. Aside from the John Ford flicks, they have appeared in "Forrest Gump" and "2001: A Space Odyssey," not to mention innumerable cigarette ads. As I inhale this indescribably dramatic backdrop, I almost feel like lighting up a Marlboro.
The Elephant Butte further off actually does resemble a giant pachyderm. To its right is Cly Butte, named after a Navajo medicine man buried at its base along with all his worldly possessions, including his animals. Further east is the vast Rain God Mesa, which looks like an immense table and marks the geological center of the park. Natural aquifers on its south side collect rain water that seeps out at the base. Navajo medicine men sometimes gather at the base of the mesa and give thanks to the Rain God.
Continued on next page