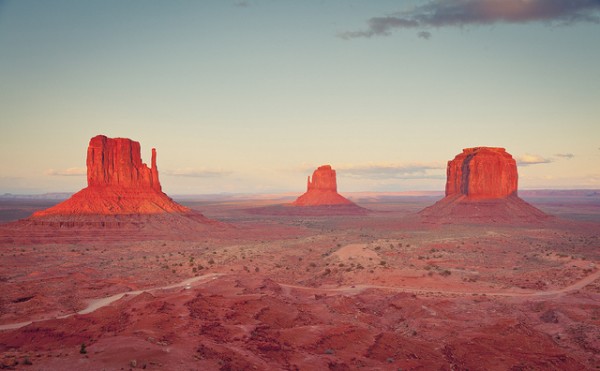 Starting the Journey
Taking in the stunning panorama of Monument Valley, I feel like I'm in the middle of a John Ford western.
The legendary movie director actually used these chiseled sandstone monoliths as the backdrop for eight of his films, so my first impression is not totally inaccurate.
And yet, as weirdly familiar as these orange-red spires, buttes and mesas are from movies and magazine ads, they also look as if they could have been lifted en masse from the planet Mars.
Monument Valley Park straddles the Arizona-Utah border, occupying 91,000 acres of the 16-million-acre Navajo reservation.
I've driven here from the Navajo town of Kayenta, 24 miles south. Soon after leaving Kayenta, the landscape transforms from non-descript rolling hills into towering rust-coloured sandstone skyscrapers that seem to float on the horizon.
But as breathtaking as these vistas are, I soon discover that the best is yet to come.
After a half-hour drive, I arrive at the park's visitor center, four miles off the main highway. The museum inside contains interesting exhibits and artifacts pertaining to the Navajo Nation, America's largest Native American tribe.
A traditional Navajo Hogan Village is located just past the parking lot. The word Hogan means home to the Navajo, who believe there must always be a balance in life.
Reflecting this conviction, the sun-baked mud covered homes are designed in male and female configurations.
The cone-shaped Male Hogan is a temporary home meant to be built and taken apart quickly, while the larger, round-shaped Female Hogan is used as a more permanent abode.
But back to that scenery. From the viewpoint outside the visitor center, I witness an astounding array of sculpted rock formations that range from 100 to nearly 1000 feet in height.
Each is stark, bizarre and totally unique, standing alone and desolate.
The East and West Mitten Buttes looming in front of me resemble a pair of gigantic hands. To the Navajo, they represent spiritual beings believed to watch over this sacred land.
Merrick Butte, to their right, reminds me of a massive, salmon coloured coffee table. The triangular scene of these three buttes is one of America's most iconic images and has become the symbol of the American southwest.
Forrest Gump
Aside from the John Ford flicks, they have appeared in "Forrest Gump" and "2001: A Space Odyssey," not to mention innumerable cigarette ads. As I inhale this indescribably dramatic backdrop, I almost feel like lighting up a Marlboro.
The Elephant Butte further off actually does resemble a giant pachyderm. To its right is Cly Butte, named after a Navajo medicine man buried at its base along with all his worldly possessions, including his animals.
Further east is the vast Rain God Mesa, which looks like an immense table and marks the geological center of the park. Natural aquifers on its south side collect rain water that seeps out at the base.
Navajo medicine men sometimes gather at the base of the mesa and give thanks to the Rain God.
As the afternoon wears on, I discover that the changing light can have a bewitching effect on the hue and appearance of the sandstone formations. In minutes, their tone can shift from tan to auburn to almost blood-red.
Even a passing cloud can radically transform their demeanor. Crevices that were invisible moments earlier suddenly leap out in vivid detail.
Enjoying the Scenery
As much as I enjoy watching all this drama from a distance, I feel the urge to get up close and personal. I jump in my car and enter a 17-mile dirt road that loops around the Rain God Mesa and back to the main parking lot.
A sign at the road's entrance warns that the rutted track is only suitable for trucks and SUVs and my Toyota subcompact is hardly in that category.
What the hell, I think, I've driven worse looking roads near my home in western Canada. Besides, this jalopy is a rental.
Within minutes I discover that, except for the odd rough patch, the road is not all that bad. I'm soon flying past nervous Midwesterners driving pricey SUVs.
There are 11 scenic viewing points along the route, and since there are many more remarkable rock formations to witness, I stop at all of them.
Each of the monuments has a descriptive monicker. Some of their names were inspired by the imagination of early settlers, while others reflect their hallowed status to the Navajo people.
Opposite the Elephant Butte, the Three Sisters are a trio of frail-looking spires that look like three Catholic nuns wearing their habits. The ladies are the remnants of a narrow ridge.
At John Ford's Point, Navajo families sell silver and turquoise jewelry from wooden stalls. There are sweeping views of the undulating desert valley below, which explains why the famous director often filmed from this vantage point.
Past the Rain God Mesa, the Valley Drive Road veers eastward. There are other roads leading farther south, though these sections may only be accessed on an escorted tour.
In the distance to the southwest, I spot The Hub, a solitary spire 150 feet high with a cluster of Navajo dwellings at its base.
It symbolizes the hub of a gigantic wagon wheel. To the Navajo it also represents a fireplace at the center of an enormous Hogan.
As I rumble back toward my starting point, I come upon a side road that climbs north to the edge of a plateau. This is Artist's Point, perhaps the second best viewpoint in the park after John Ford's Point.
From here the land falls away quite sharply to miles of desolate flat terrain that extend back to the familiar East and West Mitten Buttes visible in the distance.
Indeed, many of the views are of the same formations I witnessed earlier, only from different angles. Some of the narrower buttes look almost unrecognizable from this perspective.
Valley Drive Road
Nearly three hours after I started out on the Valley Drive Road, I'm almost back to the road's entrance. My car and I are completely coated in rust-colored desert sand, but I don't care. This day couldn't be more perfect, I think.
But I'm wrong. A few hundred feet before the parking lot, a dozen horses appear over a rise in the road, galloping straight toward me at full speed.
I fear they will ram my vehicle when they abruptly veer off the road and thunder down to the valley floor below. Within seconds they are gone.
I'm dumbfounded. The horses probably escaped from a nearby ranch, but by now I'm completely caught up in the romance of Monument Valley.
I envision them as a herd of wild Mustangs whose ancestors have inhabited this magical realm for generations.
Perhaps the great-granddaddy of one, maybe that wild-eyed roan stallion, was ridden by the Duke himself when he led a cavalry charge here so long ago.
If You Go to Monument Valley:
Getting there:
Monument Valley is located in southern Utah a few miles north of the Arizona border.
Many visitors drive there from the vibrant Northern Arizona city of Flagstaff.
From Flagstaff you drive northeast along Highway 160 until you reach the town of Kayenta. From Kayenta drive due north along Highway 163.
Total driving time is about three and a half hours from Flagstaff and about half an hour from Kayenta. Be prepared for mind-boggling scenery.
Places to stay and eat:
There is a wide range of hotel and restaurant options in Kayenta, though hotels tend to be a bit pricey.
A 20-minute drive north from Monument Valley along highway 163 is the small Utah town of Mexican Hat, which has a couple of accommodation options.
I drove another 40 minutes north along highway 163 to the pleasant town of Bluff, Utah, which has several hotels and restaurants. At the Kokopelli Inn www.kokoinnutah.com I got a clean, quiet single with breakfast and Navajo art on the walls for US$90 per night.
Check out the fire pit at the Cottonwood Steakhouse located right next door. Wherever you stay book ahead as hotels tend to sell out in advance.
When to go:
Temperatures can reach well into the nineties Fahrenheit during the summer months and can dip below freezing in winter.
When I visited in October, the daytime high was a comfortable eighty degrees.
www.go-utah.com/Monument-Valley
Author Bio: Rick's travel career began as a college student when he impulsively signed up for an international student exchange program and spent that summer working in Turkey. "Don't go there!" the naysayers said, "it's not safe!" Luckily, Rick ignored their advice and discovered that the outside world is a place of wonder worth exploring. Since then, his wanderlust has taken him to Central and South America, England, Vietnam, Morocco and China, where he spent an unforgettable year teaching English. Rick makes his home in Vancouver, Canada, where he writes for various travel publications.
[mappress mapid="976″]