When I came to Switzerland, it was love at first sight. I was completely amazed by its stunning views, the elegance, the details, the sources of drinking water at every step, and the incredible snow-capped mountains of the Swiss Alps. When I started to explore other aspects of this beautiful country, such as politics and standard of living, I was even more excited.
Best Tips & Tools to Plan Your Trip
In fact, in 2013, Switzerland was declared the best country to be born in. Of course, not all of us can be born there, so I recommend you visit it at least once. Trust me, it's heaven on Earth.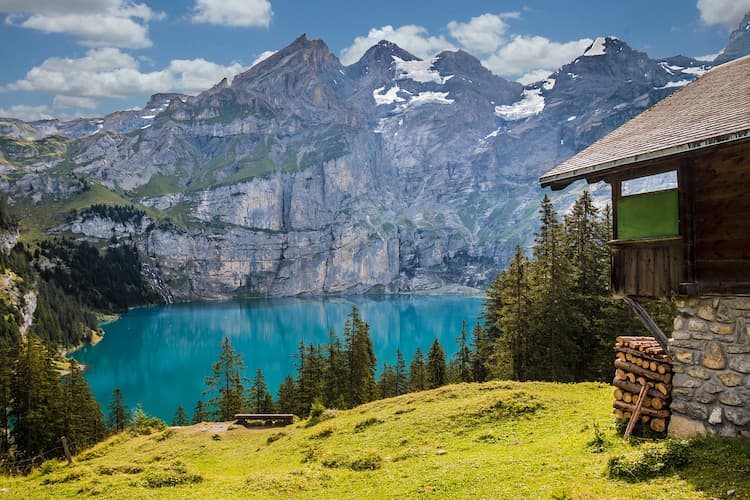 Lucerne
Stunning scenery, cobbled streets, and surrounding mountains—Lucerne has everything I associate with the beauty of this European country. You'll probably start with its most beautiful place: the medieval wooden Chapel Bridge over the Reuss River. I suggest doing it early in the morning to avoid the tourists who adore this picture-perfect location. We can't blame them, right?
Stunned by the beauty and fresh alpine air, take a walk through the Old Town. You will enjoy its cobbled streets, which are car-free. Enjoy the beauty of Lake Lucerne, explore its lakeside, and see "the saddest and most moving piece of rock in the world," as writer Mark Twain described the Lion Monument.
Keep in mind that Lucerne is home to numerous museums, such as the Rosengart Museum, where you can see works by Pablo Picasso, Matisse, or Monet. Also, if you speak a little German, you can show off here, as this is a German-speaking area.
If you're brave enough, take a ride on the world's steepest cogwheel railway to Pilatus. As a reward, you will get a picture-perfect view of 73 alpine peaks. And if you come in the summer, bring a swimsuit and go to Ufschötti. Of course, if you're not like me and you don't mind cold water.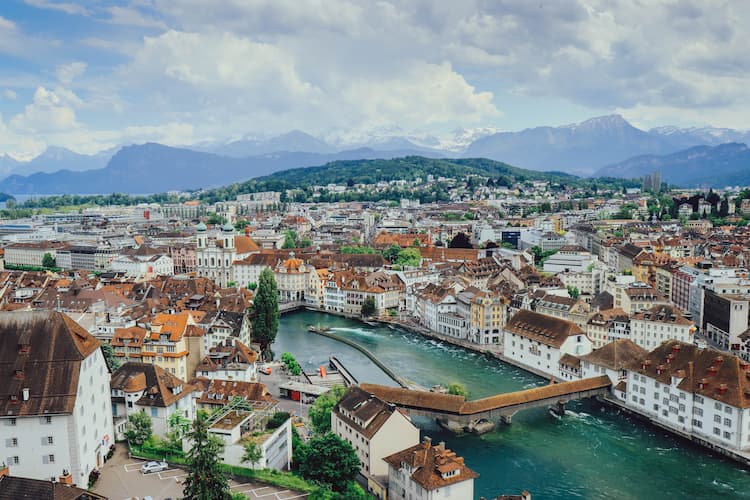 Matterhorn
Remember the mountain from the Toblerone chocolate packaging? Well, it exists, and it is called the Matterhorn. Also, this is the most photographed mountain on Earth. It is located on the border with Italy and is famous for its pyramid-shaped peak.
Many hikers are afraid of it, so if you are not skilled enough, I suggest you take the train ride on the Gornegrat Bahn. You will enjoy stunning views, alpine pastures, turquoise lakes, and mountain peaks.
Although, be aware that Matterhorn is not always in the mood for visitors. On certain days, it will hide behind the fog. But be patient. Seeing it is an absolute must. If not, at least you will have an excuse to come back. And in both cases, you win.
Zermatt
If you are a fan of winter sports and ready to spend more money, I recommend Zermatt. This skiers' paradise is one of the most popular ski resorts. Of course, it's pricey, but it will be worth it: you'll get luxury chalets, snow, hiking trails, many skiing and snowboarding options, and stunning views of the Matterhorn.
Also, don't forget Zermatt in the summer either. At that time, it becomes ideal for cycling and hiking. Long story short, you can get everything, except a car park, because Zermatt is car-free. But that's why you'll enjoy peace and clean alpine air. Fair enough.
St. Moritz
Imagine this: the staff arrives in front of you in a Bentley, drives you to the luxury hotel with stunning views, and serves you a Michelin-starred lunch. Wouldn't be too bad, huh? Well, this is how millionaires spend their time in St. Moritz. But don't worry; you can also have a great time here with much less money.
St. Moritz has twice been the setting for a James Bond film and twice hosted the Winter Olympics. Around 350 kilometers on 88 slopes offer a bunch of winter sports. In the summer, you can play golf, hike, bike, or do water sports. In the city, you can visit museums, enjoy the food, or shop in fancy designer stores.
Or just window shop. Whatever your wallet allows. I mean, it's no wonder even Bond came back twice.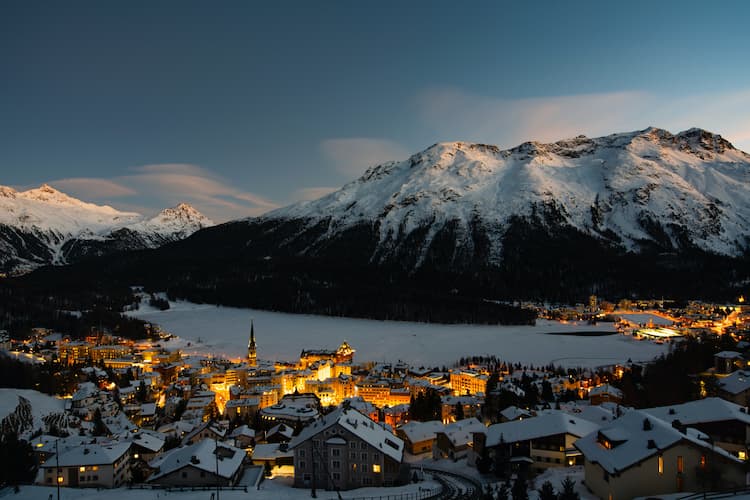 Grindelwald
I have to tell you a secret: for each of these locations, I want to say that this one is a must-see, but the small town of Grindelwald is a real must-see. This stunning place is located next to three fascinating peaks: Jungfrau, Mönch, and Eiger.
If you are not a skier, you can explore the Blue Ice Cave or Glacier Canyon. If you are braver than me, do something you will remember for the rest of your life: take a zip-line ride on the First Glider and enjoy the panoramic view of the Jungfrau region at a height of 800 meters.
You will understand why it's included in UNESCO World Heritage Site. Visit Grindelwald in the summer as well, and if you are a trekker, I can hardly imagine a more beautiful destination for you.
Montreux and Lausanne
Maybe you're not about adrenaline but more about a glass of wine, relaxing, and Instagram scenes. Don't worry; I got you. Wine is one of Montreux's biggest attractions, and the Lavaux Vineyard Terraces are listed as a UNESCO World Heritage Site.
So, buy a glass of wine, visit the medieval castle Château de Chillon, and learn a few words in French. Oh yeah, I heard that the Tourist Board gives a free welcome drink. That's nice, isn't it?
Also, if you are a sports fan, I have something for you too: take a day trip to the beautiful Lausanne, the headquarters of the International Olympic Committee, and visit the Olympic Museum. And if that awakens your desire for sports, try the water activities in Lake Geneva. There is really something for everybody, right?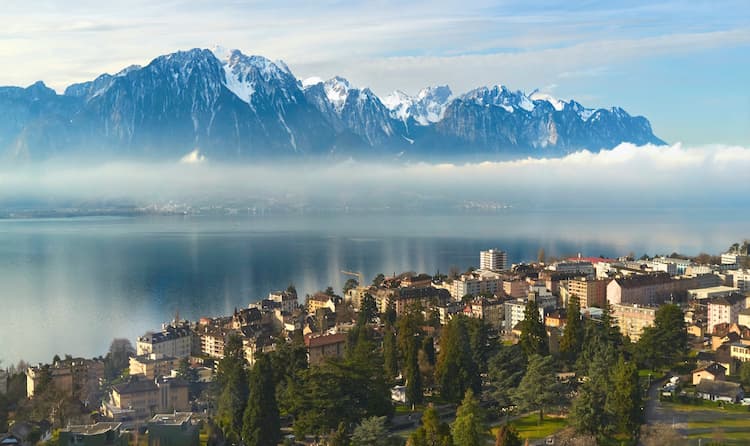 Appenzell
It would be a real shame to forget cheese and chocolate lovers in a country known for cheese and chocolate. It will take about a 2-hour train ride from Zürich to Appenzell. When you visit it, put tasting tours at the top of your to-do list.
If you want to burn off those calories later, take a walk to museums, explore lakesides, or head to the Alpstein mountain, which offers one of the best hiking trails. Or simply take the cable car ride to the Ebenalp and enjoy the panoramic view.
Interlaken (Brienz Lake, Thun Lake, Lusanne, Lake Oeschinen)
Interlaken is a resort town which has one huge advantage, and that is its proximity to many fairytales and stunning views. And that's how it became one of the most visited Swiss destinations.
It is located between two beautiful lakes: Lake Brienz and Lake Thun. Water has a calming power, so after resting your eyes and soul, pass by the luxurious hotels, visit the Harder Kulm, as well as the Japanese Garden of Friendship, the first Japanese garden in Switzerland.
If able, go by gondola to the stunning Lake Oeschinen. In this area, you can try paragliding, rafting, hiking, skiing, hot-air ballooning, and other activities. Add to that chalets, surrounding mountains, lakes, and… Well, Interlaken just rose to the very top of your Swiss bucket list, didn't it?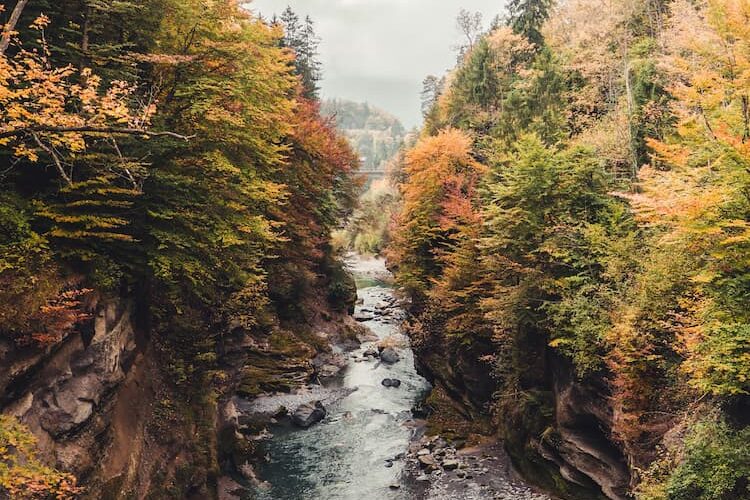 Ticino Region
I don't know if you're ready for this. Unique and stunning—that's Ticino. When you arrive, feel free to say hello in Italian, as this is the only Swiss region where Italian is the official language.
Of course, it is on the border with Italy, only an hour from Milan. So you can also visit it as part of your trip to Italy and jump among its stone houses, colorful facades, lakes, Mediterranean vibes, and palm trees.
You will enjoy the view of beautiful Lake Lugano, the taste of fantastic dishes flavored with local figs and citrus fruits, and scenes of the castles of Bellinzona, which are included in the UNESCO World Heritage Site. Also, don't forget to stop by the Gentilino church.
The cypresses that surround it will teleport you to Tuscany. You can also visit Ascona, the warmest place in Switzerland, as well as Morcote, which was declared the most beautiful Swiss village. Also, don't forget to take a few moments to do nothing but enjoy it. Or, as the Italians would say, dolce far niente.
Swiss National Park
Although everything in this beautiful country seems like a national park, there is a Swiss National Park, one of the oldest parks in Europe. It is located on the border with Italy and is also recognized by UNESCO.
Are you a nature lover attracted to the idea of 170 square kilometers of space filled with flowers, rivers, surrounding mountains, and more than 500 species of wild animals? Then take your camera and create memories to last a lifetime.
Lauterbrunnen
Lauterbrunnen is a German-speaking Swiss town where the Renaissance and Baroque merge with natural beauty. This beautiful city is the fourth-largest city in Switzerland. Located in the Bernese Oberland region, Lauterbrunnen Valey is known for steep cliffs, castles, cathedrals, wooden huts, and 72 waterfalls.
Take a walk through the Old Town, and soak up the sight of the Staubbach waterfalls. As a cherry on top, buy a ticket for a train ride to Jungfraujoch and enjoy the spectacular views.
Zürich
Zürich is a city that many mistakenly think is the capital of Switzerland. That's not surprising. It is characterized by high standards, cultural and historical wealth, as well as the fact that it is the financial center of Switzerland.
You can't miss the main street, Bahnofstrasse, which will amaze you with luxury fashion and art, as well as Paradeplatz, the Swiss banking center. Visit the most famous churches, take a boat ride on Lake Zurich, and find peace in the botanical gardens.
Football fans will step into heaven at the FIFA World Football Museum, but if you are not into football, simply replace this activity with, for example, eating cheese fondue. Also, from here, you can easily go on different day trips to see, for example, Stein am Rhein, the Rhine River and Rhine Falls, the Jungfraujoch, the Bernese Oberland, Basel (on the border with Germany), and numerous others.
Bern
At the beginning, I planned to write about lesser-known locations, but how could I not mention his majesty, Bern? This capital city of Switzerland is the perfect balance of rich architecture and peaceful parks. So, take a walk through the streets of the old town, which is listed on the UNESCO World Heritage Site.
Visit the Gothic cathedral and go to Zytglogge to adjust your watch to the one on this 13th-century tower, because "it is as accurate as a Swiss watch." If you're an animal lover, visit Bear Park; for stunning scenery, go to the Rosengarten; and swim in the Aare River.
Also, don't miss the Albert Einstein Museum and the room where his many theories were created. Who knows? Maybe it inspires you to develop something revolutionary too.
Geneva
Stunning views, cobbled streets, a lakeside, and crazy prices—welcome to Geneva. While walking through it, you will feel the influence of France everywhere. So, with the Swiss-French vibe in the air, enjoy the boat ride on Lake Geneva, the second-largest lake in Europe.
Along its 73 kilometers, you can also swim or simply enjoy watching swans. Don't miss the Jet d'Eau fountain, the highest fountain in Europe. Visit the botanical gardens, the Grand Théâtre, St. Peter's Cathedral, and the Palace of the United Nations.
This city is the ninth-most important world financial center and one of the world's most expensive cities. It was declared the third city with the highest quality of life, and at the same time, it is called the capital of peace. How is this combination even possible? Visit it and find out.
Inspire your next adventure with our articles below: