Outside, the clouds are closing in on me as the plane soars higher and higher. I am holding my breath, fearful of what is about to happen — but it is too late to turn back.
As I make the jump, my heart pounds as though it is trying to reach through my chest to escape. At first, I feel so heavy — then weightlessness. I am plummeting toward earth, my body falling through the clouds.
The wind pushes my cheeks back, exposing my teeth to the brutally cold air — even though it is a hot summer day. My goggles are frosting over, and below me I see snow on the highest peaks of mountains. On the ground, it is 86 degrees F (30° C), but up here it is so much colder.
I scream, but no sounds are heard except the pounding of the wind in my ears. Suddenly I am lifted, with great force, toward the heavens. For a brief moment, I think this is what it must feel like to be a bird — completely free.
My heart slows as I drift downward. I am no longer plummeting to my death, but am floating with the breeze. I can breathe now — the ground doesn't look as scary as it did just seconds ago. I have the chance to sit back and enjoy the ride, to view a part of the world with new perspective.
I look above at the blue-and-yellow striped parachute, wondering what it must look like from the ground. When I look beyond, I can see through the clouds. I recall thinking, as a child, that clouds were so heavy you could jump on them, and I smile at the lost innocence. I imagine this is what the view is like from heaven.
"Am I really still alive?" I wonder.
Thousands of feet below, the Austrian Alps provide a magnificent reality. I am suddenly aware of the instructor strapped to my back and turn around, a huge smile on my face.
"How do you enjoy your first skydive?" he asks me, but I can't speak — my mouth is dry from the force of the wind, and I have no words. My smile tells him I am ecstatic.
The glide to the ground seems to last forever. I am drifting in every direction, savoring the beauty of the land below me. From the pale greens and dark browns of the farm crops to the contrasting gray of the rocky mountains, touched with angelic white snow on their tips, the Austrian Alps set an amazing scene for the adventure.
I had arrived in St. Johann, in Tirol, the previous day in June, on a Top Deck bus tour of Western Europe. Centrally located between Munich, Salzburg and Innsbruck, St. Johann is an alpine village at the base of the famous Kitzbüheler Horn.
Famous for its mountain trails and ski runs, the chalet-filled village has just over 8,000 residents.
It was one of the last stops on our 21-day "Summer Fun and Sailing" trip, and all 50 of us, mostly Australians, were there for a great time. I would also be spending my birthday there, and wanted to make it a memorable one.
Upon arrival, we were greeted with clear blue skies contrasting against lush green meadows, the fresh smell of the forests and the warm smiles of the friendly locals who waved to us as we passed by them on our way through the town.
That night, we headed to Bunny's Pub, which opened in 1986, and has been operating under an Australian theme since 1996. It was a great taste of home with its paintings, sports memorabilia and, most of all, my cherished Australian beer, Victoria Bitter.
The next morning I woke to the sound of tractors on their way into town, as St. Johann's locals celebrated the Tirol Oldtimer Traktortreffen (Oldtimer Tractor Gathering).
The annual event, the finale of the weeklong Tirolean Mountain Spring Festival, which welcomes the shift from spring into summer, begins at 8 a.m. with the owners of more than 100 vintage tractors meeting in the center of town before parading through the streets.
The men and women were traditionally dressed intrachten, which consists of a skirt, bodice, shawl and blouse for women, and leather shorts, suspenders, breastplate and hat for men.
They smiled and waved to the crowds as they paraded down the street in their flower-bedecked tractors, before heading to the Pointenhof Inn, where they listened to music, drank beer and enjoyed the sunshine.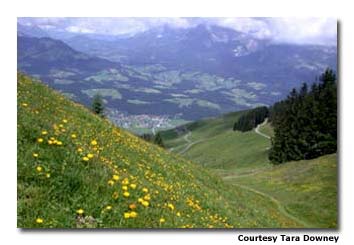 All year round, there are numerous outdoors activities in St. Johann. In summer, adventure-seekers can enjoy canyoneering, whitewater rafting, paragliding, skydiving, climbing or hiking, or try out a bungy trampoline. There are also activity programs for kids.
Whether it is because the sun was shining or simply because everyone is having so much fun, the beauty of Tirol is something special — especially from 12,000 feet (3,658 m)!
If You Go
Bunnys Pub: The Austrian Adventure Stop
www.bunnyspub.com
Austrian National Tourist Office
www.austria-tourism.at