When you talk about adventure destinations, Wales doesn't often spring to top of mind. But adventure travel in North Wales is booming, especially in Snowdonia. The region is chock-full of adventure outfitters and adrenaline-packed outdoor activities, from a man-made surfing lagoon and some of the country's longest zip lines to intensive canyoning and the world's first subterranean playground.
Snowdonia claims to be the undisputed activity capital of Wales. And it just might be true. Here are just a few adventures that await you there.
Surf Snowdonia in Wales

Surf Snowdonia is the world's first ever publicly accessible Wavegarden® surfing lagoon. The inland surf facility uses revolutionary technology to deliver the longest man-made surfable waves on the planet. The consistent and perfectly formed barreling waves go up to variously 2 meters high, and will peel for up to 150 meters. For more information go to www.surfsnowdonia.co.uk/
Canyoning in Wales
Snowdonia is home to some of the best gorges in the UK; this is real canyoning. During your canyoning adventure, you'll wander up through ancient woodland and get in and follow the deep ravine as they charges down the mountain. Along the way, you'll descend slides, swim across pools, jump into the deep and abseil down a waterfall. For more information go to snowdoniaadventureactivities.co.uk/
Off-Road Mountain Biking in Wales
Off-road mountain biking enthusiasts are drawn to Snowdonia year round. One popular destination is the heart of the Snowdonia National Park at the Coed Y Brenin mountain bike center. There you'll find a handful of world-class mountain bike trail centers, and professionals can guide you along some of the best mountain bike trails in the UK. For more information go to snowdoniaadventureactivities.co.uk/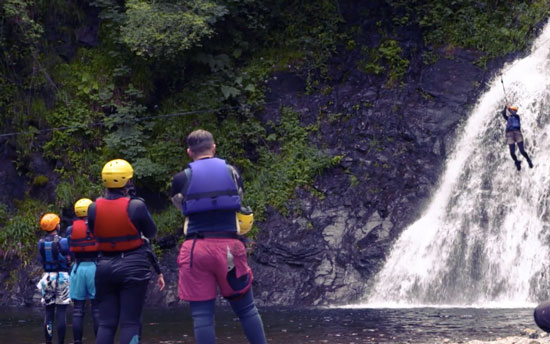 Zip World Velocity in Wales
When Zip World Velocity opened at Penrhyn Quarry, Bethesda in March 2013, it won international acclaim. Zip World Velocity provides riders the complete skydiving experience – without actually jumping from a plane. During the experience, riders fly head-first, for just under a mile exceeding speeds of 100mph down a mountain and then straight over a cliff, 500ft above the quarry lake with spectacular views as far out as Ireland. For more information, see www.zipworld.co.uk/
Zip World Titan in Wales

Zip World Titan, at Llechwedd Slate Caverns, is near the historic slate mining town of Blaenau Ffestiniog. This is the first 4-person zip line in Europe where riders have 3 individual zip lines to complete.
The first zip line gives panoramic views of the whole of Snowdonia as you travel over mooreland. The second has a huge drop of 500ft and is also the quickest line, while the third finishes at the top of the hill, overlooking the town of Blaenau Ffestiniog. For more information, see www.zipworld.co.uk/
Bounce Below
When Titan was opened, Zip World also opened the world's first subterranean playground called Bounce Below. Imagine giant trampolines, walkways, slides and tunnels all made from netting. Now picture this suspended in a slate cavern hidden underground and you'll have the right idea. For more information please visit www.bouncebelow.net.
If You Go
Visit Snowdonia
www.visitsnowdonia.info
Latest posts by Janna Graber
(see all)