Located in Tohoku – the northern area of Honshu, the main island of Japan, Iwate Prefecture might not be a familiar name to most travelers. It's a pity to skip this lovely area on your next Japan trip, as this largest prefecture of the Tohoku region has tons of things to offer.
Iwate Prefecture has Morioka City as its capital and largest city, surrounded by Oshu City, Hanamaki City, and a number of smaller towns and cities facing Japan's Pacific Ocean coast. Visitors can reach Tohoku and Iwate using the Tohoku Shinkansen departing from Tokyo Station.
While the majority of visitors to Japan tend to have Tokyo, Osaka, Kyoto on their itinerary, Iwate Prefecture is a rising star for its undiscovered landscape of Japan. It's also a land of incredible sights, inspiring people, and fascinating experiences.
Want to experience deep Japan in the most authentic and inspiring way possible? Plan an adventure through the wild north that is Iwate.
It's a Buddhist temple in Hiraizumi Town in southern Iwate Prefecture where you can find the Konjikido, "Golden Hall", a gold-covered pavilion built in the 12th century. This UNESCO World Heritage has different halls scattered around and connected by a forest path, where one can easily enjoy a sense of serenity that encompasses the area.
The historic complex is also one of the earliest designated National Treasures. Konjikido demonstrates the craftsmanship of that period featuring mother-of-pearl inlay work, openwork, and lacquer work.
One should also visit the Sankozo Museum to learn about the local history and prosperity of the Oshu Fujiwara clan through precious cultural properties representing Eastern Japan's Buddhist arts.
Tips: Ask for a guide to go along and help you explore this temple precinct. Friendly local guides with profound knowledge about the area will be your best travel partner.
Business Hours: 8:00-17:00, 8:30-16:30 in Nov-Mar
Admission fees: Adults: 800 yen, HS students: 500 yen, Junior HS students: 300 yen, Elementary students: 200 yen
How to get there: You can reach the temple via RunRun loop bus, 10 minutes from Hiraizumi Station
2. Be Dressed in Kimono By Local Grandmothers
Dressing in a Kimono is not quite new to try. But how about get dressed by a group of kind and adorable grandmothers?
In the center of the prefecture, you'll find Kanegasaki, a town of just 15,500 people living. In order to keep the town alive, the town hosts a locally-run cross-section of cultural experiences, from traditional kimono dressing to matcha making and calligraphy.
There, be sure to look out for their most interesting culture exchange activity – Kimono dressing with local grandmothers. If you know a bit of Japanese, it would be very nice to have a chat with them while being dressed.
After being dressed, you and your friends can take a stroll around the quaint and picturesque town, partake in learning calligraphy or join a tea ceremony in old traditional houses.
Business Hours: Varies depend on activities
How to get there: Kanegasaki Station is less than an hour away from Morioka Station on the Tohoku Line. Once you reached the area, お休み処 かみしも (Kamishimo resting spot) for Kimono dressing is 10 minutes away on foot. Other facilities are within walking area.
3. Try a Lot of Outdoor Activities
For those on the hunt for a little outdoor adventure, there's a new scenic coastal trail that runs from Hachinohe City in Aomori Prefecture to Soma City in Fukushima Prefecture, passing through the coast of Iwate.
In recent times, hiking, walking, cycling, and other kinds of activities associated with nature have grown in popularity. So for those who are looking for something new to enjoy, consider the Michinoku Coastal Trail.
Taking its name from the ancient name of Tohoku, Michinoku weaves along some of Japan's most striking coastlines, many of which are in Iwate. The trail is broken up into 'sections' to make the planning – and trekking – process a little more manageable.
If you don't know where to begin, we'd suggest the Central to South Ofunato and Rikuzentakata sections, which offer both spectacular natural views, and showcase just how much the region has rebounded following the 2011 tsunami which tore through this area.
The trail clocks in at over 1,000+ kilometers and is well-serviced by countless accommodation and restaurant offerings (to suit all budgets). For information on packing and planning, this website offers plenty of inspiration and information to get you started.
Business Hours: While the area is open 24/7, it is recommended to finish your trek before it is getting dark. Plus, camping is only allowed in designated areas.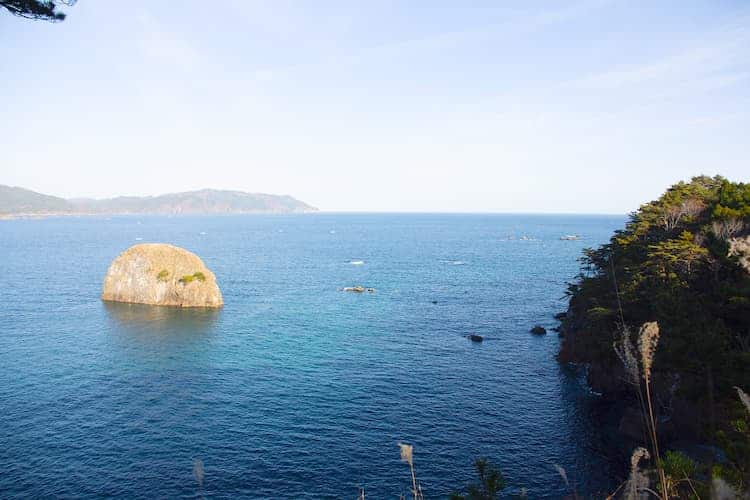 4. Meet the Locals From Kamaishi City and Contribute to the City's Revitalization
In the decade since this event, Kamaishi city has become one of northern Japan's brightest shining stars of a city in the decade that has passed. Kamaishi was a host city for the 2019 Rugby World Cup, and the city itself has used the events to rethink their approach to showcasing the vibrant lives and gifts of the region.
The team behind Kamaishi DMC (Destination Management Company) have reconceptualized what a city can be and have turned the town into what they call "Kamaishi Open Field Museum."
Essentially, they want to turn the town into an immersive museum through experiences (like locally-run fishermen boat tours), events, and educational gatherings.
The goal of this 'town as a museum' concept is to educate travelers on what's so great about the region while promoting sustainable tourism, both in the environmental and economic sense. If you want to learn more about how your holidays can positively impact society, then visit the Visit Kamaishi website for more information.
5. Get in a Ryokan and Soak in the Hot Spring
A trip to Japan won't be completed without having a soak in the hot spring bath. Iwate Prefecture is the home of Hanamaki Hot Springs Village, where 12 hot springs gush along the river that runs through the quiet mountains.
If you don't know which one to choose, we suggest spending a night at Hanamaki Onsen Hotel Koyokan, a gigantic onsen facility that combines slightly retro-Japan charm with modern comforts and amenities.
A buffet dinner with cross-cultural food, a flower bath, and a small bakery in the adjacent area are some of the highlights of the stay.
How to get there: 13 minutes by car from Hanamaki station.
Need more details to plan your trip to Tohoku, read our part 2 here, or visit https://www.japan.travel/en/tohoku-colors/
Read about more destinations in our articles below:
Author bio: Lisa Wallin