With shared lifestyle practices that include eating a balanced diet, drinking green tea, soaking daily in the tub and keeping active, it's not surprising that Japanese people's life expectancy is the longest in the world. The chance to partake in these healthy habits, albeit for a short period, is one reason Japan is increasingly the wellness holiday of choice for global travelers.
The land of the rising sun also boasts myriad ways to support visitors' physical and mental health, from shinrin-ryoku forest bathing (said to boost the immune system) to crafts like Japanese calligraphy and pottery (believed to reduce stress) to trying new, fun experiences, which are proven to improve mood and exercise the mind.
A trip to Kagoshima prefecture on the southern tip of Kyushu offers all these things and more, whilst also being away from the tourist throngs typical of the well-trodden destinations of Tokyo, Kyoto, Osaka and Hiroshima.
Kagoshima has a warm climate, with an average annual temperature of 19˚C, as well as a diverse geographical area that stretches some 600 kilometres to Okinawa and comprises more than 25 inhabited islands. What's more, there is plenty to do, the atmosphere is laidback and the people are welcoming, making it an ideal location to improve your general well-being.
Feast on Healthy Food and Drink in Japan
With a huge coastline, expansive natural landscape and fertile volcanic soils, Kagoshima is one of Japan's agricultural and fishing heartlands.
The southern port town of Makurazaki has been the country's top producer of katsuobushi bonito flakes for the past 20 years. Manufacturers here cut, boil, debone, smoke and age each fish in a painstaking process that takes more than six months.
The result is a product that not only is delicious but also contains every essential amino acid required by the body. It's practically a superfood! In Kagoshima, katsuobushi is enjoyed as an ingredient in miso soup or heaped on favorites like okonomiyaki.
Kagoshima also produces more satsuma-imo sweet potato that any other prefecture. Packed with fibre, vitamins, minerals and anti-oxidants, this root vegetable is beloved by local people and can be found in many colourful varieties. It's delicious as a side in meals and can be found in many cakes and traditional sweets.
And nutritionally balanced cuisine is not all that results from the prefecture's lush fields; you can enjoy drinks that are good for health, too.
Kurozu Black Vinegar
Two hundred years of local know-how has been poured into the development of kurozu black vinegar, an elixir proven to fight fatigue, burn fat, aid detox and reduce cancer risk. Fermentation in ceramic jars lined row upon row on the gentle slopes facing the Kinko Bay coast is the secret behind the healthy liquid, which is made using only thee ingredients: rice koji (Aspergillus oryzae), water and steamed unpolished rice.
Try kurozu diluted with water as a refresher or use it when cooking to bring out the flavour of your dishes. A batch matured for one year is mild in flavour and amber in colour while a five-year brew has a mellower bite and smokier look. If you're not sure which kind to choose, visit Kurozu no Sato Kakuida where you can sample the various types straight from the jar under the expertise of a maker and indulge in a lunch course showcasing kurozu.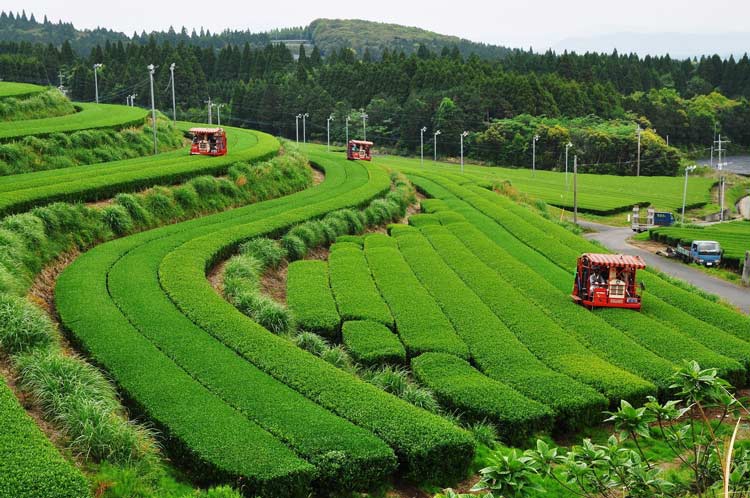 Green Tea
And why not try the famous green tea? Kagoshima's southern city of Minami-kyushu has more than 350 years' experience of making the popular beverage, which is hailed globally for its wide-ranging health benefits. It produces more green tea than any other city in Japan, with a 3,500-hectare tea plantation, 725 tea producers and 110 tea factories.
Explore the area to gaze on the verdant tea fields or to check out some samples at the plantations, tea rooms and shops. The popular Chiran tea brand is renowned for its powerful umami, light astringency and sweetness.
Take a Soak in Kagoshima
With a volcanic belt running its length, Kagoshima prefecture has thousands of onsen hot springs, each offering the visitor a slightly different experience.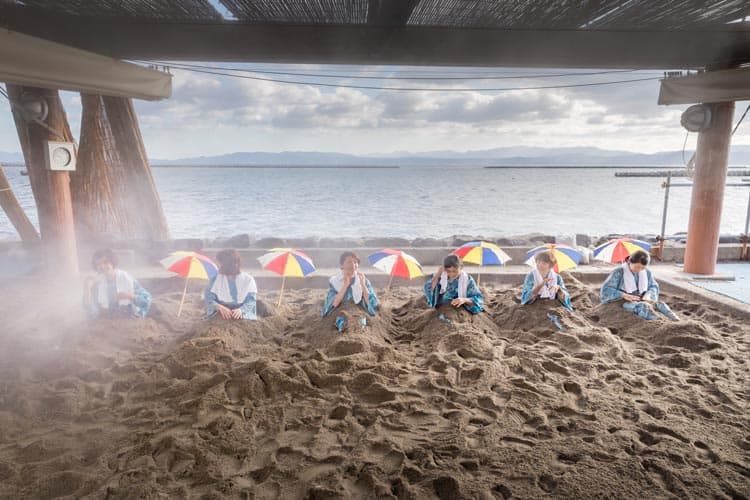 Try an Ibusuki Sand Bath
One of the most unique hot springs is the Ibusuki sand bath, where you don a cotton kimono and be buried in geothermally heated sand while looking out over the ocean. As well as being a stress reducer, the 50˚C experience aids circulation, removes impurities from the body and improves complexion—all during a mere 10 minutes under the surface.
At just four minutes by bus from Ibusuki Station, Sand Bath Hall Saraku is the closest sand bath by public transport. Yamakawa Hot Sand Bath Sayuri is a 25-minute ride followed by a 10-minute walk, but it affords stunning views of Kaimon-dake, the local mountain known as Satsuma Fuji due to its physical likeness to Japan's most famous peak.
For stunning views of one prefectural icon, the active volcano Mount Sakurajima, ease yourself into the outdoor hot spring at Shiroyama Hotel in Kagoshima city. Located some 100 metres above sea level, the bath offers an unparalleled view of the peak's green foothills and craggy top. There's perhaps no more tranquil an experience than floating in the deep warm water, surrounded by beautiful foliage and looking out onto great scenery. And, if you're lucky, you might even see smoke and ash billowing from the volcano.
Ignite Your Curiosity in Japan
By ferry, Sakurajima is a mere four kilometres, or 15 minutes' voyage, from Kagoshima city. It's a rare example of the coexistence of an active volcano and a metropolitan area of about 600,000 people.
The Yogan Nagisa Park Foot Spa, just 10 minutes' walk from the ferry terminal, should be your first stop on arrival. Enjoy breathtaking vistas of this unique local attraction while refreshing your feet and lower legs.
Further south, Chiran's preserved samurai district is another place to take things slow. Stroll the 700-metre-long street lined with traditional stone walls and visit the beautiful gardens, which date from the 19th century. The area is a designated national scenic spot and is devoid of any modern trappings, making you feel as if you are truly walking the same paths as the samurai once did.
Sample Shochu in Japan, the Local Tipple
Visitors to Japan today can find shochu in virtually any bar as it is beloved throughout the country. The distilled liquor is typically made from sweet potato and has been growing increasingly popular since 2009, when it was designated a koku-shu, or representative alcohol of Japan, along with nihonshu and awamori.
Kagoshima is the official birthplace of shochu, according to the World Trade Organization. The technique for making the spirit is believed to have arrived in Japan via Kagoshima in the mid-19th century, which has been corroborated by Japan's oldest known reference to shochu.
Interestingly, it was found in graffiti. Two carpenters working on the roof of Koriyama Shrine in Kagoshima's northern city of Isa in 1559 carved on one plank of wood: "The high priest was so stingy, he never once gave us shochu to drink."
Today, the lifeblood of shochu production is still in the prefecture. Barrel Valley Praha & Gen, near the airport, produces aspergillus kawachii (white koji mould), the vital ingredient for making shochu, for more than 80% of shochu distilleries in Japan.
Kagoshima prefecture alone boasts more than 100 of these distilleries, which sell 2,000 varieties of shochu.
Two distilleries that lead in the production of honkaku (single-distilled) shochu are Ichiki-kushikino-based Hamada Syuzou and Makurazaki-based Satsuma Shuzo. Their brands are among those labelled Satsuma Shochu, a geographical indication showing a product's source and unique local production method, like Prosciutto di Parma ham and Parmigiano Reggiano cheese.
The designation signals that all the sweet potatoes and water used in production are sourced from Kagoshima and that the shochu is distilled in a pot still and bottled in Kagoshima, too.
With a spicy fragrance and notes of caramel, vanilla and apples, Satsuma Shuzo's Sakura Shiranami shochu is great mixed with soda water and accompanied by sushi and fresh tomato. Daiyame shochu from Hamada Syuzou, meanwhile, is best drunk chilled and straight or in a highball. It has a bouquet and taste of lychee, and can be paired with a wide range of dishes, from fried chicken to chocolate.
Whatever your mixer and pairing of choice, savoring some shochu either in a friendly izakaya bar or at one of the distilleries is another way to unwind. And, at only 35 calories per two-ounce serving, with zero carbohydrates, shochu is a guilt-free indulgence. Honkaku shochu is even rich in urokinase, a thrombolytic enzyme that aids blood circulation much like polyphenol does in red wine. With such health benefits, shochu is a great tipple to enjoy on your wellness holiday.
How to Get There
From Tokyo's Haneda and Narita airports, Kagoshima can be reached in just under two hours. From Osaka, it is a 75-minute flight. Three cities (Izumi, Satsumasendai and Kagoshima) are served by the Shinkansen bullet train. Kagoshima city (the Shinkansen's terminus) is three hours and 20 minutes from Hiroshima or two hours and 15 minutes from Fukuoka's Hakata Station.
To plan your visit, read more information on travel in Kagoshima.

Lead photo by KPVB