Editor's Note: We're all dreaming of travel ahead. Here's some inspiration for future adventures. We share places, products and activities we recommend. If you make a purchase using a link on our site, we may earn a commission.
With vaccine distribution in the works, there's a light at the end of the COVID tunnel. We're all hopeful that travel will open up soon, and we're dreaming of travel ahead.
While the ways we travel may change, one thing that hasn't changed is the toll that travel can take on our bodies. Travelers often suffer from neck and back pain. And, fortunately, there is something you can do about it.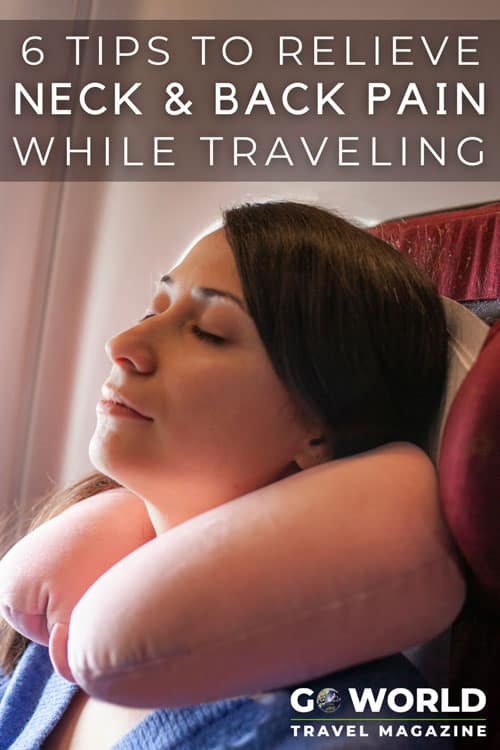 Tip #1: Develop Postural Awareness for Pain
One of the first tips that all travelers should know is to become aware of their posture. Travel involves sitting for long periods of time, and it's easy to slouch and slump.
These postures wreak havoc on the back, and after a while, pain begins. But, if you train yourself to become aware of your posture, you can sit better.
When you develop postural awareness, you should make an effort to use the back of the chair to properly align your spine. Pay attention to your neck, especially if you are working on a laptop or using your phone. Notice your shoulders and work hard to keep them in a neutral posture.
Don't waste any more time on flights tossing around to get comfortable and arriving at your destination upset. Check out the top-rated SAIREIDER Memory Foam Travel Neck Pillow, which comes with a travel bag, eye mask and ear-plugs. Available here on Amazon.
If your chair has a headrest, use it so you take pressure off of your neck. Finally, pay attention to your legs and feet. Ideally, your feet should be flat on the floor. If this isn't possible, use a stool or footrest so your hips and low back get support.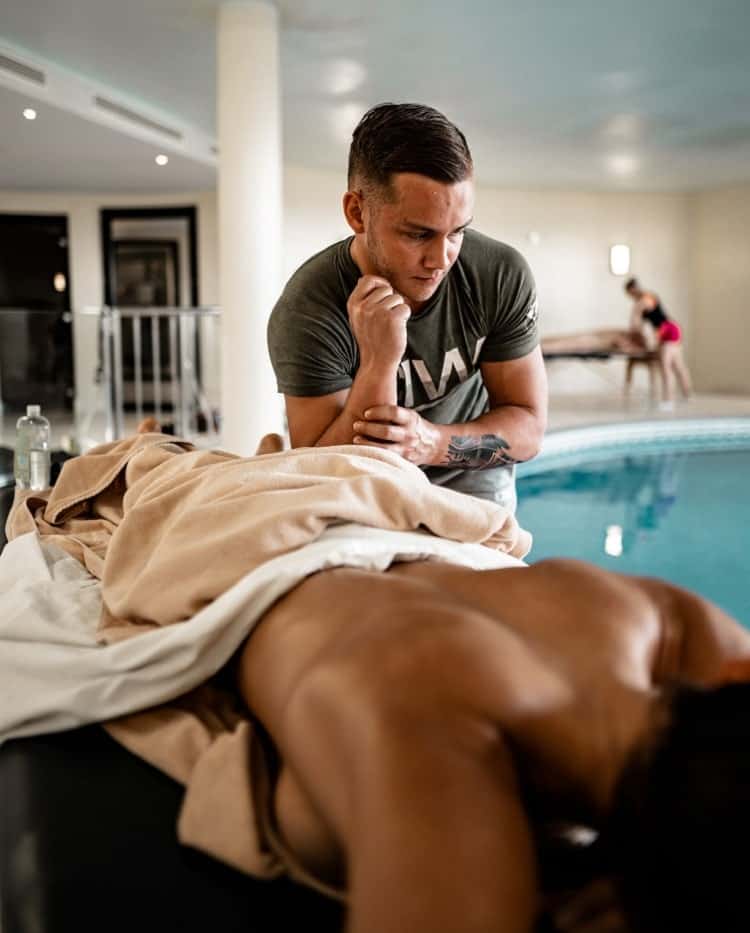 Tip #2: Get a Massage
After a long car ride or flight, a massage can bring much-needed relief to back and neck pain. With the pandemic, you might struggle to find someone who can provide massage therapy. You might have to wait until you return home so you can visit your chiropractor and the in-house massage therapist.
If you are staying in a resort, a massage therapist might provide services throughout the week. Some massage therapists will do poolside massage and charge by the minute. Others will do more traditional massage in private rooms.
If in-person visits currently are too much for you, then check out the Mirakel Shiatsu Neck Massager that you can use at home or when traveling. Available on Amazon here.
Ask your resort's concierge for the massage schedule. If the resort is not offering on-site massage because of the pandemic, the concierge should be able to recommend locations that are.
Tip #3: Move Around
If you are traveling via air or rail, it is important that you get up and move your legs. You might not be able to go far, but a short walk in the aisle can help bring you some relief. If you are driving, take breaks so your legs and back can stretch.
If you cannot get out of your seat, be prepared with some seated stretching options. There are several stretches that help you get some movement in your hips, shoulders, and low back. If you can stand up in place, do it; your legs and low back will appreciate it.
Tip #4: Don't Overpack
Carrying your bags can put a strain on your body. If you are taking carry-on bags, only pack what you can comfortably carry. Remember that you have to carry them onto the plane and load them into overhead bins.
If your bags are too heavy, you can strain your back, neck, or legs. One of the best tools for travelers is a wheeled suitcase. With a wheeled suitcase, you limit the amount of carrying you actually have to do.
If you are planning on taking the suitcase as a carry-on bag, be sure to check the airline's rules about carry-on dimensions. You don't want to be surprised with a last-minute bag charge that could be $50 or more.
Also, be sure to maintain a reliable travel insurance plan during your trips. Whether it's a flight change, lost baggage or a personal emergency, you will be protected with Travel Guard Insurance. Find their low-cost plans and one trip coverage options here.
One way to avoid overpacking is to contact your destination and find out about laundry services. Many hotels have coin-operated washers and dryers while resorts often have in-suite washers and dryers. Being able to do laundry while on vacation might not sound like fun, but it does help save your back and neck because you can pack lightly.
Tip #5: Fill Your Water Bottle
Another issue for travelers, especially during the COVID pandemic, is hydration. Wearing a mask while flying or riding the rails makes it difficult to drink enough water.
To stay hydrated, bring a water bottle with a reusable straw so you can take sips without having to remove your mask. Dehydration can make your joints feel stiff or in pain.
The best options for masks, especially while traveling, come from N95 Mask Co. The selection of masks range from KN95 respirator masks for flights and heavily populated areas during travel to comfortable cotton masks for casually hanging out around other people. Find all of the masks you need here.
If you can stay hydrated, your whole body will benefit. Remember that airplanes are rather dry, so drink plenty of water before you get on and take a full bottle of water with you. Try to avoid drinking alcoholic or caffeinated beverages as they are more likely to dehydrate you.
Tip #6: Pack Smartly
If you have a long drive or flight, plan in advance and pack wisely. There are several items you can pack in your carry-on bag that will make your ride more comfortable. One of those is a neck pillow, that will keep your spine aligned and let you rest your head without straining your neck.
Find deals on luggage from durable to designer with eBags. Get a compactable carry-on or a stylish rolling suitcase so you can travel pain-free and know your items will be safe. Find your new luggage here.
If you know that your low back hurts while sitting in a plane, train, or automobile seat, bring a book to sit on. Having a hardcover book, like a coffee-table book, will negate the softness of seats.
If you don't have room for a book, bring a blanket or towel to roll up and use as lumbar support. This also helps to relieve neck and back pain while traveling.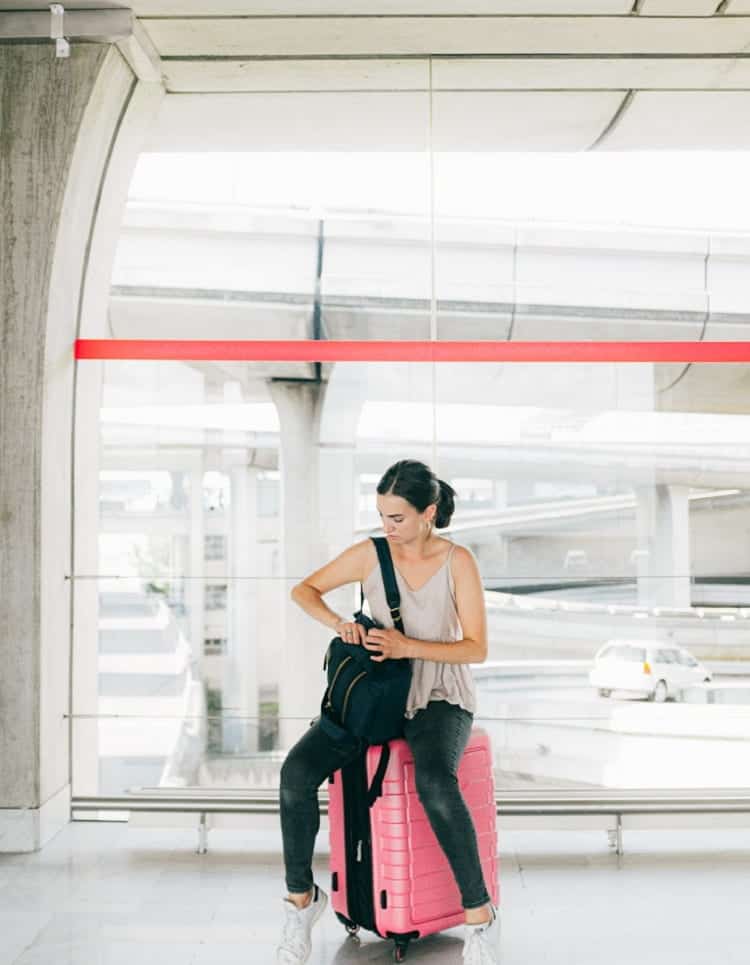 Another important tip for packing is to consider footrests. If you are flying, use your carry-on bag as a footrest. Be sure you don't have breakable items in your carry-on bag. If riding the rails, you can also use your carry-on bag as a footrest. While riding in the car, use a yoga block or a similar item as a footrest.
If you get neck pain while sitting, bring a tennis ball to massage your pressure points. Once you arrive at your destination, you can use the tennis ball to massage out the kinks in your back and shoulders.
Lay on the floor, then slide the tennis ball under the pressure point that needs a massage. While laying on the floor, move your body over the ball. You can also use the ball to work out problems in your hips, too.
Read More: International Travel FAQ from Go World Travel Magazine
Author Bio: Dr. Brent Wells, D.C. founded Better Health Chiropractic Juneau and has been a chiropractor for over 20 years. His practice has treated thousands of patients from different health problems using services designed to help give long-lasting relief. Dr. Wells is also the author of over 700 online health articles that have been featured on sites such as Dr. Axe, Organic Facts, and Thrive Global. He is a proud member of the American Chiropractic Association and the American Academy of Spine Physicians. And he continues his education to remain active and updated in all studies related to neurology, physical rehab, biomechanics, spine conditions, brain injury trauma, and more.