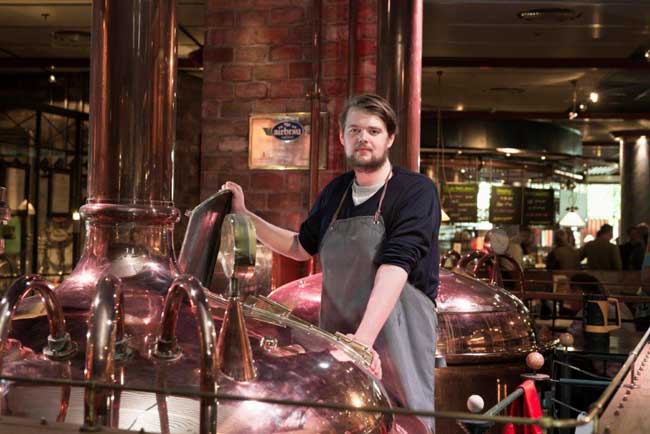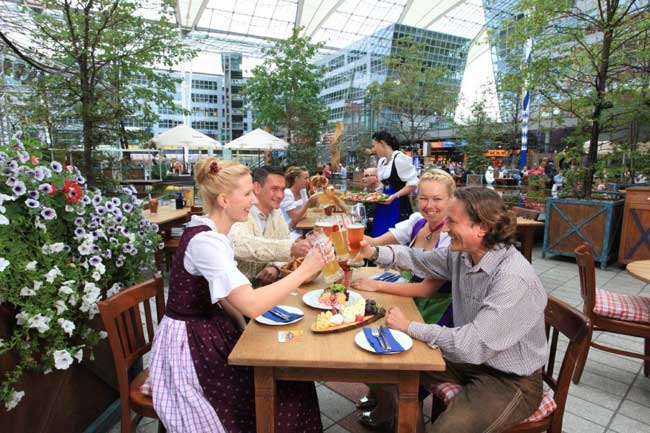 Seated in a beer garden sipping a brew that was made onsite, Sam and Nancy Goodman tap their feet to the beat of music emanating from a band on the stage.
Art is the focus of attention for Paul and Elizabeth Cantor, as they stroll past a collection that could be on display at a museum – but isn't.
Roger Hockman is equally focused as he fine tunes his putting golf stroke on a compact practice green.
Innovative World Airports
There's nothing unusual about these activities except where they're taking place. They are helping passengers to pass time at airports in Munich, Denver and Palm Beach, Florida.
Some airports around the world have evolved into more than just places where people gather to board a plane, or exit after a flight. Seeking to make the flying experience as enjoyable and stress-free as possible, a growing number of them are offering an expanding array of entertainment, dining and other facilities and services.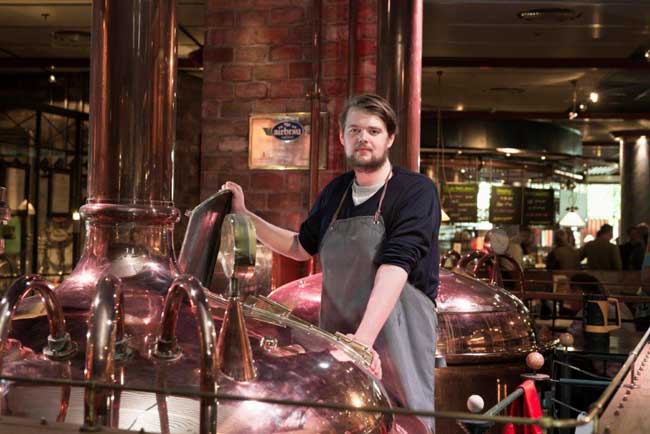 Beer Garden at Munich Airport
Take that beer garden at the Munich, Germany airport. The aptly named Airbrau produces three kinds of beer, plus seasonal types, and diners have a good view of the brewing process.
The art scene at Denver International Airport includes works displayed outdoors, inside the terminal, and even in tunnels through which trains pass carrying passengers to departure gates.
Avid golfer Roger Hockman was pleased to find a putting green at the Palm Beach International Airport when he had time to kill between flights.
These welcome surprises are just for starters. From animals to art, books to baking and much more, airports are offering things to do, see, eat and otherwise fill what could be dreary down time with an imaginative array of choices.
Airports as museums is one growing trend. Not surprisingly, some collections focus on aircraft and flying. For example, historic planes and a rescue helicopter are parked outside the Munich Airport.
A 1914 Curtiss Pusher Biplane is located in the Albuquerque International airport. It's so named because the propeller is mounted in back of the aircraft and pushes it through the air.
The space that houses a library and aviation museum at the San Francisco airport resembles a 1930s passenger lobby. Books and exhibits focus on the history of aviation.
On the other hand, it's antique Indianapolis 500 race cars which are parked in that city's airport. No surprise there!
Displays at the Hong Kong airport appeal to a variety of interests. Recent exhibits highlighted popular architecture in Hong Kong and included a large paper-mache dragon that was created for the 2016 Chinese New Year celebration.
Wag Brigade at San Francisco International
If you've ever seen a fluffy white dog playing with a toy duck or a pig tinkling the keys on tiny piano, you've probably been in the San Francisco International Airport. They're members of the Wag Brigade, trained animals that roam the terminals doing what they can to make passengers' travel more enjoyable.
The animals and their handlers are certified therapy teams.  Wearing vests that say "Pet Me," the canines — and a pig named LiLou — usually don't have to walk far before someone pauses to make friends.
One goal of the Wag Brigade is to keep children entertained. Other facilities and services around the world also are aimed at youthful flyers.
Sometimes facts are interspersed with the fun. Youngsters have a learning experience while playing at the miniature airport in Zurich, and during tours of the flight operations. Those who prefer more activity may rent bicycles and inline skates sized for both children and adults.
The Kids' Spots at San Francisco airport allow young travelers to gain knowledge while they use up excess energy prior to their flight. Interactive art and displays of weather elements provide interesting learning experiences.
The trend for airports to double as art galleries is increasing around the world.  The collection at San Francisco Airport contains more than 80 works that reflect the area's diverse cultures.
Art at other airports depicts local cultures and other factors. In Vancouver that means highlighting the landscapes and people of British Columbia.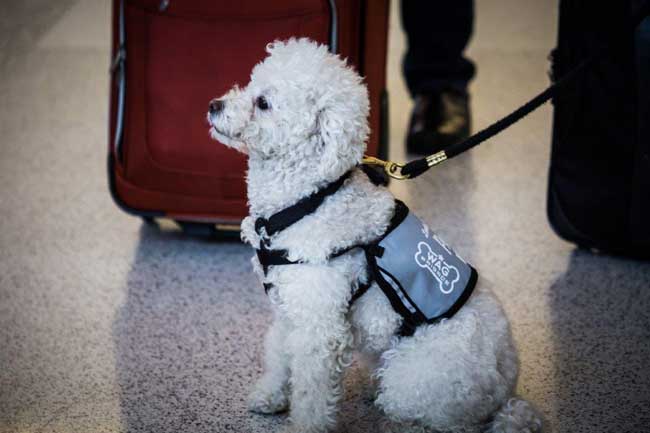 Passengers at the Portland, Maine airport enjoy references to moose, deer and fish. Art at the colorfully named Albuquerque International Sunport pays homage to the area's setting and Native American population, and includes wood carvings, pottery and works with names like Hopi Woman and Buffalo Dancer.
Singapore Changi Airport
Art is interactive at Singapore's Changi Airport.  People there may use provided paper and crayons to make rubbings of icons which were installed for that purpose.
Mother Nature's handiwork is also on view at airports. At Changi Airport, four themed gardens provide respite from the hustle and bustle of travel. A Sunflower Garden occupies a flat rooftop while an Orchid Garden displays more than 700 plants.
As people stroll through the Enchanted Garden, motion sensors trigger sounds of nature. Some 1,000 residents of the Butterfly Garden share their space with flowering plants, lush greenery and a 20-foot waterfall.
Attractions at airports also appeal to the taste buds. Ethnic and local specialties are among dining choices available at O'Hare in Chicago. During the annual Ticket to Taste event, chefs prepare meals, present cooking demonstrations and offer free samples.
Passengers in Copenhagen Airport have a choice of "Nordic food." The Beer Garden menu at Munich Airport includes Bavarian favorites like pork sausage, roast pork in beer sauce and, for those with a sweet tooth, apple strudel.
Eateries at Baltimore-Washington International Airport include an offshoot of the local favorite O'Brycki's, which touts "Crab cakes and more since 1944."  The restaurant lives up to that claim offering crab soup, crab salad, crab cakes, crab melt — well you get the picture.
Nor does this inventory of amenities and activities at airports cover the gamut.   Others include a barber shop and dry cleaner (Munich), yoga rooms (San Francisco), Medal of Honor display (El Paso), aquariums (Vancouver) and ice skating (Denver).
Even passengers who forgot to bring a book for their flight are in luck. They may borrow one at facilities in Seattle-Tacoma and Walla-Walla, Washington and at Amsterdam's Schipol Airport, among others.
Author Bio: After gallivanting throughout the United States and to more than 75 other countries around the world, and writing about what he sees, does and learns, Victor Block retains the travel bug. He firmly believes that travel is the best possible education, and claims he still has a lot to learn. He loves to explore new destinations and cultures, and his stories about them have won a number of writing awards.
Latest posts by Janna Graber
(see all)