What could be more luxurious than a private home that's yours for the duration of your vacation? These luxury homes are perfect for those seeking a high-end house that can accommodate their needs. From sprawling estates to cozy cottages, you'll find all types of luxury homes to suit your unique tastes.
Read on to discover how you can stay in one of these extravagant properties when you take your next vacation.
Location: California
Inhabitants of California's deserts can experience the allure of nature and comfort by staying at this eco-friendly house. This house brings nature and comfort together to provide the California desert experience.
The furnishings are made from sustainably-sourced material, and vegan touches create an environmentally responsible space.
You can unwind and relax by soaking in the sun on the deck or lounging areas, in addition to a soothing hot springs tub. This is a great spot for Joshua Tree National Park desert exploration, just fifteen minutes away.
After a long day of exploring the desert, you may return to a comfortable refuge with a spectacular view of the Milky Way sky.
See this stay here.
Location: California
California's magnificent mountain landscapes and national parks are as impressive as its sandy beaches and glitzy Hollywood glamour. Los Angeles nearby, San Bernadino is a major gateway to California. San Bernadino is well-situated for hiking and observing due to its proximity to the natural amenities.
In addition to being close to Big Bear Mountain, one of California's greatest alpine peaks, San Bernadino is only an hour's drive from Joshua Tree National Park, where desert boulders are spectacular. You'll discover a location that's better for discovering a facet of California that people usually neglect.
This house provides the comfort you need after a long day of hiking.
See this stay here.
Location: Messenia, Greece
The olive-tree-filled landscape of the Peleponnese is a patchwork of agricultural fields and rugged hills. Enjoy coffee on your own private terrace and enjoy all the amenities in a peaceful landscape.
Spend the day outdoors and enjoy all this area has to offer.
See this stay here.
Location: Greece
There is a reason the price of this place is on the higher end, and that is the stunning views. The property is well named as an azure sea awaits you. With plenty of curves and brilliant white walls, this is truly the pinnacle of luxury.
The cliffs of Santorini are in high demand and you will have an exclusive location.
See this stay here.
Location: Madrid Spain
Located close to downtown Madrid this home will put you in the center of the action. Enjoy your own private terrace with a pool.
You'll be ready to catch some Spanish sun or go out on the town. Full of thoughtful details, you'll have a combination of privacy and access to the city.
See this stay here.
Inspire your next adventure for a luxury home with our articles below:
Author Bio: Sandy Page is a life-long adventurer. In her free time, she reads and consumes copious amounts of hot beverages.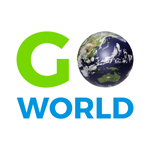 Latest posts by Go World Travel Magazine
(see all)