Editor's Note: We're all dreaming of travel ahead. Here's some inspiration for future adventures. We share places, products and activities we recommend. If you make a purchase using a link on our site, we may earn a commission.
A Visit to Čiovo
Čiovo is the largest island in the Trogir archipelago in Croatia, and despite the fact that thousands of people travel to the region each year, the island off the Dalmatian Coast still remains almost completely untouched by tourism.
The Village of Slatine
With less than 6,000 inhabitants, Čiovo is comprised mainly of small fishing villages, including Slatine. Last year, following the death of my grandmother, Syliva, I decided to travel to Slatine with my mother, Debra.
My mum and I both needed time to recover from the death that shook my whole family to the core. So, we decided to use our small inheritance to fly non-stop to a place we had never been to before the trip promised to be the release we both needed.
Croatian Homestay in Slatine
There are a few homestays in Slatine that allow visitors year-round, this was one of them. Run by the same family that has been living in the house for generations, it is the definition of "wabi-sabi"― finding beauty in imperfection.
After flying into Split airport and driving south, we arrived outside of a stout, off-white building. We looked back at our taxi driver, who took in the flaking concrete, the cracked tiles, the peeling paint, as we exchanged glances, he burst into laughter.
"Have fun!" He called out, as he drove off down the narrow cobblestone street. As we hauled our suitcases across the fractured stone floor, a man walked out of the house and waved at us.
"Welcome, guests!"
We met him by the faded blue door and grinned back at him. He firmly shook our hands and grabbed our bags, leading us up the staircase to the top of the house.
You'll want to be prepared with durable and stylish luggage for a trip like this. We recommend checking out eBags, with top name brands at affordable prices. Find your best travel bags here.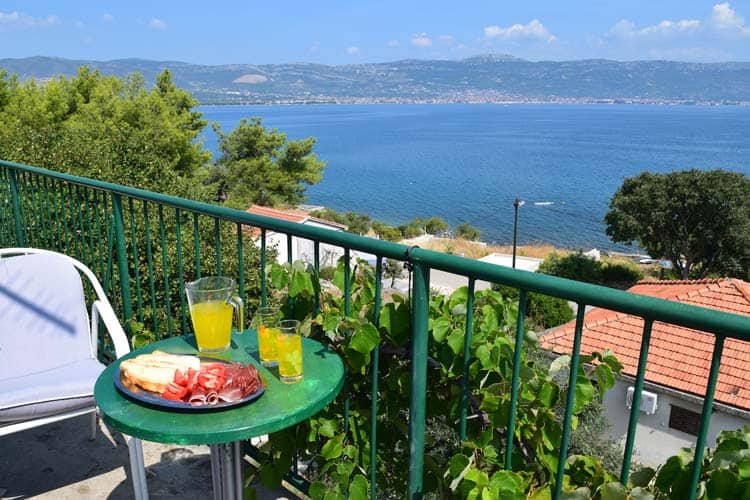 A Warm Welcome in Slatine, Croatia
Our room was small. It was the same shade of white as the outside of the house and led out to a terrace where, the man said, we could shower beneath the stars.
He dropped our bags beside the bed as we took in the surroundings of the room. There was a thick stack of books balancing on shelves around the living room.
On a table near an armchair there sat a bowl of pink and blue boiled sweets and a bottle of, red wine with beads of sweat running down its neck. As we looked around, the eyes of ancient Christian martyrs stared back at us from their gold leaf frames on the walls.
Somehow, during the walk to the room, our host had acquired a sandwich, and he took a bite as he opened the shutters to the balcony. With the sandwich in one hand, he gestured with the other to the stunning view of the mountain ranges and the sparkling ocean in front of us in Croatia.
Before I could comment on the beauty of the view, a female voice called up to us from the garden.
"Do you want juice?" The woman asked, cupping her hands around her mouth as she yelled. "Or maybe prosciutto?"
The man demolished his sandwich and introduced her to us as she joined us upstairs.
"This," he said, as the woman walked into the room with a plate of Croatian delicacies, "is my daughter."
He ruffled her hair, even though she had to be at least twice my age and was, by my standards, far too old to be having her hair ruffled. She brushed it out of her face.
"Zdravo," she said. "It means hello in Croatian. It will be useful for you to know." She smiled at us and left the room, and the man nodded his head and began to exit with her.
"Anything you need," he said, "just ask. Remember – you're one of us now. Like family."
We wandered out onto our balcony, snacking on the plate of meat and cheese, and watched as the sun began to dip below the horizon, the sky blazing with strokes of pink and red and orange.
We looked out at the island around us, sitting back in metal chairs warmed by the sun. The sand shone with a pearlescent pink, and the water was so transparent that we could see all the way to Atlantis. We were dazed and charmed to be somewhere that was so effortlessly beautiful.
Breathing in the Sea Air in Croatia
As the days went by, returning to the house after a busy day of exploration started to feel like coming home. Each day, the father would notice our return, and would jog towards us with a beer in one hand and cake (freshly baked by the neighbors) in the other, offering both to us.
Every morning, the family would stop by with plates of fresh tomatoes or anchovies, grinning from ear to ear when we told them how incredible their village was. After a week, we had begun to slowly unwind from the stresses of city life back in Wales. As it happens, you don't really notice the sheer amount of pressure a person can collect day-to-day until you're given the opportunity to relax.
In Croatia, waking up each morning to views of the endless ocean whilst swathed in sunlight, the sweet scent of island air drifting in through the shutters was amazing. We began to reconsider what we had been prioritizing back home.
Explore more of what the island life has to offer on the once and a lifetime Sailing Around Croatia trip. Book your European ocean adventure here.
Rejuvenating in Croatia
Here, there was nothing to do except spend time with one another, with the Slatine family, and the magic of the island. It felt as though someone had pressed the reset button when I wasn't looking
After months of stoicism, I finally allowed myself the freedom to relax and allowed myself time to think. I was able to mourn the death of my grandmother.
At a small restaurant, sipping tea and looking out at the little boats and yachts bobbing on the ocean, I began to sob, great heavy sobs that made the waiter come over with extra napkins. It felt as though a plug had been pulled, and I was finally able to feel the emotions that I had been numb to for so long.
Traveling to Croatia seemed to have changed something within me, on many different levels. What I thought to be luxury before I arrived is now something I couldn't care less about.
My priorities have shifted, and now I realize the true value of simple living, loving and of family. Being constantly surrounded by people who were so kind and caring, sharing not only their island with us but a true part of themselves, is something that I will value forever.
Everything about the village of Slatine redefines luxury, and I for one, am glad to have experienced it.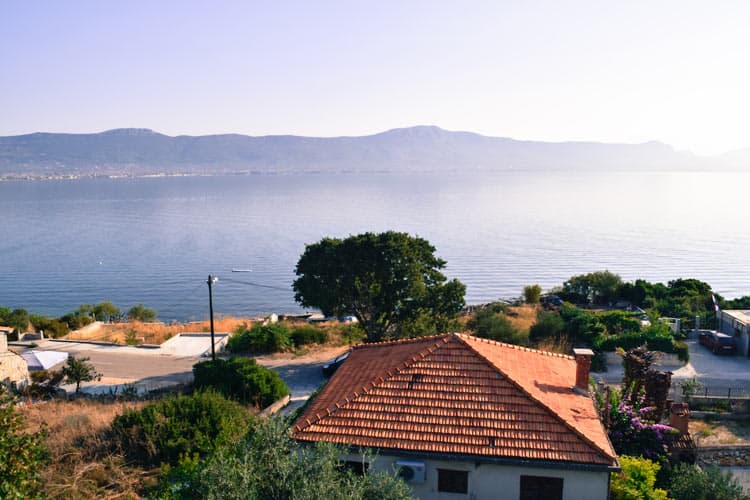 Book This Trip
Start planning your home away from home stay in Croatia! Find information on local restaurant favorites, hotel or VRBO options, best shops to see and more on TripAdvisor and Travelocity. When your ready to book, check out Kiwi for the best airline deals and transportation choices.
Author Bio: Amy Aed is a freelance adventurer that loves to write raw, off-the-beaten-track guides to gorgeous places. She is the editor of www.wandering-everywhere.com, a travel blog for explorers, dreamers, and storytellers. Based in Wales, Amy loves nothing more than last-minute flights to new places, warm mugs of masala chai, and well-thumbed travel