"The gladdest moment in human life, me thinks, is a departure into unknown lands." – Sir Richard Francis Burton
Thailand is a beautiful sun kissed tropical heaven with the clearest blue waters, white sand beaches, lush green mountains, exciting cities, bustling nightlife and delectable food. Travel in Thailand also means visits to day and night markets, as well as rich cultural opportunities.
Best Things to Do in Thailand
With tourism initiatives by the Thai government, it is one of the most tourist friendly countries of the world. What is even better is that Thailand is that it is very affordable too. If you are looking for a fun destination for your next vacation, Thailand is the place to go.
Here are some fun vacation ideas in Thailand that you can enjoy for your next trip.
Sunbathe at the gorgeous Railay Beach, Krabi
Comprised of four stunning beaches, Railay Beach is a beautiful little peninsula which can be easily accessed by boat. It offers breathtaking white sand beaches with the clearest waters, spectacular vertical limestone cliffs, mysterious caves and a gorgeous lagoon, which is hidden by the cliffs.
There are no roads in Railay Beach and everything here is within walking distance, to be accessed on foot. You can stay in one of the resorts in Krabi or Ao Nang and reach Railay Beach by a longtail boat ride. The amenities are limited on Railay Beach, but that is what makes it a charming place without the commercialization.
Witness the vibrant corals Phi Phi Islands
The islands of Phi Phi are absolutely stunning with their mesmerizing beaches and beautiful calm sea. It is easily reachable from Phuket by a 90-120 minute ferry ride from Phuket, Krabi or Koh Lanta.
Book yourself one of the amazing beach facing resorts of Phi Phi and you can wake up to the tranquil sounds of the sea. Try activities like scuba diving, snorkeling and diving to witness the stunning colors of the coral reefs and fish here. You can also go for rock climbing as the soaring cliffs are amazing to climb. Phi Phi also has a number of exciting party cruises for party animals
Visit the iconic James Bond Island
Off the island of Khao PhingKan lies the limestone karst of Ko Ta Pu, popularly known as James Bond island for being featured in the Bond movies. Take a ferry or for a more thrilling and quicker experience, a speed boat ride and visit Phang Nga Bay along with several islands such as Panak, James Bond, Panyee, Hong, Naka Noi etc.
Explore the caves, mangrove forests, limestone cliffs, and try to spot wild monkeys and birds. You can enjoy swimming in the lagoon, go on canoe rides and eat delectable local food at one of the villages or on board your boat. Choose a Thailand group tour if you'd like to visit with an expert.
Experience rich marine life in Koh Tao Island
You can reach the tiny island of Koh Tao from Chumphon, Surat Thani, Koh Samui or Koh PhaNgan. The smallest island of Thailand, this is a heaven for spotting rich marine biodiversity.
You will find different varieties of sea turtles here. It is also an amazing place for snorkeling as you can spot a number of species of unique and colorful fishes, shrimps, Nudibranch and other sea creatures. Adventure lovers can also swim with the majestic whale sharks in the waters of Koh Tao.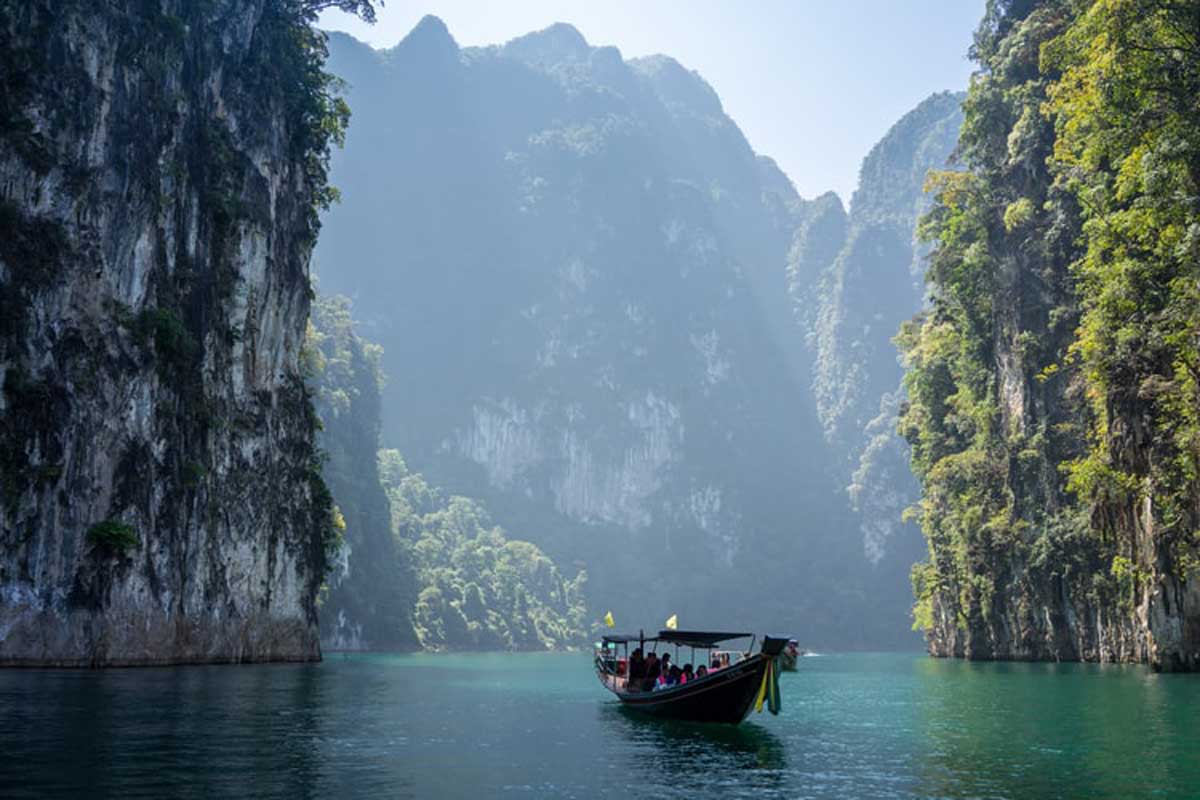 Marvel at the magnificence of The Grand Palace
Set across a sprawling area of more than 200,000 sq. meters, right in the heart of Bangkok city, the Grand Palace served as the residence of the king and the royal court for about 150 years.
It is from this palace that the government of Thailand functioned. It also housed the Royal Mint. While a number of areas are still off the bounds for tourists, it is still an artistic and architectural wonder to marvel at. The palace complex houses a number of important buildings, including Wat Phra Kaew or the Temple of the Emerald Buddha.
Take a walk down the pages of history at Ayutthaya
Located some 80 km from the city of Bangkok, the archaeological site of Ayutthaya Historical Park, a UNESCO World Legacy Site, is a must do on the list of vacation ideas in Thailand.
The open-air museum hosts the relics of Ayutthaya, which served as the Thai capital for over 400 years. Although most of it is in ruins, it is absolutely splendid and speaks volumes about the former glory of the kingdom. While it can be covered by a nice day trip from Bangkok, accommodations are available at Ayutthaya as well.
Enjoy boat rides at the Floating Markets

The floating markets of Thailand are absolutely amazing, the most famous being Damnoen Saduak Floating Market, about 90 minutes away from Bangkok. Take a stroll through the market in one of the small row boats, checking out the clothing, artifacts, crafts, spices, food and drinks.
You can enjoy a delicious and filling lunch at surprisingly affordable prices here. Head over to the Amphawa Floating Market in the evening and see the fireflies lighting up the trees by the river.
Shop till you drop Chatuchak Weekend Market
While Bangkok has great markets, night markets, malls and local shops for shopping, for an epic experience head over to the Chatuchak Weekend Market, the world's biggest weekend street market, with over 15,000 stalls and attended by more than 200,000 visitors.
The prices are low and you can get everything from clothes, accessories, souvenirs, art, antiques, furniture, home accessories, electronics, cosmetics, plants, pets and pet supplies and more. You can enjoy refreshments at stalls selling food and drinks or even get a massage inside this market. It can be easily reached from any hotel via skytrain or road.
Enjoy a grand dinner at Chao Phraya River Cruise
Give your feet a little rest and enjoy a beautiful sunset and dinner cruise on the Chao Phraya River. Float past some of the major landmarks of the city; watch the sun set over Bangkok, as the city decks up in its beautiful lights.
Enjoy a delicious spread of multi-cuisine or Thai buffet dinner, complete with amazing performances, comprising of a mix of eclectic local and popular Western music, dance and cabaret.
Experience crazy nightlife at the Walking Streets
If you want to experience exciting nightlife, parties, bars, affordable meat carts and lip smacking street food, the walking streets of Thailand are your best bet. While several cities have such streets where the road is condoned off for vehicles, and accessed only by party goers on foot, the Walking Street of Pattaya is the most famous. About two hours from Bangkok, there are a number of amazing hotels and resorts that you can stay in, at the beach town of Pattaya.
Witness the grandeur of a Cabaret Show
No trip to Pattaya can be complete without witnessing the grandeur of a cabaret show. Performed by the insanely talented performers, Alcazar and Tiffany's are the most famous ones.
The magnificent performance, the grand costumes, stunning stagecraft and lighting will leave you speechless. It presents a grand montage of Asian culture through its wonderfully choreographed song and dance sequences. It is an absolutely mind blowing cultural experience.
Meet exotic animals at Safari World
Spread over a sprawling area of 2.64 sq. km, the Safari World is divided into Marine Park and Safari Park. It is the home to a huge variety of species of exotic animals who roam free. There are some animal feedings, which you can enjoy as well.
There are also hundreds of birds and marine animals that live on the parks. There are several animal performances, stunt shows and photo ops available for tourists along with restaurants and gift shops. 50 minutes by road from Bangkok, it is a whole day affair.
Take a nature hike in the mountains of Chiang Mai
If you thought Thailand was all about beaches, head over to the lush mountains of Chiang Mai and enjoy a tryst with nature. There are a number of beautiful temples and monasteries such as Doi Suthep, Phra Singh, Chedi Luang, Chiang Man and many more.
For some of the most exciting hiking, biking, camping experiences head over to the Doi Suthep–Pui National Park where you can witness the gorgeous mountain terrain, extensive mountain flora, waterfalls and caves. You can also spot several animals, birds, and butterflies.
In a Nutshell…
Thailand is an experience of a life time. With its wide variety of things to see and do, there is always something for everyone. Whether you are looking for a solo trip, yoga retreats, family vacation, spiritual retreat, party destination, nature watching or wildlife spotting, Thailand has all of it and more.
Don't forget to indulge in a relaxing Thai massage, spa or fish spa to relax and forget all the stress of life. Thailand has excellent sea food, varieties of meats as well as halal, vegetarian, vegan etc food options, making it a truly tourist friendly nation.
Author Bio:Om Singh is a blogger at Retreat Kula, a website where you can book yoga retreats and yoga teacher training for yogis around the world. He is always on the lookout for interesting places to visit. It took him 25 years of his life to realize where his true calling lies, but once that was done, there's been no looking back.