Krabi, Phuket's less crowded cousin, is one of the most famous beach destinations in Thailand. Most travelers choose to stay along Ao Nang beach. What many don't realize is the Ao Nang beach is not idyllic.
It is popular mainly because it is convenient to set up camp there, before day-tripping to nearby islands. Many island-hopping tours depart from Ao Nang in the morning and deposit travelers back on the mainland in the late evening.
Krabi, a Thai province on southern Thailand's west coast, is known for its craggy, sheer limestone cliffs, dense mangrove forests, and more than a hundred offshore islands.
As such, a trip to Krabi is perfect for those who crave adventure and motion, and do not like to return to the same spot day after day. If you're making your way through Thailand and only scheduled three days for Krabi, here's how you can make the most of them.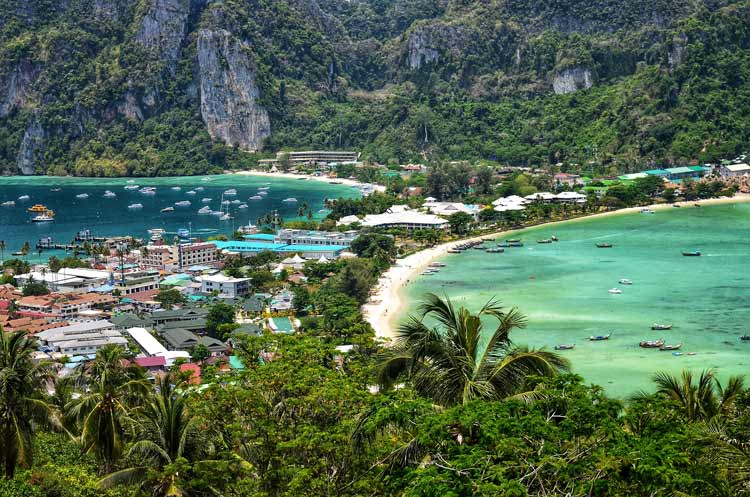 Day 1 on Trip to Krabi, Thailand
Most flights arrive at Krabi airport at around 11 am or 3 pm. While it is too late to go on a full-day, multi-island hopping tour, there is still time to go check out nearby island Railay.
A car transfer to Ao Nang should take around half an hour. Do a quick check-in and then head down to the stretch of shops along the beach.
The area is full of tourist information counters. Simply purchase a pair of return longtail boat tickets to Railay. They cost 100baht (about US$ 3) per person per way for the before 6 pm boat and 150baht (about US$5) for the after 6 pm boat.
Head down to the docking area, and hand your tickets to the person manning the queue. Once about eight people have gathered, a boat will make its way to Railay. The ride is about 10 to 15 minutes long and very scenic.
Enjoy the natural beauty of Thailand while giving back by volunteering in the conservation of Elephants in Thailand. Work alongside the gentle giants to rehabilitate them and protect them from poachers. All while enjoying the pristine beaches, making friends and soaking up the culture. Learn more about this amazing way to travel here.
Three Beaches on Railey
There are three beaches on Railay – East, West, and Phra Nang. East Railay is more mud than sand, so give it a miss. Instead, get off at Phra Nang, where you can kayak, rock climb or just people watch.
Make your way to West Railay (roughly a fifteen minute walk) and hop on a boat back to the mainland at around 6 PM to catch the legendary sunset while on the sea.
Once back on land, inquire and compare island tour prices until you find a vendor you are happy to purchase from, then make arrangements for an early pick-up the next day.
Have a simple dinner, browse through the countless Thai clothing and souvenir shops along the streets, and inquire about the prices. Try not to succumb if you feel the prices are too high — there is always tomorrow to bargain again.
If you are more comfortable with being on land on your first day in Krabi, check out the Tiger Cave temple. It is a tough walk up (1,237 steps!) but the view at the top is breathtaking.
See more of these breathtaking views and temples while living like a local through the GW&T Teach English in Thailand program. With free TESOL certification and job placement, the trip essentially pays for itself. Learn more about cave diving and classrooms in Thailand here.
Day 2 on Trip to Krabi, Thailand
Ko Daeng, Ko Hong and Ko Lading
Get started on your Hong Islands hopping tour at around 8 am in the morning. A typical Hong Island tour will bring you to Ko Daeng, Ko Hong and Ko Lading.
Tour operators may include other small nearby islands or bays for snorkeling. Try to settle on a price between 700 (US$ 22) to 1000 baht (US$ 31)—any higher, and you are probably being ripped off.
The Hong Island tour price includes hotel pick-up and drop-off, lunch (buffet or packed lunch depends on the price you may), and travel should be done via speedboat instead of longtail boat, as the Hong Islands are a distance away.

The Hong Island tour usually ends around 3 or 4 PM. At this point, you can head back to your hotel, and freshen up before heading out for dinner. Try to head out by 5.30 PM, so you can take your time to choose where you want to dine, and still catch the sunset.
If you choose to treat yourself to a nice seafood dinner for your last night at Ao Nang, look out for the row of beachfront restaurants on the far right of the Thailand beach.
Instead of entering the outermost one, make your way through the entire row and inquire about the availability of the seafood item you would like to try (crab, prawns, mussels, fish), the method of preparation, and settle on the price (based on weight) before you enter.
The glass noodle crab at Baan Lay Thai Kitchen is worth a try. For a beachfront seafood dinner, prepare about 300 baht (US$ 10) per person.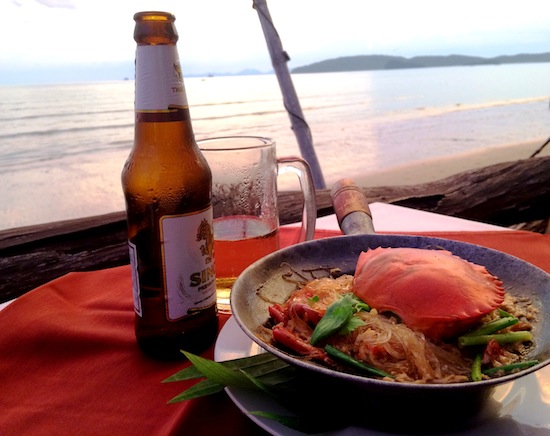 Otherwise, there is a row of street food stalls opposite Swedish restaurant Blue Mango- the lady stir-frying traditional Thai dishes such as fried rice, Pad Thai and chicken with cashew nuts has some mean offerings, and at an incredibly affordable 50 to 100 baht (US$ 2 to 3).
If you spotted items that caught your fancy while window browsing the evening before, it's time to head back and ask if the vendors can lower their prices.
Desperate to make a sale, the vendors will usually cut the prices a little, as you might soon fly off without purchasing any of their wares.
There are other popular tours, such as the Phi Phi, 4-islands, and James Bond tour. If you have more time during your trip to Krabi, be sure to check them out.
However, note these islands, being more famous, tend to be oversubscribed. It would be difficult to find a quiet spot to sunbathe, compared to the Hong Islands.
Day 3 on Trip to Krabi, Thailand
Most flights depart Krabi Airport by midday, so there won't be much time to check out the area.
If you have the chance, grab a snack such as the famous Thai pancakes (crispy fried dough, usually accompanied by Nutella, condensed milk or a variety of other toppings) or a mango sticky rice (a whole sweet mango sliced and served on glutinous rice and coconut milk).
Be sure to slot in an extra half an hour if you need to be on the road by 9 am. The streets are usually jam-packed with tour operators ferrying their clients to the beach between 8 to 9 am, so there is bound to be some form of traffic jam on the main stretch.
Book This Trip
One of the most adventure-filled ways to take a trip to Krabi is to travel to Thailand through Global Work & Travel. Spend as long as you like from 3 weeks to 6 months either volunteering to help the wildlife or teaching English. The best part is you'll get paid while you work, make friends with a team and have plenty of free time to explore beautiful beaches like Krabi. Find your big opportunity here.
If you prefer the vacation route, get more help planning your trip with hotel or VRBO reservations, local shops and best sights to explore on TripAdvisor and Travelocity. Then plan your route and airfare with our trusted international travel partner, Omio.
Author Bio: Ling Xin is from Singapore, and likes cooking, reading and rehoming animals. A former print and online journalist, she now spends her time at asiarooms.com/en/community, where she travels and writes about her experiences. Also find her on twitter at @ohhellosailor