With its imposing snow-capped mountains, crystalline lakes and striking glaciers, Patagonia is the ultimate hiking destination.
Trekking in Patagonia
Situated in the southern end of South America and covering terrain in both Argentina and Chile, it's home to some of the most popular hiking trails in the world. These Patagonia hikes are suitable for both beginner and advanced hikers and with a little planning, most are easily accessible.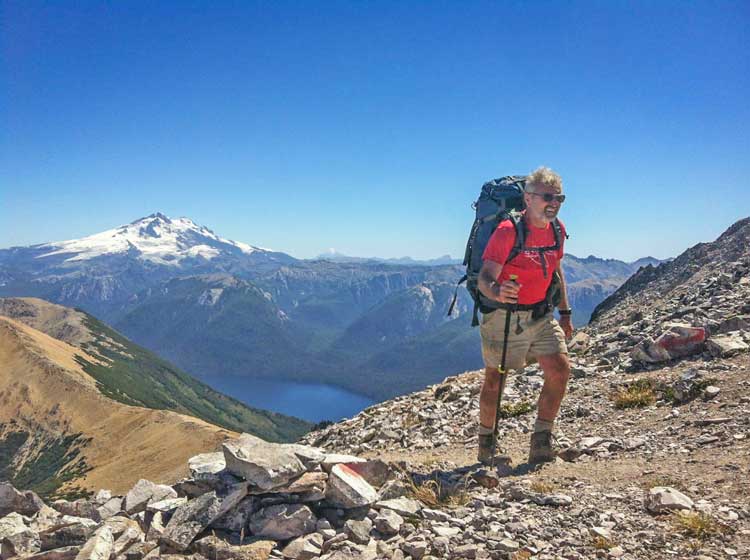 Prepare for Your Trek

It's important to prepare well before setting off on your Patagonian hiking experience. The weather is extremely changeable, so expect all four seasons, sometimes in one day, and pack accordingly. Hiking boots, lots of light layers, and waterproof clothing are essential.
The wind can be very strong in Patagonia, sometimes even reaching speeds of 74 miles per hour. If you're going to be camping, you'll need to make sure your equipment can hold up against the wind.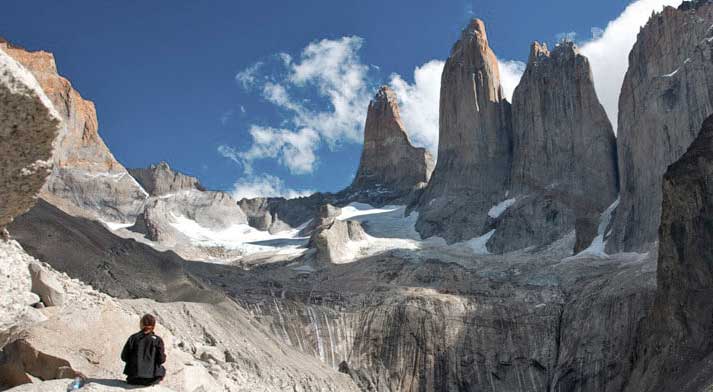 Best Hikes in Patagonia
Naturally, your preparation must also extend to choosing which hikes you'll take. We've listed some of the best hikes below to give you ideas for your Patagonian adventure.
1. Torres del Paine 'W' & 'Circuit' Treks
Torres del Paine is a very popular hike in Patagonia, and with good reason. From the distinctive rock towers that give the national park its name to the stunning Glacier Grey and more, Torres Paine National park is full of jaw-droppingly beautiful scenery.
When planning your Torres del Paine hike, you have two main options. The W or the Circuit trek. The W hiking trail covers roughly 80 km of distance starting at Refugio Paine Grande and ending at Glacier Grey. In contrast, the circuit trek is a 110 km loop starting and finishing at the Torres del Paine Welcome Center.
Both trails allow you to see the famous towers and the beautiful lake beneath them. The main difference between the two hikes is the distance. However, it's worth noting that the W trek doesn't have as much of the beautiful scenery as the full circuit.
The John Gardner pass and Los Perros Glacier are just two sights you miss if you choose the W trek. However, whichever you choose you're guaranteed to be bowled over by the beauty of the national park.
Starting point: W trail: Refugio Paine Grande. The Circuit: Torres del Paine Welcome Center.
Duration: The W trail: 3- 4 days. The Circuit: 7-8 days.
Difficulty: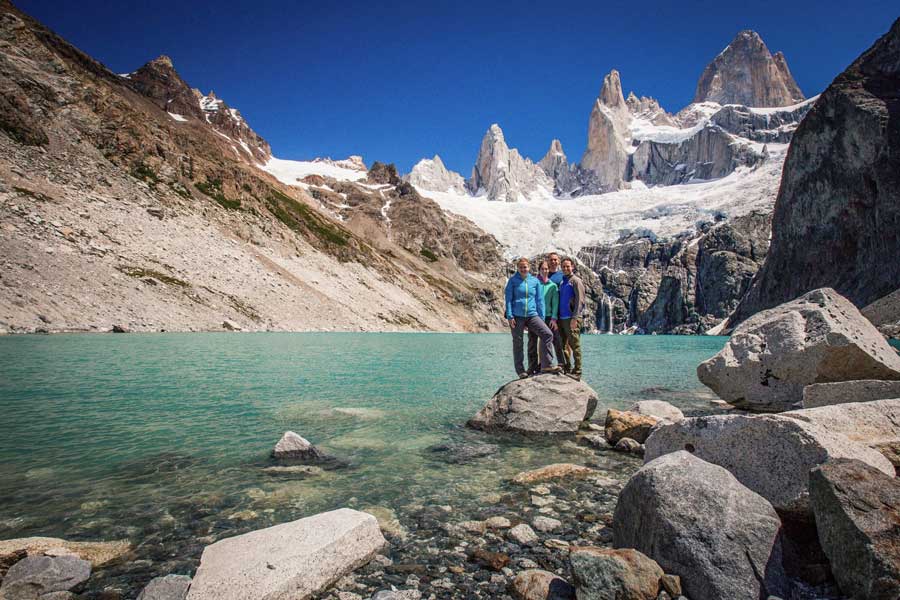 2. Fitz Roy & Cerro Torre Trek in Los Glaciares National Park
This hike is right up there with Torres del Paine in terms of awesome scenery. Plus, you can also adjust the hike length according to your level.
The Fitz Roy and Cerro Torre are two separate hikes, which depending on your stamina, you can do together. Combining the two creates a two-day hike and requires an overnight stay in the Poincenot campsite. The hike covers a total of 36 km.
You'll see a lot of excellent sights on this hike. The highlights include unparalleled views of the beautiful and rugged Fitz Roy mountain, as well as visits to the distinctive mountain Cerro Torre, the fantastic lake Laguna Torre and the Glacier Grande.
Starting point: El Chaltén
Duration: 2 days
Difficulty: Intermediate
3. Hut-to-hut Trek around Bariloche
If you're looking for a good physical challenge, then the Nahuel Huapi Traverse is an excellent option. This is a five-day hike that takes you through the best of Bariloche's landscapes as you hike from mountain hut to mountain hut.
This trek requires around 6-7 hours of hiking per day, so a good level of fitness is essential. The scenery along the way is varied and stunning, from vibrant green valleys to remarkable mountains.
Plus, by staying in mountain huts you also get to enjoy Argentina's mountain culture and delicious food, which you'll be more than ready for after a long hard day of hiking.
Starting point: Cerro Catedral
Duration: Five days
Difficulty: Intermediate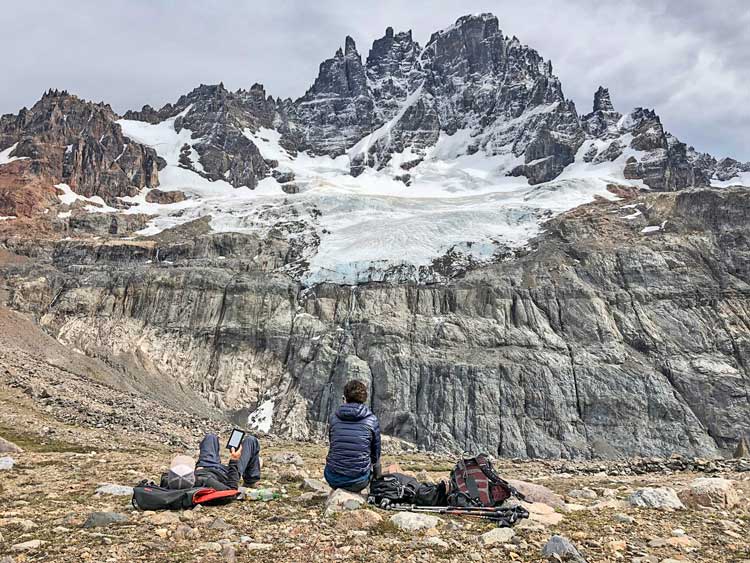 4. Cerro Castillo Trek
In the heart of the Cerro Castillo National Reserve, you'll encounter spectacular nature on a big scale. You'll hike through deep valleys and around tall rugged mountains to check out the Cerro Castilo mountain and the beautiful aquamarine lake beneath it.
Some of the sections in this trip are quite steep and with hikes of around 6 hours in duration per day, previous hiking experience is necessary.
It takes around four days to complete the full hike. However, if you only have one day you can shorten the hike and head straight to the Cerro. You do miss a lot of the awesome scenery this way, though.
Starting point: Villa Cerro Castillo
Duration: 4 days
Difficulty: Intermediate
5. Southern Patagonia Ice Field Trekking Expedition
The Patagonia Ice Field is a must-see and what better way to get to it than on a hiking trip? Make an expedition of it and spend an entire week hiking through mountainous terrain and across glaciers.
This is no ordinary hike though. It's extremely challenging and involves long stretches of ice trekking. Special equipment like crampons are essential, so is the support of an experienced guide.
Your hard work will pay off though. This expedition gives you access to Patagonia's most unique scenery. That includes looking out over a sea of ice and enjoying great views of Fitz Roy and Cerro Torre. Plus you'll get to see immense glaciers like Perito Moreno and Upsala. You'll also get to camp out in the wilderness every night which is pretty cool.
Starting point: El Chaltén
Duration: 7- 8 days
Difficulty: Advanced
Adventures in Patagonia
Ready to pack your bags and head to Patagonia? Be sure to check out Explore-Share an online booking platform for guided adventures worldwide. There you'll find the best Patagonia trips led by knowledgeable, certified guides to help you plan your trip.