While cruising on the five-day inaugural Norwegian Prima cruise ship from the Port of Galveston, we stopped one day at the port in Progreso, Mexico. Located along the Yucatan Peninsula, Progreso is a port city and gateway to many Mayan archaeological sites. 
The Prima is Norwegian Cruise Line's first of their newest class of ships. While many passengers enjoyed staying onboard to soak up the sunshine on the outdoor decks and pools, I ventured to the excursion desk and reserved a bike and swim trip to the Santa Barbara Cenotes.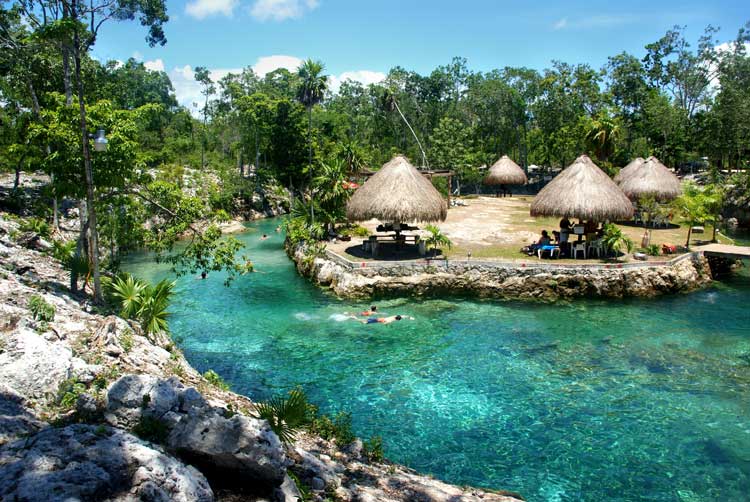 Yucatan Peninsula
Progreso is a small city on the Yucatan Peninsula in Mexico. This area separates the Gulf of Mexico from the Caribbean Sea. Three Mexican states – Riviera Maya, Cancún, and Tulum are all part of the peninsula. Parts of Guatemala and Belize also encompass this land mass. 
Planning a last-minute trip to Mexico?
Top Experiences and Tours in Mexico:
Where to stay in Mexico:
While on a private bus ride to Santa Barbara Cenotes, the excursion guide explained to us, "an asteroid crashed into Earth over 66 million years ago, and scientists believe it hit the Yucatan Peninsula, leading to a chain of catastrophic events and the extinction of three-quarters of animal and plant species on the planet." 
He enlightened us about how "this area looked like Swiss cheese." Much later, archaeologists discovered 9,000 year-old human and animal bones on land, providing links to the Ice Age time period.
Sacred Cenotes
Mayans villages were discovered near cenotes, which means "sacred wells." The Mayans believed the openings in the ground were a portal to speak with the gods.
We learned that archaeologists and divers had discovered various offerings at the bottom of many of these sites, proving that the Mayan people used cenotes to perform rituals to please the gods.
They believed that Chaac, the god of rain, thunder and lightning visited cenotes. Rainwater and earth filter and cleanse this vast underground river systems.
Throughout this area in Mexico are thousands of natural cenote swimming holes formed by the collapse of porous limestone bedrock. Experts believe the Riviera Maya offers the largest concentration of cenotes. They calculate there are over 7,000, and many are still hidden. 
In the city of Merida, there are at least 900 sinkholes that are part of the 'Ring of Cenotes.' Located on the edge of the asteroid crater, this is linked to the extinction of the dinosaurs.  
Of the 2,200 discovered and registered locations, locals and visitors can pay an entrance fee to swim in crisp mineral-rich waters inside mysterious caves under a jungle-framed sky.
Traveling to Cenotes
Once we arrived at the Santa Barbara Cenotes activity center, most of us selected a bicycle to ride through the jungle to visit three different types of cenotes. A few visitors preferred to ride on a traditional mule-drawn railway platform that ran parallel to the bike path road. 
Closed Cenote
Arriving at the first waterhole, known as Cenote Casabel, a Shaman blessed the group before we eased our way down the narrow opening on wet stairs with railings. This closed-type cenote is newer, with just a small part of the earth falling into an underwater cave.
A thin stream of light illuminated the cave and dark blue water. Artificial lights helped to illuminate the edges of the swimming hole. Stepping onto a wood platform, steps led into the water for an easy entrance.
Once floating with a life vest on in the refreshing water, I noticed the sides of the cave glistened with water trickling from above. Below, tiny fish and plant life thrive near the bottom of the deep sinkhole.
Semi-Open Cenote
After a relaxing swim, we got back on the bikes and pedaled to a semi-open cenote known as Chacsinkin. Light streamed inside the larger opening in the ground, showcasing dramatic tapering stalactite formations.
These hung like icicles from the limestone ceiling and were formed from calcium salt deposits dripping above. The beautiful natural yellow, orange, green and blue coloring on the walls glowed lighter at the water's edge.
While leisurely gliding through the light blue water, I noticed the image of four elements – water, earth, air and fire. When the sunlight hits the water, it displays an image of dancing fire on the dramatic cathedral walls.
Open Cenotes
The last ride before lunch was to Cenote Xooch', offering an open ceiling and exquisite turquoise hue water. While floating on my back, I could see trees, roots, the sky and puffy white clouds.
Open cenotes are the oldest since the cave ceiling fell into the water source through the years.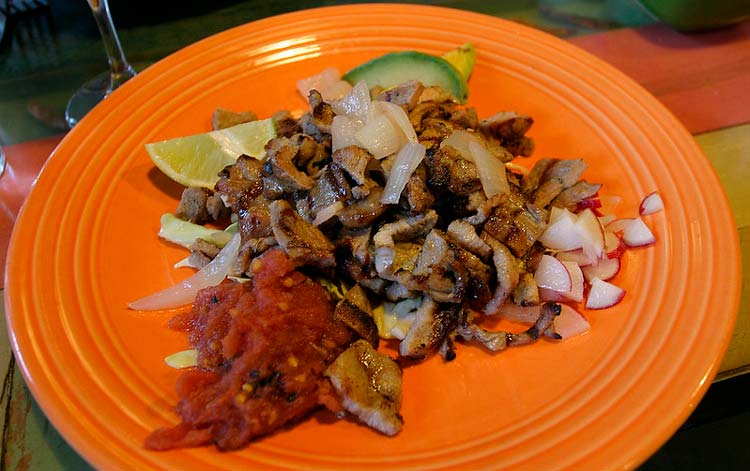 Authentic Cuisine
After returning our bicycles, we visited the onsite Santa Barbara restaurant for a Yucatan-style lunch. Menu items included three different types of empanadas, and Poc-chuc, a local favorite made with tender pork marinated in sour orange juice.
It's served with tortillas, beans, a tomato sauce and chopped onion. They also make Papdzules made with hard-boiled eggs rolled inside a tortilla that is topped with a verde sauce and chopped pumpkin seeds.
My favorite was the queso relleno stuffed with Edam cheese, ground beef and pork. Another specialty dish is a sour lime soup which arrived with shredded chicken, lettuce, avocado, onions and tortillas.
When exploring the Yucatan Peninsula on your own or during a cruise stop, be sure to spend some time at one or more of the sacred cenotes. Their different shapes and sizes, pristine water, and tropical setting offer a captivating underworld, unlike anything you have ever seen on land.
What To Bring
To prepare for a trip to explore Cenotes, bring a backpack to carry reef-safe sunscreen, a bottle of water, sunglasses, sandals, a towel, a change of clothing and swimwear.
Some cenotes areas have changing facilities and restrooms, plus flashlights, life vests, bicycles and snorkeling equipment to rent.
Author's Bio: Jill Weinlein is a travel enthusiast exploring hidden gems and destinations around the globe. Her stories can be discovered on IG @jillsfoodtravels.