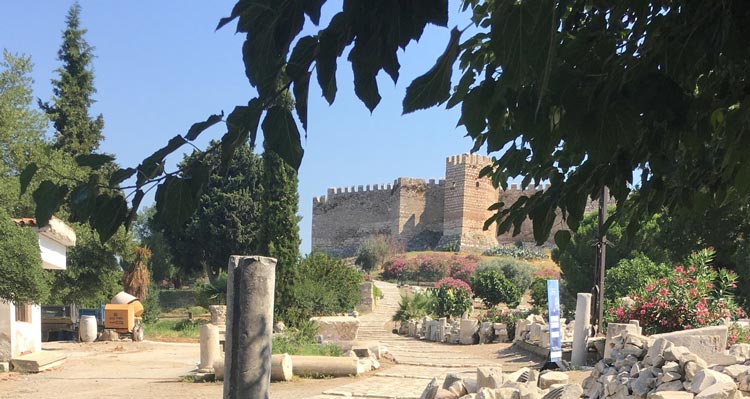 It took less than an hour for the Izmir airport shuttle to arrive at Selcuk, a small town next to one of Turkey's biggest tourist attractions: the ruins of Ephesus.
Travel in Selcuk, Turkey 
Most tourists make only a quick stop at Selcuk, the gateway to Ephesus, on their way to the ancient Greek city, but that's a mistake. The town's slower pace and historical sites make it a great place to linger for a few days.
At the bus stop in the center of town, I slung on my backpack and walked through a small park filled with cafes. Groups of Turkish men sipped sweetened black tea from small glasses near a fountain. On a nearby cobble stoned street, I stopped to admire the stone facade of a 14th-century library, its red tile roof capped with a cartoonishly large nest. A stork peered down at me from it.
Far from the chaos of Istanbul's Blue Mosque and Hagia Sophia
After the chaos of Istanbul's 15 million people (which at times felt like all were touring the Blue Mosque and Hagia Sophia), this town was bliss.
I continued up the hill toward my guesthouse. This historic quarter of the town, Ayasoluk Hill, is filled with ancient buildings, and many of them, like the library, are topped with stork nests.
The 14th century Isa Bey Mosque stands at one edge of the hill, while farther up is 6th century St. John's Basilica — believed to be the apostle's burial site. The hill is crowned by Ayasoluk Castle.
Cafes, restaurants surround Byzantine aqueduct that runs through town.
Like a spine, a Byzantine aqueduct runs through the center of town, surrounded by cafes and restaurants. It's like the entire town is saying, "Sit and have some tea. What's your rush? What's a few more minutes in the scheme of things?"
Though Ephesus is the main draw there's so much else that makes Selcuk a place to spend some time.
Boutique hotels and guesthouses fill the historic quarter, offering a chance to explore narrow cobbled streets when the tourists who've made a quick stop at the Ephesus Museum or one of the town's historical sites have left.
Amazon Petite Palace Guesthouse
I stayed at the budget-friendly Amazon Petite Palace ($42 for a large spotless double, including a large breakfast). The hotel, like many in town, has a small pool, perfect for a dip after wandering through hot, dusty ruins.
Ayasoluk Butik Otel
My first evening, I watched the sunset from the balcony of the Ayasoluk Butik Otel, a restaurant and beautiful boutique hotel ($85, including breakfast). Over a glass of dry Turkish white wine, I chatted with the manager, who said for a few years there had been very few tourists.
"After the terrorist attack at the airport and then the political coup in 2016, tourists stopped coming. We used to have what we called 'culture tourists,' those who appreciated the history and didn't just want to party on a beach. We had a lot of Americans. Then, nothing. But now there are more. We hope things are changing."
Turkey Tourism Booming Again
Indeed, tourism in Turkey is booming again, especially in Istanbul, which had more than 13 million tourists last year and is expecting over 10 percent more this year. Many of the tourists who visit Ephesus do so on excursions from cruise ships that have started docking again in nearby Kusadasi and Izmir.
Of course I went to Ephesus while I visited Selcuk — not going would be like skipping the Louvre while in Paris — but I was glad I had first visited the Ephesus Museum, which is in Selcuk near the bus station.
The museum holds treasures from archaeological digs at Ephesus, Basilica of St. John and the Temple of Artemis. There's also a short video as well as a model that gives a clearer picture of what Ephesus looked like in its heyday.
Temple of Artemis was One of the Seven Wonders of the Ancient World
It's clearer that the city was a major hub during Roman times and passed around like a historical ping pong ball: the Greeks, Romans, Persians, Arabs and Ottomans all controlled it at one time. At the museum, I was able to see what the Temple of Artemis looked like. Though it was one of the Seven Wonders of the Ancient World, now it's just a column.
Several kilometers past Ephesus, there's the house where the Virgin Mary is believed to have lived her final days, (And in town, you can buy a house through a company called Virgin Mary Real Estate.)
Staying in Selcuk meant it was easy to get to Ephesus early, before the traffic jam of buses arrive and drop off their tour groups. Although it's an easy 30-minute walk or short, inexpensive dolmus (minivan) ride to Ephesus' bottom gate, I took a taxi to the top gate for less than $6 so I wouldn't have to back-track. I had time for a leisurely breakfast at my hotel and was at the gate when Ephesus opened.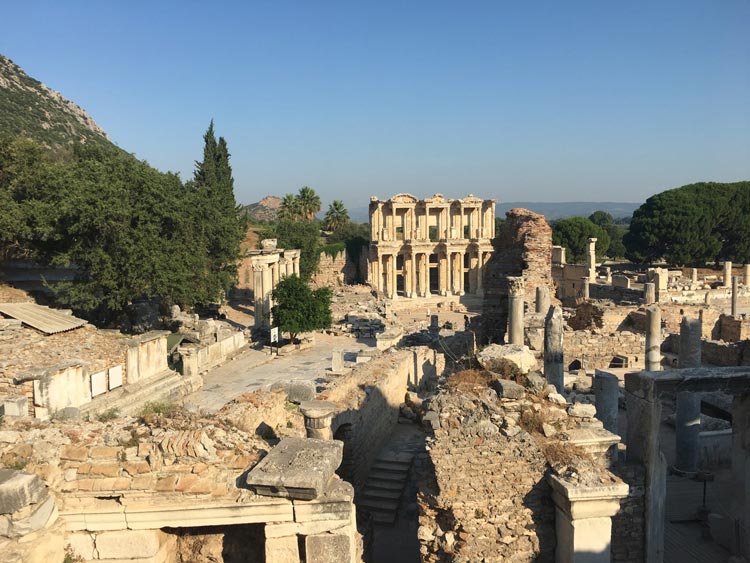 Although there were more than a few tourists waiting when I arrived, it was simple to get ahead of them. As I wandered through Ephesus' ancient library, I felt like I had the site almost all to myself.
And that night, as I ate ice cream at outdoor a cafe next to the Byzantine aqueduct while Turkish children rode tricycles and their parents chatted at nearby tables, I was thrilled to be in Selcuk, enjoying real Turkey and its blend of modern and ancient.
Author Bio: Sue Sanders' essays have been published in The New York Times, The Washington Post,  Los Angeles Times, Real Simple, Salon, Vox and others.