Tasting samples clutter the table tops – crunchy tortilla chips, roasted peanuts and sweet potato pie. And they're all Detroit made.
"Being at this booth, I see people from all over the country and they tell me how great it is to see Detroit on this jar," exults Jack Corley.
He was a former automotive parts supplier for 25 years who's now selling locally-owned McClure's Pickles at Detroit's bustling Eastern Market. "They say how great it is that it's happening in the city."
Across the aisle, Allen Love pitches his peach and blueberry cobbler pies made from family recipes. "We have regular customers that come back every week," he says. "We're closer together and we want to see Detroit grow."
Detroit, the biggest city in Michigan, is experiencing a rebirth. "I've seen the hard times and I see us coming back," he adds.
Eastern Market in Detroit
It's Saturday morning and the market spanning several blocks is packed with locals and sightseers like me.
I've joined tour guide Linda Yellin's 'Feet on the Street Tours' which winds in and around kiosks under open-air sheds packed with fresh produce, spice racks, meats and gooey cheeses.
Overhead signs sport such headers as 'Grown in Detroit' and 'Detroit Food Academy.'
"We're seeing more people from outside the city proper that are interested in coming back, and connecting with Detroit in ways their parents didn't," says Yellin.
Outside, street art murals awash in brilliant hues emblazon Market warehouses, one with a caption affirming city pride. "We have been considered many things: a city in decay, a city in distress and without hope," it reads.
"However, we have never given up and we never say die. We are born fighters, we rise from the ashes."
Detroit's Comeback
This theme abuzz at Eastern Market reflects Detroit's spirited comeback in recent years – a dramatic turnaround from the downtrodden years of auto industry decline, municipal bankruptcy in 2013 and people leaving decaying neighborhoods for the suburbs.
The haunting memories of the deadly 1967 riots again resurfaced with the recent feature film Detroit, released last summer on the 50th anniversary of the harsh street strife.
What I find, however, is a rebirth of sorts summed up in rebuilding, new businesses in bustling city core neighborhoods, and what seems to be a burst of renewed energy and pride exuded by residents.
And the metro area's institutions and museums – sports teams and their new venues, the Detroit Institute of Arts, the Motown Museum and the Henry Ford Museum of American Innovation in suburban Dearborn – seem to be better than ever.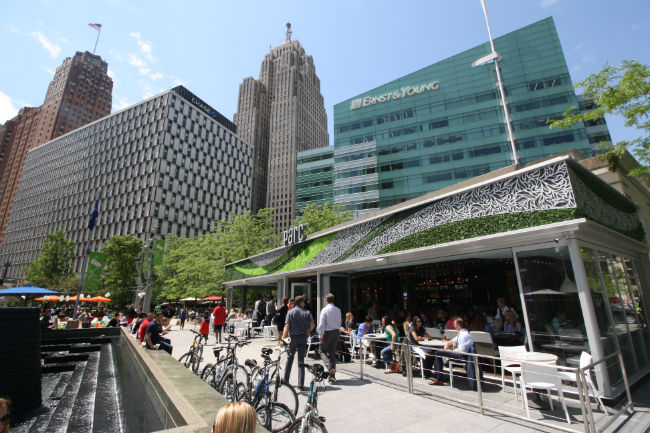 "Businesses pop up overnight; it's crazy," says tour guide Kim Rusinow with Destination Detroit Group Tours and Services who's leading us in and around the city center.
"When people are trying to wrap their arms around and understand Detroit, I like to use an analogy. If you take a rubber ball and throw it really hard on the ground – what happens?
It bounces back. What you're seeing right now is Detroit bouncing back."
"There's no denying we've been slammed pretty hard," she continues. "We have some challenges to overcome, but we are an amazing comeback city."
Detroit RiverWalk
Alongside the multi-towered General Motors Renaissance Center, our first stop is the Detroit RiverWalk, a 3.5 mile-long walkway with benches, public art, parks and a lighthouse.
Shops, cafes and residential units now occupy what was once an industrial base with factories and warehouses. "We once had cement silos down here," Rusinow notes.
The Motor City is still that as much of the city remains rooted in the automotive industry.
In downtown's 1929 art deco-style Guardian Building, for example, a shop within the Aztec-themed lobby displays purses made out of seatbelts.
"We're very proud of it – it sort of screams Detroit," says Rusinow. "Everyone is loyal to their car companies.
It's frowned upon if you have a foreign car, but not as much now because many of those parts are now made in America."
"We believe in buying American here," she affirms. "That's how we supported our families. That's how I was raised, but it's something we always struggle with."
Skirting the edges of downtown's 19th and 20th century granite and limestone skyscrapers, and shining steel and glass towers, the Stadium District has marked downtown's resurgence with new 21st century sports stadiums.
Statues of clawing tigers hover over the entrances to Comerica Park, home of the Detroit Tigers baseball team, just across the street from football's Detroit Lions' Ford Field.
The area's yet greatest expansion comes with the new Little Caesars Arena, part of the $1 billion-plus redevelopment project known as The District Detroit.
The arena opened in September of 2017 and is home to the Detroit Red Wings hockey team and Pistons basketball.
Restaurants, bars, parks, apartments and other businesses will span the District's 50 blocks, many opening in 2018.
Detroit Midtown District
Driving north on Woodward Avenue, we enter Detroit's Midtown District where the original buildings of a former jeep factory now house upscale condos in the $500,000 range – for just one bedroom, bath and one window only. A balcony is extra, chortles Rusinow.
"Every available building that can be rehabbed is being rehabbed into a residence, mostly apartments," she explains.
"Our goal here in dealing with abandonment is deconstruction, a way of using the building materials for another purpose."
We stop at Detroit-based Shinola, the flagship store for the first watch company making watches out of Switzerland with guaranteed Swiss movement.
Leather-strapped, green, white and brown-faced watches line cases alongside turntable displays and racks of mounted bicycles, the company's other main products.
Shinola decided to settle in Detroit and open a factory, starting with six workers and now employing about 500, according to Rusinow. "They could have gone anywhere," she says.
"We're so excited that for their manufacturing they chose Detroit because we hadn't had any new manufacturing here in a very long time."
Another example of repurposing is downtown's recently opened Detroit Foundation Hotel housed in a former Fire Department administration building and firehouse.
Rooms have been refurbished with wood from abandoned buildings and homes, with 100 rooms and the fire commissioner's former office now a suite.
"We want to keep it Detroit-made, keep Detroit pride going," says Tylisa Jones, the hotel's Guest Services Ambassador.
Doorways that once opened for fire engines now lead to a swanky restaurant and bar hopping with a lively crowd during my Saturday night visit.
For dinner, we take a looping elevated tram called the "Detroit People Mover" to Greektown, a hopping neighborhood with restaurants and cafes.
Book a table at Pegasus Taverna for buttery spanakopita and grilled lamb chops. Sweet honey baklava tops my dessert list at the Astoria Pastry Shop across the street.
While much has been done in Detroit, challenges remain. In the 1950s, the population was close to two million, down to about 700,000 now.
More than 40 percent of the city's 140 square miles is vacant land with 80,000 abandoned homes.
"That's the reality of a city that loses its tax base and its population," says Rusinow. "What we do with it, how we go forward with purpose to bring quality of life back to our neighborhoods and our residents, to rebuild smart, to become a city that is desirable and affordable for everybody, is our goal."
Must-See Museums in Detroit
At the Henry Ford Museum of American Innovation, I toured adjacent Greenfield Village with its reconstructed and refurbished historic homes with a ride in an original 1914 Model T Ford.
Driver Don Ludwig tells me there are still 200,000 Model T's still running in the U.S. "People come here to step back in time. Isn't that what you're doing right now?" he asks?
Greenfield Village has historic buildings including Henry Ford's birth home and the Wright Brothers home and cycle shop where they worked on their fledgling aircraft.
The facades of the entrance to the Henry Ford Museum building was modeled after Philadelphia's Independence Hall.
The collection includes prototype and original early 20th century cars, planes, locomotives and more, including the refurbished bus in which civil rights pioneer Rosa Park refused to give up her seat.
There are many old Model T's and former presidents' cars, including the very ones in which Kennedy was shot (original chassis only) and in which Reagan was driven to the hospital after his gunshot wound.
Other must-see museums include the Detroit Institute of Arts with is wall-sized Diego Rivera industrial murals in a central atrium.
The Motown Museum in two adjacent neighborhood homes offers a close-up look at the small studio where Motown greats like the Supremes and Four Tops got their start.
If You Go To Detroit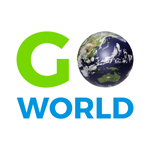 Latest posts by Go World Travel Magazine
(see all)