You may not have paid it your full attention, but if you look at any map of Australia, you will notice a small triangular-shaped island sitting at its base. This small island, Tasmania, with a population of half a million people, is becoming increasingly popular as a retirement destination for many Australians, and in May this year, my husband, Darryl, and I traveled there to find out why.
Traveling in Tasmania
It's 7 degrees Celsius outside and we have just returned to our cosy little Tasmanian cabin, complete with a spa bath and water views. On hand to keep us fortified whilst we watch the upcoming nuptials of Harry and Meghan, we have some of the locally-brewed Jansz Champagne for me, and James Boag beer for Darryl. Accompanying this is a mouth-watering selection of local cheeses and fudge bought from various roadside establishments on our journey here. 
Port Arthur Historic Site
We're here in Port Arthur, location of the Port Arthur Historic Site, a 19th-century penal settlement that is now an open-air museum. We spend the day wandering the beautiful grounds, ruins and historic buildings that constitute this former penal colony.
Once one of the most feared places in the British Empire, today walking amongst the beautiful sandstone buildings nestled amongst the manicured landscape, it's hard to believe.
The day is rewarding and informative. With the weather somewhat dismal, today's visitor numbers are down. Thus we manage to secure our own private buggy and guide for much of our visit.
With our personal escort on hand, we learn that this most austere of corrective institutions, modeled on the famous Pentonville Penitentiary in England, broke many men but also enabled some to leave rehabilitated and skilled.
We learn that whilst only operating for 47 short years (1830-1877), by 1840 more than 2,000 convicts, soldiers and civil staff lived here at Port Arthur. Most importantly, we learn that for a successful escape attempt, you would be wise not to disguise yourself with the hide of so tasty a morsel as a kangaroo with hungry guards about.
Getting Around in Tasmania
It's day five of our 14-day sojourn around Tasmania, Australia's southernmost state. We flew into Hobart last Monday, and it appears that we have traveled back to the 1980's.
Back to a time when shopkeepers had time for a chat, when you made eye contact with the person passing on the footpath and where you could always find a parking spot.
We hire a handy SUV and stuff it full of maps, brochures, jeans and jackets. It becomes a trusty friend, transporting us first into the capital of Tasmania, Hobart, then later to the Huon Valley, Bruny Island and now here, Port Arthur.
Hobart, Tasmania
Hobart, with a population of approximately 224,000, falls short of my high expectations, hoping as I was for a city dripping with history and old sandstone buildings. Whilst the area around Salamanca Place did deliver said buildings, there are fewer than expected and thus I leave thwarted.
To counter this, we warrant a visit to MONA (Museum of Old and New Art) and boy, does it deliver. Local lad David Walsh, a professional gambler only six years older than I, has built an architectural, gobsmacking masterpiece here in his hometown and then filled it with gossip-worthy artifacts and experiences.
From a room where we sit alone in the utter pitch-black dark for five minutes to the Egyptian mummy whose innards we privately scan, David and his museum will forever be famous for the propitious economic advantages he has provided Tasmania, summed up in the term "The Mona Effect."
We now have family living in Tasmania, since my cousin and his wife recently retired to the Huon Valley. It is both fun and fascinating to spend time with them as they assimilate into their new life.
To walk with them through apple orchards, to pick up fossils from the nearby stark, barren beach, to purchase 'that hour's' catch from the nearby fish farm. After days spent eating, drinking and exploring their new environs, it is time to say farewell and head over to Bruny Island, utilizing the hardy and convenient ferry service departing from Kettering.
Bruny Island
Being late autumn, most of Bruny Island appears to be closed. However we manage to secure and devour an incredible cheese platter at the Bruny Island Cheese Company.
The drive from Bruny Island to the Tasman Peninsula is short and the roads are empty, occurrences we are becoming familiar with in Tasmania. Before checking into this cosy little cabin, we pass through Eaglehawk Neck.
Here, amazing natural phenomena such as the Tessellated Pavement, the Blowhole, Tasmans Arch and Devil's Kitchen keep us enthralled and invigorated. With the temperature hovering in the low teens(Celsius), the millpond-smooth Tasman Sea to our east and heavy pewter clouds hovering above, we pretty much have the peninsula to ourselves as we undertake our explorations.
Tasmania Week Two
Traversing the various 'Touring Routes' of Tasmania, we spy countless possums, pademelons, quolls, rabbits, wallabies and other furry critters. Unfortunately, they are all dead.
Some research has surprisingly revealed that Tasmania is the roadkill capital of the world, that the number of animals killed on the roads here each year lies somewhere between 300,000-500,000.
These are unbelievable statistics and I would not believe they were true unless I hadn't observed it with my own eyes. Tasmania for me, unfortunately, has now become somewhat synonymous with roadkill.
It's day 13 of our 14-day whirlwind tour of Tasmania, and we are currently holed up with the heating set high in a little hotel in Launceston. Outside, the temperature has plummeted to around five degrees, offering little enticement to do any further exploring today.
It's been an amazing and extremely informative fortnight. We have been pleasantly surprised to discover that Tasmania is absolutely satiated with vineyards. At times we have passed no less than seven vineyards in a short 20-minute drive.
We have also been startled at the sheer amount of timber plantations here. Passing plantations, tree felling equipment, and trucks full of logs in all areas we have traveled has disclosed that sustainable timber is big business in Tasmania.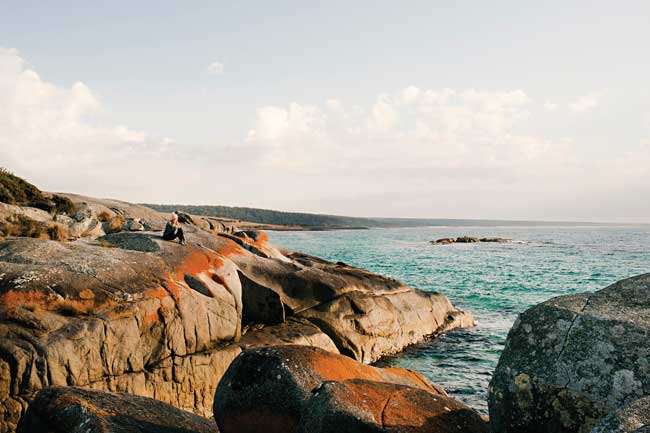 Great Eastern Drive
Leaving Port Arthur, we continue our travels northward through towns such as Richmond and Sorrell before alighting the Great Eastern Drive. Hugging the coast for most of the time, we gaze in wonder at the near flat sea and stopped at small towns such as Swansea to seek treasures in their antique shops.
We feast on delicious meals found in small roadside cafes and overindulge on fudge. At Cape Tourville Lighthouse near Coles Bay, we leave the warmth of the car and follow an incredible walkway, where we are delivered some amazing views of the celebrated Wineglass Bay.
We find accommodation at Bicheno, where nightly tours enable those who wish to do so with the opportunity to see penguins up close in their own environment.
From Bicheno, we continue to hug the coastline, stopping at St. Mary's for some Mt. Elephant Fudge, apparently the best fudge in Tasmania. From here, a short drive further north delivers us to the Bay of Fires.
Whilst understandable, it's not the orange-hued lichen-covered rocks that give this bay its name, but rather the fires of the Aboriginal people, seen from the decks of passing vessels back in 1773.
It's a beautiful spot – desolate and windswept, and we have it all to ourselves! Overnighting in St. Helens, the following day finds us heading westward along the Northeast Trail. Our morning drive up narrow, winding, mountainous roads heavily encased by thick logging trees cumulates in the wide open, sheep-strewn, agricultural areas of Scottsdale and its surrounds.
We overnight at Beauty Point, a short drive from Beaconsfield – site of the mining collapse that so captivated Australia back in 2006. Now a museum, it's easy to spend an informative morning exploring.
From Beaconsfield, we follow the Great Nature Trail west, finding intriguing little antique shops at Devonport and Ulverstone. We should have just bypassed Burnie, but ignorant as we are, choose to stay the night elsewhere.
It's grim and expensive, but an easy departure point the following morning for Cradle Mountain. Bleak, desolate, windswept and barren all aptly describe Cradle Mountain, as do beautiful, alluring and bitterly cold.
Our 200-year-old B&B, located at Deloraine, is eagerly greeted after a day spent on the frigid peak, and the sight of a platypus cavorting in the nearby river only adds to our elation. Undoubtedly the highlight of our adventure, the vision of the platypus swimming in the wild is something neither of us will ever forget.
Launceston, Tasmania
Our final few days are spent in Launceston, where we enjoy our walk through the nearby Launceston Gorge nearly as much as we enjoy the scones, jam and cream found in the cafe at the end of the Gorge. The Launceston local museum is informative, the op-shops interesting.
So that's Tasmania in two weeks. A state of empty roads, plenty of parking and friendly people. A state of yesteryear where a good wine and a good cheese can be found just around the corner, and roadkill and forestry are abundant.
Tasmania is a place that I have been happy to visit but will leave retirement there to others. In all, I must say, it's rather an enigma of a place.
If You Go
The weather described above was in the month of May. We hired our car from: Budget Car Rentals (03) 6234 5222
We stayed at the following:
Hobart – Fountain View Hotel  (02) 6882 9777
Port Arthur/Taranna – The Mussel Boys  (03) 6290 0073
Bicheno – Beachfront Hotel  (03) 6375 1111
Beauty Point – Beauty Point Waterfront Hotel  (03) 6383 4686
Burnie – Beachfront Voyager  (03) 6431 4866
Deloraine – Blakes Manor (03) 6362 4724
Launceston – Balmoral on York  (03) 6331 8000
Autho Bio: After becoming an unexpected early retiree in her late forties, Emma Scattergood unearthed her bucket list and challenged herself to the task of visiting each destination on this list. To date, she and her husband have visited more than 26 countries. Under the name of Darmatravels, she blogs about their adventures in the hope that it will show others how easy it is to explore their world, and to show that injuries need not hinder travel. In 2018, she wrote a book about an adventure from Australia to Europe via Asia. Titled 'Bucket Lists and Walking Sticks', the book is due for release 2019.