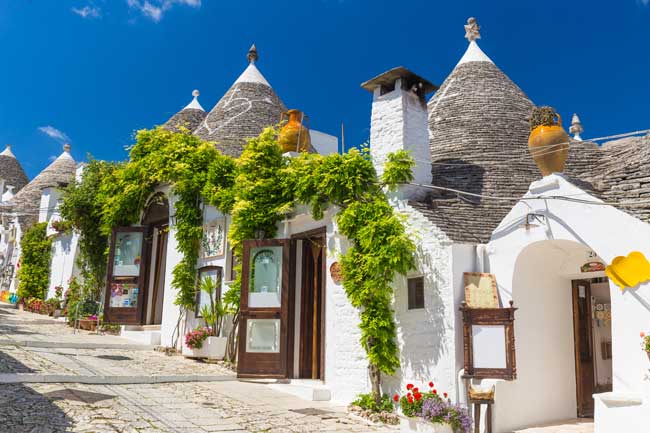 Although some 50 million visitors make the journey to Italy each year, there are still plenty of lesser-known gems to uncover in the country that gave us the Renaissance, the Romans and the humble (yet delicious) pizza. Whether it's uncovering secret cave towns or travelling in opulent luxury on one of the world's greatest rail journeys, this is your guide to getting the most out your trip to Italy.
Puglia
Found in the heel less trodden, Puglia is full of surprises. While its golden sands and ornate, Baroque flourishes are par for the Italian course, it's the region's unique architecture that is truly striking. In Matera, a tumble of prehistoric sassi stone houses are carved right out of the calcarenite rock itself, evoking truly biblical scenes not least for the Romanesque cathedral. In turn, UNESCO-listed Alberobello features no fewer than 1,500 beehive houses. Each is capped with a perfectly conical dry stone cone, forming a higgledypiggledy step back into the 16th century.
The Orient Express
Recall the golden age of travel with this legendary train journey from London to Venice. You'll swap Kent's gently rolling verdure for the French countryside before winding over the Alps to arrive at Italy's floating city. As the scenery rushes past, white-gloved waiters will serve you afternoon teas, sparkling wine and four-course gourmet meals as you settle into oak-panelled private cabins.
Agriturismi
Long a well-kept Italian secret, agriturismi, or 'farm stays', have recently started gaining international attention. It's your chance to stay among the wineries of Tuscany, the rolling hills of Umbria and the ancient heritage of Sicily while being hosted by local farmers – a delightfully authentic alternative to city hotels. And the best part? Most stays include dinners and breakfasts cooked by your hosts, with ingredients sourced right from the farm. Expect freshly laid eggs, moreish cold cuts and that favourite olive oil. It's all washed down with a glass of wine, probably from the very vineyards outside your window.
Walking the Dolomites
Consistently ranked among Europe's greatest hiking destinations, the UNESCO-listed Dolomites form a particularly spectacular crumple in the Alps. They're a veritable outdoorsman's playground of high-altitude meadows, evergreen forests and lunar landscapes. It's ideal for everything from short walks out of hidden mountain inns to multi-day hikes that bring you into stunning wilderness sections.
Sardinia's Island Idyll
Only a percentage of the numbers that travel to the likes of Venice and Florence make it out to Sardinia. But, as the Mediterranean's second-largest island, it certainly packs a lot in. Move back from its white-sand beaches and snorkelling-clear waters to discover a bright-green, forested interior dotted with hiking trails and intriguing prehistoric sites. Here you'll find evidence of one of Europe's oldest civilisations. And, proud of its distinction from the Italian mainland, Sardinia's unique, shy culture lives on in traditional villages where farmhouse kitchens serve up gorgeous meals of fresh ingredients, local reds and indulgent cheeses.
Umbria
Found to the south of its better-known sibling, Umbria lies as a Tuscany in miniature. The same penchant for Renaissance artwork and precipitous medieval fortresses has tumbled down with matching undulations of winery-lined beauty. The difference? Umbria swaps headline-grabbing names for a more off-the-beaten-track charm, ditching the crowds in the process. Roman acropoleis perch atop cobbled towns, young children sit side-saddle on their mother's bicycles and the pasta is always hand made.
This article was developed in partnership with Wexas Travel.